Road Bike Tire Test:

Vittoria

Corsa Control G+ 2.0 TLR
Vittoria Corsa Control G+ 2.0 TLR
---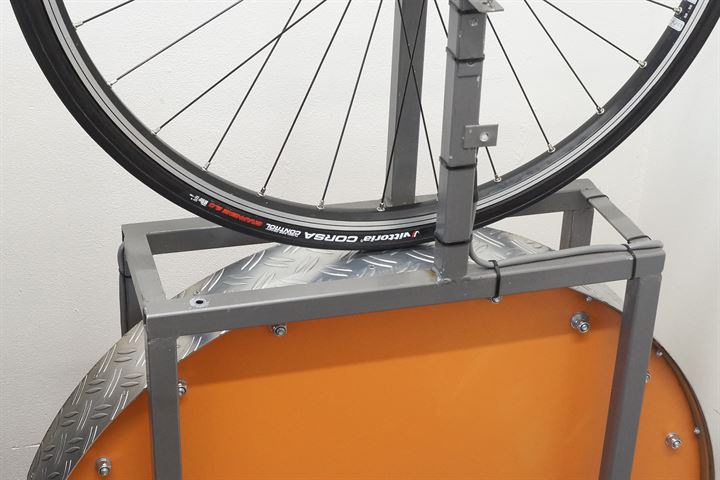 NOTE: We added wet grip test data on 2021-11-26. The rating of the Vittoria Corsa Control G+ 2.0 TLR has been upgraded by 0.1 points because of very good results in the grip test.
The Vittoria Corsa Control G+ 2.0 TLR is a tubeless-ready cotton tire that provides extra cornering grip when you need it. I mention cornering grip here explicitly as the Corsa Control shares the same 4C Graphene 2.0 compound and center tread pattern as the regular Vittoria Corsa. The differences are in the textured tread pattern on the sides of the tread and also a slightly wider tread so you can lean the bike over further.
We already tested the non-TLR version of the Corsa Control G+ 2.0 (read our review) back in 2019 and found it to perform very close to the regular non-TLR Corsa G+ 2.0 on our tests (read our review). As we also tested the G+ 2.0 TLR version of the regular Vittoria Corsa last week (read our review), we can again compare it to that tire directly and hopefully make the choice of Corsa or Corsa Control a bit easier for you.
Just like the regular Corsa TLR, the Corsa Control is available in the 25-622, 28-622, and 30-622 sizes which seems like a good fit for a tire like the Corsa Control. Unfortunately, and just like the regular Corsa TLR, the Corsa Control TLR is only available with black sidewalls as Vittoria uses some kind of black coating to help seal the sidewalls.
Manufacturer Specifications
Manufacturer Specifications
Brand
Vittoria
Model
Corsa Control G+ 2.0 TLR
Year
2020
Tire Type
Tubeless
Supplied By
Bought in store
New or Used
New
Mileage
0 km
Price Range
High
Buy At
Manufacturer part number
11A.00.105
EAN
8022530019095
TPI
320
Compound
4C G+ 2.0
Bead
Folding
ETRTO
25-622
Size Inch
28"
Specified Width (mm)
25
Specified Weight
300 grams
Max Air Pressure (psi)
130
Made In
Members Only
Available Sizes
25-622 (700x25c)
28-622 (700x28c)
30-622 (700x30c)
Vittoria Corsa Control G+ 2.0 TLR Test Results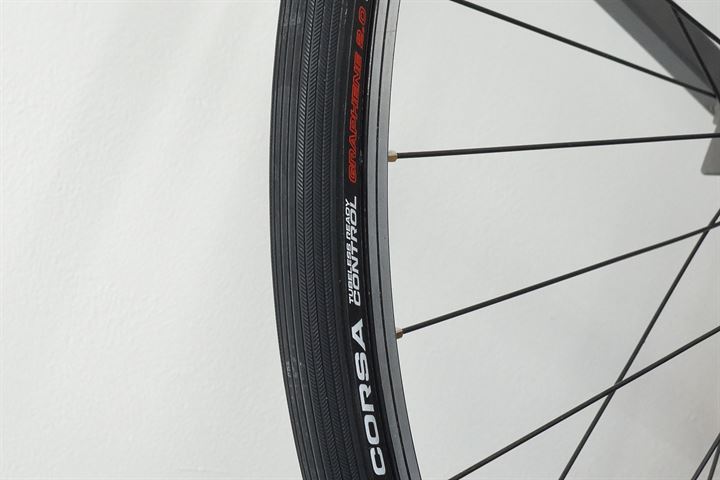 Size, Weight, and Thickness Measurements
advertisement
Size, Weight and Thickness Measurements
Specified Weight
300 grams
Measured Weight
307 grams
System Adjusted Weight
(tire + valve + rim seal)
327 grams
Measured Width
27 mm (un-round)
Measured Height
24 mm (un-round)
Total Tire Thickness Center
2.9 mm
Total Tire Thickness Sidewall
Members Only
Unmounted Casing Width
70 mm
Unmounted Tread Width
Members Only
Tread Cover (Tread / Casing Ratio)
Members Only
All size measurements are taken at an air pressure of 100 psi / 6.9 bars on a 17.8 mm inner width rim.
Rolling Resistance Test Results
Rolling Resistance Test Results
Inner Tube
None (20 ml sealant)
Rolling Resistance
140 PSI / 9.7 Bar
Not Tested
Rolling Resistance
120 PSI / 8.3 Bar
12.6 Watts
CRR: 0.00378
Rolling Resistance
100 PSI / 6.9 Bar
13.3 Watts
CRR: 0.00399
Rolling Resistance
80 PSI / 5.5 Bar
Members Only
Rolling Resistance
60 PSI / 4.1 Bar
Members Only
All numbers are for a single tire at a speed of 29 km/h / 18 mph and a load of 42.5 kg / 94 lbs.

Use the formula: RR (Watts) = CRR * speed (m/s) * load (N) to calculate rolling resistance at a given speed and load.
Puncture Resistance Test Results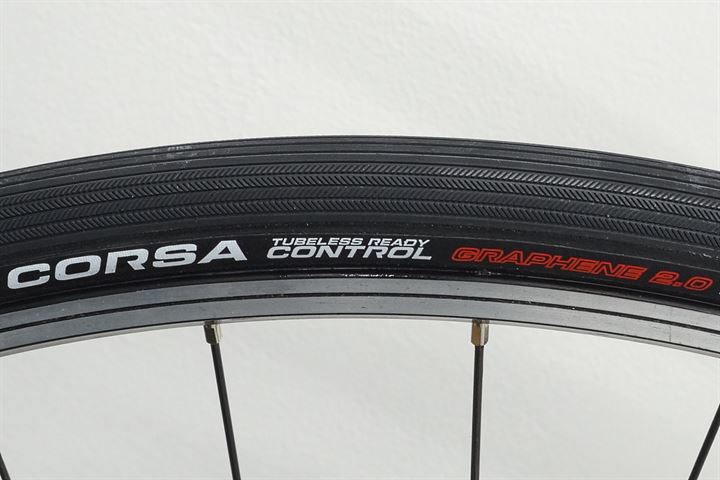 Puncture Resistance Test Results (higher is better)
Total Puncture Score Tread
53 Points
Total Puncture Score Sidewall
Members Only
Tread Puncture Force Sharp Needle
12 Points
Tread Puncture Force Blunt Needle
Members Only
Tread Total Tire Thickness
2.9 mm
Sidewall Puncture Force Sharp Needle
Members Only
Sidewall Puncture Force Blunt Needle
Members Only
Sidewall Total Tire Thickness
Members Only
Static Grip Test Results
NOTE: Grip test data is only available on tires tested after November 2018. You can find more information about our grip test here: Introducing Grip Testing
Static Grip Test Results
Wet Grip Average
71 Points
Wet Grip Center
Members Only
Wet Grip Edge
Members Only
Grip in points = coefficient of friction * 100
Conclusion
Performance of the tubeless-ready Vittoria Corsa Control G+ 2.0 in our tests is almost identical to the tubeless-ready version of the Vittoria Corsa G+ 2.0 (compare). The small differences can be traced back to the slightly wider tread of the Corsa Control which results in an increased rolling resistance of between 0 and 4 percent, and an increased weight of 10 grams.
With such small differences, it's up to the individual to decide between these tires. We think you probably can't go wrong with either of these tires but suggest to use the Corsa Control TLR if you want to play it safe. If you need the performance benefit, the regular Corsa TLR might just give you an edge.
RATING: 4.1 / 5
TEST VERDICT: Recommended
Comments