---
Road Bike Tire Test:

Mavic

Yksion Pro UST Tubeless
Mavic Yksion Pro UST Tubeless
---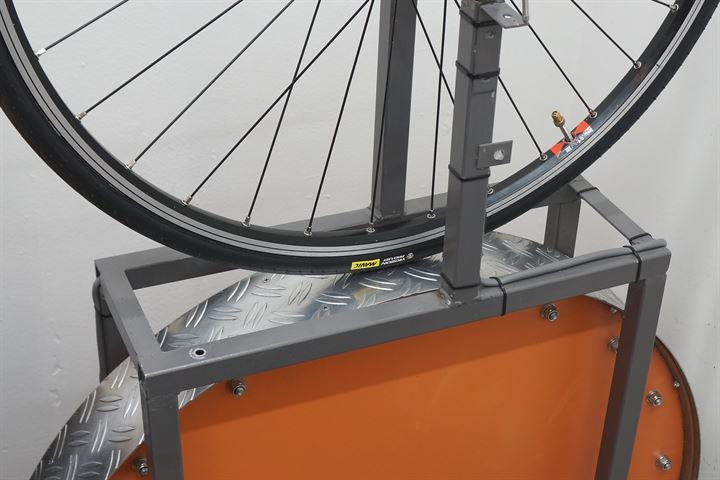 The Mavic Yksion Pro UST is a tubeless-ready tire that comes as the stock tire on a large range of Mavic UST wheels and wheelsets. Because the Yksion Pro UST is pretty much the only UST rated road bike tire available at the moment, I'm really curious to see if it's worth it to buy the new Mavic tubeless wheels.
Ad Buy Mavic Yksion Pro UST Tubeless at Amazon.com
I've already tested the entry level Mavic Yksion Elite (read review) last month and that tire didn't perform like a tire you'd want to run on your new expensive wheels.
The Yksion Pro UST is made in France by Hutchinson which is a big change from the cheaper Yksion Elite that's made in Taiwan. I've already tested some Hutchinson tires and they are some of the best performing tires in our tests.
The Yksion Pro UST uses Hutchinson's brand new "11 Storm" compound that's supposed to be an improvement over their older HDF 5.x compounds that I've tested last year and already were great compounds.
The Yksion Pro UST is a tubeless-ready tire which means that it should be used with tire sealant as the sidewalls will bleed air without it. The main advantage of the tubeless-ready tires is a lower weight and a lower rolling resistance because of the absence of a butyl inner liner that's often seen in "full tubeless" tires.
In my opinion, tubeless-ready tires are the way to go as most people are already using tire sealant in "full tubeless" tires to gain the advantage of self-sealing (small) punctures.
Manufacturer Specifications
Manufacturer Specifications
Brand
Mavic
Model
Yksion Pro UST Tubeless
Year
2018
Tire Type
Tubeless
Supplied By
Bought in store
New or Used
New
Mileage
0 km
Price Range
High
Buy At

Ad

Amazon.com
Manufacturer part number
39938825
EAN
0889645491714
TPI
127
Compound
11 Storm
Bead
Folding
ETRTO
25-622
Size Inch
28"
Width
25
Specified Weight
260 grams
Max Pressure
102
Made In
France
Available Sizes
25-622 (700x25c)
28-622 (700x28c)
Mavic Yksion Pro UST Tubeless Test Results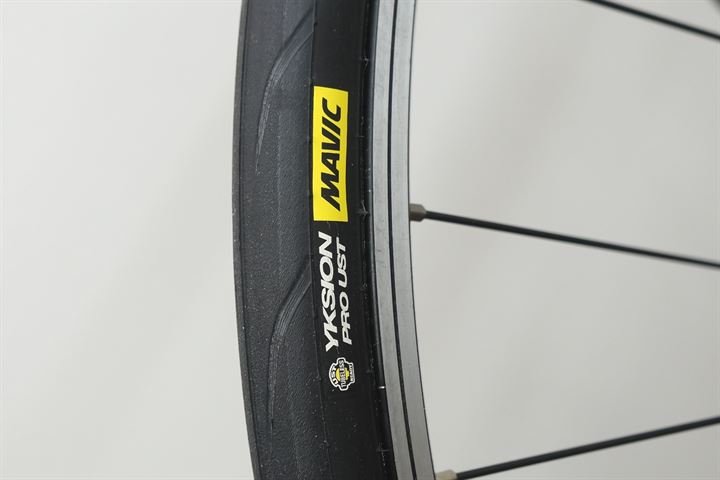 Size, Weight, and Thickness Measurements
advertisement
Size, Weight and Thickness Measurements
Specified Weight
260 grams
Measured Weight
256 grams
System Adjusted Weight
(tire + valve + rim seal)
276 grams
Measured Width
27 mm
Measured Height
24 mm
Total Tire Thickness Center
2.8 mm
Total Tire Thickness Sidewall
1.1 mm
Unmounted Casing Width
64 mm
Unmounted Tread Width
27 mm
All size measurements are taken at an air pressure of 100 psi / 6.9 bars on a 17.8 mm inner width rim.
Weight. The Yksion Pro UST in the 25-622 size has a specified weight of 260 grams. While 260 grams already is a low weight for a tubeless tire, my sample even comes in a bit lighter at 256 grams!
Size. At an air pressure of 100 psi / 6.9 bars, mounted to a 17 mm internal width rim, the maximum width of the tire is 27 mm. Height is 24 mm.
Tire Thickness. At the center of the tread, the Yksion Pro UST has a maximum thickness of 2.8 mm which is an average thickness for an all-round tire. Most tires in the all-round class have a thickness of 2.5 - 3.0 mm. No-compromise tires optimized for speed usually come in at less than 2.0 mm.
The sidewalls are quite thick as well with an average thickness of 1.1 mm. non-tubeless tires in this category usually have a sidewall thickness of ~0.5 mm.
Rolling Resistance Test Results
Rolling Resistance Test Results
Inner Tube
None (20 ml sealant)
Rolling Resistance
140 PSI / 9.7 Bar
Not Tested
Rolling Resistance
120 PSI / 8.3 Bar
11.7 Watts
CRR: 0.00351
Rolling Resistance
100 PSI / 6.9 Bar
12.2 Watts
CRR: 0.00366
Rolling Resistance
80 PSI / 5.5 Bar
13.3 Watts
CRR: 0.00399
Rolling Resistance
60 PSI / 4.1 Bar
15.4 Watts
CRR: 0.00462
All numbers are for a single tire at a speed of 29 km/h / 18 mph and a load of 42.5 kg / 94 lbs.

Use the formula: RR (Watts) = CRR * speed (m/s) * load (N) to calculate rolling resistance at a given speed and load.
* Although the maximum rated air pressure as indicated on the sidewall is 102 psi / 7 bars, I did test the Yksion Pro UST at 120 psi / 8.3 bars to keep the results consistent across the website.
In the rolling resistance tests, the Yksion Pro UST performs much better than the Yksion Elite (read review) that I've tested last month. When we compare the Yksion Pro UST to the Schwalbe Pro One Tubeless (read review) that is similar in construction and weight, the Yksion Pro comes within 0.6 watts at all usable air pressures.
Although rolling resistance is a tiny bit higher than the Schwalbe Pro one, the Yksion Pro UST does have the advantage of a slightly thicker tread and sidewalls.
When we compare the Yksion Pro UST to the full list of clincher tires (road bike overview), we can conclude that rolling resistance is comparable to the best tubetype clincher tires that are tested with a 100 grams butyl inner tube. When compared to the best tube type clincher tires fitted with latex inner tubes, rolling resistance of the Yksion Pro is slightly higher.
Puncture Resistance Test Results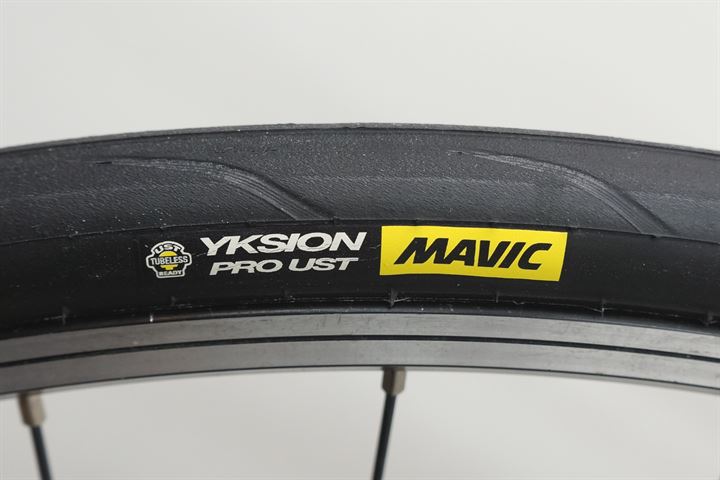 Puncture Resistance Test Results (higher is better)
Puncture Resistance Tread
10 Points
Puncture Resistance Sidewall
6 Points
In the tread puncture resistance tests, the Yksion Pro UST scores 10 points which is slightly below the average of 11 points that most all-round tires with anti-puncture belts achieve.
In the sidewall test, it scores 6 points which is good and equal to the Schwalbe Pro One Tubeless.
I expect the Yksion Pro UST to provide good puncture resistance when used with 30 - 40 ml of sealant as the tread and sidewalls are quite thick (sealant works better on thicker tires).
Conclusion
Mavic Yksion Pro UST Tubeless
Performance compared to all other road bike tires
(100% is fastest - lightest - thickest - strongest)
If you're looking for a nice set of Mavic Comete Pro, Cosmic Pro, Cosmic Elite, Ksyrium Pro, or Ksyrium Elite in the UST version and are worried the tires that come with these wheels will hold you back, I can confirm that in our tests, these tires perform just as good as tires from the big tire brands.
With the Mavic UST wheel and tire combination, you'll also get the added benefit of easier tire inflation as the rim and tire are made to tighter tolerances.
Even if you're not running Mavic wheels, the Yksion Pro UST might be worth considering as it's pretty equal in performance to tires from the bigger brands.
Have you used the new Mavic / Hutchinson 11 Storm compound? Consider leaving a comment as I'm curious how this compound performs on wet and dry roads.
Ad Buy Mavic Yksion Pro UST Tubeless at Amazon.com
RATING: 5.0 / 5
TEST VERDICT: Highly Recommended
Comments