Road Bike Tire Test:

Schwalbe

Pro One Tubeless 25
Schwalbe Pro One Tubeless 25
---
---
---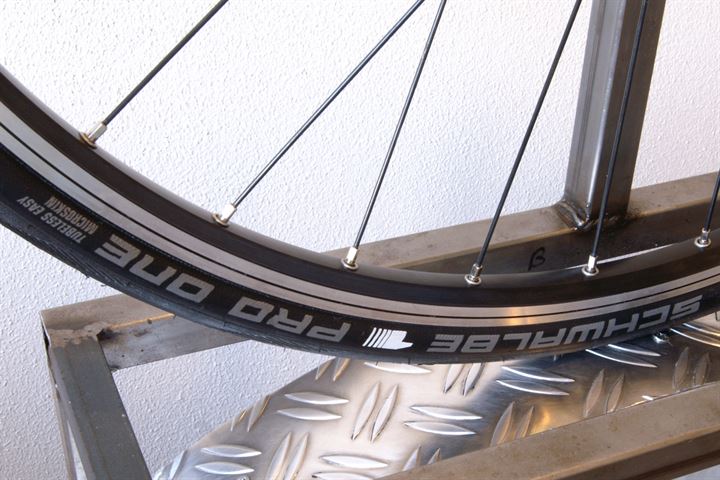 NOTE: We have a test available of a newer version of this tire: Schwalbe Pro One TLE Addix 2020
The Schwalbe Pro One Tubeless is a brand new 2016 model year tire; it should be available for sale later this year. The Pro One Tubeless isn't just a slightly improved version of the original One Tubeless, but an entirely new design. The Pro One is 25% lighter and now carries the Tubeless-Easy batch, this means it requires 20 ml of tire sealant to make the tire seal. Schwalbe sent me a pair of these to test; they must be certain the tires are fast!
Ad Buy Schwalbe Pro One Tubeless at Amazon.com
Although the original One Tubeless (review) already has a very low rolling resistance, I was never really a fan of it. I always felt the tire was too heavy and didn't make it worthwhile to switch to a tubeless set up. Total wheel weight and rolling resistance were very close to the normal One V-Guard (review). You also lost the option to fit latex tubes (Schwalbe One comparison) to reduce rolling resistance and weight even more.
To make it possible to decrease the weight by 25%, Schwalbe now uses a MicroSkin construction. This new MicroSkin fabric is applied from bead to bead and takes care of sealing the tire at the very high pressures used in road bike tires. It also guarantees high-pressure stability and improves cut resistance. With this new construction also comes the Tubeless-Easy part and the requirement to use 20 ml of tire sealant.
Tubeless-Easy and the ability to hold air
The big drawback of using latex inner tubes is they lose air quickly and require re-inflating every day. Because the original One Tubeless had a thick butyl layer on the inside of the tire, it held air just as well as standard inner tubes. I have monitored the air pressure of the new Pro One with 20 ml of sealant over a 48-hour period, and it dropped from 110 psi to 100 psi. It's possible it starts to seal a bit better after a few days. I will update this article when more data is available.
Update: After monitoring air pressure over a seven day period, it seems the Pro One Tubeless started sealing a little bit better. These measurements were taken after several tests and remounting the tire three times. I've also upped the amount of sealant to 30 ml. See table for results.
Schwalbe Pro One air loss during a 7 day period (30ml sealant)
Air pressure at start of test
110.0 psi
24 hours
105.6 psi
48 hours
101.3 psi
72 hours
98.2 psi
96 hours
95.0 psi
120 hours
92.1 psi
144 hours
89.3 psi
168 hours
86.8 psi

Manufacturer Specifications




Manufacturer Specifications
Brand
Schwalbe
Model
Pro One Tubeless
Year
2016
Tire Type
Tubeless
Supplied By
Supplied by Schwalbe
New or Used
New
Mileage
0 km
Price Range
High
Buy At

Ad

Amazon.com
Manufacturer part number
11600809
TPI
127
Compound
OneStar
Bead
Folding
ETRTO
25-622
Size Inch
28"
Specified Width (mm)
25
Specified Weight
255 grams
Max Air Pressure (psi)
110
Made In
Members Only
Available Sizes
23-622 (700x23C)
25-622 (700x25C)
28-622 (700x28C)
25-584 (650x25B)
28-406 (20x1.10)

Schwalbe Pro One Tubeless 25 Test Results

Size, Weight, and Thickness Measurements




Size, Weight and Thickness Measurements
Specified Weight
255 grams
Measured Weight
257 grams
System Adjusted Weight
(tire + valve + rim seal)
277 grams
Measured Width
27 mm (un-round)
Measured Height
24 mm (un-round)
Total Tire Thickness Center
2.3 mm
Total Tire Thickness Sidewall
Members Only
Unmounted Casing Width
No Data
Unmounted Tread Width
No Data
Tread Cover (Tread / Casing Ratio)
No Data
All size measurements are taken at an air pressure of 100 psi / 6.9 bars on a 17.8 mm inner width rim.

Schwalbe sent me a 25 mm version of the Pro One. The 25 mm version has a specified weight of 255 grams, which is a big improvement over the 340 grams of the original One Tubeless. For what it's worth, both tires I received came in at a measured weight of 257 grams. You do have to add the 20 ml of tubeless sealant which adds 20 grams to the total wheel weight. Width and height on a 17C rim comes in at 27 mm and 24 mm respectively.

Rolling Resistance Test Results




Rolling Resistance Test Results
Inner Tube
None (20 ml sealant)
Measured Width
27 mm (un-round)
Rolling Resistance
Real tire width in mm:
22-24 = 132 psi/9.1 bar
25-27 = 120 psi/8.3 bar
28-29 = 108 psi/7.4 barUltra High Air Pressure
(120 psi / 8.3 bar)
11.0 Watts
CRR: 0.00330
Rolling Resistance
Real tire width in mm:
22-24 = 110 psi/7.6bar
25-27 = 100 psi/6.9 bar
28-29 = 90 psi/6.2 barExtra High Air Pressure
(100 psi / 6.9 bar)
11.6 Watts
CRR: 0.00348
Rolling Resistance
Real tire width in mm:
22-24 = 88 psi/6.1 bar
25-27 = 80 psi/5.5 bar
28-29 = 72 psi/5.0 barHigh Air Pressure
(80 psi / 5.5 bar)
Members Only
Rolling Resistance
Real tire width in mm:
22-24 = 66 psi/4.6 bar
25-27 = 60 psi/4.1 bar
28-29 = 54 psi/3.7 barMedium Air Pressure
(60 psi / 4.1 bar)
Members Only
The Road Bike section is a multi tire size section, air pressures have been adjusted to the measured casing width.

All numbers are for a single tire at a speed of 29 km/h / 18 mph and a load of 42.5 kg / 94 lbs.

Use the formula: RR (Watts) = CRR * speed (m/s) * load (N) to calculate rolling resistance at a given speed and load.

The maximum air pressure as indicated on the sidewall is 110 psi (same as One Tubeless). I did take measurements at 120 psi to keep the results consistent across all tires. I don't think this matters as you shouldn't run 25 mm tires at 120 psi anyway.

Rolling resistance is very low! At an air pressure of 120 psi, rolling resistance is 11.0 watts (11.8 One Tubeless). At the more usable air pressure of 100 psi, rolling resistance is 11.6 watts (12.5 One Tubeless). Dropping air pressure to a comfortable 80 psi results in a rolling resistance of 12.8 watts (13.8 One Tubeless).

Rolling resistance has gone down when compared to the One Tubeless. Only when you replace the standard butyl inner tube with a latex inner tube (Grand Prix 4000S II 10.6 Watts | Schwalbe One V-Guard 10.8 watts) will you be able to get a lower rolling resistance than the Pro One Tubeless.

Puncture Resistance Test Results

Puncture Resistance Test Results (higher is better)
Total Puncture Score Tread
49 Points
Total Puncture Score Sidewall
Members Only
Tread Puncture Force Sharp Needle
11 Points
Tread Puncture Force Blunt Needle
No Data
Tread Total Tire Thickness
2.3 mm
Sidewall Puncture Force Sharp Needle
Members Only
Sidewall Puncture Force Blunt Needle
No Data
Sidewall Total Tire Thickness
Members Only

In the puncture resistance test, the Pro One Tubeless scores 11 points. This is 1 point less than the One Tubeless or One V-Guard (both 12 points).

The good part is that while the tested puncture resistance is slightly lower, real-life puncture resistance will be much higher. When using tire sealant in a true tubeless tire, you end up with a tire that will be virtually impossible to flat. Holes of up to 2-3 mm will be sealed instantly. Snakebites and heat related (braking) blowouts will also be a thing of the past because the sensitive inner tubes are eliminated.

I do recommend to add 30 ml of sealant for increased puncture resistance and faster sealing instead of the 20 ml used for this test. Read my test of tubeless sealant to see how this influences rolling resistance and why it doesn't work the same way when you just add sealant to an inner tube.

Static Grip Test Results




NOTE: Grip test data is only available on tires tested after November 2018. You can find more information about our grip test here: Introducing Grip Testing

Static Grip Test Results
Wet Grip Average
No Data
Wet Grip Center
No Data
Wet Grip Edge
No Data
Grip in points = coefficient of friction * 100

Conclusion




I think Schwalbe really delivered a great tire with the Pro One Tubeless. This is the tire I have been waiting for to convert to tubeless. The drawback of losing a bit of air over time doesn't matter to me as I check air pressure every ride anyway. The advantage of much higher real-life puncture resistance is definitely something I enjoy looking forward to. Only when you equip your clinchers with latex inner tubes will you be able to get lower rolling resistance than the Pro One Tubeless.

The Pro One Tubeless will be available later this year. It will be available in 23 25 and 28 mm versions. Also, good news for the recumbent lovers: it will be available in a 28 mm wide 20-inch version. Now, let's sit back and wait on the Continental Grand Prix 4000S III Tubeless announcement!

Ad Buy Schwalbe Pro One Tubeless at Amazon.com




RATING: 5.0 / 5
TEST VERDICT: Highly Recommended




Comments