Touring Bike Tire Test:

Schwalbe

Marathon E-Plus
---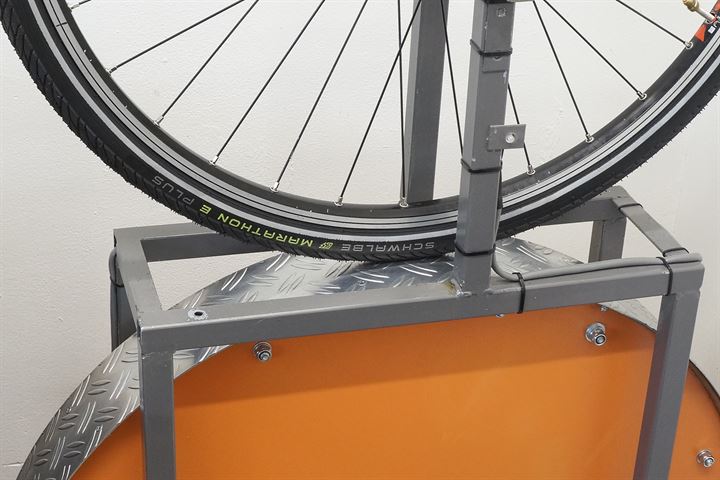 The Schwalbe Marathon Plus has been regarded as one of the most puncture resistant bicycle tires that still has a relatively low rolling resistance. With the rise of e-bikes, puncture resistance has become even more important as most people expect trouble-free operation these days. At the same time, today's e-bikes come with powerful motors and batteries which makes a low rolling resistance less important than it was in the past when we had to rely solely on our legs.
This is where the Schwalbe Marathon E-Plus enters the market. The Marathon E-Plus has been made even tougher than the Marathon Plus (read our review) by adding 2 layers of thin, but hard to penetrate, RaceGuard anti-puncture fabric underneath the 5 mm thick SmartGuard layer. The 5 mm thick SmartGuard layer is made of a soft material that is actually quite easy to penetrate.
The SmartGuard anti-puncture system is based on the principle of objects that want to penetrate the tire simply not being long enough to puncture the inner tube. The problem with this approach to puncture resistance is that when something that is long enough to reach the inner tube, it will work its way through the soft material and eventually reach the inner tube resulting in a flat tire.
The 2 extra layers of RaceGuard fabric provides a best of both worlds approach when it comes to puncture resistance. Of course, these additional layers will make the tire even stiffer and slower rolling but when you're on a powerful e-bike, the higher rolling resistance isn't such a big issue anymore as it was in the past.
Manufacturer Specifications
Manufacturer Specs
Brand
Schwalbe
Model
Marathon E-Plus
Year
2020
Supplied By
Bought in store
New or Used
New
Mileage
0 km
Price Range
High
Buy At
Manufacturer part number
11159077
TPI
67
Compound
Addix E
Bead
Wire
ETRTO
37-622
Size Inch
28"
Width mm
37.00
Specified Weight
930 grams
Max Air Pressure (psi)
85
Made In
Members Only
Available Sizes
37-622 (28x1.40)
40-622 (28x1.50)
47-622 (28x1.75)
50-622 (28x2.00)
55-622 (28x2.15)
50-584 (27.5x2.00)
Schwalbe Marathon E-Plus Test Results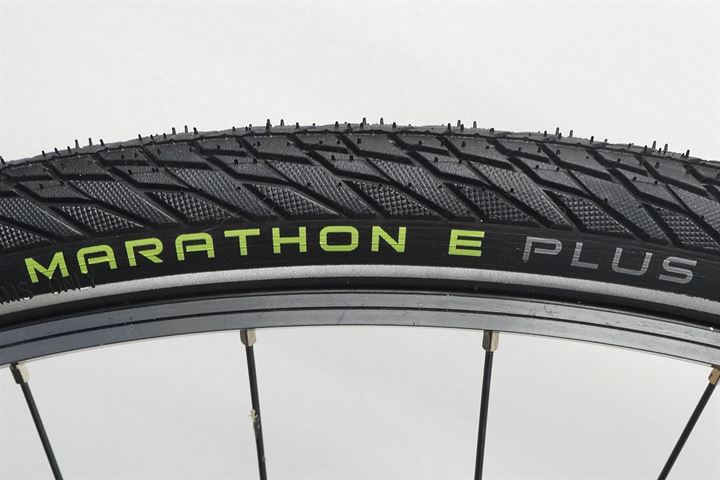 Size, Weight, and Thickness Measurements
Size, Weight, and Thickness Measurements
Specified Weight
930 grams
Measured Weight
911 grams
Measured Width
32 mm (un-round)
Measured Height
33 mm (un-round)
Tread Depth
2.3 mm
Total Tire Thickness Center
8.8 mm
Total Tire Thickness Sidewall
Members Only
All size measurements are taken at an air pressure of 60 psi / 4 bars on a 17.8 mm inner width rim.
Rolling Resistance Test Results
Rolling Resistance Test Results
Inner Tube
Conti Tour 28 (170 gr butyl)
Rolling Resistance
75 PSI / 5 Bar
25.5 Watts
CRR: 0.00764
Rolling Resistance
60 PSI / 4 Bar
27.4 Watts
CRR: 0.00821
Rolling Resistance
45 PSI / 3 Bar
Members Only
Rolling Resistance
30 PSI / 2 Bar
Members Only
All numbers are for a single tire at a speed of 29 km/h / 18 mph and a load of 42.5 kg / 94 lbs.

Use the formula: RR (Watts) = CRR * speed (m/s) * load (N) to calculate rolling resistance at a given speed and load.
Puncture Resistance Test Results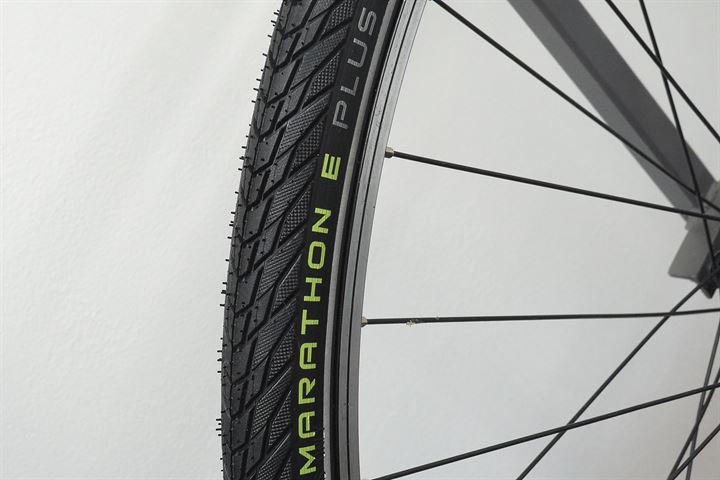 Puncture Resistance Test Results (higher is better)
Total Puncture Score Tread
163 Points
Total Puncture Score Sidewall
Members Only
Tread Puncture Force Sharp Needle
16 Points
Tread Puncture Force Blunt Needle
Members Only
Tread Total Tire Thickness
8.8 mm
Sidewall Puncture Force Sharp Needle
Members Only
Sidewall Puncture Force Blunt Needle
Members Only
Sidewall Total Tire Thickness
Members Only
Static Grip Test Results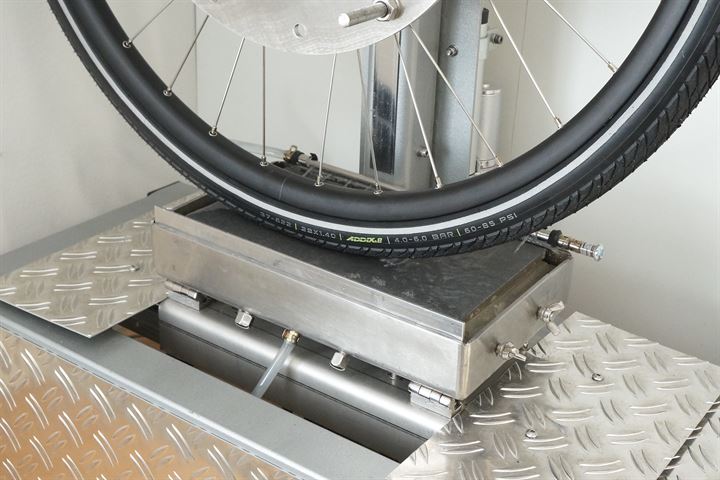 Static Grip Test Results
Wet Grip Average
72 Points
Wet Grip Center
Members Only
Wet Grip Edge
Members Only
Grip in points = coefficient of friction * 100
Conclusion
With the addition of 2 layers of RaceGuard fabric under the 5 mm thick SmartGuard layer, the Marathon E-Plus now uses both a hard to puncture layer as well as a soft-but-thick layer to further improve puncture resistance over the Marathon Plus. The result of this is that the Schwalbe Marathon E-Plus is the most puncture-resistant (Puncture Factor) tire we've tested to date.
As expected, rolling resistance has also gone up but we're surprised the increase is at most 2 watts per tire which will be hard to notice on the road.
Something else we noticed is that the Marathon E-Plus has been downsized quite a bit, the 37-622 version of this tire measured just 32 mm wide as opposed to the 37-622 Marathon Plus that measured 34 mm wide on our 17 mm inner width rim. We've seen this downsizing with some road bike tires as well as there seems to be a trend of moving to wider rims.
RATING: 5.0 / 5
TEST VERDICT: Highly Recommended
Comments