CX/Gravel Tire Test:

Schwalbe

G-One Ultrabite
---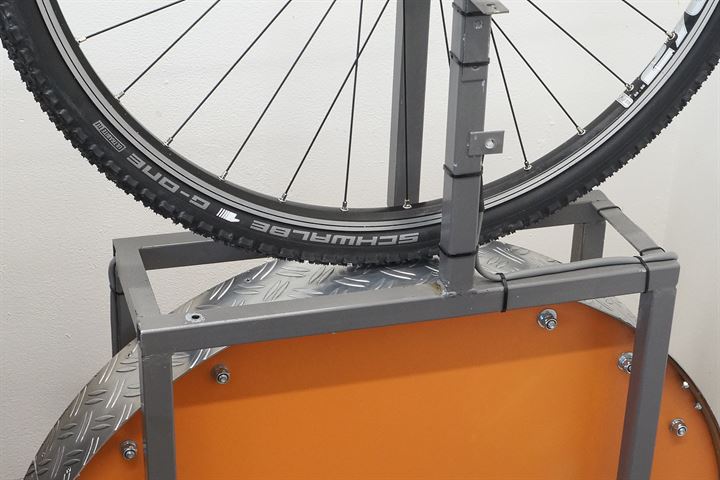 The G-One series is Schwalbe's line of gravel tires. At the time of writing, the G-One line consists of 4 tires from fast tread to aggressive tread: G-One Speed, G-One Allround, G-One Bite, and G-One Ultrabite. At the moment only the Ultrabite version is available with Schwalbe's latest Addix compound. We'll test the other versions as soon as they become available with the new Addix compound.
Ad Buy Schwalbe G-One Ultrabite at Amazon.com
The G-One Ultrabite has aggressive knobs that we would expect more from a mountain bike tire. We can't imagine that you would want to go even more aggressive on a gravel bike because you might be better off grabbing a mountain bike.
The G-One Ultrabite in size 40-622 that we have tested is composed of a MicroSkin TLE casing and the Addix SpeedGrip compound which we also know from Schwalbe's mountain bike tires. The TLE casing has reinforced sidewalls which makes this tire suitable for tubeless use.
advertisement
Manufacturer Specifications
Manufacturer Specs
Brand
Schwalbe
Model
G-One Ultrabite
Year
2020
Supplied By
Bought in store
New or Used
New
Mileage
0 km
Price Range
High
Buy At

Ad

Amazon.com
Manufacturer part number
11654035.01
EAN
4026495873802
TPI
127
Compound
Addix SpeedGrip
Bead
Folding
ETRTO
40-622
Specified Weight
480 grams
Max Pressure
70
Made In
Indonesia
Available Sizes
40-622 (700x38)
Schwalbe G-One Ultrabite Test Results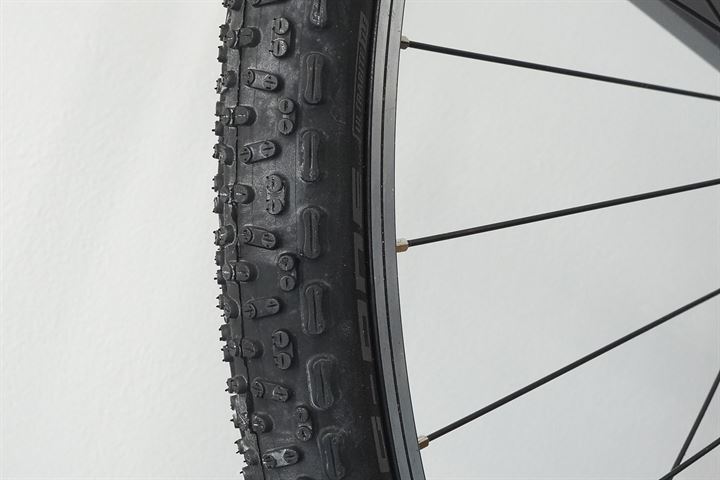 Size, Weight, and Thickness Measurements
Size, Weight, and Thickness Measurements
Specified Weight
480 grams
Measured Weight
564 grams
Measured Width Casing
37 mm
Measured Width Tread
41 mm
Measured Height
36 mm
Measured Knob Height Center
2.3 mm
Measured Knob Height Edge
3.3 mm
Measured Total Thickness Sidewall
0.95 mm
Measured Total Thickness Center (excluding knobs)
2.30 mm
All size measurements are taken at low air pressure on a 17.8 mm inner width rim.
Rolling Resistance Test Results
Rolling Resistance Test Results
Inner Tube
Conti Cross28 (160 gr)
Measured Width
37 mm
Rolling Resistance
Real tire width in mm:
30-32 = 66 psi/4.6 bar
33-35 = 60 psi/4.1 bar
36-40 = 54 psi/3.7 barHigh Air Pressure
27.3Watts
CRR: 0.00818
Rolling Resistance
Real tire width in mm:
30-32 = 55 psi/3.8 bar
33-35 = 50 psi/3.4 bar
36-40 = 45 psi/3.1 barMedium Air Pressure
28.0 Watts
CRR: 0.00839
Rolling Resistance
Real tire width in mm:
30-32 = 44 psi/3.0 bar
33-35 = 40 psi/2.8 bar
36-40 = 36 psi/2.6 barLow Air Pressure
29.8 Watts
CRR: 0.00893
Rolling Resistance
Real tire width in mm:
30-32 = 33 psi/2.3 bar
33-35 = 30 psi/2.1 bar
36-40 = 27 psi/1.9barExtra Low Air Pressure
33.3 Watts
CRR: 0.00998
The CX/Gravel section is a multi tire size section, air pressures have been adjusted to the measured casing width.

All numbers are for a single tire at a speed of 29 km/h / 18 mph and a load of 42.5 kg / 94 lbs.

Use the formula: RR (Watts) = CRR * speed (m/s) * load (N) to calculate rolling resistance at a given speed and load.
Puncture Resistance Test Results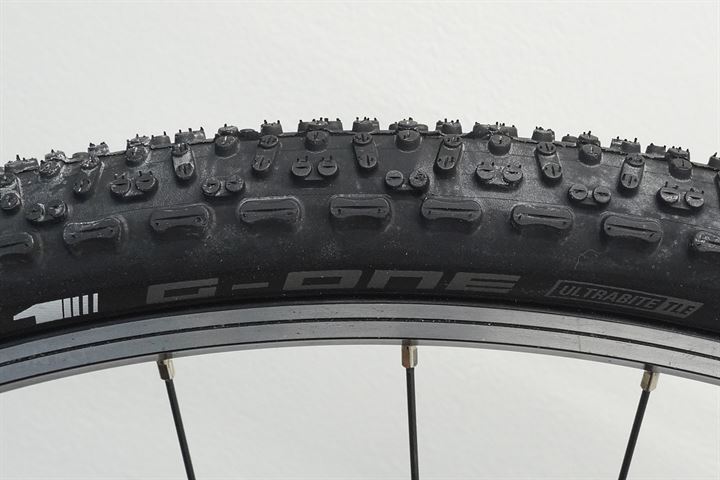 Puncture Resistance Test Result (higher is better)
Puncture Resistance Tread
8 Points
Puncture Resistance Sidewall
5 Points
Conclusion
The G-One is a very aggressive gravel bike tire. Unfortunately, the tire is not as fast as what we were used to from the Schwalbe tires from the past. The tread is very aggressive, if you are mainly looking for a lot of grip on your gravel bike, these are probably some of the best.
The weight is very disappointing from this tire, specified is an already high 480 grams but our tire weighs 564 grams which we would certainly return if we used them for any reason other than this test. We rate this tire a 3 out of 5 mainly because of the aggressive tread profile that is unique in this size.
Ad Buy Schwalbe G-One Ultrabite at Amazon.com
RATING: 3.0 / 5
TEST VERDICT: Recommended
Comments