Road Bike Tire Test:

Pirelli

P Zero Race
---
---
---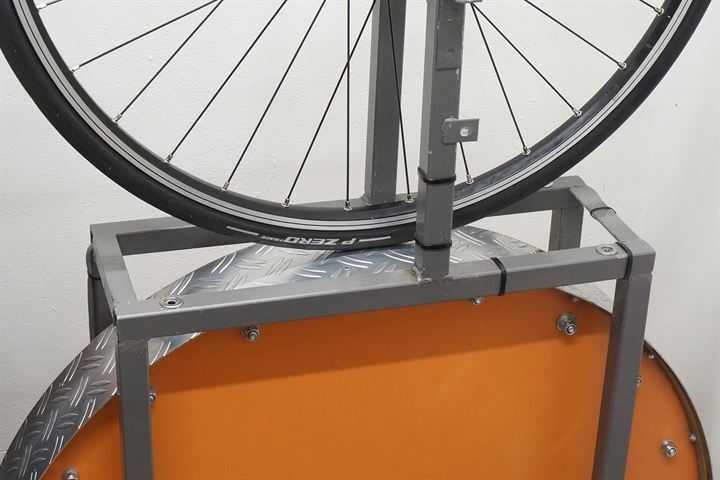 The Pirelli P Zero Race is a new addition to Pirelli's range of tubetype (clincher) road bike tires. Together with the P Zero Race, they also launched the P Zero Road that's supposed to be more of an all-round tire for riders looking for balanced performance. The P Zero Race is lighter and thinner and seems to fit in between pure time-trial tires and all-round tires.
Ad Buy Pirelli P Zero Race at Amazon.com
Pirelli already launched the TLR version of the P Zero Race back in 2020 which at that time was still named "P Zero Velo Race TLR" (read our review). With the launch of the tubetype P Zero Race and Road, they dropped the Velo name and also renamed the TLR versions to just "P Zero Race TLR". We assume these are still the same tires as before and only the name has changed.
When we look at Pirelli's current lineup of tubetype road bike tires it looks like this:

P Zero Velo TT (time trial)
P Zero Race (time-trial/all-round)
P Zero Velo (all-round)
P Zero Road (all-round)
P Zero Velo 4S (all-season)

There now seems to be some overlap in the all-round class and although Pirelli still has the older P Zero Velo (read our review) on their site, it's missing on the packaging of the P Zero Race (lists all their road bike tires) and we wouldn't be surprised if that tire will be discontinued in the near future.
The P Zero Race consists of a 127 TPI "TechBELT" casing that comes with an extra layer of anti-puncture material under the tread. The tread is a bit thinner than most all-round tires and the compound is the SmartEvo compound that we've already seen on the TLR versions of the P Zero Race and which seems to perform well in our tests.
The P Zero Race is available in the 26-622, 28-622, and 30-622 sizes. Strangely enough, the heavier P Zero Road version is only available in the smaller 24-622, 26-622, 28-622 sizes which doesn't seem to match what we normally see with road bike tires. Maybe they mixed them up when sending the specifications to production ;)
Manufacturer Specifications
Manufacturer Specifications
Brand
Pirelli
Model
P Zero Race
Year
2021
Tire Type
Tubetype (clincher)
Supplied By
Bought in store
New or Used
New
Mileage
0 km
Price Range
High
Buy At

Ad

Amazon.com
Manufacturer part number
3984400
EAN
8019227398441
TPI
127
Compound
SmartEvo
Bead
Folding
ETRTO
26-622
Size Inch
28"
Specified Width (mm)
26
Specified Weight
205 grams
Max Air Pressure (psi)
116
Made In
Members Only
Available Sizes
26-622 (700x26c)
28-622 (700x28c)
30-622 (700x30c)
Pirelli P Zero Race Test Results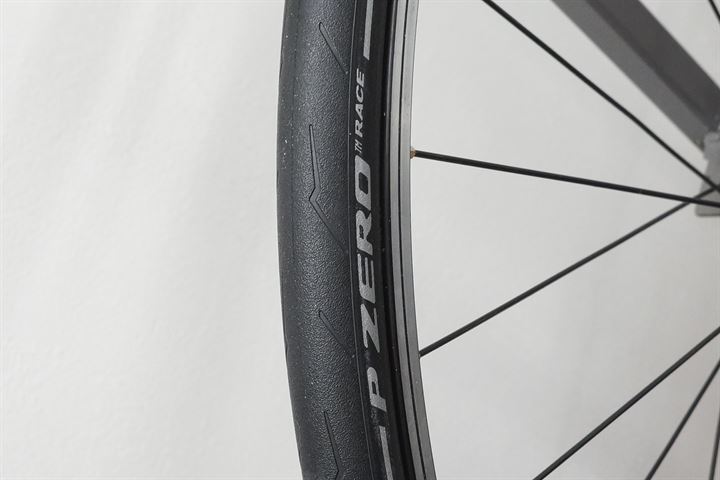 Size, Weight, and Thickness Measurements
advertisement
Size, Weight and Thickness Measurements
Specified Weight
205 grams
Measured Weight
204 grams
System Adjusted Weight
(tire + inner tube (100 gr)
304 grams
Measured Width
26 mm (un-round)
Measured Height
23 mm (un-round)
Total Tire Thickness Center
2.3 mm
Total Tire Thickness Sidewall
Members Only
Unmounted Casing Width
66 mm
Unmounted Tread Width
Members Only
All size measurements are taken at an air pressure of 100 psi / 6.9 bars on a 17.8 mm inner width rim.
Rolling Resistance Test Results
Rolling Resistance Test Results
Inner Tube
Conti Race28 (100gr butyl)
Rolling Resistance
140 PSI / 9.7 Bar
Not Tested
Rolling Resistance
120 PSI / 8.3 Bar
12.6 Watts
CRR: 0.00378
Rolling Resistance
100 PSI / 6.9 Bar
13.5 Watts
CRR: 0.00405
Rolling Resistance
80 PSI / 5.5 Bar
Members Only
Rolling Resistance
60 PSI / 4.1 Bar
Members Only
All numbers are for a single tire at a speed of 29 km/h / 18 mph and a load of 42.5 kg / 94 lbs.

Use the formula: RR (Watts) = CRR * speed (m/s) * load (N) to calculate rolling resistance at a given speed and load.
Puncture Resistance Test Results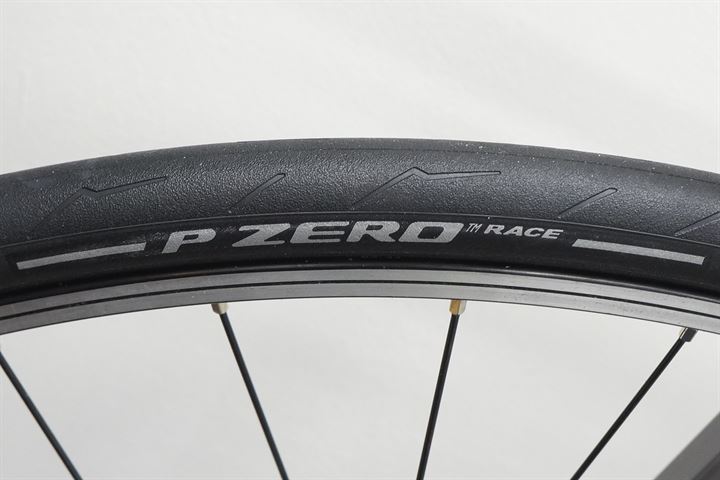 Puncture Resistance Test Results (higher is better)
Total Puncture Score Tread
55 Points
Total Puncture Score Sidewall
Members Only
Tread Puncture Force Sharp Needle
Members Only
Tread Puncture Force Blunt Needle
Members Only
Tread Total Tire Thickness
2.3 mm
Sidewall Puncture Force Sharp Needle
Members Only
Sidewall Puncture Force Blunt Needle
Members Only
Sidewall Total Tire Thickness
Members Only
Static Grip Test Results
NOTE: Grip test data is only available on tires tested after November 2018. You can find more information about our grip test here: Introducing Grip Testing
Static Grip Test Results
Wet Grip Average
60 Points
Wet Grip Center
Members Only
Wet Grip Edge
Members Only
Grip in points = coefficient of friction * 100
Conclusion
We're not impressed by the performance of the P Zero Race in our tests. Performance is very close to the older P Zero Velo (read our review) that launched back in 2017 and which, at that time, was one of the top-performing tires. Since 2017, a lot of tires have been launched that outperform the P Zero Velo in our tests. To make things worse, tread thickness has gone down from 2.6 mm for the 2017 P Zero Velo to just 2.3 mm for the P Zero Race.
Just like many other tires, the P Zero Race also comes in a bit smaller than older tires. The 2017 25-622 P Zero Velo measured 27.4 mm wide while the 26-622 P Zero Race comes in at just 26.3 mm. When we take the reduced size into consideration, weight also increased even though tread thickness has been reduced. Pirelli's puncture belt seems to be good as it performs well in our puncture tests even with the limited tread thickness.
No official data yet, but the grip tests we're currently working on indicate dry grip of the P Zero Race is very good but if you plan to ride in the wet, you definitely should avoid this tire.
Ad Buy Pirelli P Zero Race at Amazon.com
RATING: 3.7 / 5
TEST VERDICT: Recommended
Comments