MTB Tire Test:

Kenda

Small Block Eight
---
---
---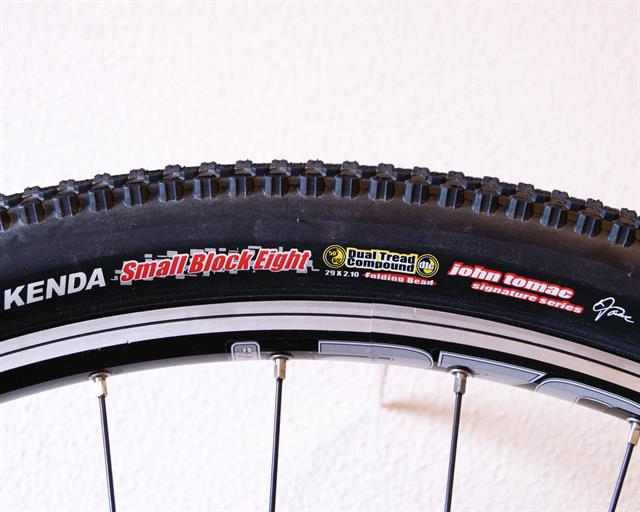 The Kenda Small Block Eight is one of those tires that gets recommended a lot when someone asks for advice on a fast mountain bike tire. As the name suggests, the Small Block 8 has a lot of small knobs which are closely spaced together. Kenda promotes this tire as the ultimate XC racing tire with lots of speed and grip. Because I did not test a single Kenda tire yet, the small block eight has been on my shortlist for quite some time. Let's see if a very fast looking tread pattern makes a fast tire.
Ad Buy Kenda Small Block Eight at Amazon.com
The tire I'm testing is the fastest Small Block Eight available from Kenda, it has a folding bead, 120 TPI casing and a dual tread compound (DTC compound). Unfortunately, the Small Block Eight isn't available in a 29 x 2.25 size so I've gone for the 29 x 2.1. This does mean it has a small disadvantage against the other tires because of the smaller volume. This is especially true because I always use the same test procedure with rolling resistance measurements at 25, 35, 45 and 55 psi.
Manufacturer Specifications
Manufacturer Specs
Brand
Kenda
Model
Small Block Eight
Year
2015
Supplied By
Bought in store
New or Used
New
Mileage
0 km
Price Range
High
Buy At

Ad

Amazon.com
Manufacturer part number
K1047 212509
TPI
120
Compound
DTC
Bead
Folding
ETRTO
54-622
Size Inch
29"
Width Inch
2.10
Specified Weight
580 grams
Max Air Pressure (psi)
80
Made In
Members Only
Available Sizes
29x2.10
Kenda Small Block Eight Test Results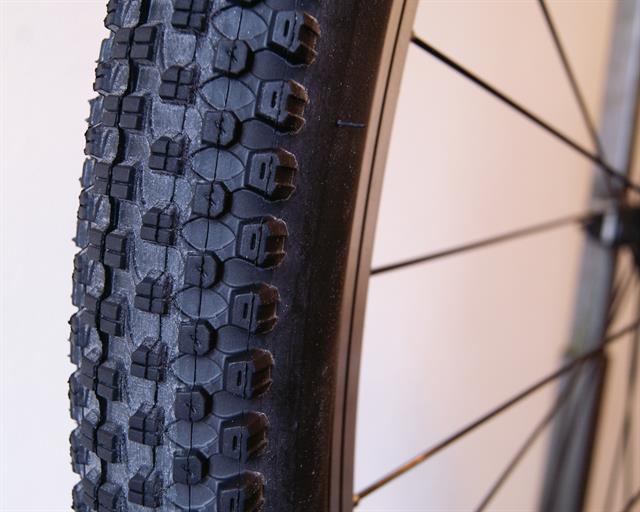 Size, Weight, and Thickness Measurements
Size, Weight, and Thickness Measurements
Specified Weight
580 grams
Measured Weight
589 grams
Measured Width Carcass
50 mm (un-round)
Measured Width Tread
50 mm
Measured Height
50 mm (un-round)
Measured Knob Height Center
2.5 mm
Measured Knob Height Edge
4.0 mm
Measured Total Thickness Center (excluding knobs)
1.4 mm
Measured Total Thickness Sidewall
Members Only
All size measurements are taken at an air pressure of 35 psi / 2.4 bars on a 17.8 mm inner width rim.
Measured weight is 589 grams, which comes close to the advertised weight of 580 grams. Knob height is 2.5 / 4 mm and is close to the other XC tires tested by me. The real width of the carcass is 50 mm which is 3-5 mm smaller than most other mountain bike tires that have been tested by me. I was hoping the 2.1 rated tire would be at least 52 mm to make it easier to compare it to other tires at the same air pressure.
Rolling Resistance Test Results
Rolling Resistance Test Results
Inner Tube
Conti MTB 29 (225 gr butyl)
Rolling Resistance
55 PSI / 3.8 Bar
Members Only
Rolling Resistance
45 PSI / 3.1 Bar
Members Only
Rolling Resistance
35 PSI / 2.4 Bar
30.2 Watts
CRR: 0.00905
Rolling Resistance
25 PSI / 1.7 Bar
35.6 Watts
CRR: 0.01067
All numbers are for a single tire at a speed of 29 km/h / 18 mph and a load of 42.5 kg / 94 lbs.

Use the formula: RR (Watts) = CRR * speed (m/s) * load (N) to calculate rolling resistance at a given speed and load.
The performance of the Small Block Eight in the rolling resistance test isn't very good for a tire marketed as an ultimate XC racing tire. At 55 psi, rolling resistance is 25.5 watts, rising sharply to 35.6 watts at 25 psi. This means rolling resistance is 7-12 watts higher when compared to better performing tires in the same price range.
Puncture Resistance Test Results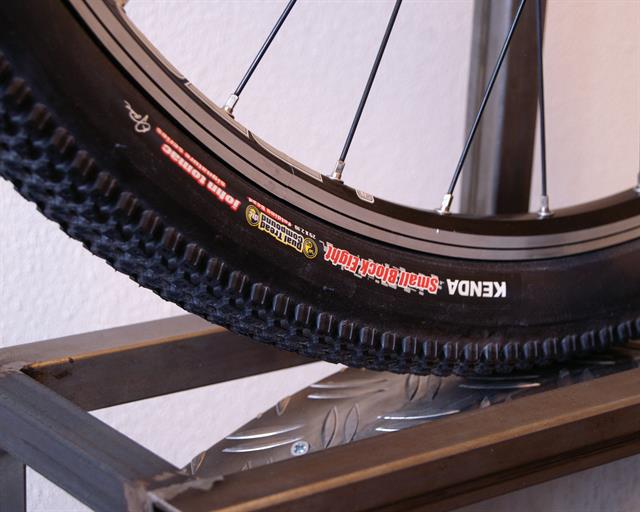 Puncture Resistance Test Results (higher is better)
Total Puncture Score Tread
23 Points
Total Puncture Score Sidewall
Members Only
Tread Puncture Force Sharp Needle
6 Points
Tread Puncture Force Blunt Needle
No Data
Tread Total Tire Thickness
1.4 mm
Sidewall Puncture Force Sharp Needle
Members Only
Sidewall Puncture Force Blunt Needle
No Data
Sidewall Total Tire Thickness
Members Only
Even puncture resistance is very low with a score of 6 in the puncture test. High rolling resistance and low puncture resistance is not a good combination. All in all, this tire gets outperformed by most other mountain bike tires, even tires that are much cheaper.
Conclusion
The Kenda Small Block Eight gets outperformed by almost all other mountain bike tires that have been tested. When you compare this tire to a Schwalbe Racing Ralph Evolution, which is a tire in the same class, knob height and price. For a pair of tires, 23.4 watts of power output gets subtracted from the potential 200-250 watts of output an average cyclist can produce. In my opinion, this is a lot of lost speed, especially when you consider there is no puncture resistance or knob height advantage.
I can't recommend this tire to anyone, I will test more Kenda tires in the future to see if they can build tires that can beat the competition. Taking the Small Block Eight into consideration, Kenda definitely has a lot to improve.
Ad Buy Kenda Small Block Eight at Amazon.com
RATING: 2.0 / 5
TEST VERDICT: Not Recommended
Comments