Road Bike Tire Test:

Panaracer

Agilest TLR 28
---
---
---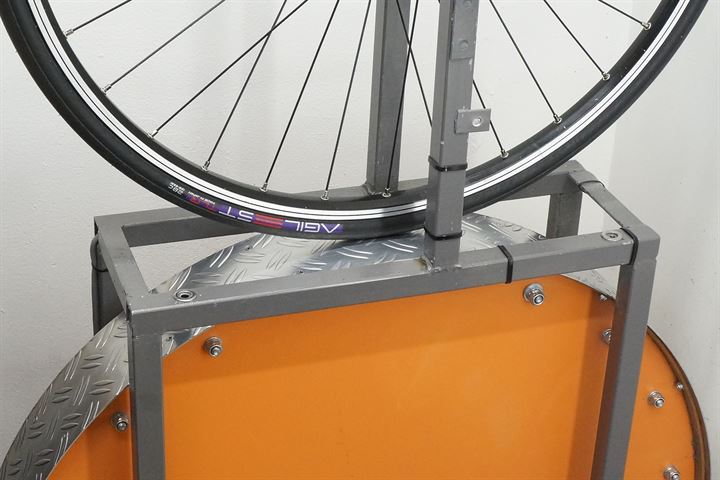 The Agilest series is a new range of road bike tires from Panaracer that replaces their "Evo 4" range. The Agilest series consists of 3 tube-type tires (all-round, durable, and light), a tubular tire (all-round), and an all-round tubeless-ready tire. This is a test of the 28 mm version of the tubeless-ready Agilest TLR, which probably is the preferred size as the movement towards bigger road bike tires continues.
Ad Buy Panaracer Agilest TLR at Amazon.com
We're not all that familiar with Panaracer's older road bike tires, but we tested the Evo 3 range in 2018 and found them to be average performers with an emphasis on puncture resistance. The Agilest range should be a good step up over the Evo 3 range as it's been designed from the ground up with the latest casing materials and tread compounds from Panaracer.
The Panaracer Agilest TLR comes with a tubeless-ready and hookless compatible AX-Alpha Cord (Advanced Extra Alpha Cord) casing of an unknown TPI. On the inside of the tire, we find an additional "Air Proof Layer" that runs from bead to bead and should help keep the air in when using this tire in tubeless form.
Although most other "all-round" road bike tires come with an additional layer of anti-puncture material under the tread, there is none on the Agilest TLR, which helps keep the weight down. Luckily, our puncture test results show the casing material is stronger than what's used on most other tires, and the total puncture resistance is similar to other tubeless-ready tires in the same class.
The compound is Panaracer's new "ZSG AGILE Compound" that, together with the casing, should provide a "grippy low rolling resistance supple ride".
The Agilest TLR is available in the 25-622, 28-622, and 30-622 sizes. Something to keep in mind is that all sizes have been adjusted to comply with the 2020 ETRTO standards. That means the tires are a bit smaller than the tires of the past. Our 28-622 sample measured smaller than 28 mm on our 17.8 mm rim, and we expect the other sizes to be relatively small as well.
Manufacturer Specifications
Manufacturer Specifications
Brand
Panaracer
Model
Agilest TLR
Year
2023
Tire Type
Tubeless
Supplied By
Bought in store
New or Used
New
Mileage
0 km
Price Range
High
Buy At

Ad

Amazon.com
Manufacturer part number
RF728TR-AG-B
EAN
4931253025174
TPI
-
Compound
ZSG Agile
Bead
Folding
ETRTO
28-622
Size Inch
28"
Specified Width (mm)
28
Specified Weight
250 grams
Max Air Pressure (psi)
95
Made In
Members Only
Available Sizes
25-622 (700x25c)
28-622 (700x28c)
30-622 (700x30c)
Panaracer Agilest TLR 28 Test Results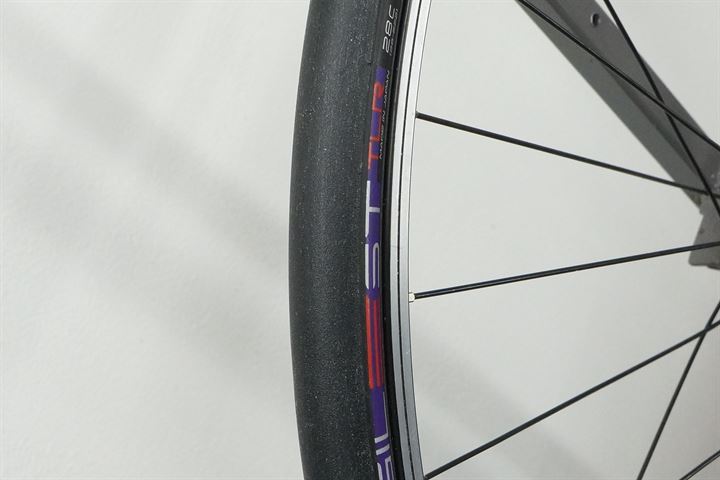 Size, Weight, and Thickness Measurements
Size, Weight and Thickness Measurements
Specified Weight
250 grams
Measured Weight
235 grams
System Adjusted Weight
(tire + valve + rim seal)
255 grams
Measured Width
28 mm (un-round)
Measured Height
24 mm (un-round)
Total Tire Thickness Center
1.8 mm
Total Tire Thickness Sidewall
Members Only
Unmounted Casing Width
72 mm
Unmounted Tread Width
Members Only
Tread Cover (Tread / Casing Ratio)
Members Only
All size measurements are taken at an air pressure of 100 psi / 6.9 bars on a 17.8 mm inner width rim.
Rolling Resistance Test Results
Rolling Resistance Test Results
Inner Tube
None (20 ml sealant)
Measured Width
28 mm (un-round)
Rolling Resistance
Real tire width in mm:
22-24 = 132 psi/9.1 bar
25-27 = 120 psi/8.3 bar
28-29 = 108 psi/7.4 barUltra High Air Pressure
(108 psi / 7.4 bar)
11.3 Watts
CRR: 0.00339
Rolling Resistance
Real tire width in mm:
22-24 = 110 psi/7.6bar
25-27 = 100 psi/6.9 bar
28-29 = 90 psi/6.2 barExtra High Air Pressure
(90 psi / 6.2 bar)
12.2 Watts
CRR: 0.00366
Rolling Resistance
Real tire width in mm:
22-24 = 88 psi/6.1 bar
25-27 = 80 psi/5.5 bar
28-29 = 72 psi/5.0 barHigh Air Pressure
(72 psi /5.0 bar)
Members Only
Rolling Resistance
Real tire width in mm:
22-24 = 66 psi/4.6 bar
25-27 = 60 psi/4.1 bar
28-29 = 54 psi/3.7 barMedium Air Pressure
(54 psi / 3.7 bar)
Members Only
The Road Bike section is a multi tire size section, air pressures have been adjusted to the measured casing width.

All numbers are for a single tire at a speed of 29 km/h / 18 mph and a load of 42.5 kg / 94 lbs.

Use the formula: RR (Watts) = CRR * speed (m/s) * load (N) to calculate rolling resistance at a given speed and load.
Puncture Resistance Test Results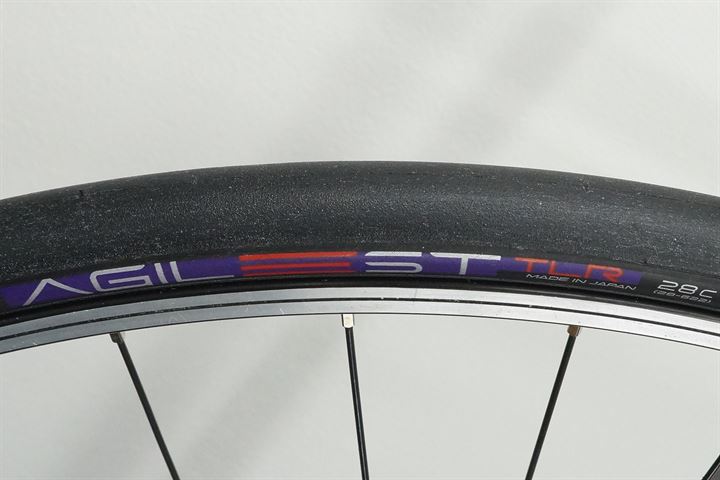 Puncture Resistance Test Results (higher is better)
Total Puncture Score Tread
40 Points
Total Puncture Score Sidewall
Members Only
Tread Puncture Force Sharp Needle
Members Only
Tread Puncture Force Blunt Needle
Members Only
Tread Total Tire Thickness
1.8 mm
Sidewall Puncture Force Sharp Needle
Members Only
Sidewall Puncture Force Blunt Needle
Members Only
Sidewall Total Tire Thickness
Members Only
Static Grip Test Results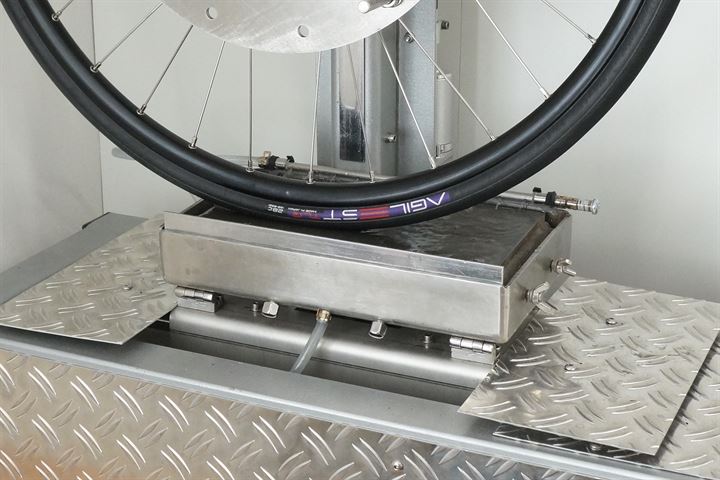 Static Grip Test Results
Wet Grip Average
67 Points
Wet Grip Center
Members Only
Wet Grip Edge
Members Only
Grip in points = coefficient of friction * 100
Conclusion
The Panaracer Agilest TLR is an average performer in our tests, with average performance in the rolling and puncture resistance tests. The strong points are the low weight and strong sidewalls that hold air well. The main weaknesses are the low total thickness of the tire at the center of the tire and a lower wet grip score when the tire is on the edge of the tread.
We're a bit surprised by the wet grip test results as we don't often see full slick tires scoring lower in our wet grip edge test than the wet grip center test. We're not sure yet what's going on there, but as the tread itself is more than wide enough, we suspect it might result from the tread getting thinner towards the edge of the tire.
Ad Buy Panaracer Agilest TLR at Amazon.com
RATING: 3.5 / 5
TEST VERDICT: Recommended
Comments