Road Bike Tire Test:

Michelin

Lithion 2 25
---
---
---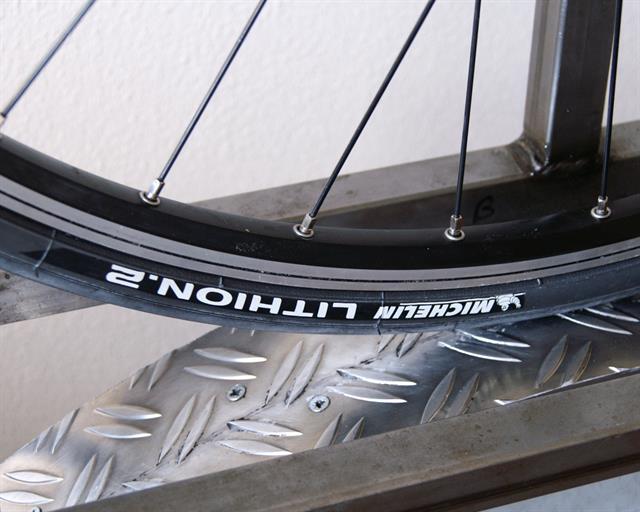 The Michelin Lithion 2 is Michelin's medium priced road bike tire. The Lithion 2 is positioned directly under the Pro 4 range, which are Michelin's top of the line tires. It's main competitors are the Continental Grand Prix and Vittoria Rubino Pro, which are two of my favorite road bike tires. I'm looking to see if Michelin can offer a competitive tire in this price range, getting close to the Conti and Vittoria would be a great accomplishment.
Ad Buy Michelin Lithion 2 at Amazon.com
Unfortunately, Not a lot of information can be found about the Lithion 2. The only things Michelin has to say about this tire are: Folding tire for training use, great grip, endurance, good performance. After some digging in PDF files, I've found the Lithion 2 to use a 60 TPI canvass and some kind of "Performance Grip" compound. Not providing more information seems like a missed opportunity. Why spend so many resources into developing a tire and then be so brief?
Positioned under the Lithion 2 is the even cheaper Michelin Dynamic Sport. The Dynamic Sport is a bottom barrel wire bead tire and is the next tire on my list. I'm curious how it fits in the Michelin road bike tire range and how it compares to the other cheap tires.
Manufacturer Specifications
Manufacturer Specifications
Brand
Michelin
Model
Lithion 2
Year
2015
Tire Type
Tubetype (clincher)
Supplied By
Bought in store
New or Used
New
Mileage
0 km
Price Range
Med
Buy At

Ad

Amazon.com
Manufacturer part number
146051
TPI
60
Compound
Performance Grip
Bead
Folding
ETRTO
25-622
Size Inch
28"
Specified Width (mm)
25
Specified Weight
250 grams
Max Air Pressure (psi)
109
Made In
Members Only
Available Sizes
23-622 (700x23C)
25-622 (700x25C)
Michelin Lithion 2 25 Test Results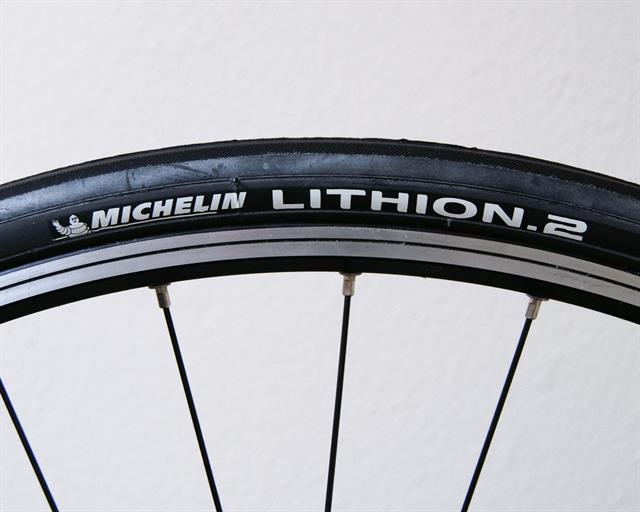 Size, Weight, and Thickness Measurements
Size, Weight and Thickness Measurements
Specified Weight
250 grams
Measured Weight
268 grams
System Adjusted Weight
(tire + inner tube (100 gr)
368 grams
Measured Width
27 mm (un-round)
Measured Height
25 mm (un-round)
Total Tire Thickness Center
3 mm
Total Tire Thickness Sidewall
Members Only
Unmounted Casing Width
No Data
Unmounted Tread Width
No Data
Tread Cover (Tread / Casing Ratio)
No Data
All size measurements are taken at an air pressure of 100 psi / 6.9 bars on a 17.8 mm inner width rim.
Michelin specifies weight of the 700 x 25C Lithion 2 to be 250 grams. The sample used for this test comes in at 268 grams. 268 grams is a bit more than both the Conti Grand Prix and Vittoria Rubino which came in at 239 and 238 grams. Measured width is 27 mm. Measured height is 25 mm. 27/25 mm seems to be the average size for a 25C rated tire.
With the Michelin Lithion 2 review comes some new data: Total Tire Thickness Tread and Total Tire Thickness Sidewall. These measurements should give an indication about how much rubber is on the tire (tread measurement) and the thickness of the carcass (sidewall measurement). The Lithion 2 measures 3.0 mm/0.55 mm, which both are very average values. The Pro 4 Service Course and Endurance measure 2.9 mm/0.55 mm and 2.9 mm/0.9 mm respectively.
Rolling Resistance Test Results
Rolling Resistance Test Results
Inner Tube
Conti Race28 (100gr butyl)
Measured Width
27 mm (un-round)
Rolling Resistance
Real tire width in mm:
22-24 = 132 psi/9.1 bar
25-27 = 120 psi/8.3 bar
28-29 = 108 psi/7.4 barUltra High Air Pressure
(120 psi / 8.3 bar)
15.9 Watts
CRR: 0.00477
Rolling Resistance
Real tire width in mm:
22-24 = 110 psi/7.6bar
25-27 = 100 psi/6.9 bar
28-29 = 90 psi/6.2 barExtra High Air Pressure
(100 psi / 6.9 bar)
16.7 Watts
CRR: 0.00501
Rolling Resistance
Real tire width in mm:
22-24 = 88 psi/6.1 bar
25-27 = 80 psi/5.5 bar
28-29 = 72 psi/5.0 barHigh Air Pressure
(80 psi / 5.5 bar)
Members Only
Rolling Resistance
Real tire width in mm:
22-24 = 66 psi/4.6 bar
25-27 = 60 psi/4.1 bar
28-29 = 54 psi/3.7 barMedium Air Pressure
(60 psi / 4.1 bar)
Members Only
The Road Bike section is a multi tire size section, air pressures have been adjusted to the measured casing width.

All numbers are for a single tire at a speed of 29 km/h / 18 mph and a load of 42.5 kg / 94 lbs.

Use the formula: RR (Watts) = CRR * speed (m/s) * load (N) to calculate rolling resistance at a given speed and load.
Maximum allowed air pressure as indicated on the sidewall is 109 psi. I did take measurements at 120 psi to keep all results consistent across the site.
At an air pressure of 120 psi, rolling resistance is 15.9 watts. At the more usable air pressure of 100 psi, rolling resistance comes in at 16.7 watts. Dropping air pressure to a comfortable 80 psi results in a rolling resistance of 18.7 watts. All of these values are very average, the Lithion 2 doesn't really stand out of the crowd.
Rolling resistance is a bit higher when compared to its main competitors, 2.5 to 3.5 watts is lost to the Conti Grand Prix or Vittoria Rubino Pro. When we compare the Lithion 2 with the Pro 4 Service Course and Pro 4 Endurance, rolling resistance is 1.7 to 3 watts higher depending on air pressure. When you consider the Lithion 2 is about half the price of the Pro 4 tires, you get great value for money.
Puncture Resistance Test Results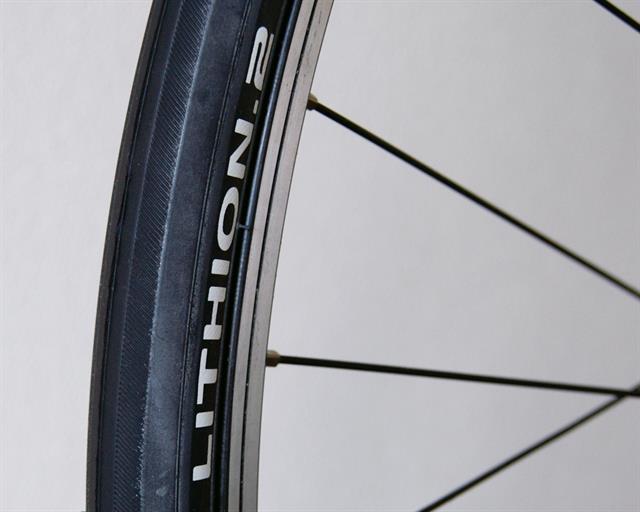 Puncture Resistance Test Results (higher is better)
Total Puncture Score Tread
61 Points
Total Puncture Score Sidewall
Members Only
Tread Puncture Force Sharp Needle
12 Points
Tread Puncture Force Blunt Needle
No Data
Tread Total Tire Thickness
3 mm
Sidewall Puncture Force Sharp Needle
Members Only
Sidewall Puncture Force Blunt Needle
No Data
Sidewall Total Tire Thickness
Members Only
The Michelin Pro 4 Service Course and Endurance both surprised me by getting high scores in the puncture resistance tests. The Lithion 2 isn't able to impress like its more expensive family. With a score of 12 points in the tread test, it scores 3 points less than the Pro 4 Service Course and Endurance. In the sidewall test, it scores 4 points. This is an average score at best and 50% and 33% lower than the Endurance and Service Course respectively.
Static Grip Test Results
NOTE: Grip test data is only available on tires tested after November 2018. You can find more information about our grip test here: Introducing Grip Testing
Static Grip Test Results
Wet Grip Average
No Data
Wet Grip Center
No Data
Wet Grip Edge
No Data
Grip in points = coefficient of friction * 100
Conclusion
To me, the Lithion 2 seems like a very average tire. This seems to comply with the way Michelin describes this tire on its website. This doesn't mean it's a bad tire. If performance is average in all categories, you still end up with a great tire. I'm not sure how the Lithion 2 performs in the real world, it might have great grip or long wear. If you've used this tire, consider leaving a comment about real-life performance.
I classified the Lithion 2 as a medium price range tire. In reality, the Lithion 2 comes in at the bottom of the medium price range class. Pricing seems to be a bit lower when compared to the Continental Grand Prix and Vittoria Rubino Pro. If you can get a good deal on these, I'm sure the Lithion 2's will be solid tires.
Ad Buy Michelin Lithion 2 at Amazon.com
RATING: 3.0 / 5
TEST VERDICT: Recommended
Comments