Road Bike Tire Test:

Continental

Grand Prix Attack II
Continental Grand Prix Attack II
---
---
---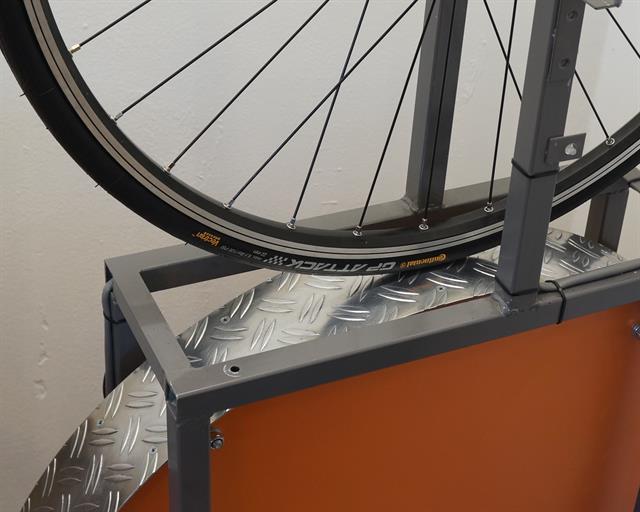 The Continental Grand Prix Attack II is the front tire of the Grand Prix Attack II/Force II road set. Its smaller 22C size should provide an aerodynamic advantage when used as a front tire while the slightly bigger 24C Force II provides increased comfort and grip as a rear tire. Both these tires are very closely related to the popular Grand Prix 4000S II as they use the same 3/330 casing and Black Chili compound.
Ad Buy Continental Grand Prix Attack II at Amazon.com
As I've already mentioned in the GP Force II (review), it's important to consider rim width as well if you want to gain an aerodynamic advantage from the smaller front tire. Just mounting a smaller tire to a rim that has been aerodynamically optimized to be used with a bigger tire isn't going to give you an advantage. When you're going through all the trouble to gain those last few tenths, you should use a smaller rim on the front wheel as well.
Manufacturer Specifications
Manufacturer Specifications
Brand
Continental
Model
Grand Prix Attack II
Year
2016
Tire Type
Tubetype (clincher)
Supplied By
Bought in store
New or Used
New
Mileage
0 km
Price Range
High
Buy At

Ad

Amazon.com
Manufacturer part number
0100488
TPI
3/330
Compound
Black Chili
Bead
Folding
ETRTO
22-622
Size Inch
28"
Specified Width (mm)
22
Specified Weight
175 grams
Max Air Pressure (psi)
120
Made In
Members Only
Available Sizes
22-622 (700x22C)
Continental Grand Prix Attack II Test Results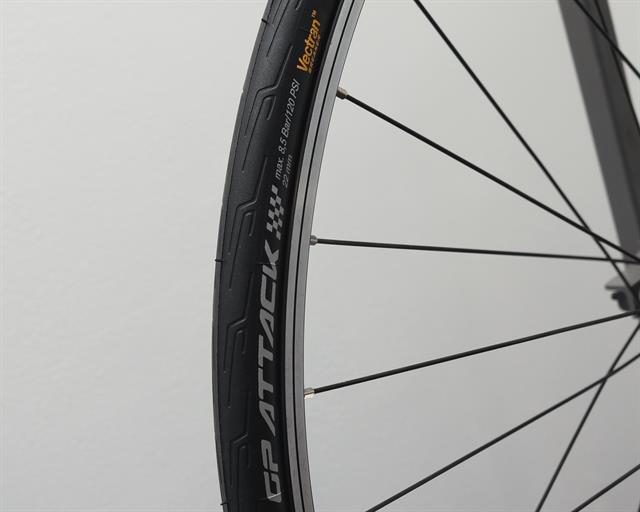 Size, Weight, and Thickness Measurements
advertisement
Size, Weight and Thickness Measurements
Specified Weight
175 grams
Measured Weight
182 grams
System Adjusted Weight
(tire + inner tube (100 gr)
282 grams
Measured Width
24 mm (un-round)
Measured Height
21 mm (un-round)
Total Tire Thickness Center
2.2 mm
Total Tire Thickness Sidewall
Members Only
Unmounted Casing Width
No Data
Unmounted Tread Width
No Data
Tread Cover (Tread / Casing Ratio)
No Data
All size measurements are taken at an air pressure of 100 psi / 6.9 bars on a 17.8 mm inner width rim.
The specified weight of the 22C Grand Prix Attack is a low 175 grams. My sample came in at 182 grams. The measured width and height on a 17C rim, at an air pressure of 100 psi is 24 mm and 21 mm respectively. The sizing seems to be in line with the other Conti tires which mostly come in 1-2 mm wider than specified on my rim/air pressure.
The total thickness of the tire at the center of the tread comes in at 2.2 mm which is slightly less than the GP Force which came in at 2.3 mm. 2.2 mm is on the thin side for a road bike tire as most all-round tires seem to come just shy of 3 mm while the no-compromise time-trial tires come in closer to 2 mm. The GP Attack/Force definitely won't come near the mileage a GP 4000S II provides.
Rolling Resistance Test Results
Rolling Resistance Test Results
Inner Tube
Conti Race28 (100gr butyl)
Rolling Resistance
140 PSI / 9.7 Bar
Not Tested
Rolling Resistance
120 PSI / 8.3 Bar
11.7 Watts
CRR: 0.00351
Rolling Resistance
100 PSI / 6.9 Bar
12.7 Watts
CRR: 0.00381
Rolling Resistance
80 PSI / 5.5 Bar
Members Only
Rolling Resistance
60 PSI / 4.1 Bar
Members Only
All numbers are for a single tire at a speed of 29 km/h / 18 mph and a load of 42.5 kg / 94 lbs.

Use the formula: RR (Watts) = CRR * speed (m/s) * load (N) to calculate rolling resistance at a given speed and load.
*Please note that I usually test 24/25C tires which have a bigger volume than the 22C Attack. As all tests are performed at the same air pressures to make it easier to compare all data side by side, real rolling resistance of the smaller tires will be slightly better as you can run a higher pressure for the same comfort level.
At very high air pressures, rolling resistance of the Attack II is slightly higher than the Force II 24C, but lower than the GP4000S II 25C (read review). When dropping air pressures, rolling resistance starts to go up faster than most other tires which can be attributed to the lower volume. Like already noted, the 22C Attack is the smallest sized tire on this website which means it will be harder to compare to the rest of the tires. Overall, rolling resistance appears to be a bit higher than the GP Force.
Puncture Resistance Test Results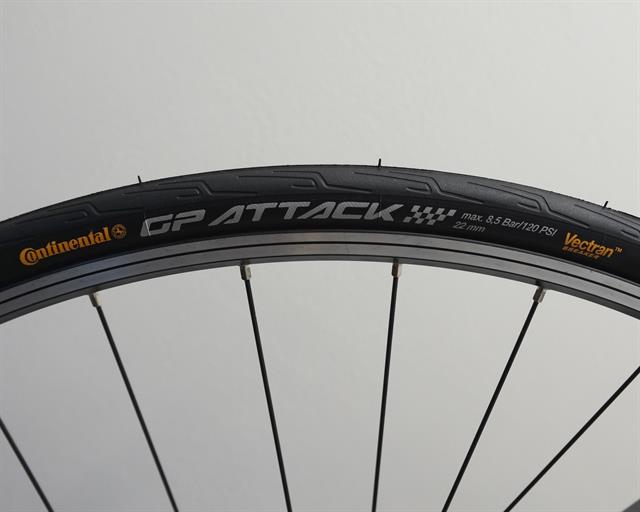 Puncture Resistance Test Results (higher is better)
Total Puncture Score Tread
37 Points
Total Puncture Score Sidewall
Members Only
Tread Puncture Force Sharp Needle
9 Points
Tread Puncture Force Blunt Needle
No Data
Tread Total Tire Thickness
2.2 mm
Sidewall Puncture Force Sharp Needle
Members Only
Sidewall Puncture Force Blunt Needle
No Data
Sidewall Total Tire Thickness
Members Only
In the puncture resistance tests, the GP Attack performs equally in both the tread and sidewall tests. With a score of 9 points in the tread test, both the Attack and Force offer less puncture resistance than the popular GP4000S II which came in at 11 points.
Static Grip Test Results
NOTE: Grip test data is only available on tires tested after November 2018. You can find more information about our grip test here: Introducing Grip Testing
Static Grip Test Results
Wet Grip Average
No Data
Wet Grip Center
No Data
Wet Grip Edge
No Data
Grip in points = coefficient of friction * 100
Conclusion
Overall, rolling resistance of the Grand Prix Attack is slightly higher when compared to the Grand Prix Force while providing the same tread thickness and puncture resistance. Compared to the Grand Prix 4000S II (read review) or Grand Prix TT (read review), the Attack doesn't appear to offer any advantages. Keep in mind to use a wheel optimized for 22C tires on the front and a wheel optimized for 24C tires in the rear if you're looking to gain an aerodynamic advantage from a smaller front tire.
I rate the Force/Attack front/rear combo 4 out of 5 because most people have the same width rims front/rear which will make it hard to gain an aerodynamic advantage from these tires. Also, going with a 23C/25C Grand Prix TT combo will give you the same advantage while providing a much lower rolling resistance.
Ad Buy Continental Grand Prix Attack II at Amazon.com
RATING: 4.0 / 5
TEST VERDICT: Recommended
Comments