MTB Tire Test:

Vittoria

AKA
---
---
---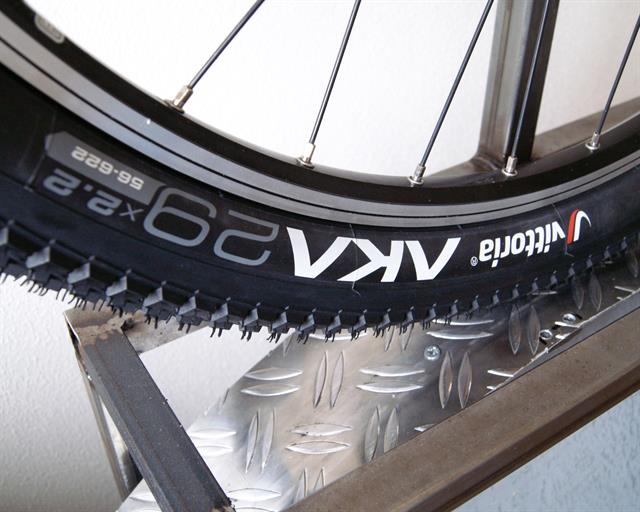 The Vittoria AKA Folding 29x2.2 is a cross-country MTB tire with a tread profile that is comparable to that of a Race King or Racing Ralph. The folding version I'm reviewing is the fastest version of the AKA. The folding AKA uses a 120 TPI casing and is not rated as a tubeless tire. Also available is a cheaper rigid version with a 26 TPI casing and a TNT (Tube-No Tube) version, which is the tubeless version that also has a 120 TPI casing but is a bit heavier.
Ad Buy Cycling Equipment at Amazon.com - Tires, Parts, and Bikes
The Vittoria AKA used to be the GEAX AKA. In late 2014, Vittoria decided to drop the GEAX brand for off-road tires and just use the more well known Vittoria brand for their entire range of bike tires. Vittoria road bike tires have a good reputation. I guess they wanted to make use of the well-known brand to be able to market the off-road tires better. I think this was a smart move as the GEAX brand has never been really popular with most MTBers.
I found it hard to find detailed information about the Vittoria off-road range on their website. Information about which compound is used on the AKA seems to be missing. Their website also seems to be off about the weight of the AKA. The AKA folding 29x2.2 is specified as having a weight of 650 grams, but the packaging my tire came in says 690 grams. That's 40 grams on top of an already high weight. Read on to see how the Vittoria AKA performs on our tests.
Manufacturer Specifications
Manufacturer Specs
Brand
Vittoria
Model
AKA
Year
2015
Supplied By
Bought in store
New or Used
New
Mileage
0 km
Price Range
High
Buy At
Manufacturer part number
111.3A9.19.56.111HD
TPI
120
Compound
Bead
Folding
ETRTO
56-622
Size Inch
29"
Width Inch
2.20
Specified Weight
690 grams
Max Air Pressure (psi)
65
Made In
Members Only
Available Sizes
29x2.20
29x2.00
27.5x2.20
Vittoria AKA Test Results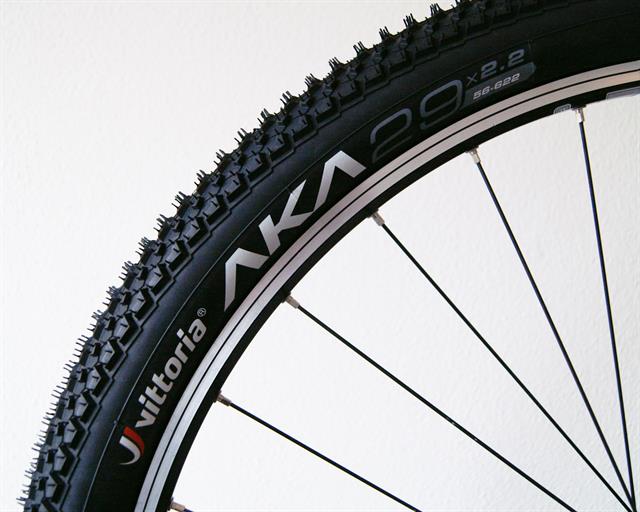 Size, Weight, and Thickness Measurements
Size, Weight, and Thickness Measurements
Specified Weight
690 grams
Measured Weight
685 grams
Measured Width Carcass
52 mm (un-round)
Measured Width Tread
54 mm
Measured Height
53 mm (un-round)
Measured Knob Height Center
2.5 mm
Measured Knob Height Edge
3.5 mm
Measured Total Thickness Center (excluding knobs)
2.4 mm
Measured Total Thickness Sidewall
Members Only
All size measurements are taken at an air pressure of 35 psi / 2.4 bars on a 17.8 mm inner width rim.
The measured weight of this Vittoria AKA is 685 grams which is slightly less than indicated on the packaging (690 grams) but a bit more than the 650 grams on the Vittoria website. 685 grams is quite a lot when compared to most other high-performance 29 x 2.2 cross country MTB tires which seem to fall in the 500-600 grams range. The width of the casing is 52 mm and the tread has a max width of 54 mm. Height is 53 mm on a 17C rim. Seems to be OK for a 2.2 rated tire.
Rolling Resistance Test Results
Rolling Resistance Test Results
Inner Tube
Conti MTB 29 (225 gr butyl)
Rolling Resistance
55 PSI / 3.8 Bar
Members Only
Rolling Resistance
45 PSI / 3.1 Bar
Members Only
Rolling Resistance
35 PSI / 2.4 Bar
38.0 Watts
CRR: 0.01139
Rolling Resistance
25 PSI / 1.7 Bar
40.7 Watts
CRR: 0.01220
All numbers are for a single tire at a speed of 29 km/h / 18 mph and a load of 42.5 kg / 94 lbs.

Use the formula: RR (Watts) = CRR * speed (m/s) * load (N) to calculate rolling resistance at a given speed and load.
Rolling resistance of the Vittoria AKA is very -very- high. At 25 psi, the AKA has a 15 to 18 watts per tire higher rolling resistance than the top performing tires. This is something I totally did not expect from Vittoria as the rolling resistance performance of their road bike tires is really good. I retested the Race King RaceSport again to see if nothing was wrong with my setup. The Race King tested a couple tenths lower than before...
I still find it fascinating to see the differences between two tires that look almost the same from the outside, yet one of them taking almost twice the amount of power than the other. My machine really got stressed testing the AKA. I even had to up the power limiter from 4.0 to 4.5 amps for the first time to be able to test the AKA.
Puncture Resistance Test Results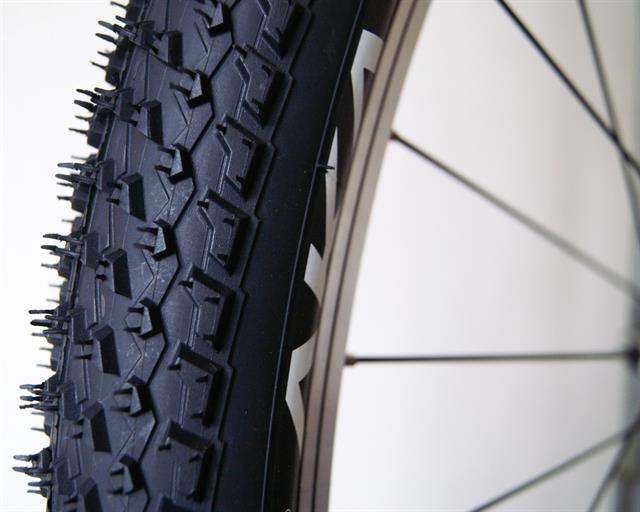 Puncture Resistance Test Results (higher is better)
Total Puncture Score Tread
53 Points
Total Puncture Score Sidewall
Members Only
Tread Puncture Force Sharp Needle
12 Points
Tread Puncture Force Blunt Needle
No Data
Tread Total Tire Thickness
2.4 mm
Sidewall Puncture Force Sharp Needle
Members Only
Sidewall Puncture Force Blunt Needle
No Data
Sidewall Total Tire Thickness
Members Only
In the puncture resistance test, the Vittoria AKA is able to get a PR score of 12. This is higher than the lowest rolling resistance tires, but not much higher than the Race King Performance which has a PR score of 11. The Race King Performance does have a much lower rolling resistance than the Vittoria AKA. Given the high rolling resistance, I would have expected a much higher puncture resistance than any other tire.
Hard Surface Static Grip Test Results
Static Grip Test Results
Wet Grip Average
No Data
Wet Grip Center
No Data
Wet Grip Edge
No Data
Measured Knob Height Center
2.5 mm
Measured Knob Height Edge
3.5 mm
Grip in points = coefficient of friction * 100
Wet Grip Test and Off-Road Tires (info)
Conclusion
Given the excellent results of Vittoria road bike tires, I was expecting the Vittoria AKA to be a low rolling resistance tire. Maybe not as low as the top performing tires, but at least competitive. Unfortunately, performance in the rolling resistance test is very bad. The Vittoria AKA scores the highest rolling resistance of all tires I had the chance to test up to now. This tire even stressed my rolling resistance test machine enough to require me to up the power limiter.
I totally do not recommend this tire. Not even on it's high puncture resistance score. Just look at the results of the other mountain bike tire rolling resistance tests and you will be able to save up to 40 watts of power for a pair of tires.
Ad Buy Cycling Equipment at Amazon.com - Tires, Parts, and Bikes
RATING: 1.0 / 5
TEST VERDICT: Not Recommended
Comments