Road Bike Tire Test:

Vredestein

Fortezza Senso All Weather
Vredestein Fortezza Senso All Weather
---
---
---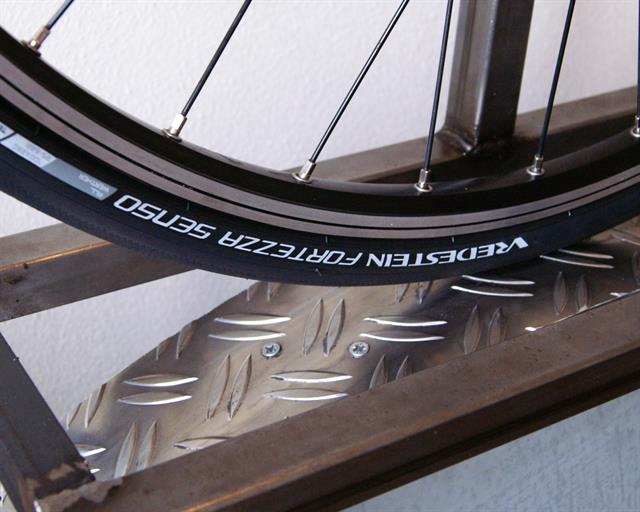 The Vredestein Fortezza Senso All Weather is the top of the line all-round road bike tire from Vredestein. This tire uses all of the high-tech stuff you expect from a top of the line tire: 120 TPI carcass, TriComp compound, and excellent protection. Although this is the high-end tire from Vredestein, pricing is a little lower when compared to Conti's or Schwalbe's. This tire was donated by Dutch webshop Mantel.com. Thanks, Mantel!
Ad Buy Vredestein Fortezza Senso All Weather at Amazon.com
When looking at the specifications of the Fortezza Senso All Weather, it seems to be very comparable to the Conti GP4000S and Schwalbe One. specified weight is 225 grams for the 25 mm version of this tire. Add-in the 120 TPI carcass and TriComp compound and pretty much everyone will be convinced rolling resistance should be comparable to top of the line road bike tires from other manufacturers.
Surprisingly, the performance of the Fortezza Senso in the rolling resistance test is awful. This tire has the highest rolling resistance of all road bike tires I had the chance to test up to know. Mantel sent me 2 tires, I tested both and both were equally bad. I retested a Schwalbe One and Conti GP4000S II to verify the Fortezza Senso results, these tires had the same low rolling resistance they always have. Read on for the full results.
Manufacturer Specifications
Manufacturer Specifications
Brand
Vredestein
Model
Fortezza Senso All Weather
Year
2015
Tire Type
Tubetype (clincher)
Supplied By
Bought in store
New or Used
New
Mileage
0 km
Price Range
Med
Buy At

Ad

Amazon.com
Manufacturer part number
28504
TPI
120
Compound
TriComp
Bead
Folding
ETRTO
25-622
Size Inch
28"
Specified Width (mm)
25
Specified Weight
240 grams
Max Air Pressure (psi)
130
Made In
Members Only
Available Sizes
23-622 (700x23C)
25-622 (700x25C)
28-622 (700x28C)
Vredestein Fortezza Senso All Weather Test Results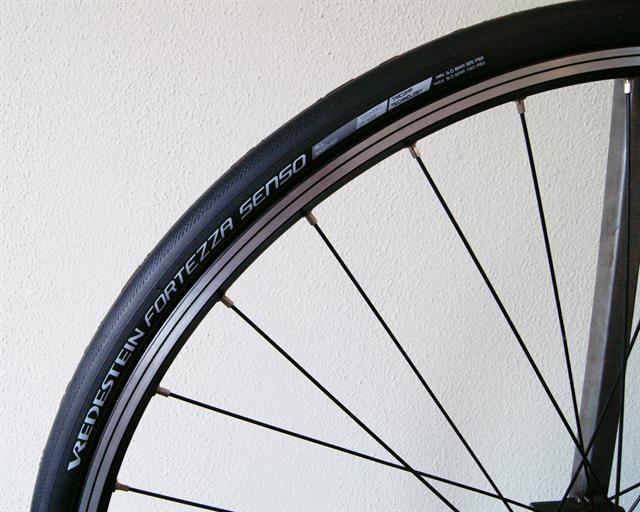 Size, Weight, and Thickness Measurements
advertisement
Size, Weight and Thickness Measurements
Specified Weight
240 grams
Measured Weight
234 grams
System Adjusted Weight
(tire + inner tube (100 gr)
334 grams
Measured Width
26 mm (un-round)
Measured Height
24 mm (un-round)
Total Tire Thickness Center
3.2 mm
Total Tire Thickness Sidewall
Members Only
Unmounted Casing Width
No Data
Unmounted Tread Width
No Data
Tread Cover (Tread / Casing Ratio)
No Data
All size measurements are taken at an air pressure of 100 psi / 6.9 bars on a 17.8 mm inner width rim.
The pair of Fortezza Senso All Weather 25 mm I received, had a weight of 234 and 235 grams. Vredestein claims a weight of 240 grams, tires that are lighter than specced are great! The maximum air pressure of the Fortezza Senso All Weather, as indicated on the sidewall, is 130 psi.
Rolling Resistance Test Results
Rolling Resistance Test Results
Inner Tube
Conti Race28 (100gr butyl)
Rolling Resistance
140 PSI / 9.7 Bar
Not Tested
Rolling Resistance
120 PSI / 8.3 Bar
18.0 Watts
CRR: 0.00540
Rolling Resistance
100 PSI / 6.9 Bar
19.7 Watts
CRR: 0.00591
Rolling Resistance
80 PSI / 5.5 Bar
Members Only
Rolling Resistance
60 PSI / 4.1 Bar
Members Only
All numbers are for a single tire at a speed of 29 km/h / 18 mph and a load of 42.5 kg / 94 lbs.

Use the formula: RR (Watts) = CRR * speed (m/s) * load (N) to calculate rolling resistance at a given speed and load.
The rolling resistance test: This is where it all goes wrong. At 120 psi, the Fortezza Senso already has a much higher rolling resistance (18 watts) than a GP4000S II at 60 psi (15.5 watts). It even has a much higher rolling resistance than a very cheap Vittoria Zaffiro at the same air pressure. Fortunately, rolling resistance doesn't explode when dropping air pressure. Still, rolling resistance is the highest of all road bike tires I've tested to date.
Puncture Resistance Test Results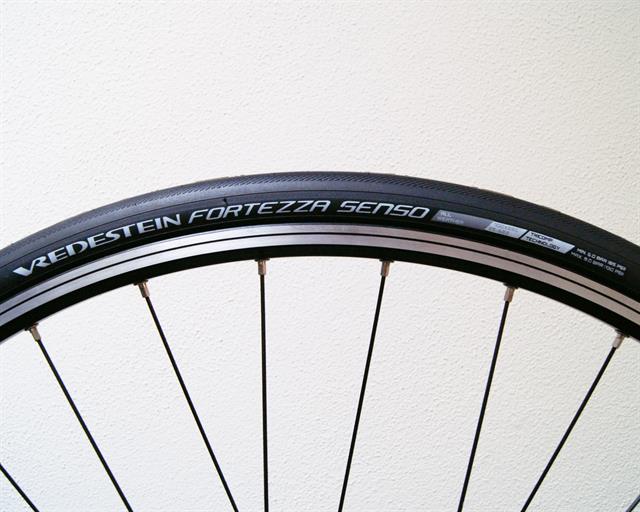 Puncture Resistance Test Results (higher is better)
Total Puncture Score Tread
65 Points
Total Puncture Score Sidewall
Members Only
Tread Puncture Force Sharp Needle
13 Points
Tread Puncture Force Blunt Needle
No Data
Tread Total Tire Thickness
3.2 mm
Sidewall Puncture Force Sharp Needle
Members Only
Sidewall Puncture Force Blunt Needle
No Data
Sidewall Total Tire Thickness
Members Only
A road bike tire with such a high rolling resistance should at least have a very high puncture resistance? Puncture resistance is good with a score of 13, which is a little higher than the GP4000S (11) or Schwalbe One (12). Still, there are other tires with comparable or higher puncture resistance, but much lower rolling resistance. Please look at all data and make your own verdict.
Static Grip Test Results
NOTE: Grip test data is only available on tires tested after November 2018. You can find more information about our grip test here: Introducing Grip Testing
Static Grip Test Results
Wet Grip Average
No Data
Wet Grip Center
No Data
Wet Grip Edge
No Data
Grip in points = coefficient of friction * 100
Conclusion
I had high hopes of the Vredestein Fortezza Senso All Weather testing close to the other top tires or maybe even surpassing them. Unfortunately, it seems rolling resistance is way too high to consider using this tire. At 100 psi and a speed of 29 km/h, rolling resistance for a pair of tires is 14 watts higher when compared with the Continental Grand Prix 4000S II or Schwalbe One. In my opinion, that's way too much.
At a lower price point than a Fortezza Senso, you will be able to buy a Vittoria Rubino Pro or Conti Grand Prix, which both have much lower rolling resistance. For slightly more money, true low rolling resistance tires like the Conti GP4000S II or Schwalbe One can be had.
Ad Buy Vredestein Fortezza Senso All Weather at Amazon.com
RATING: 2.0 / 5
TEST VERDICT: Not Recommended
Comments