Road Bike Tire Test:

Goodyear

Eagle F1 TLC 25
---
---
---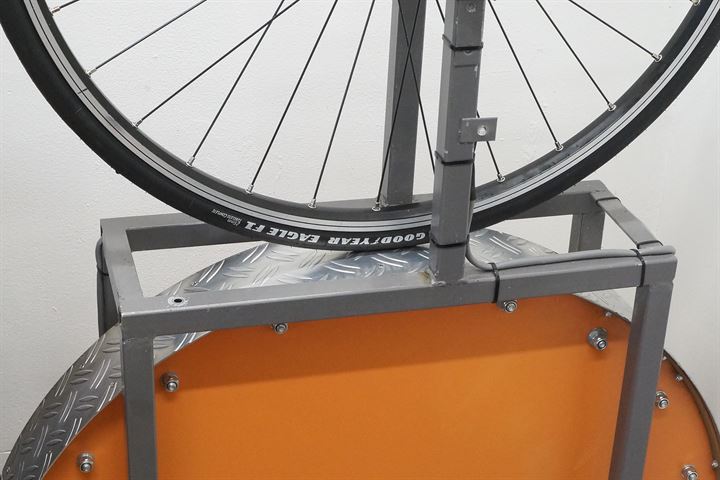 The Goodyear Eagle F1 Tubeless Complete is the first Goodyear tire we've tested, and with such an iconic name, our expectations were through the roof. If you're into car tires (and probably even when you're not), 'Goodyear Eagle F1' might ring a bell or two. The new Goodyear road bike tires now also use the Eagle F1 name that, although it's a bit confusing for online search, gives it an instant edge over the competition.
Ad Buy Goodyear Eagle F1 TLC at Amazon.com
The Eagle F1 range is part of Goodyear's 'UHP' range of bicycle tires which stands for 'Ultra-High-Performance'. The UHP range consists of the Eagle F1, Eagle F1 SuperSport, and Vector 4 Seasons. The regular Eagle F1 is a clear all-round road bike tire with the SuperSport being more race-oriented and the Vector 4 Seasons offering more protection and wet grip. The all-round class is by far the most popular in road biking as these tires provide good durability and puncture resistance while still being fast and light.
The Eagle F1 is available in both tube-type and tubeless versions in a nice range of sizes ranging from 23-622 (tube-type only) up to 32-622. The Tubeless version comes with a 120 TPI tubeless-ready casing that features a 'Dual Angle Bead Design' for easy inflation and air retention. The compound is Goodyear's 'Dynamic:GSR' compound where the GSR part stands for 'Graphene Silica Road' and Goodyear promises 'Improved grip, reduced rolling resistance and longer wear'.
We've tested the 25-622 version of the Eagle F1 Tubeless Complete. Our first impression with this tire was very positive as we were able to inflate the tire with a standard floor pump, valve core in place, no sealant, and no cursing (10 out of 10).
Manufacturer Specifications
Manufacturer Specifications
Brand
Goodyear
Model
Eagle F1 TLC
Year
2021
Tire Type
Tubeless
Supplied By
Bought in store
New or Used
New
Mileage
0 km
Price Range
High
Buy At

Ad

Amazon.com
Manufacturer part number
GR.010.25.622.V003.R
TPI
120
Compound
Dynamic:GSR
Bead
Folding
ETRTO
25-622
Size Inch
28"
Specified Width (mm)
25
Specified Weight
275 grams
Max Air Pressure (psi)
110
Made In
Members Only
Available Sizes
25-622 (700x25c)
28-622 (700x28c)
30-622 (700x30c)
32-622 (700x30c)
Goodyear Eagle F1 TLC 25 Test Results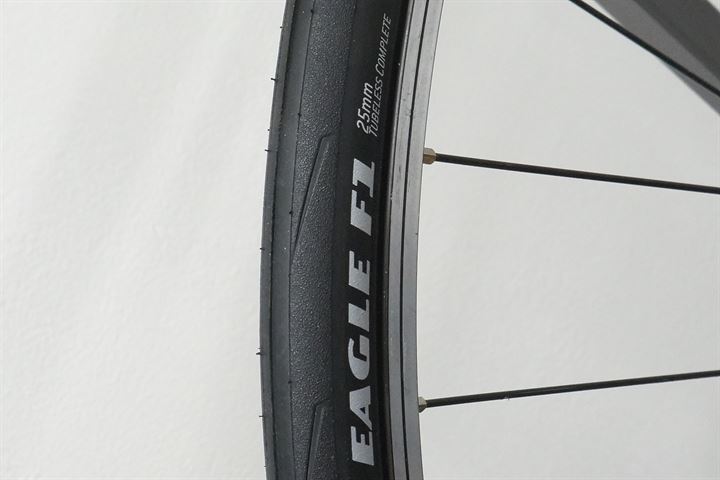 Size, Weight, and Thickness Measurements
Size, Weight and Thickness Measurements
Specified Weight
275 grams
Measured Weight
280 grams
System Adjusted Weight
(tire + valve + rim seal)
300 grams
Measured Width
26 mm (un-round)
Measured Height
23 mm (un-round)
Total Tire Thickness Center
2.8 mm
Total Tire Thickness Sidewall
Members Only
Unmounted Casing Width
64 mm
Unmounted Tread Width
Members Only
Tread Cover (Tread / Casing Ratio)
Members Only
All size measurements are taken at an air pressure of 100 psi / 6.9 bars on a 17.8 mm inner width rim.
Rolling Resistance Test Results
Rolling Resistance Test Results
Inner Tube
None (20 ml sealant)
Measured Width
26 mm (un-round)
Rolling Resistance
Real tire width in mm:
22-24 = 132 psi/9.1 bar
25-27 = 120 psi/8.3 bar
28-29 = 108 psi/7.4 barUltra High Air Pressure
(120 psi / 8.3 bar)
13.9 Watts
CRR: 0.00417
Rolling Resistance
Real tire width in mm:
22-24 = 110 psi/7.6bar
25-27 = 100 psi/6.9 bar
28-29 = 90 psi/6.2 barExtra High Air Pressure
(100 psi / 6.9 bar)
14.7 Watts
CRR: 0.00441
Rolling Resistance
Real tire width in mm:
22-24 = 88 psi/6.1 bar
25-27 = 80 psi/5.5 bar
28-29 = 72 psi/5.0 barHigh Air Pressure
(80 psi / 5.5 bar)
Members Only
Rolling Resistance
Real tire width in mm:
22-24 = 66 psi/4.6 bar
25-27 = 60 psi/4.1 bar
28-29 = 54 psi/3.7 barMedium Air Pressure
(60 psi / 4.1 bar)
Members Only
The Road Bike section is a multi tire size section, air pressures have been adjusted to the measured casing width.

All numbers are for a single tire at a speed of 29 km/h / 18 mph and a load of 42.5 kg / 94 lbs.

Use the formula: RR (Watts) = CRR * speed (m/s) * load (N) to calculate rolling resistance at a given speed and load.
Puncture Resistance Test Results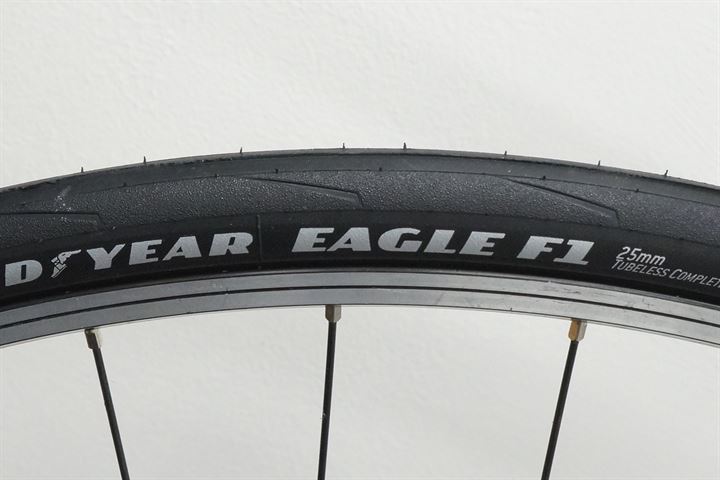 Puncture Resistance Test Results (higher is better)
Total Puncture Score Tread
43 Points
Total Puncture Score Sidewall
Members Only
Tread Puncture Force Sharp Needle
Members Only
Tread Puncture Force Blunt Needle
Members Only
Tread Total Tire Thickness
2.8 mm
Sidewall Puncture Force Sharp Needle
Members Only
Sidewall Puncture Force Blunt Needle
Members Only
Sidewall Total Tire Thickness
Members Only
Static Grip Test Results
NOTE: Grip test data is only available on tires tested after November 2018. You can find more information about our grip test here: Introducing Grip Testing
Static Grip Test Results
Wet Grip Average
67 Points
Wet Grip Center
Members Only
Wet Grip Edge
Members Only
Grip in points = coefficient of friction * 100
Road bike grip test rim width = 19.0 mm
Conclusion
We had high hopes the Goodyear Eagle F1 would be something special, but the reality is it doesn't stand a chance against the competition in our tests. Rolling resistance is quite high, tread puncture resistance slightly below the all-round average, weight isn't spectacular, tread width is also borderline for an all-round tire. The good parts are that it is very easy to inflate, holds air well, and the sidewalls are quite tough.
We rate this tire 3.0 out of 5 which is still recommended. We do think the Eagle F1 can be a good tire as long as you don't buy it with the expectation that this is one of the fastest road bike tires out there. The easy inflation with a floor pump is also something some manufacturers should look into.
Ad Buy Goodyear Eagle F1 TLC at Amazon.com
RATING: 3.0 / 5
TEST VERDICT: Recommended
Comments