MTB Tire Test:

Maxxis

Aspen EXO TR
---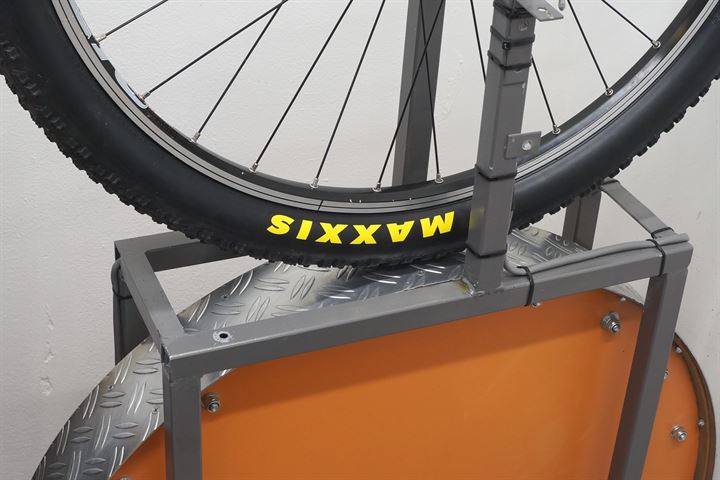 The Maxxis Aspen is a mountain bike tire with a high volume casing and a low profile tread. The Aspen looks like one of the fastest tires from Maxxis as the tread pattern in the center of the tire is quite low and open. The edge knobs are a bit bigger and look like they will provide decent grip when leaned over far enough.
Ad Buy Maxxis Aspen EXO TR at Amazon.com
This is a test of the 29x2.25 120 TPI EXO TR version of the Aspen that has a specified weight of 645 grams. The EXO TL part means this version has reinforced sidewalls (EXO) and is tubeless-ready (TL). The compound is a dual compound that is simply called "Dual Compound". We couldn't find much information about this compound so we're curious how it compares to the Maxxis 3C MaxxSpeed compound that we've tested before (Ikon 3C MaxxSpeed and Ardent Race 3C MaxxSpeed).
We've tested a few Maxxis MTB tires in the past and in general, they're not the fastest rolling tires out there. We're giving them another try to see how they stack up to other recent tires like the new 2019 Schwalbe Racing Ralph (read review) and Racing Ray (read review) with Addix Speed and SpeedGrip compounds.
Manufacturer Specifications
Manufacturer Specs
Brand
Maxxis
Model
Aspen EXO TR
Year
2019
Supplied By
Bought in store
New or Used
New
Mileage
0 km
Price Range
High
Buy At

Ad

Amazon.com
Manufacturer part number
ETB96895500
EAN
4717784032719
TPI
120
Compound
Dual Compound
Bead
Folding
ETRTO
57-622
Size Inch
28"
Width Inch
2.25
Specified Weight
645 grams
Max Pressure
60
Made In
Members Only
Available Sizes
26x2.10
27.5x2.10
27.5x2.25
29x2.25
Maxxis Aspen EXO TR Test Results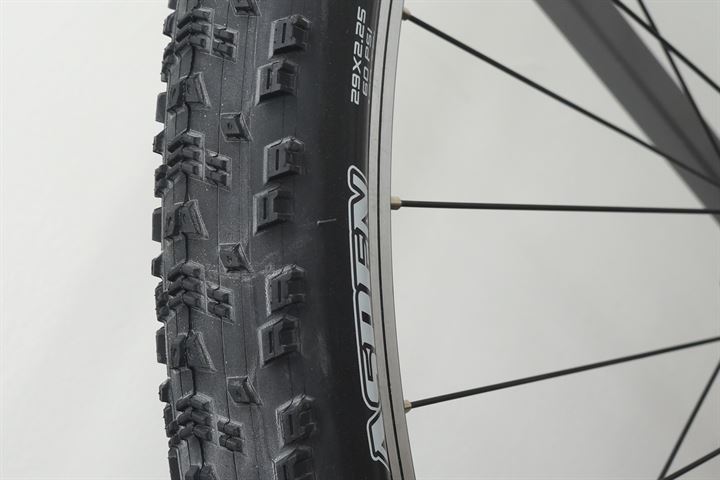 Size, Weight, and Thickness Measurements
advertisement
Size, Weight, and Thickness Measurements
Specified Weight
645 grams
Measured Weight
659 grams
Measured Width Carcass
55 mm (un-round)
Measured Width Tread
55 mm
Measured Height
55 mm (un-round)
Measured Knob Height Center
2.1 mm
Measured Knob Height Edge
3.3 mm
Measured Total Thickness Center (excluding knobs)
2.00 mm
Measured Total Thickness Sidewall
Members Only
All size measurements are taken at an air pressure of 35 psi / 2.4 bars on a 17.8 mm inner width rim.
Rolling Resistance Test Results
Rolling Resistance Test Results
Inner Tube
Conti MTB 29 (225 gr butyl)
Rolling Resistance
55 PSI / 3.8 Bar
Members Only
Rolling Resistance
45 PSI / 3.1 Bar
Members Only
Rolling Resistance
35 PSI / 2.4 Bar
26.2 Watts
CRR: 0.00785
Rolling Resistance
25 PSI / 1.7 Bar
30.6 Watts
CRR: 0.00917
All numbers are for a single tire at a speed of 29 km/h / 18 mph and a load of 42.5 kg / 94 lbs.

Use the formula: RR (Watts) = CRR * speed (m/s) * load (N) to calculate rolling resistance at a given speed and load.
Puncture Resistance Test Results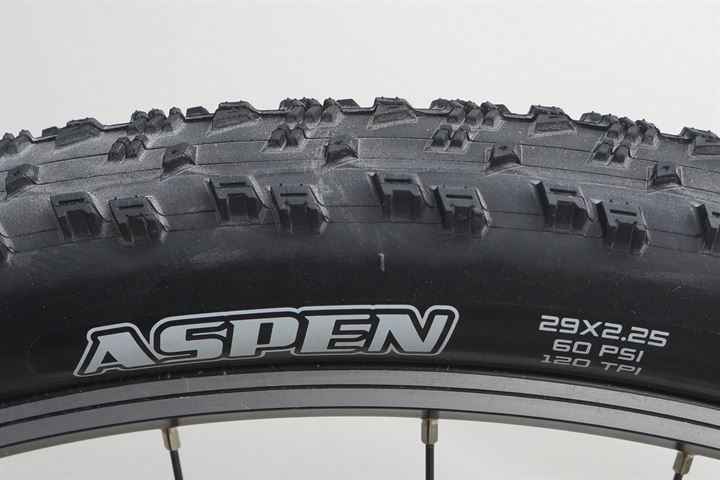 Puncture Resistance Test Result (higher is better)
Puncture Resistance Tread
6 Points
Puncture Resistance Sidewall
Members Only
Conclusion
Rolling resistance of the Maxxis Aspen EXO TR with the Maxxis Dual Compound is decent although it's still a bit slower than equivalent tires from Schwalbe. It looks like rolling resistance of the Maxxis Dual Compound is better than that of the Maxxis 3C MaxxSpeed compound which doesn't make sense to us.
The Aspen also comes with lower knobs on both the center and edge of the tread and weight is slightly higher as well when compared to the equivalent Schwalbe tire with reinforced sidewalls.
We rate the Maxxis Aspen 3 out of 5 because its performance is just a bit worse when compared to Schwalbe tires that scored 4 out of 5. Although we rate the Maxxis Aspen 3 out of 5 we still recommend this tire because the differences are small and other factors that we do not test might be more important to you.
Ad Buy Maxxis Aspen EXO TR at Amazon.com
RATING: 3 / 5
TEST VERDICT: Recommended
Comments