MTB Tire Test:

Schwalbe

Racing Ray TLE Addix SpeedGrip
Schwalbe Racing Ray TLE Addix SpeedGrip
---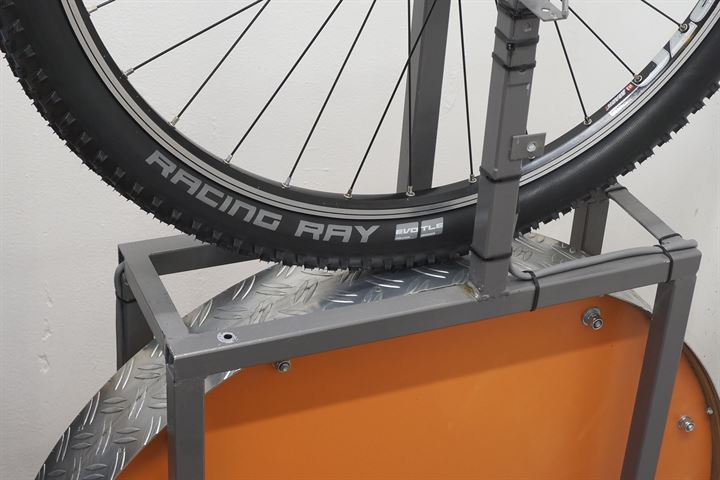 The Schwalbe Racing Ray is optimized for front tire use and looks to be somewhat similar to the Schwalbe Rocket Ron that has been around for several years. Schwalbe suggests to pair the Racing Ray with the new from 2019 Racing Ralph (read review) that is optimized for use on the rear wheel. Using front/rear optimized tires seems to make sense for off-road riding as the loads applied to the front and rear tires differ greatly in most off-road use cases.
Ad Buy Schwalbe Racing Ray TLE Addix SpeedGrip at Amazon.com
The Racing Ray is only available with the Addix SpeedGrip compound that rolls slightly slower than the Addix Speed compound but offers more grip in return. It's also only available with the stronger SnakeSkin/TLE casing. If you want more choices in compounds and casings, the Rocket Ron still seems to be the way to go as it's available in several LiteSkin/SnakeSkin casings and Speed/SpeedGrip compounds.
Manufacturer Specifications
Manufacturer Specs
Brand
Schwalbe
Model
Racing Ray TLE Addix SpeedGrip
Year
2019
Supplied By
Bought in store
New or Used
New
Mileage
0 km
Price Range
High
Buy At

Ad

Amazon.com
Manufacturer part number
11601100
EAN
4026495843812
TPI
67
Compound
Addix SpeedGrip
Bead
Folding
ETRTO
57-622
Size Inch
28"
Width Inch
2.25
Specified Weight
625 grams
Max Pressure
54
Made In
Members Only
Available Sizes
26x2.25
27.5x2.25
29x2.10
29x2.25
Schwalbe Racing Ray TLE Addix SpeedGrip Test Results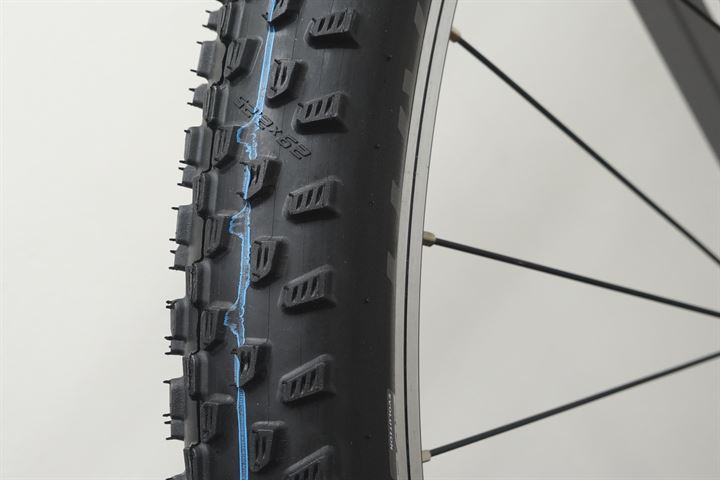 Size, Weight, and Thickness Measurements
advertisement
Size, Weight, and Thickness Measurements
Specified Weight
625 grams
Measured Weight
615 grams
Measured Width Carcass
53 mm (un-round)
Measured Width Tread
56 mm
Measured Height
51 mm (un-round)
Measured Knob Height Center
2.6 mm
Measured Knob Height Edge
4.3 mm
Measured Total Thickness Center (excluding knobs)
1.60 mm
Measured Total Thickness Sidewall
Members Only
All size measurements are taken at an air pressure of 35 psi / 2.4 bars on a 17.8 mm inner width rim.
Rolling Resistance Test Results
Rolling Resistance Test Results
Inner Tube
Conti MTB 29 (225 gr butyl)
Rolling Resistance
55 PSI / 3.8 Bar
Members Only
Rolling Resistance
45 PSI / 3.1 Bar
Members Only
Rolling Resistance
35 PSI / 2.4 Bar
25.0 Watts
CRR: 0.00749
Rolling Resistance
25 PSI / 1.7 Bar
28.3 Watts
CRR: 0.00848
All numbers are for a single tire at a speed of 29 km/h / 18 mph and a load of 42.5 kg / 94 lbs.

Use the formula: RR (Watts) = CRR * speed (m/s) * load (N) to calculate rolling resistance at a given speed and load.
Puncture Resistance Test Results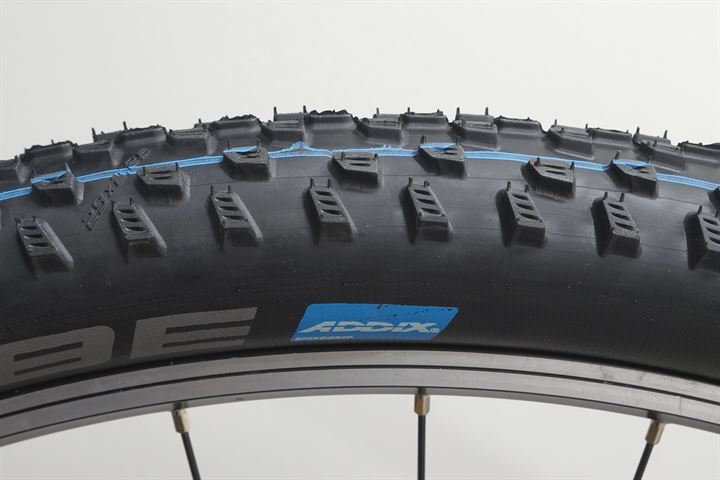 Puncture Resistance Test Result (higher is better)
Puncture Resistance Tread
6 Points
Puncture Resistance Sidewall
Members Only
Conclusion
Schwalbe Racing Ray TLE Addix SpeedGrip
Performance compared to all other MTB tires
(100% is fastest - lightest - highest - strongest)
When we compare the Racing Ray to the Rocket Ron with the same casing and compound, both tires perform very close to each other in our tests. We do see a difference between high and low air pressures with the Rocket Ron being slightly faster at lower air pressures because of its more open tread pattern. At higher air pressures the Racing Ray is slightly faster because of the center blocks being closer together.
When we look at the suggested Racing Ralph/Racing Ray front/rear pairing, we see there aren't that big of differences between these tires. The Addix SpeedGrip compound on the Racing Ralph (read review) seems to be only slightly slower rolling. When rolling resistance between these tires is so close, we also have to wonder if the difference in grip can truly be noticed in real-life.
Feel free to leave a message about your experiences with the Addix Speed and SpeedGrip compounds as they have been around for almost 2 years now. We're very curious about real-life users that have used the older PaceStar and new Addix Speed and SpeedGrip compounds.
Ad Buy Schwalbe Racing Ray TLE Addix SpeedGrip at Amazon.com
RATING: 4 / 5
TEST VERDICT: Recommended
Comments