Touring Bike Tire Test:

Vittoria

Randonneur
---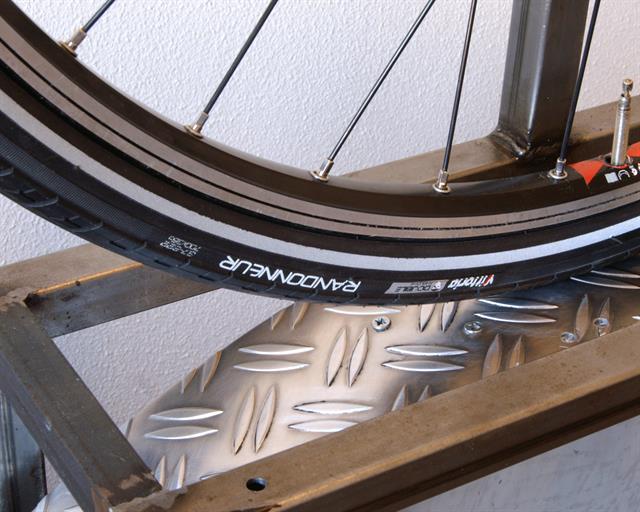 The Vittoria Randonneur is Vittoria's all-round touring bike tire. This tire should not be mistaken with the Randonneur Pro, which is a much lighter and more expensive tire. The Randonneur has a simple 30 TPI carcass with wire beads and a long lasting compound optimized for wet and dry weather. It also comes with a double layer of puncture protection which Vittoria calls Double Shielding technology.
After unpacking the Randonneur, I immediately noticed how unpliable the tread area of this tire is. The sidewalls, on the other hand, are much more flexible. This must be the double layer of puncture protection under the tread in action. I'm sure puncture resistance will be good, but let's hope they didn't forget about rolling resistance when designing this tire.
Manufacturer Specifications
Manufacturer Specs
Brand
Vittoria
Model
Randonneur
Year
2015
Supplied By
Bought in store
New or Used
New
Mileage
0 km
Price Range
Med
Buy At
Manufacturer part number
111.3R2.26.37.111TG
TPI
30
Compound
Bead
Wire
ETRTO
37-622
Size Inch
28"
Width mm
37.00
Specified Weight
570 grams
Max Air Pressure (psi)
70
Made In
Members Only
Available Sizes
37-622 (28x1.40)
Vittoria Randonneur Test Results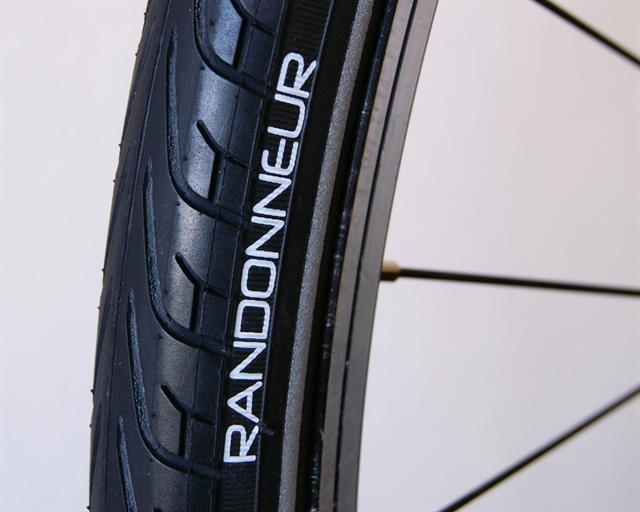 Size, Weight, and Thickness Measurements
Size, Weight, and Thickness Measurements
Specified Weight
570 grams
Measured Weight
598 grams
Measured Width
33 mm (un-round)
Measured Height
33 mm (un-round)
Tread Depth
1.8 mm
Total Tire Thickness Center
5.7 mm
Total Tire Thickness Sidewall
Members Only
All size measurements are taken at an air pressure of 60 psi / 4 bars on a 17.8 mm inner width rim.
Vittoria specifies the weight of the 37-622 Randonneur to be 570 grams. My sample comes in at 598 grams which is reasonable. Maximum width on my 17C rim is only 33 mm. Maximum height is 33 mm as well. The Randonneur is a very small tire for its size, most 37-622 rated tires come in closer to 35 mm.
Tread depth is 1.8 mm, which is a slightly below the average value for a tour/e-bike tire. The total thickness of the tire at the center of the tire is 5.7 mm. 5.7 mm tells us the Double Shielding tech also offers some thickness based puncture protection. The sidewalls are much thinner with a measured maximum width of 0.9. 0.9 mm is much thinner than most other tour/e-bike tires.
Rolling Resistance Test Results
Rolling Resistance Test Results
Inner Tube
Conti Tour 28 (170 gr butyl)
Rolling Resistance
75 PSI / 5 Bar
29.0 Watts
CRR: 0.00869
Rolling Resistance
60 PSI / 4 Bar
32.4 Watts
CRR: 0.00971
Rolling Resistance
45 PSI / 3 Bar
Members Only
Rolling Resistance
30 PSI / 2 Bar
Members Only
All numbers are for a single tire at a speed of 29 km/h / 18 mph and a load of 42.5 kg / 94 lbs.

Use the formula: RR (Watts) = CRR * speed (m/s) * load (N) to calculate rolling resistance at a given speed and load.
Rolling resistance is very, very high. At the maximum rated air pressure of 75 psi, rolling resistance is already close to 10 watts higher than the Schwalbe Marathon (read review). At the lower end of the air pressure range, rolling resistance skyrockets to over 50 watts per tire. That's more than 100 watts for a pair of tires, this will seriously slow you down.
When using these tires, you should monitor air pressures very closely. Don't let these drop under 60 psi EVER.
Puncture Resistance Test Results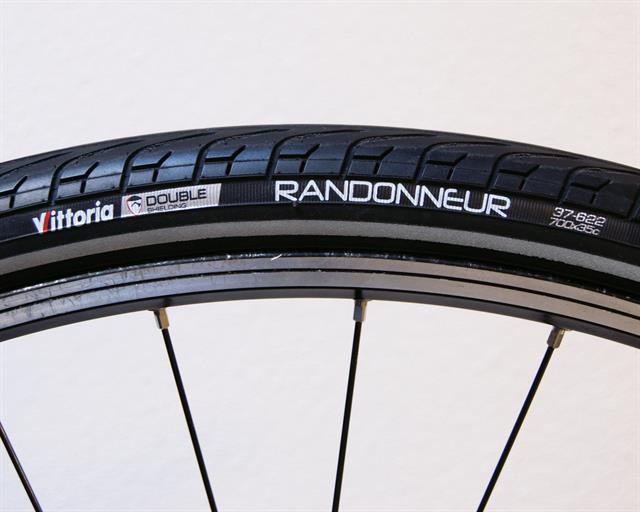 Puncture Resistance Test Results (higher is better)
Total Puncture Score Tread
150 Points
Total Puncture Score Sidewall
Members Only
Tread Puncture Force Sharp Needle
21 Points
Tread Puncture Force Blunt Needle
No Data
Tread Total Tire Thickness
5.7 mm
Sidewall Puncture Force Sharp Needle
Members Only
Sidewall Puncture Force Blunt Needle
No Data
Sidewall Total Tire Thickness
Members Only
Puncture resistance of the tread area of the tire is very high, which is kind of expected with such a high rolling resistance. The puncture resistance tread score comes in at 21 points which is the highest value I've measured to date. While the tread puncture resistance is very high, sidewall puncture resistance is very low with a score of only 4 points.
When calculating the Puncture Factor score, we also take the tire thickness into consideration because thickness also provides puncture resistance. Puncture Factor Tread comes in at 120 points, which is also the highest score to date. With a thickness of only 0.9 mm, the sidewalls of the Randonneur are very thin. Together with the low Sidewall puncture resistance score this makes for a very low Puncture Factor Sidewall score as well. The Randonneur is a really unbalanced tire when we look at both the tread and sidewall measurements.
Static Grip Test Results
NOTE: Grip test data is only available on tires tested after November 2018. You can find more information about our grip test here: Introducing Grip Testing
Static Grip Test Results
Wet Grip Average
No Data
Wet Grip Center
No Data
Wet Grip Edge
No Data
Grip in points = coefficient of friction * 100
Tour/E-Bike grip test rim width = 23.0 mm
Conclusion
Although puncture resistance of the tread area of the Vittoria Randonneur is the highest of all tires tested to date, rolling resistance is just way too high to recommend this tire. The Schwalbe Marathon Plus (read review) has a Puncture Factor Tread score that is very close to the Randonneur (117 Vs 120), a much better Puncture Factor Sidewall score (8 Vs 4), but a rolling resistance that is close to 30% lower.
The good part seems to be that the Randonneur can be found at a very low price. Together with the high puncture resistance and low weight, it might be OK if you don't care about rolling resistance.
RATING: 2.0 / 5
TEST VERDICT: Not Recommended
Comments