Road Bike Tire Test:

Continental

Gator Hardshell
---
---
Continental Gator Hardshell
---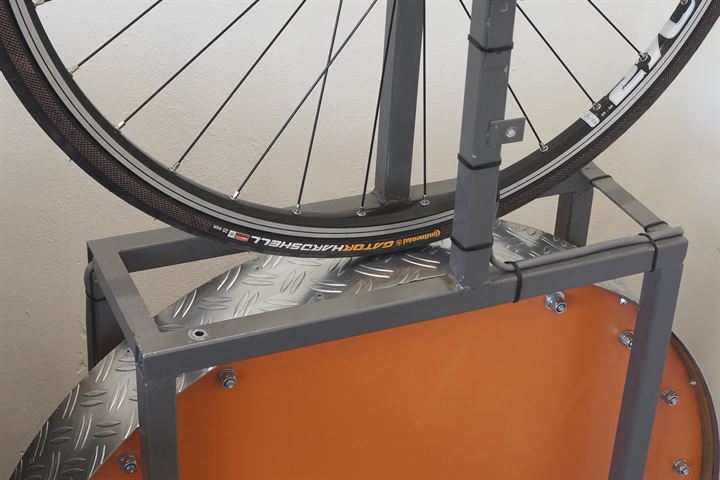 The Continental Gator Hardshell is a tire that is not the main target of our website as we mostly focus on low rolling resistance tires. We did get a lot of requests to test the Gator Hardshell as people are curious about how it compares to the still very popular Continental Gatorskin and Continental Grand Prix range. Continental marks the Gator Hardshell as their most puncture resistant and longest lasting road bike tire which makes it a perfect training tire.
Ad Buy Continental Gator Hardshell at Amazon.com
When looking at the specifications of both the Gatorskin (read review) and Gator Hardshell, we can quickly conclude that the Gator Hardshell is pretty much a beefed up Gatorskin. For the same 25-622 size, the Gator Hardshell is 30 grams heavier which has been put to use to offer more protection and more durability.
Continental doesn't specify the compound they use on this tire, but we're quite certain the compound is the same as used on the Gatorskin.
The Gator Hardshell is available in the 23-622, 25-622, 28-622, 32-622, and 32-630 sizes. All 622 sizes are available in both a folding and rigid bead version. We've tested the folding 25-622 version of the Gator Hardshell as we think saving 75 grams per tire is money well spent.
Manufacturer Specifications
Manufacturer Specifications
Brand
Continental
Model
Gator Hardshell
Year
2019
Tire Type
Tubetype (clincher)
Supplied By
Bought in store
New or Used
New
Mileage
0 km
Price Range
High
Buy At

Ad

Amazon.com
Manufacturer part number
0100313
EAN
4019238466409
TPI
3/180
Compound
Bead
Folding
ETRTO
25-622
Size Inch
28"
Specified Width (mm)
25
Specified Weight
270 grams
Max Air Pressure (psi)
120
Made In
Members Only
Available Sizes
23-622 (700x23c)
25-622 (700x25c)
28-622 (700x28c)
32-622 (700x32c)
Continental Gator Hardshell Test Results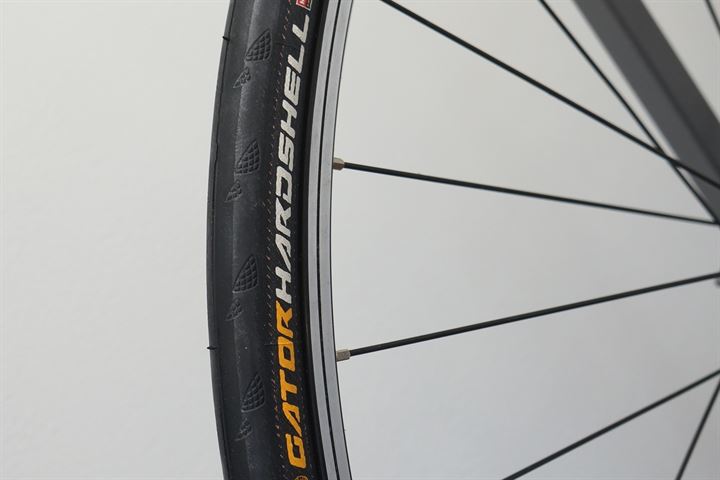 Size, Weight, and Thickness Measurements
advertisement
Size, Weight and Thickness Measurements
Specified Weight
270 grams
Measured Weight
273 grams
System Adjusted Weight
(tire + inner tube (100 gr)
373 grams
Measured Width
26 mm (un-round)
Measured Height
23 mm (un-round)
Total Tire Thickness Center
3.7 mm
Total Tire Thickness Sidewall
Members Only
Unmounted Casing Width
65 mm
Unmounted Tread Width
Members Only
All size measurements are taken at an air pressure of 100 psi / 6.9 bars on a 17.8 mm inner width rim.
Weight. The specified weight of the folding 25-622 Gator Hardshell is 270 grams, our sample comes in quite close to the specified weight at 273 grams.
Size. Just like the Gatorskin, and many other 25-622 rated tires, the Gator Hardshell has a width of 26 mm and a height of 23 mm.
Tire Thickness. Here we can see an obvious difference between the Gator Hardshell and Gatorskin. Tread thickness of the Gator Hardshell is 3.7 mm while the Gatorskin has a tread thickness of 3.2 mm. The sidewalls also are made thicker and have a thickness of 1.0 mm while the Gatorskin has a sidewall thickness of just 0.7 mm.
The tire thickness measurements tell us the extra 30 grams of weight can be traced back to a thicker tread and sidewalls. The Gator Hardshell definitely will be more durable than the Gatorskin.
Rolling Resistance Test Results
Rolling Resistance Test Results
Inner Tube
Conti Race28 (100gr butyl)
Rolling Resistance
140 PSI / 9.7 Bar
Not Tested
Rolling Resistance
120 PSI / 8.3 Bar
19.5 Watts
CRR: 0.00585
Rolling Resistance
100 PSI / 6.9 Bar
20.5 Watts
CRR: 0.00615
Rolling Resistance
80 PSI / 5.5 Bar
Members Only
Rolling Resistance
60 PSI / 4.1 Bar
Members Only
All numbers are for a single tire at a speed of 29 km/h / 18 mph and a load of 42.5 kg / 94 lbs.

Use the formula: RR (Watts) = CRR * speed (m/s) * load (N) to calculate rolling resistance at a given speed and load.
As expected, the Gator Hardshell doesn't excel in the rolling resistance tests. What does surprise us is that it's still very close in performance to the Gatorskin (read review). At the higher air pressures, it comes within 0.2 - 0.3 watts. At lower air pressures, the disadvantage grows to 1.1 - 1.2 watts which still will be hard to notice in real-life.
When compared to the fastest rolling tires, you'll be losing quite a lot of power with the Gator Hardshells. When we compare the Hardshell to the brand new Grand Prix 5000 (read review), rolling resistance is close to double of the Grand Prix 5000. For a set of tires, 20+ watts of power is lost in the tires (at 18 mph / 29 km/h, 85 kg total weight.) when compared to the fast Grand Prix 5000.
Puncture Resistance Test Results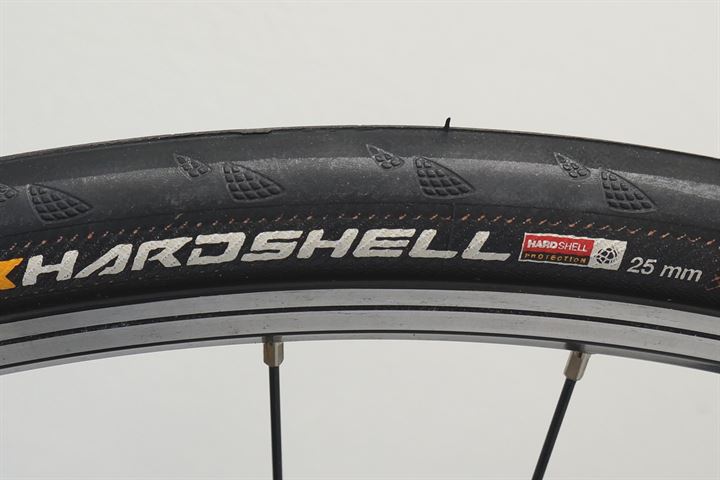 Puncture Resistance Test Results (higher is better)
Total Puncture Score Tread
100 Points
Total Puncture Score Sidewall
Members Only
Tread Puncture Force Sharp Needle
20 Points
Tread Puncture Force Blunt Needle
Members Only
Tread Total Tire Thickness
3.7 mm
Sidewall Puncture Force Sharp Needle
Members Only
Sidewall Puncture Force Blunt Needle
Members Only
Sidewall Total Tire Thickness
Members Only
The puncture resistance tests are the natural habitat of the Gator Hardshell. When compared to the Gatorskin that already has a very good puncture resistance, puncture resistance of both the tread and sidewall has been increased by 10-15% to 20 points in the tread puncture test and 8 points in the sidewall puncture test.
When we compare the Gator Hardshell to all other road bike tires that have been tested by us, it now takes the title as the most puncture resistant road bike tire. The Gator Hardshell replaces the Pirelli Cinturato Velo TLR (read review) that also scored 20 points in the tread test but only scored 7 points in the sidewall test.
It's also good to mention that the Gator Hardshell has twice the rolling resistance of the Grand Prix 5000, but it also has twice the puncture resistance of the Grand Prix 5000.
Static Grip Test Results
NOTE: Grip test data is only available on tires tested after November 2018. You can find more information about our grip test here: Introducing Grip Testing
Static Grip Test Results
Wet Grip Average
66 Points
Wet Grip Center
Members Only
Wet Grip Edge
Members Only
Grip in points = coefficient of friction * 100
Conclusion
The Continental Gator Hardshell is basically a beefed up Continental Gatorskin. Puncture resistance has been increased by 10-15% while rolling resistance has gone up by just 2-5%. Tread thickness has been increased from 3.2 mm to 3.7 mm and the sidewalls have gone from 0.70 mm to 1.00 mm. With the increased tire thickness, the Gator Hardshell definitely is going to last longer than the Gatorskin.
We rate the Gator Hardshell 4 out of 5 as it takes the most puncture resistant road bike tire crown and we think it's a better buy than the Gatorskin if you're looking for a training tire.
Ad Buy Continental Gator Hardshell at Amazon.com
RATING: 4.0 / 5
TEST VERDICT: Recommended
Comments