Road Bike Tire Test:

Vittoria

Corsa N.EXT TLR
---
---
---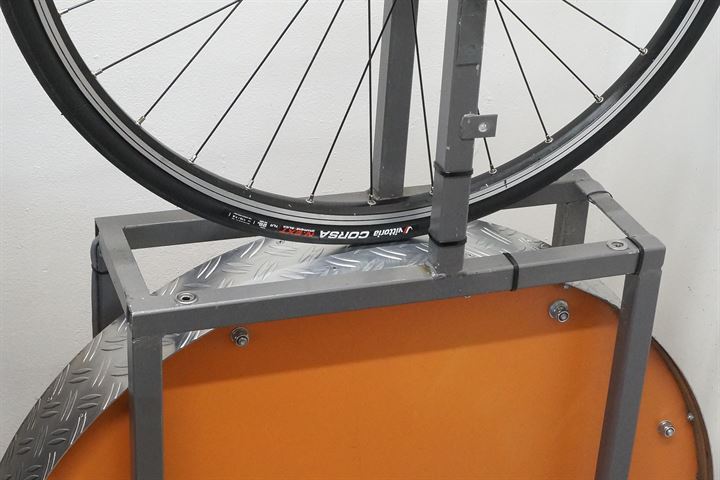 The Vittoria Corsa N.EXT is a brand new addition to Vittoria's range of Corsa road bike tires. The Corsa N.EXT is a bit different though: it's made from a nylon casing with a vulcanized tread, unlike all the previous iterations of the Corsa that always came with a cotton casing and a glued-on tread. The cotton versions of the Corsa (tubular, tube-type, and tubeless) have been around for a long time and are some of the most popular tires in the pro peloton and even won the last three editions of the tour de France.
Ad Buy Vittoria Corsa N.EXT TLR at Amazon.com
The Corsa N.EXT is aimed more at enthusiast cyclists with slightly different requirements than pro cyclists. The main differences can be found in the durability, and user-friendliness (see below), as the Corsa N.EXT is designed to clock up the miles while still offering competitive performance.
Vittoria already offered nylon road bike tires with their mid-range Rubino and low-end Zaffiro range. What was missing was a direct competitor to other popular high-end nylon road bike tires like the Continental Grand Prix 5000 and Schwalbe Pro One range of tires. The Corsa N.EXT will now show us what Vittoria can accomplish with a nylon casing, which is exciting as it should be a serious competitor to some of the world's most popular tires.
The Corsa N.EXT TLR is constructed from a 100 TPI casing material with a more traditional three layers under the tread and two layers on the sidewalls. We also find an extra puncture strip under the tread that, combined with the three layers of casing material, should provide good tread puncture resistance. The compound is a new "Graphene + Silica" compound where the addition of silica should improve grip and reduce wear.
When mounting the tubeless-ready Corsa N.EXT, we are immediately faced with a massive advantage over the cotton tires as the Corsa N.EXT can be inflated with a simple floor pump and holds air right from the start. If you've ever tried tubeless-ready cotton tires, you might know that inflating those can sometimes be next to impossible, and getting them to hold air will be another challenge.
Something else we like is the availability of a massive range of different sizes for both the tube-type and TLR versions of the Corsa N.EXT. Both versions are available in 6 different sizes: 24-622, 26-622, 28-622, 30-622, 32-622, and 34-622, which means we're pretty sure the right size is available for anyone. The 28-622 and up sizes of the TLR also come with hookless compatibility.
This is a test of the 26-622 version of the Corsa N.EXT TLR, and we'll compare it against the cotton Corsa G+ 2.0 TLR (read our review) and some of the most popular road bike tires.
Manufacturer Specifications
Manufacturer Specifications
Brand
Vittoria
Model
Corsa N.EXT TLR
Year
2022
Tire Type
Tubeless
Supplied By
Bought in store
New or Used
New
Mileage
0 km
Price Range
High
Buy At

Ad

Amazon.com
Manufacturer part number
11A00399
EAN
8022530026932
TPI
100
Compound
Graphene +Silica
Bead
Folding
ETRTO
26-622
Size Inch
28"
Specified Width (mm)
26
Specified Weight
280 grams
Max Air Pressure (psi)
110
Made In
Members Only
Available Sizes
24-622 (700x24c)
26-622 (700x26c)
28-622 (700x28c)
30-622 (700x30c)
32-622 (700x32c)
34-622 (700x34c)
Vittoria Corsa N.EXT TLR Test Results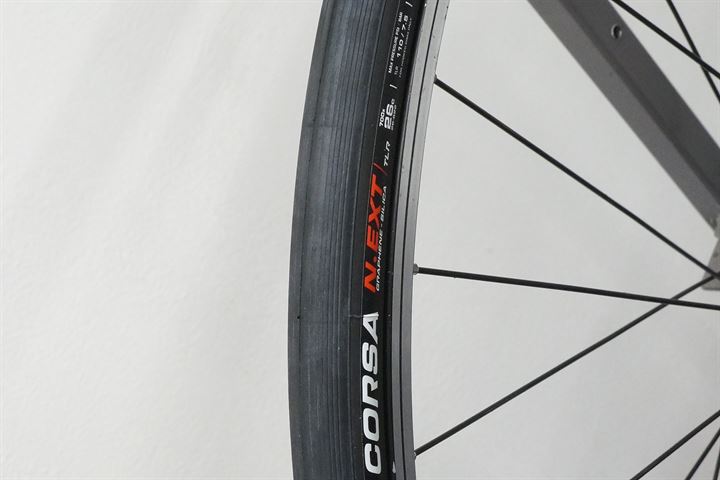 Size, Weight, and Thickness Measurements
advertisement
Size, Weight and Thickness Measurements
Specified Weight
280 grams
Measured Weight
268 grams
System Adjusted Weight
(tire + valve + rim seal)
288 grams
Measured Width
26 mm (un-round)
Measured Height
23 mm (un-round)
Total Tire Thickness Center
3 mm
Total Tire Thickness Sidewall
Members Only
Unmounted Casing Width
65 mm
Unmounted Tread Width
Members Only
Tread Cover (Tread / Casing Ratio)
Members Only
All size measurements are taken at an air pressure of 100 psi / 6.9 bars on a 17.8 mm inner width rim.
Rolling Resistance Test Results
Rolling Resistance Test Results
Inner Tube
None (20 ml sealant)
Rolling Resistance
140 PSI / 9.7 Bar
Not Tested
Rolling Resistance
120 PSI / 8.3 Bar
12.3 Watts
CRR: 0.00369
Rolling Resistance
100 PSI / 6.9 Bar
13.2 Watts
CRR: 0.00396
Rolling Resistance
80 PSI / 5.5 Bar
Members Only
Rolling Resistance
60 PSI / 4.1 Bar
Members Only
All numbers are for a single tire at a speed of 29 km/h / 18 mph and a load of 42.5 kg / 94 lbs.

Use the formula: RR (Watts) = CRR * speed (m/s) * load (N) to calculate rolling resistance at a given speed and load.
Puncture Resistance Test Results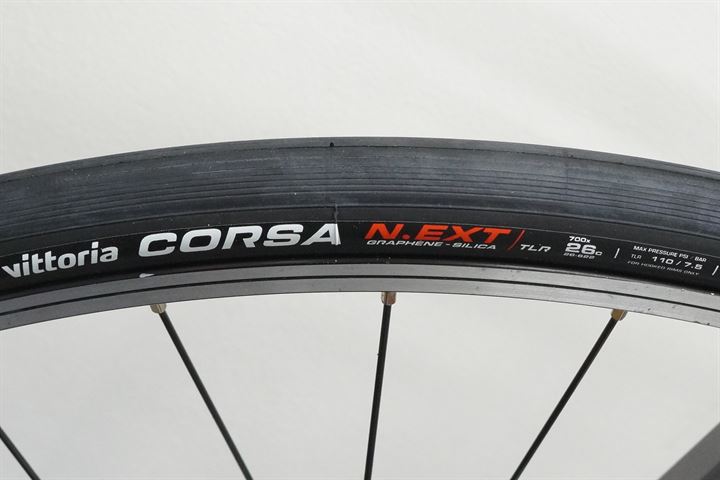 Puncture Resistance Test Results (higher is better)
Total Puncture Score Tread
52 Points
Total Puncture Score Sidewall
Members Only
Tread Puncture Force Sharp Needle
Members Only
Tread Puncture Force Blunt Needle
Members Only
Tread Total Tire Thickness
3 mm
Sidewall Puncture Force Sharp Needle
Members Only
Sidewall Puncture Force Blunt Needle
Members Only
Sidewall Total Tire Thickness
Members Only
Static Grip Test Results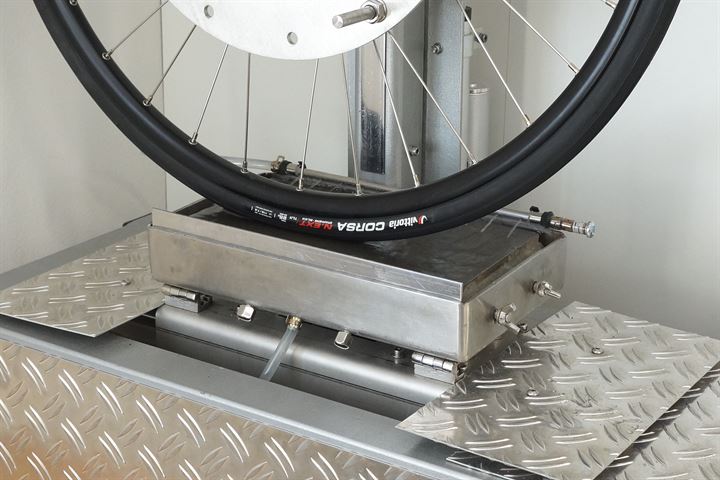 Static Grip Test Results
Wet Grip Average
73 Points
Wet Grip Center
Members Only
Wet Grip Edge
Members Only
Grip in points = coefficient of friction * 100
Conclusion
The Vittoria Corsa N.EXT excels in our wet grip test and offers better puncture resistance than most recently released tubeless-ready road bike tires that sacrificed puncture resistance for performance. Rolling resistance isn't the absolute lowest, but when we take the puncture resistance, tread thickness, and wet grip into account, it's probably about as good as it gets.
We see very similar performance when we compare the Corsa N.EXT TLR to the cotton Vittoria Corsa G+ 2.0 TLR (read our review). The N.EXT TLR is lighter, should last longer, is more user-friendly, and offers slightly better wet grip in our test. Rolling and puncture resistance are very similar between these tires, but Vittoria made the tread a bit smaller on the Corsa N.EXT, which can be a problem when using these on very wide rims.
If you're looking for a tubeless-ready road bike tire that offers pretty much the best wet grip, good puncture resistance, and you're not looking for the absolute lowest rolling resistance, the Corsa N.EXT TLR is the tire to get.
Ad Buy Vittoria Corsa N.EXT TLR at Amazon.com
RATING: 4.5 / 5
TEST VERDICT: Highly Recommended
Comments