Road Bike Tire Test:

Schwalbe

Durano Plus Addix
Schwalbe Durano Plus Addix
---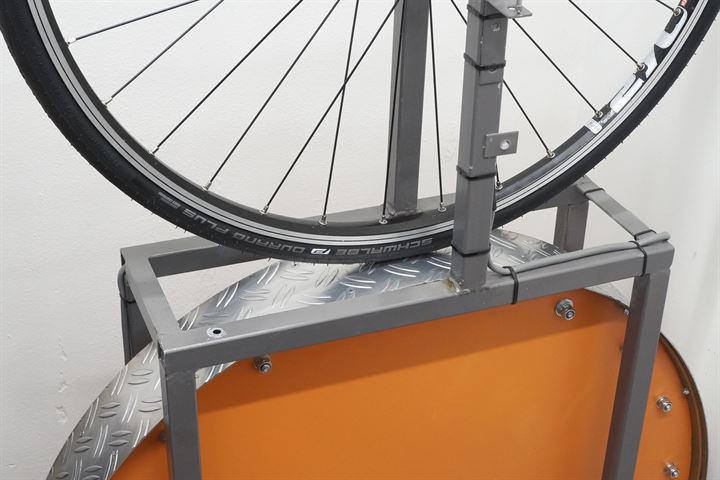 The Schwalbe Durano Plus is unique as it's the only road bike tire (that we know of) that uses a thick anti-puncture layer under the tread. This thick layer adds a lot of weight which is something most people that ride expensive road bikes don't like. The advantage of the thick (but often soft) layer is a high puncture resistance as most objects that can puncture a tire simply don't have the length to reach the inner tube.
Just like most other tires in Schwalbe's lineup, the Durano Plus now makes use of their Addix compound. We already tested the Durano Plus back in 2017 (read our review) and found puncture resistance to be good but the weight and rolling resistance penalties were quite hefty. On paper, nothing much seems to have changed as the Durano Plus still uses a 67 TPI casing and the same SmartGuard anti-puncture layer that can also be found on Schwalbe's Marathon line of touring bike tires.
We're testing the 25-622 folding version of the Durano Plus with Addix compound. A folding 28-622 version is available as well. Also available are wire bead versions that are even heavier (and cheaper) and come in the 23-622, 25-622, and 28-622 sizes.
Manufacturer Specifications
Manufacturer Specifications
Brand
Schwalbe
Model
Durano Plus Addix
Year
2020
Tire Type
Tubetype (clincher)
Supplied By
Bought in store
New or Used
New
Mileage
0 km
Price Range
Med
Buy At
Manufacturer part number
11653966
EAN
4026495865692
TPI
67
Compound
Addix
Bead
Folding
ETRTO
25-622
Size Inch
28"
Specified Width (mm)
25
Specified Weight
385 grams
Max Air Pressure (psi)
115
Made In
Members Only
Available Sizes
25-622 (700x25c)
28-622 (700x28c)
Schwalbe Durano Plus Addix Test Results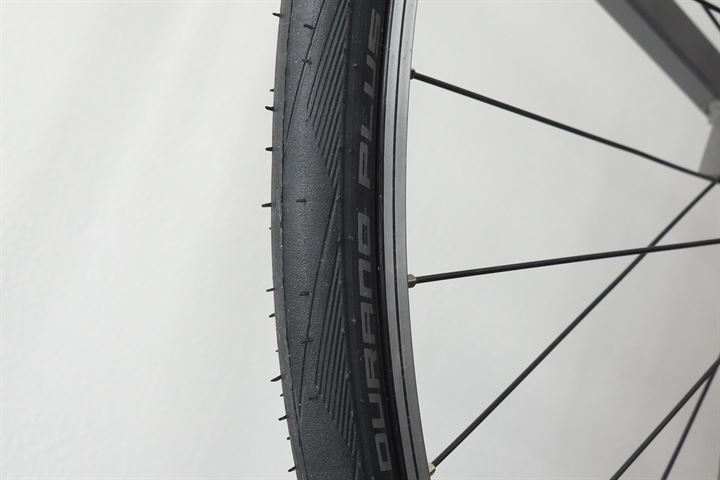 Size, Weight, and Thickness Measurements
advertisement
Size, Weight and Thickness Measurements
Specified Weight
385 grams
Measured Weight
399 grams
System Adjusted Weight
(tire + inner tube (100 gr)
499 grams
Measured Width
26 mm (un-round)
Measured Height
24 mm (un-round)
Total Tire Thickness Center
4.6 mm
Total Tire Thickness Sidewall
Members Only
Unmounted Casing Width
63 mm
Unmounted Tread Width
Members Only
Tread Cover (Tread / Casing Ratio)
Members Only
All size measurements are taken at an air pressure of 100 psi / 6.9 bars on a 17.8 mm inner width rim.
Rolling Resistance Test Results
Rolling Resistance Test Results
Inner Tube
Conti Race28 (100gr butyl)
Rolling Resistance
140 PSI / 9.7 Bar
Not Tested
Rolling Resistance
120 PSI / 8.3 Bar
16.4 Watts
CRR: 0.00492
Rolling Resistance
100 PSI / 6.9 Bar
17.1 Watts
CRR: 0.00513
Rolling Resistance
80 PSI / 5.5 Bar
Members Only
Rolling Resistance
60 PSI / 4.1 Bar
Members Only
All numbers are for a single tire at a speed of 29 km/h / 18 mph and a load of 42.5 kg / 94 lbs.

Use the formula: RR (Watts) = CRR * speed (m/s) * load (N) to calculate rolling resistance at a given speed and load.
Puncture Resistance Test Results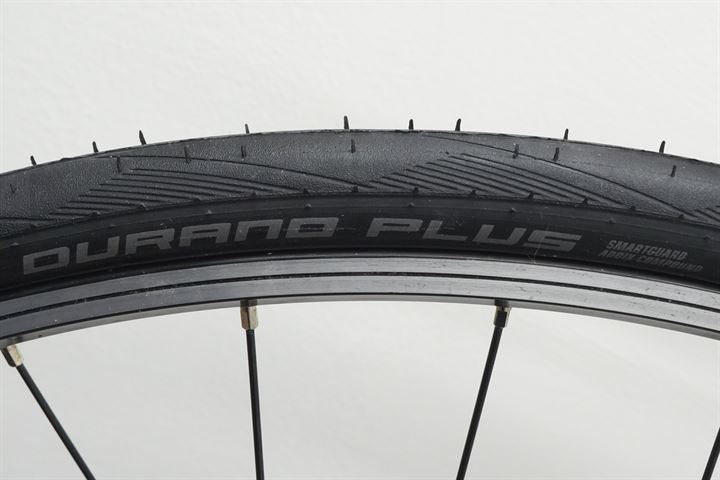 Puncture Resistance Test Results (higher is better)
Total Puncture Score Tread
69 Points
Total Puncture Score Sidewall
Members Only
Tread Puncture Force Sharp Needle
12 Points
Tread Puncture Force Blunt Needle
Members Only
Tread Total Tire Thickness
4.6 mm
Sidewall Puncture Force Sharp Needle
Members Only
Sidewall Puncture Force Blunt Needle
Members Only
Sidewall Total Tire Thickness
Members Only
Static Grip Test Results
NOTE: Grip test data is only available on tires tested after November 2018. You can find more information about our grip test here: Introducing Grip Testing
Static Grip Test Results
Wet Grip Average
69 Points
Wet Grip Center
Members Only
Wet Grip Edge
Members Only
Grip in points = coefficient of friction * 100
Conclusion
Our tests indicate there are some big differences between the previous version of the Durano Plus (read our review), and the new Durano Plus with Addix compound. What is the most worrying to us is puncture resistance of the tread has decreased by 20% to just 12 points. On top of that, total thickness (which is the strong point of this tire) at the center of the tread has gone down from 4.8 mm to 4.6 mm. The sidewalls also are a bit easier to puncture although that's just a 1 point difference.
One thing to note though is we test puncture resistance with a long steel needle which is an object the Durano Plus isn't designed to handle well. Still, we see a remarkable difference between the old and new Durano which is something to keep in mind if you've used the Durano Plus for its puncture resistance qualities.
The good part about the Durano Plus with Addix compound is that it rolls a good bit faster than the older version. As puncture resistance and rolling resistance is always a trade-off, it looks like Schwalbe made the Durano Plus faster rolling by sacrificing its puncture resistance qualities.
RATING: 3.0 / 5
TEST VERDICT: Recommended
Comments