Road Bike Tire Test:

Maxxis

Padrone Tubeless Ready 25
Maxxis Padrone Tubeless Ready 25
---
---
---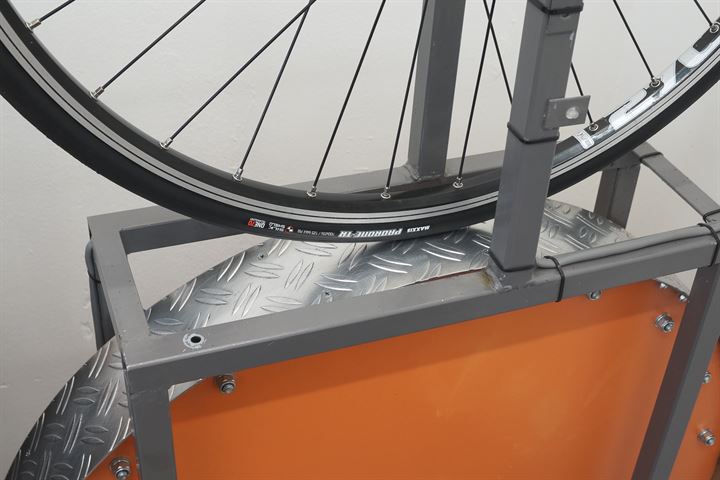 The Maxxis Padrone TR is a tubeless-ready road racing tire built on the legacy of the original Maxxis Padrone Tubeless tire. As the tubeless-ready part in the name suggests, the Padrone TR requires tire sealant to completely seal the tire while the original Padrone Tubeless was air-tight even without sealant. With the requirement of tire sealant, Maxxis was able to make a lighter and faster tire resulting in the Padrone TR being their lightest road tubeless tire.
Ad Buy Maxxis Padrone Tubeless Ready at Amazon.com
To get to the lowest possible weight and still end up with a strong enough tubeless-ready tire, Maxxis uses a "ONE70 technology" 170 TPI casing with a "SilkShield" puncture belt that runs from (carbon fiber) bead to bead. Maxxis specifies the compound as a "Dual Compound" and that's it; no information about its properties or whether this is an all-round, all-season or pure racing compound.
Although we've been testing road bike tires here at Bicycle Rolling Resistance for over 4 years now, this is the first Maxxis road bike tire we've had on the test bench. The reason for this is limited availability of Maxxis road bike tires in Europe. This tire was ordered at a UK webshop by a reader from Australia and shipped from the UK webshop to directly to us. Thank you David W.
Manufacturer Specifications
Manufacturer Specifications
Brand
Maxxis
Model
Padrone Tubeless Ready
Year
2018
Tire Type
Tubeless
Supplied By
Bought in store
New or Used
New
Mileage
0 km
Price Range
High
Buy At

Ad

Amazon.com
Manufacturer part number
TB86459100
EAN
4717784028842
TPI
170
Compound
Dual-Compound
Bead
Folding
ETRTO
25-622
Size Inch
28"
Specified Width (mm)
25
Specified Weight
270 grams
Max Air Pressure (psi)
125
Made In
Members Only
Available Sizes
23-622 (700x23c)
25-622 (700x25c)
28-622 (700x28c)
Maxxis Padrone Tubeless Ready 25 Test Results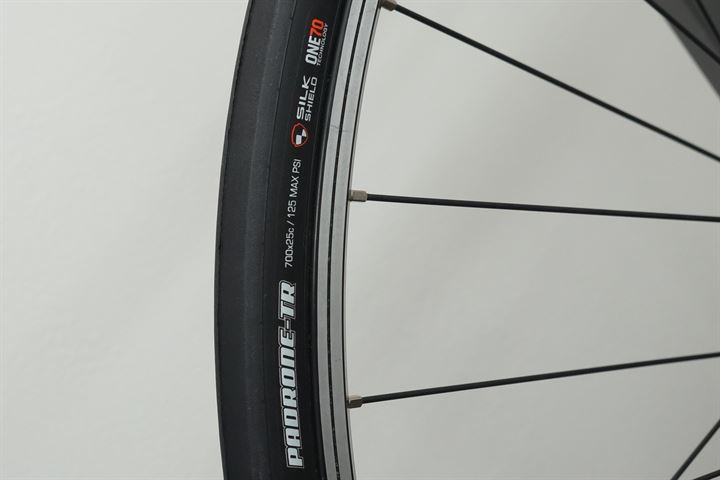 Size, Weight, and Thickness Measurements
Size, Weight and Thickness Measurements
Specified Weight
270 grams
Measured Weight
264 grams
System Adjusted Weight
(tire + valve + rim seal)
284 grams
Measured Width
25 mm (un-round)
Measured Height
22 mm (un-round)
Total Tire Thickness Center
2.6 mm
Total Tire Thickness Sidewall
Members Only
Unmounted Casing Width
64 mm
Unmounted Tread Width
Members Only
Tread Cover (Tread / Casing Ratio)
Members Only
All size measurements are taken at an air pressure of 100 psi / 6.9 bars on a 17.8 mm inner width rim.
Weight. Specified weight of the Padrone TR in the 25-622 size is 260 grams. Our sample comes in very close to the specified weight at 264 grams.
Size. At an air pressure of 100 psi, on a 17C rim, the Padrone TR measures 25 mm wide and has a height of 22 mm. Although this seems to be exactly to spec, the Padrone is a bit small for its rated size as most other 25-622 tires have a width of 26-27 mm and a height of 23-24 mm on a 17C rim.
Tire Thickness. Total tire thickness at the center of the tread is 2.6 mm which is a typical thickness for most all-round tires that come in somewhere between 2.5 - 3.0 mm. The sidewalls have a thickness of 0.90 mm which also seems to be in line with most other tubeless-ready tires.
Rolling Resistance Test Results
Rolling Resistance Test Results
Inner Tube
None (20 ml sealant)
Measured Width
25 mm (un-round)
Rolling Resistance
Real tire width in mm:
22-24 = 132 psi/9.1 bar
25-27 = 120 psi/8.3 bar
28-29 = 108 psi/7.4 barUltra High Air Pressure
(120 psi / 8.3 bar)
13.1 Watts
CRR: 0.00393
Rolling Resistance
Real tire width in mm:
22-24 = 110 psi/7.6bar
25-27 = 100 psi/6.9 bar
28-29 = 90 psi/6.2 barExtra High Air Pressure
(100 psi / 6.9 bar)
14.0 Watts
CRR: 0.00420
Rolling Resistance
Real tire width in mm:
22-24 = 88 psi/6.1 bar
25-27 = 80 psi/5.5 bar
28-29 = 72 psi/5.0 barHigh Air Pressure
(80 psi / 5.5 bar)
Members Only
Rolling Resistance
Real tire width in mm:
22-24 = 66 psi/4.6 bar
25-27 = 60 psi/4.1 bar
28-29 = 54 psi/3.7 barMedium Air Pressure
(60 psi / 4.1 bar)
Members Only
The Road Bike section is a multi tire size section, air pressures have been adjusted to the measured casing width.

All numbers are for a single tire at a speed of 29 km/h / 18 mph and a load of 42.5 kg / 94 lbs.

Use the formula: RR (Watts) = CRR * speed (m/s) * load (N) to calculate rolling resistance at a given speed and load.
In the rolling resistance tests, the Padrone TR does alright but doesn't impress us when compared to competing tubeless-ready tires from other brands that we've tested. At the highest air pressure of 120 psi / 8.3 bars, rolling resistance comes in at 13.1 watts which is 2.1 watts more than the Schwalbe Pro One Tubeless (read review) which came in at 11.0 watts in this test. At lower air pressures, the disadvantage of the Padrone TR grows to 2.4 watts at 100 psi / 6.9 bars and 3.0 watts at 5.5 bars.
When we compare the Padrone TR to regular clincher tires with close to the same tread thickness and fitted with standard 100 grams butyl inner tubes, rolling resistance doesn't impress either. The "gold standard" Continental Grand Prix 4000S II (read review) that has been around for 5 years now does 12.2 watts at 120 psi / 8.3 bars while the newer Michelin Power Competition (read review) rolls even faster at 10.9 watts.
The tubeless-ready road bike tires are all relatively new so I'm sure we'll start seeing faster tires in the near future. The main advantage of tubeless tires still seems to be the increased puncture resistance that the tire sealant provides.
Puncture Resistance Test Results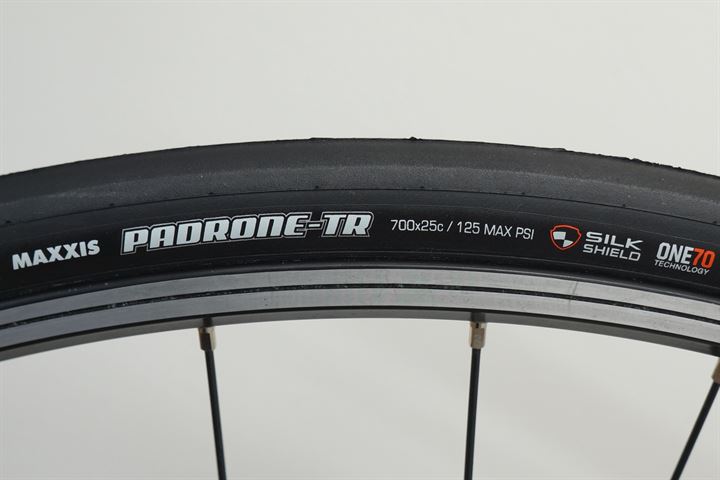 Puncture Resistance Test Results (higher is better)
Total Puncture Score Tread
54 Points
Total Puncture Score Sidewall
Members Only
Tread Puncture Force Sharp Needle
12 Points
Tread Puncture Force Blunt Needle
No Data
Tread Total Tire Thickness
2.6 mm
Sidewall Puncture Force Sharp Needle
Members Only
Sidewall Puncture Force Blunt Needle
No Data
Sidewall Total Tire Thickness
Members Only
In the tread puncture resistance tests, the Padrone TR shines with a score of 12 points which makes it the best scoring tubeless-ready tire in this test. Together with the required sealant, puncture resistance is more than satisfactory.
With a score of just 5 points in the sidewall puncture test, the Padrone TR performs at the bottom of the range when compared to other tubeless-ready tires. The good part is that 5 points is still better than the majority of the clincher tires that require an inner tube.
Static Grip Test Results
NOTE: Grip test data is only available on tires tested after November 2018. You can find more information about our grip test here: Introducing Grip Testing
Static Grip Test Results
Wet Grip Average
No Data
Wet Grip Center
No Data
Wet Grip Edge
No Data
Grip in points = coefficient of friction * 100
Road bike grip test rim width = 19.0 mm
Conclusion
The Padrone TR is the first Maxxis road bike tire that we've tested and our first impression is that it's a solid tubeless-ready tire. Although rolling resistance is a bit higher than the fastest tubeless-ready tires from other brands, it makes up for this with decent scores in the puncture tests. Rated 4 out of 5 as rolling resistance is the main subject of this website and it looks like Maxxis can improve a bit here.
You can compare the Maxxis Padrone TR to other tubeless tires on our road bike overview page with the tubeless filter applied here: Road Bike (Tubeless) Overview. Have you used the Padrone TR and can comment on its real-life performance? Feel free to leave a comment.
Ad Buy Maxxis Padrone Tubeless Ready at Amazon.com
RATING: 4.0 / 5
TEST VERDICT: Recommended
Comments