CX/Gravel Tire Test:

Maxxis

Re-Fuse Gravel
---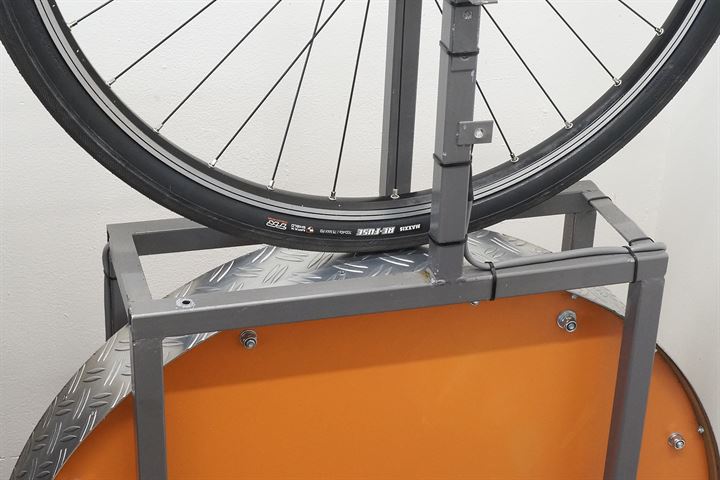 The Maxxis Re-Fuse has been given this name because it refuses to puncture. The name makes it immediately clear what Maxxis has developed this tire for: preventing you from stranding somewhere with a flat tire. With a tire designed mainly to provide a very high puncture resistance, we do not expect a low rolling resistance. That doesn't have to be a problem as long as we know the trade-offs of this choice.
Ad Buy Maxxis Re-Fuse Gravel at Amazon.com
The Re-Fuse consists of a 60 TPI tubeless-ready casing, dual-compound rubber, and a layer of MaxxShield anti-puncture material, which must ensure a very high puncture resistance. The tread is a virtually slick design with only a very light diamond-knurled pattern. 
We already tested the Re-Fuse in the 25-622 size for the road bike section. This is a test of the 40-622 version which is made for gravel bikes.
advertisement
Manufacturer Specifications
Manufacturer Specs
Brand
Maxxis
Model
Re-Fuse Gravel
Year
2020
Supplied By
Bought in store
New or Used
New
Mileage
0 km
Price Range
High
Buy At

Ad

Amazon.com
Manufacturer part number
TB95987000
EAN
4717784031019
TPI
60
Compound
Dual
Bead
Folding
ETRTO
40-622
Specified Weight
520 grams
Max Pressure
60
Made In
Taiwan
Available Sizes
32-622 (700x32)
40-622 (700x40)
Maxxis Re-Fuse Gravel Test Results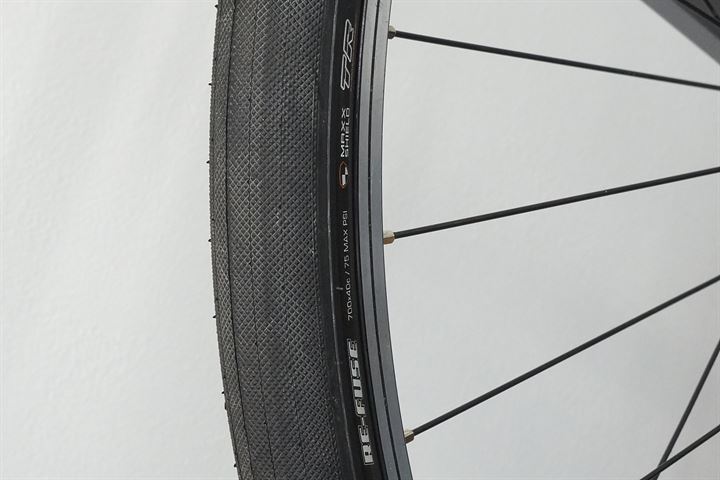 Size, Weight, and Thickness Measurements
Size, Weight, and Thickness Measurements
Specified Weight
520 grams
Measured Weight
514 grams
Measured Width Casing
37 mm
Measured Width Tread
37 mm
Measured Height
35 mm
Measured Knob Height Center
0.3 mm
Measured Knob Height Edge
0.3 mm
Measured Total Thickness Sidewall
1.05 mm
Measured Total Thickness Center (excluding knobs)
3.70 mm
All size measurements are taken at low air pressure on a 17.8 mm inner width rim.
Rolling Resistance Test Results
Rolling Resistance Test Results
Inner Tube
Conti Cross28 (160 gr)
Measured Width
37 mm
Rolling Resistance
Real tire width in mm:
30-32 = 66 psi/4.6 bar
33-35 = 60 psi/4.1 bar
36-40 = 54 psi/3.7 barHigh Air Pressure
28.6Watts
CRR: 0.00857
Rolling Resistance
Real tire width in mm:
30-32 = 55 psi/3.8 bar
33-35 = 50 psi/3.4 bar
36-40 = 45 psi/3.1 barMedium Air Pressure
30.8 Watts
CRR: 0.00923
Rolling Resistance
Real tire width in mm:
30-32 = 44 psi/3.0 bar
33-35 = 40 psi/2.8 bar
36-40 = 36 psi/2.6 barLow Air Pressure
33.9 Watts
CRR: 0.01016
Rolling Resistance
Real tire width in mm:
30-32 = 33 psi/2.3 bar
33-35 = 30 psi/2.1 bar
36-40 = 27 psi/1.9barExtra Low Air Pressure
38.6 Watts
CRR: 0.01157
The CX/Gravel section is a multi tire size section, air pressures have been adjusted to the measured casing width.

All numbers are for a single tire at a speed of 29 km/h / 18 mph and a load of 42.5 kg / 94 lbs.

Use the formula: RR (Watts) = CRR * speed (m/s) * load (N) to calculate rolling resistance at a given speed and load.
Puncture Resistance Test Results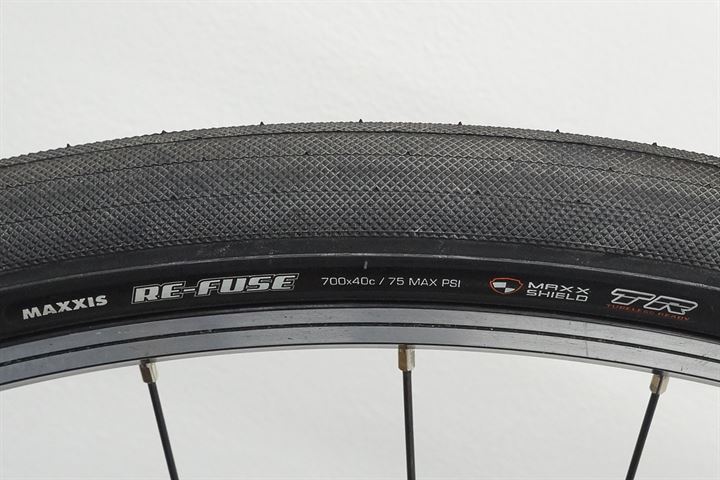 Puncture Resistance Test Result (higher is better)
Puncture Resistance Tread
19 Points
Puncture Resistance Sidewall
7 Points
Conclusion
The Maxxis Re-Fuse is by far the most puncture-resistant gravel bike tire you can find. Compared to the tires we tested so far, the Re-Fuse has almost twice the tread puncture resistance than the next tire. The puncture resistance of the side walls is a bit more in line with the rest, but certainly not bad.
As can be expected from such a puncture-resistant tire, rolling resistance is very high. Also, the grip on loose surfaces will not be great because the tire has a nearly slick, diamond-knurled tread pattern.
If your priority, however, is that you want to reduce your chance of a flat tire as much as possible, we consider that chance with the Maxxis Re-Fuse to be very small. Of course, for extra puncture resistance, mount them tubeless with sufficient sealant.
Ad Buy Maxxis Re-Fuse Gravel at Amazon.com
RATING: 3.5 / 5
TEST VERDICT: Recommended
Comments