MTB Tire Test:

Maxxis

Rekon Race EXO TR
---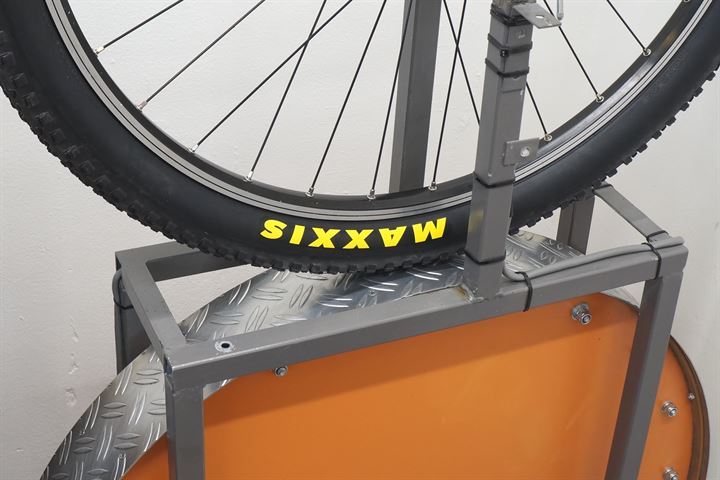 Maxxis describes the Rekon Race as a semi-slick XC race tire which we feel is questionable as the center knobs are bigger than we expect from a semi-slick MTB tire. Maxxis recommends to use the Rekon Race as a rear tire with a more aggressive tire on the front for general XC use, or Rekon Race front and rear for racing on short tracks and you don't need much front grip.
Ad Buy Maxxis Rekon Race EXO TR at Amazon.com
We're testing the 29x2.25 Rekon Race 120 TPI EXO TR which means it has a 120 TPI casing with reinforced sidewalls (EXO) and is tubeless-ready (TR). The compound is the Maxxis "Dual Compound" of which we couldn't find much information except it's harder in the center and softer on the edges. We'll be comparing the Rekon Race EXO TR to the Maxxis Aspen EXO TR (read review), Maxxis Ikon 3C MaxxSpeed (read review), Schwalbe Racing Ralph '19 TLE Addix Speed (read review), and the Schwalbe Racing Ray TLE Addix SpeedGrip (read review).
Manufacturer Specifications
Manufacturer Specs
Brand
Maxxis
Model
Rekon Race EXO TR
Year
2019
Supplied By
Bought in store
New or Used
New
Mileage
0 km
Price Range
High
Buy At

Ad

Amazon.com
Manufacturer part number
ETB00046300
EAN
4717784033389
TPI
120
Compound
Dual Compound
Bead
Folding
ETRTO
57-622
Size Inch
28"
Width Inch
2.25
Specified Weight
670 grams
Max Pressure
60
Made In
Taiwan
Available Sizes
29x2.25
Maxxis Rekon Race EXO TR Test Results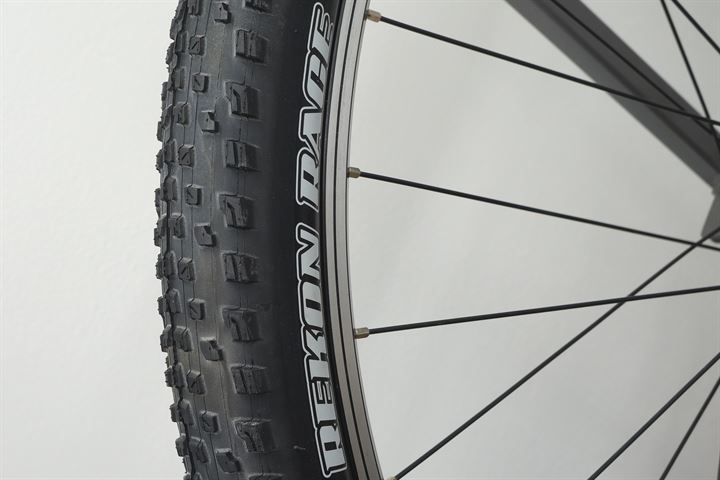 Size, Weight, and Thickness Measurements
advertisement
Size, Weight, and Thickness Measurements
Specified Weight
670 grams
Measured Weight
680 grams
Measured Width Carcass
55 mm
Measured Width Tread
56 mm
Measured Height
54 mm
Measured Knob Height Center
1.9 mm
Measured Knob Height Edge
3.5 mm
Measured Total Thickness Sidewall
0.85 mm
Measured Total Thickness Center (excluding knobs)
1.50 mm
All size measurements are taken at an air pressure of 35 psi / 2.4 bars on a 17.8 mm inner width rim.
Rolling Resistance Test Results
Rolling Resistance Test Results
Inner Tube
Conti MTB 29 (225 gr butyl)
Rolling Resistance
55 PSI / 3.8 Bar
22.1Watts
CRR: 0.00662
Rolling Resistance
45 PSI / 3.1 Bar
23.7 Watts
CRR: 0.00710
Rolling Resistance
35 PSI / 2.4 Bar
26.5 Watts
CRR: 0.00794
Rolling Resistance
25 PSI / 1.7 Bar
31.1 Watts
CRR: 0.00932
All numbers are for a single tire at a speed of 29 km/h / 18 mph and a load of 42.5 kg / 94 lbs.

Use the formula: RR (Watts) = CRR * speed (m/s) * load (N) to calculate rolling resistance at a given speed and load.
Puncture Resistance Test Results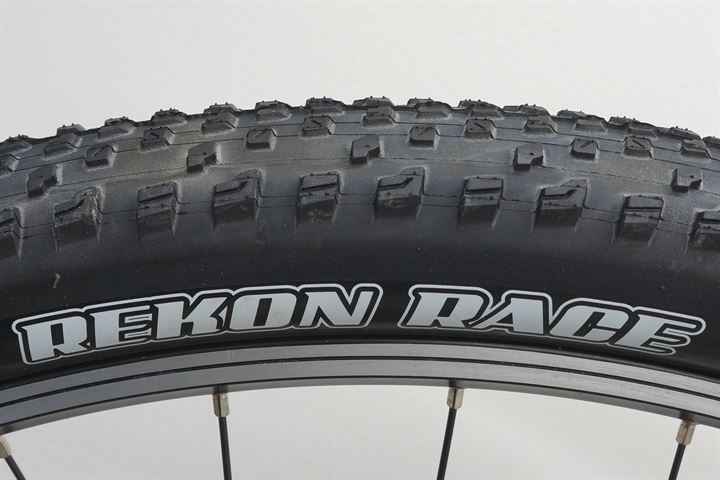 Puncture Resistance Test Result (higher is better)
Puncture Resistance Tread
6 Points
Puncture Resistance Sidewall
6 Points
Conclusion
Surprisingly, the Rekon Race EXO TR is faster than the Maxxis Ikon 3C MaxxSpeed which is something we did not expect. The Ikon 3C MaxxSpeed is lighter, doesn't have reinforced sidewalls and we were under the impression the 3C MaxxSpeed was the fastest compound in the Maxxis MTB lineup. Compared to the very similar Maxxis Aspen EXO TR, performance in our tests in nearly identical with only minor differences here and there.
Compared to the Schwalbe Racing Ray TLE with Addix SpeedGrip compound, the Rekon Race performs just a little bit worse in nearly all of our tests and measurements. We rated the Racing Ray 4 out of 5 so we think a rating of 3 out of 5 is reasonable for the Rekon Race. We still recommend this tire as the differences are small and if you like the Rekon Race, there is no need to change. If you're looking for the absolute fastest MTB tires, faster tires available (MTB Overview).
Ad Buy Maxxis Rekon Race EXO TR at Amazon.com
RATING: 3 / 5
TEST VERDICT: Recommended
Comments