Road Bike Tire Test:

Michelin

Power Road TLR
---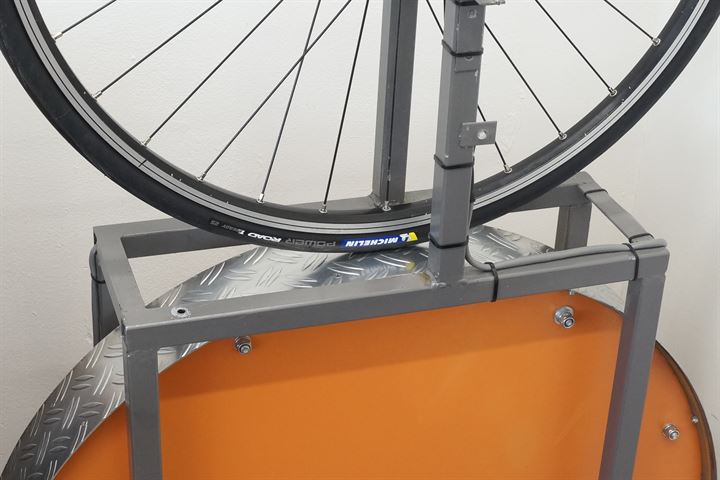 The Michelin Power Road TLR is Michelin's entrance into the tubeless road bike tire market. The Power Road TLR is similar to the regular tube-type Power Road (read our review) that we tested a couple of weeks back. The Michelin Power Road series can be characterized as all-round road bike tires that strike a good balance between both training and racing use.
The main difference between the tubeless Power Road TLR and tube-type Power Road is the casing that has been changed from 3x120 TPI + anti-puncture strip under the tread to a 4x120 TPI casing without an anti-puncture strip. The anti-puncture strip is replaced by a newly designed "Air Proof" layer that runs from bead to bead and, with the help of tubeless sealant, results in a tire that seals very well.
For people that have had a hard time inflating tubeless tires or are new to tubeless road bike tires, the Power Road TLR was by far the easiest tire to set up tubeless. It even inflated very easily on the first try with an old partially clogged valve core in place. The design of this tire results in a very round and stiff tire that pushes the beads outwards like a spring when installed on the rim.
The compound is the same X-Race compound and the tread thickness is also similar to the tube-type Power Road. The available sizes have moved up a size to 25-622, 28-622, and 32-622 which seems to be a trend with tubeless road bike tires.
Manufacturer Specifications
Manufacturer Specifications
Brand
Michelin
Model
Power Road TLR
Year
2020
Tire Type
Tubeless
Supplied By
Bought in store
New or Used
New
Mileage
0 km
Price Range
High
Buy At
Manufacturer part number
876172
EAN
3528708761728
TPI
4x120
Compound
X-Race compound
Bead
Folding
ETRTO
25-622
Size Inch
28"
Specified Width (mm)
25
Specified Weight
275 grams
Max Air Pressure (psi)
116
Made In
Members Only
Available Sizes
25-622 (700x25c)
28-622 (700x28c)
32-622 (700x32c)
Michelin Power Road TLR Test Results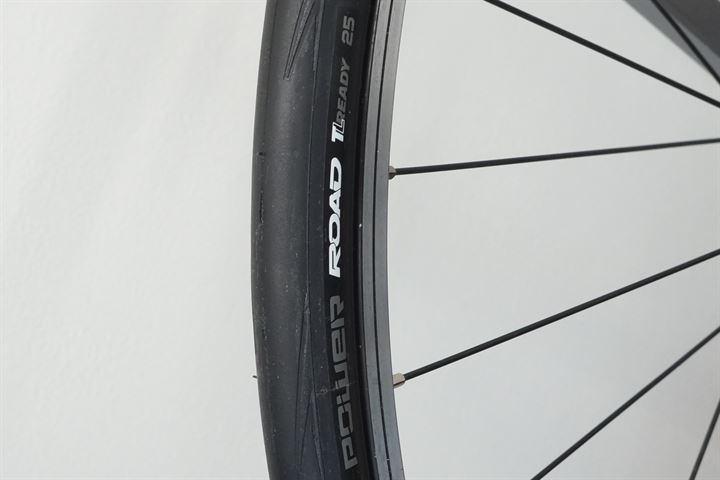 Size, Weight, and Thickness Measurements
advertisement
Size, Weight and Thickness Measurements
Specified Weight
275 grams
Measured Weight
267 grams
System Adjusted Weight
(tire + valve + rim seal)
287 grams
Measured Width
27 mm (un-round)
Measured Height
24 mm (un-round)
Total Tire Thickness Center
2.7 mm
Total Tire Thickness Sidewall
Members Only
Unmounted Casing Width
67 mm
Unmounted Tread Width
Members Only
All size measurements are taken at an air pressure of 100 psi / 6.9 bars on a 17.8 mm inner width rim.
Rolling Resistance Test Results
Rolling Resistance Test Results
Inner Tube
None (20 ml sealant)
Rolling Resistance
140 PSI / 9.7 Bar
Not Tested
Rolling Resistance
120 PSI / 8.3 Bar
10.1 Watts
CRR: 0.00303
Rolling Resistance
100 PSI / 6.9 Bar
10.7 Watts
CRR: 0.00321
Rolling Resistance
80 PSI / 5.5 Bar
Members Only
Rolling Resistance
60 PSI / 4.1 Bar
Members Only
All numbers are for a single tire at a speed of 29 km/h / 18 mph and a load of 42.5 kg / 94 lbs.

Use the formula: RR (Watts) = CRR * speed (m/s) * load (N) to calculate rolling resistance at a given speed and load.
Puncture Resistance Test Results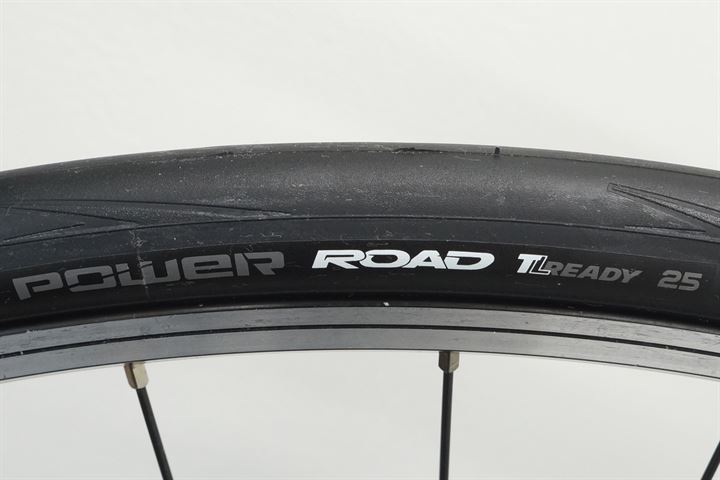 Puncture Resistance Test Results (higher is better)
Total Puncture Score Tread
41 Points
Total Puncture Score Sidewall
Members Only
Tread Puncture Force Sharp Needle
9 Points
Tread Puncture Force Blunt Needle
Members Only
Tread Total Tire Thickness
2.7 mm
Sidewall Puncture Force Sharp Needle
Members Only
Sidewall Puncture Force Blunt Needle
Members Only
Sidewall Total Tire Thickness
Members Only
Static Grip Test Results
NOTE: Grip test data is only available on tires tested after November 2018. You can find more information about our grip test here: Introducing Grip Testing
Static Grip Test Results
Wet Grip Average
65 Points
Wet Grip Center
Members Only
Wet Grip Edge
Members Only
Grip in points = coefficient of friction * 100
Conclusion
The Michelin Power Road TLR performs very well but comes a bit short in nearly all tests when compared to the Grand Prix 5000 TL (read our review). The only advantage it has over the 5000 TL is a slightly lower weight of about ~30 grams per tire. Compared to other top performing all-round tubeless road bike tires, its specifications and performance are very similar.
We recommend this tire to anyone looking to try an alternative tubeless road bike tire. The performance differences are small and will be hard to notice on the road. Another advantage, that can be a huge advantage for some, is the ease of inflation the Power Road TLR provides. If you had a hard time inflating tubeless tires, the Power Road TLR helps to make your life easier.
RATING: 4.0 / 5
TEST VERDICT: Recommended
Comments