Road Bike Tire Test:

Continental

Grand Prix 5000 TL
---
---
Continental Grand Prix 5000 TL
---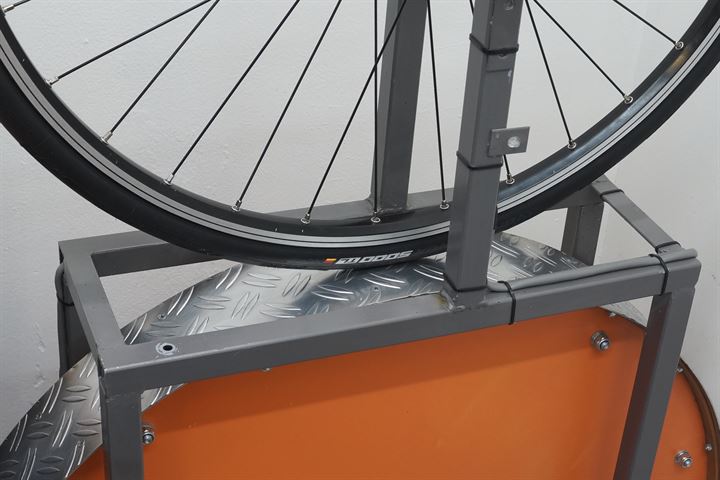 NOTE: We have a test available of a newer version of this tire: Continental Grand Prix 5000 S TR 2021
The Continental Grand Prix 5000 TL (GP 5000 TL) is the tubeless version of the regular Grand Prix 5000 (GP 5000) and is the first road-tubeless tire from Continental. We've already tested the regular tube-type Grand Prix 5000 (read review) and found out that the Continental 5000 generation has reached a new level of performance in our tests.
Ad Buy Continental Grand Prix 5000 TL at Amazon.com
The GP 5000 TL is very similar to the regular GP 5000 except for some changes in the construction to make it a tubeless tire. The biggest difference is a slightly thicker and stronger 3/180 TPI casing instead of the thinner 3/330 casing found on the regular GP 5000. Obviously, the bead has also been redesigned for tubeless operation to make sure the tire will be easy to inflate and prevent the tire coming off the rim.
The GP 5000 TL doesn't require the use of tire sealant to seal the tire as it comes with an inner liner that seals the tire. Continental does recommend using 30 to 60 ml of sealant for the best puncture resistance (we recommend 30-40 ml in 25 mm tires). Some other brands also offer tubeless-ready road bike tires that come without an inner liner and depend on sealant to seal the tire. Theoretically, tubeless-ready tires are lighter and faster than full tubeless tires.
The GP 5000 TL further comes with the same Black Chili rubber compound also found on the regular GP 5000. The "Active Comfort Technology", Lazer Grip tread pattern and the Vectran Breaker anti-puncture strip are also unchanged from the regular GP 5000.
All specifications and test results of the regular GP 5000 and GP 5000 TL can be compared side by side on our comparison section here: GP 5000 Vs GP 5000 TL
The big question is: can the Continental GP 5000 TL with its inner liner that adds 30-40 grams, compete with tubeless-ready tires from the competing brands? Read on and you'll quickly find the answer...
Manufacturer Specifications
Manufacturer Specifications
Brand
Continental
Model
Grand Prix 5000 TL
Year
2018
Tire Type
Tubeless
Supplied By
Bought in store
New or Used
New
Mileage
0 km
Price Range
High
Buy At

Ad

Amazon.com
Manufacturer part number
0101628
EAN
4019238007923
TPI
3/180
Compound
Black Chili
Bead
Folding
ETRTO
25-622
Size Inch
28"
Specified Width (mm)
25
Specified Weight
300 grams
Max Air Pressure (psi)
109
Made In
Members Only
Available Sizes
25-622 (700x25c)
28-622 (700x28c)
32-622 (700x32c)
28-584 (650x25b)
Continental Grand Prix 5000 TL Test Results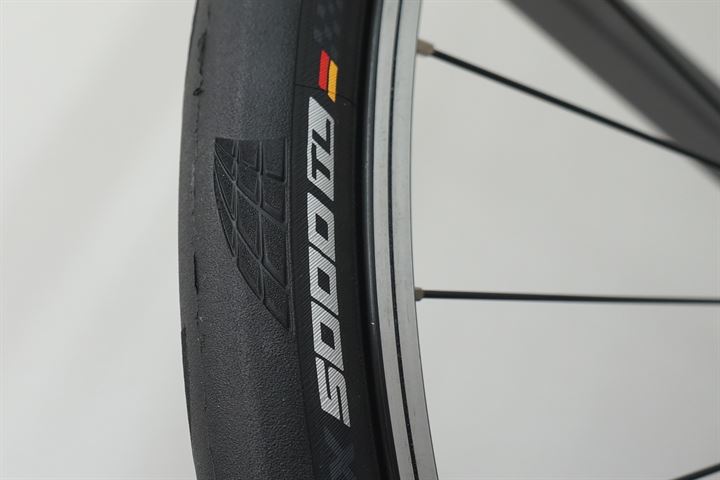 Size, Weight, and Thickness Measurements
advertisement
Size, Weight and Thickness Measurements
Specified Weight
300 grams
Measured Weight
295 grams
System Adjusted Weight
(tire + valve + rim seal)
315 grams
Measured Width
27 mm (un-round)
Measured Height
24 mm (un-round)
Total Tire Thickness Center
2.8 mm
Total Tire Thickness Sidewall
Members Only
Unmounted Casing Width
66 mm
Unmounted Tread Width
Members Only
All size measurements are taken at an air pressure of 100 psi / 6.9 bars on a 17.8 mm inner width rim.
Weight. The GP 5000 TL is available in the 25-622, 28-622, and 32-622 sizes. As usual, we're testing the 25-622 version which has a specified weight of 300 grams. Our sample comes in slightly below the specified weight at 295 grams (thumbs up).
Size. The regular 25-622 GP 5000 came in at 26 mm wide on a 17C rim, at an air pressure of 100 psi / 6.9 bars. The GP 5000 TL measures a bit wider at 27 mm wide and has a height of 24 mm. (full info: the regular GP 5000 was 26.2 mm, the GP 5000 TL came in at 26.8 mm so not a full mm wider.)
Tire Thickness. Total tire thickness at the center of the tread is 2.8 mm which is the same as the regular GP 5000 and right in the middle of most all-round tires (2.5 - 3.0 mm)
Thanks to the 3/180 casing and inner liner, sidewall thickness has increased from 0.55 mm to 0.95 mm for the TL version of the GP 5000. For a tubeless tire with an inner liner, 0.95 mm is actually quite thin as that's the average sidewall thickness of most tubeless-ready tires.
Rolling Resistance Test Results
Rolling Resistance Test Results
Inner Tube
None (20 ml sealant)
Rolling Resistance
140 PSI / 9.7 Bar
Not Tested
Rolling Resistance
120 PSI / 8.3 Bar
8.3 Watts
CRR: 0.00249
Rolling Resistance
100 PSI / 6.9 Bar
8.9 Watts
CRR: 0.00267
Rolling Resistance
80 PSI / 5.5 Bar
Members Only
Rolling Resistance
60 PSI / 4.1 Bar
Members Only
All numbers are for a single tire at a speed of 29 km/h / 18 mph and a load of 42.5 kg / 94 lbs.

Use the formula: RR (Watts) = CRR * speed (m/s) * load (N) to calculate rolling resistance at a given speed and load.
The maximum air pressure as indicated on the sidewall is 109 psi / 7.5 bars. I did take measurements at 120 psi / 8.3 bars to keep the results consistent across the site. I don't think this matters as you shouldn't run 25 mm tires at 120 psi anyway.
Our tests show rolling resistance of the GP 5000 TL is even lower than the regular GP 5000! At our highest testing pressure of 120 psi / 8.3 bars, rolling resistance comes in at an extremely low 8.3 watts. What's even better, rolling resistance at lower air pressures is extremely low as well with a rolling resistance of just 9.9 watts at 80 psi / 5.5 bars.
When we look at our full road bike test results overview, we see the only tire that has a lower rolling resistance (at this moment) than the GP 5000 TL is the Vittoria Corsa Speed TLR (read review) which is a very light and thin tire (225 grams, 1.7 mm tread thickness) designed solely for speed. When we take the much sturdier build quality of the GP 5000 TL into account, it's insane that's it's only lagging 0.6 watts behind in the rolling resistance tests.
Puncture Resistance Test Results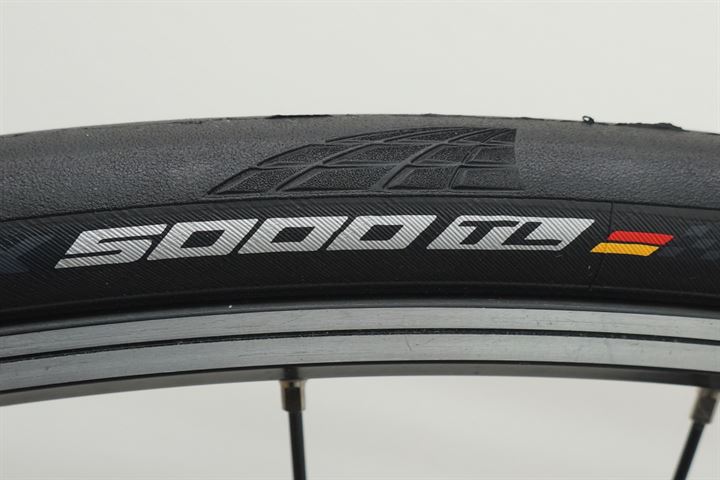 Puncture Resistance Test Results (higher is better)
Total Puncture Score Tread
47 Points
Total Puncture Score Sidewall
Members Only
Tread Puncture Force Sharp Needle
10 Points
Tread Puncture Force Blunt Needle
Members Only
Tread Total Tire Thickness
2.8 mm
Sidewall Puncture Force Sharp Needle
Members Only
Sidewall Puncture Force Blunt Needle
Members Only
Sidewall Total Tire Thickness
Members Only
In the tread puncture resistance test, the GP 5000 TL scores 10 points just like the regular GP 5000. While 10 points is a bit on the low side for a standard clincher tire with inner tube, it should be sufficient for a tubeless tire as the sealant will seal most punctures of up to 2 - 2.5 mm.
In the sidewall puncture test, the GP 5000 TL scores 6 points which is an average score for a tubeless road bike tire.
Static Grip Test Results
NOTE: Grip test data is only available on tires tested after November 2018. You can find more information about our grip test here: Introducing Grip Testing
Static Grip Test Results
Wet Grip Average
65 Points
Wet Grip Center
Members Only
Wet Grip Edge
Members Only
Grip in points = coefficient of friction * 100
Conclusion
Our conclusion is quite simple: If you're looking to buy all-round tubeless road bike tires that make you fly, look no further and get some Continental Grand Prix 5000 TL. Only if you want even lighter tires and really need that last (small) edge in performance, or need much better protection there might be better tubeless tires for you.
We've had our doubts about tubeless road bike tires as the regular clincher equivalent fitted with a latex tube was often faster than the tubeless option. With the release of the GP 5000 TL, it looks like tubeless road bike tires have made another giant leap forward.
As usual, we're really curious about real-life experiences with the GP 5000 TL. Have you tried these? Consider leaving a comment below to help us and others out.
Ad Buy Continental Grand Prix 5000 TL at Amazon.com
RATING: 5.0 / 5
TEST VERDICT: Highly Recommended
Comments