Road Bike Tire Test:

Vittoria

Corsa Speed G+ 1.0 (TLR)
---
---
Vittoria Corsa Speed G+ 1.0 (TLR)
---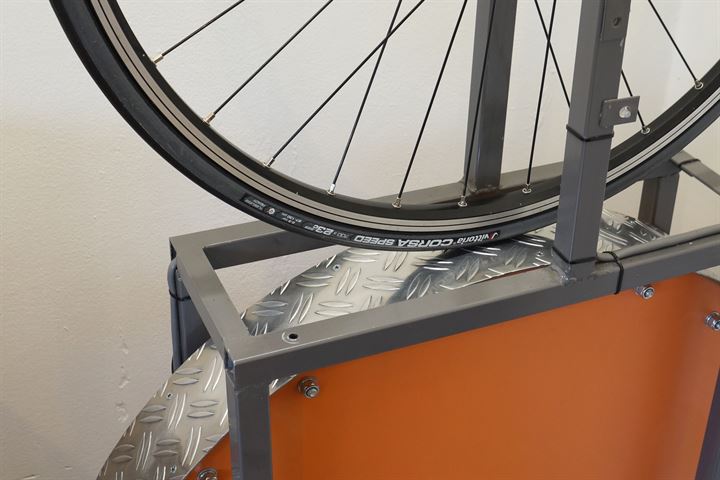 NOTE: We have a test available of a newer version of this tire: Vittoria Corsa Speed G+ 2.0 (TLR) 2019
The Vittoria Corsa Speed Open TLR was announced back in September 2015 together with the other Vittoria Graphene tires (Corsa G+, Rubino Pro G+). Most of the new Vittoria G+ tires have been available since January 2016, but the Corsa Speed Open TLR was nowhere to be found.
Ad Buy Vittoria Corsa Speed G+ 1.0 (TLR) at Amazon.com
The reason for the delay was a last-minute redesign to strengthen the bead area of the tire and improve the sealing capability when used in a tubeless set up. This is a review of a store bought, redesigned Corsa Speed Open TLR.
The big visible change that has been made seems to be a thin coating of sticky gray rubber that is applied to the inside and outside of the casing. The original press release and prototypes of this tire had the typical light-colored sidewalls that most cotton tires have.
I believe this gray coating helps to keep the air in and also helps to reseal the tire when it gets punctured. When performing the puncture tests with a 1 mm thick needle, I've noticed the sealant sealed the tire instantly after puncturing.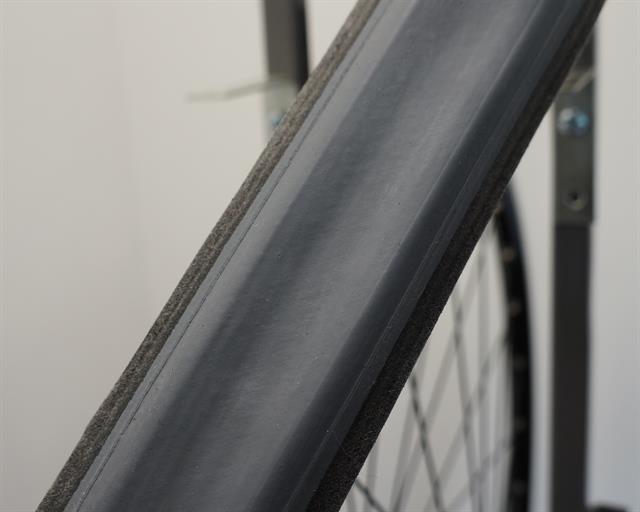 UPDATE: Vittoria has provided some extra info about the updated version of the Corsa Speed Open TLR. The exact update was the addition of an additional chafer (safety Nylon band) to the bead section of the tire.
This additional chafer was added to make the tire compatible with full-carbon tubeless and tubeless-ready rims. They figured out the carbon wheels have a sharper finish than alloy rims and could potentially cut the tire; the added nylon chafer solves this problem. They also confirmed the natural rubber based coating helps to seal the tire.
Vittoria claims the Corsa Speed Open TLR to be the world's fastest tire. We've tested it on our rolling resistance machine so just scroll down to the test results to see if that's true!
Manufacturer Specifications
Manufacturer Specifications
Brand
Vittoria
Model
Corsa Speed G+ 1.0 (TLR)
Year
2016
Tire Type
Tubeless
Supplied By
Bought in store
New or Used
New
Mileage
0 km
Price Range
High
Buy At

Ad

Amazon.com
Manufacturer part number
111.3CS.00.23.611BX
EAN
8022530005470
TPI
320
Compound
G+
Bead
Folding
ETRTO
23-622
Size Inch
28"
Specified Width (mm)
23
Specified Weight
205 grams
Max Air Pressure (psi)
130
Made In
Members Only
Available Sizes
23-622 (700x23C)
Vittoria Corsa Speed G+ 1.0 (TLR) Test Results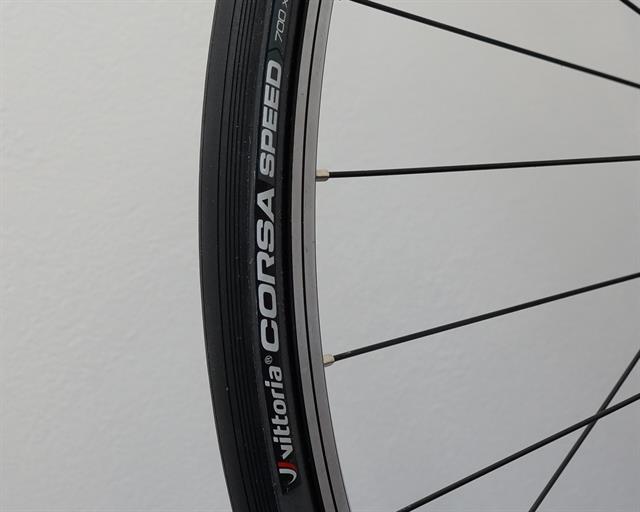 Size, Weight, and Thickness Measurements
advertisement
Size, Weight and Thickness Measurements
Specified Weight
205 grams
Measured Weight
225 grams
System Adjusted Weight
(tire + valve + rim seal)
245 grams
Measured Width
25 mm (un-round)
Measured Height
21 mm (un-round)
Total Tire Thickness Center
1.7 mm
Total Tire Thickness Sidewall
Members Only
Unmounted Casing Width
66 mm
Unmounted Tread Width
Members Only
All size measurements are taken at an air pressure of 100 psi / 6.9 bars on a 17.8 mm inner width rim.
Weight. My sample of the Corsa Speed TLR has a weight of 225 grams. The specified weight of the redesigned version is 225 grams as well, which means it's spot-on.
Size. The actual width on a 17C rim, at an air pressure of 100 psi / 6.9 bars, is 25 mm. The measured height is 22 mm. These measurements indicate that the Corsa Speed is a relatively large 23C rated tire.
Tire Thickness. As the name suggests, the Corsa Speed is made to be as fast as possible. This means there is no anti-puncture belt and only a limited amount of rubber on the tire. With a total measured thickness of 1.7 mm at the center of the tire, this is the thinnest tire I've tested up to now.
The regular Corsa G+ (read review) has a total thickness of 2.4 mm and the Conti GP4000S II (read review) even comes in at 2.9 mm.
Rolling Resistance Test Results
Rolling Resistance Test Results
Inner Tube
None (20 ml sealant)
Rolling Resistance
140 PSI / 9.7 Bar
Not Tested
Rolling Resistance
120 PSI / 8.3 Bar
7.7 Watts
CRR: 0.00231
Rolling Resistance
100 PSI / 6.9 Bar
8.3 Watts
CRR: 0.00249
Rolling Resistance
80 PSI / 5.5 Bar
Members Only
Rolling Resistance
60 PSI / 4.1 Bar
Members Only
All numbers are for a single tire at a speed of 29 km/h / 18 mph and a load of 42.5 kg / 94 lbs.

Use the formula: RR (Watts) = CRR * speed (m/s) * load (N) to calculate rolling resistance at a given speed and load.
Because the Corsa Speed TLR is a tubeless-ready (TLR) tire, I've tested it without an inner tube and used 20 ml of sealant. This tire can also be used with an inner tube, but you should add about ~ 3 - 4 watts for a standard 100 grams butyl tube and 1.5 - 2.0 watts for a latex tube.
When set up tubeless, the Corsa Speed TLR is an insanely fast tire! At an air pressure of 120 psi / 8.3 bars, rolling resistance is just 7.7 watts (CRR: 0.0023) per tire. At lower air pressures, rolling resistance is very, very low as well.
When compared to the competition, the Continental GP TT (read review) is now in 2nd place with a RR of 9.9 watts (with a std 100 grams butyl tube, should be ~8.4 watts with a latex tube) The 2nd fastest tubeless-ready tire that I've tested is the Schwalbe Pro One Tubeless (read review) which comes in at 11.0 watts.
I think it's safe to say the Vittoria Corsa Speed Open TLR is the fastest road bike tire in the world at the moment of writing this review; I simply can't think of any other tire than can go under 8 watts in my test. I'm pretty sure the fastest tubular tires with latex inner tubes will be slower as well.
Puncture Resistance Test Results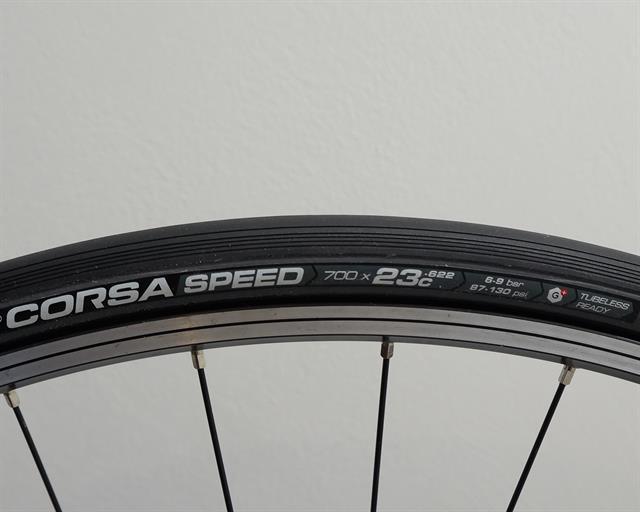 Puncture Resistance Test Results (higher is better)
Total Puncture Score Tread
31 Points
Total Puncture Score Sidewall
Members Only
Tread Puncture Force Sharp Needle
8 Points
Tread Puncture Force Blunt Needle
No Data
Tread Total Tire Thickness
1.7 mm
Sidewall Puncture Force Sharp Needle
Members Only
Sidewall Puncture Force Blunt Needle
No Data
Sidewall Total Tire Thickness
Members Only
A total tire thickness of just 1.7 mm and no anti-puncture belt will make it hard for the Corsa Speed TLR to perform well in the puncture tests.
In the tread puncture test, the Corsa Speed TLR scores 8 points which is probably still a good score for a tire this thin. The good part is puncture resistance will be better when using this tire in a tubeless set up with sealant (at least for smaller holes that can be sealed. If you get a big cut, you're out of luck).
In the sidewall puncture test, the Speed scores 5 points just like the regular Corsa G+. Pretty much all cotton tires seem to come in at 4-5 points in this test, which means the casing isn't any weaker than other cotton tires.
Static Grip Test Results
NOTE: Grip test data is only available on tires tested after November 2018. You can find more information about our grip test here: Introducing Grip Testing
Static Grip Test Results
Wet Grip Average
No Data
Wet Grip Center
No Data
Wet Grip Edge
No Data
Grip in points = coefficient of friction * 100
Conclusion
It has taken a long time for this tire to arrive, but the final version of the Vittoria Corsa Speed Open TLR truly is the fastest road bike tire in the world.
When unpacking this tire and seeing the gray coating on the inside of the casing and sidewalls, I feared this would result in a much higher rolling resistance. The truth is, rolling resistance of the Corsa Speed is insanely low. On top of that, and thanks to the new coating, puncture resistance and the capability to hold air when used in a tubeless set up will be much better.
If you have tubeless-ready wheels and want the fastest tires, look no further and get a set of these. If you don't have tubeless-ready wheels, get a set of these and a set of tubeless-ready wheels :)
Ad Buy Vittoria Corsa Speed G+ 1.0 (TLR) at Amazon.com
RATING: 5.0 / 5
TEST VERDICT: Highly Recommended
Comments