---
Road Bike Tire Test:

Challenge

Strada Pro
---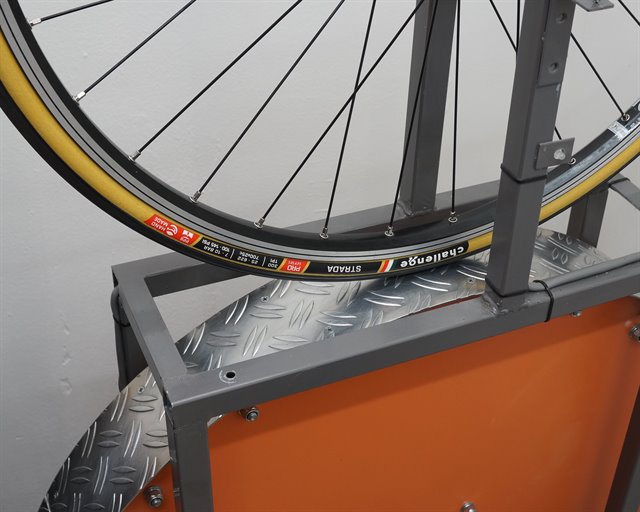 The Strada Pro is a handmade open tubular (clincher) road bike tire from the small Italian manufacturer Challenge. The Challenge Strada Pro is an all-round tire, and its main competitors are the Vittoria Open Corsa G+, Continental Grand Prix 4000S II, Schwalbe One, and Michelin Power Competition. I've received a lot of requests to test Challenge tires over the last two years as people are curious to how these perform on my tests. I've decided to test the Strada Pro as it's their most widely available tire.
Ad Buy Challenge Strada Pro at Amazon.com
The Strada Pro is available with tan or black sidewalls, but surprisingly both colors are only available in a 25 mm wide version. The casing is specified as a folding 300 TPI SuperPoly (polyester) with an extra layer of PPS anti-puncture material under the tread. The tread is manufactured at the Challenge factory in Thailand from locally-sourced natural rubber. Challenge claims the natural rubber is more supple than synthetic rubber and grip is far superior as well.
Alongside the Strada Pro, Challenge also carries the Strada SC S which comes with a 320 TPI corespun cotton casing instead of the 300 TPI SuperPoly casing. The SC S is more expensive, but Challenge claims it provides a more supple ride than the Strada Pro.
Manufacturer Specifications
Manufacturer Specifications
Brand
Challenge
Model
Strada Pro
Year
2017
Tire Type
Tubetype (clincher)
Supplied By
Bought in store
New or Used
New
Mileage
0 km
Price Range
High
Buy At

Ad

Amazon.com
Manufacturer part number
TPI
300
Compound
Bead
Folding
ETRTO
25-622
Size Inch
28"
Width
25
Specified Weight
240 grams
Max Pressure
145
Made In
Members Only
Available Sizes
25-622 (700x25C)
Challenge Strada Pro Test Results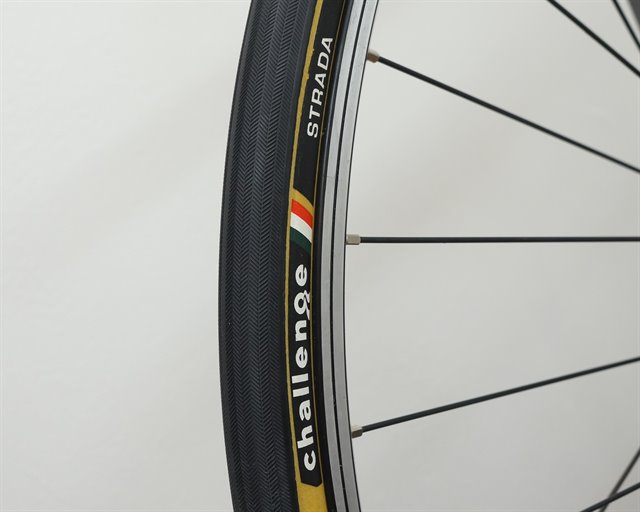 Size, Weight, and Thickness Measurements
advertisement
Size, Weight and Thickness Measurements
Specified Weight
240 grams
Measured Weight
254 grams
System Adjusted Weight
(tire + inner tube (100 gr)
354 grams
Measured Width
27 mm (un-round)
Measured Height
24 mm (un-round)
Total Tire Thickness Center
2.3 mm
Total Tire Thickness Sidewall
Members Only
Unmounted Casing Width
No Data
Unmounted Tread Width
No Data
All size measurements are taken at an air pressure of 100 psi / 6.9 bars on a 17.8 mm inner width rim.
The specified weight of the Strada Pro is 240 grams; my sample comes in at 254 grams which makes it a bit of a heavy tire. The measured width, at an air pressure of 100 psi / 6.9 bars is 27 mm which is in line with most other 25-622 rated tires that usually measure close to 26 - 27 mm.
The measured total thickness of the tire at the center of the tread comes in at 2.3 mm which is a bit on the low side for an all-round tire. Most other all-round tires have a thickness of more than 2.5 mm. On the other hand, the sidewalls are thicker than average and come in at a thickness of 1.00 mm.
Rolling Resistance Test Results
Rolling Resistance Test Results
Inner Tube
Conti Race28 (100gr butyl)
Rolling Resistance
140 PSI / 9.7 Bar
Not Tested
Rolling Resistance
120 PSI / 8.3 Bar
13.4 Watts
CRR: 0.00402
Rolling Resistance
100 PSI / 6.9 Bar
14.0 Watts
CRR: 0.00420
Rolling Resistance
80 PSI / 5.5 Bar
Members Only
Rolling Resistance
60 PSI / 4.1 Bar
Members Only
All numbers are for a single tire at a speed of 29 km/h / 18 mph and a load of 42.5 kg / 94 lbs.

Use the formula: RR (Watts) = CRR * speed (m/s) * load (N) to calculate rolling resistance at a given speed and load.
In the rolling resistance test, the Strada Pro comes in a bit behind the top performing tires. At the high air pressure of 120 psi / 8.3 bars, rolling resistance comes in at 13.4 watts Vs 10.9 for the Michelin Power Competition (read review). At lower air pressures, rolling resistance of the Strada Pro is decent and doesn't rise as fast as some other tires. At the more comfortable air pressure of 80 psi / 5.5 bars, rolling resistance of the Strada Pro is 15.3 watts Vs 13.6 watts for the Power Competition.
The Challenge tires are marketed as supple tires that offer a high ride quality. Maybe these tires are more comfortable when compared to a Michelin Power Competition when both tires are inflated to 100 psi / 6.9 bars, but what happens when you lower the air pressure of the Power Competition to 90 psi / 6.2 bars or even 80 psi / 5.5 bars? Ride quality will improve drastically at the lower air pressure yet rolling resistance will still be lower for the Power Competition.
Puncture Resistance Test Results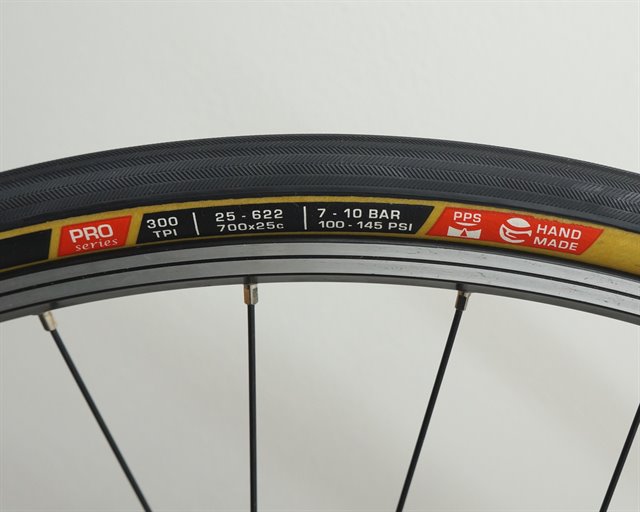 Puncture Resistance Test Results (higher is better)
Puncture Resistance Tread
11 Points
Puncture Resistance Sidewall
Members Only
In the tread puncture test, the Strada Pro scores an average 11 points. 11 points is typical for a fast all-round tire that mostly come in close to 11 - 12 points. In the sidewall puncture test, The Strada Pro scores below average as the sidewalls were extremely easy to puncture.
Conclusion
The Challenge Strada Pro doesn't excel in any of the tests; weight is on the high side, tread thickness is low, rolling resistance is average, puncture resistance of the tread is average, and the sidewalls are very easy to puncture. When you compare the Strada Pro with the Vittoria Corsa G+ (read review) that is marketed as a supple tire as well, the Strada Pro gets outperformed on all aspects. Maybe if you can get a good price on these, it might be worth going with them over the Vittoria Corsa G+.
I can't test the supple ride claim (yet), but be aware that you can run lower air pressures on the "regular" clincher tires like the Continental Grand Prix 4000S II (read review), Schwalbe One (read review), and Michelin Power Competition (read review) and still end up with less rolling resistance.
Ad Buy Challenge Strada Pro at Amazon.com
RATING: 3.0 / 5
TEST VERDICT: Recommended
Comments