Road Bike Tire Test:

Bontrager

R4 320
---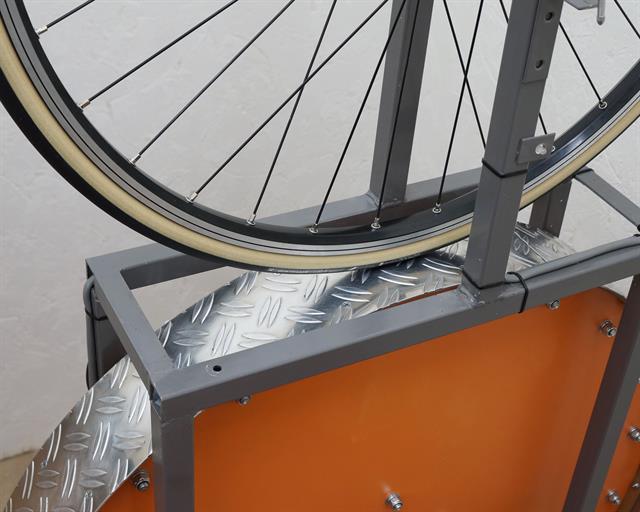 The Bontrager R4 320 is a hand-built cotton clincher tire which is used by a lot of road teams that are sponsored by Trek/Bontrager. When used by road teams, rolling resistance is one of the most important criteria and when looking purely at the specifications, this should be their fastest tire. Bontrager further claims the R4 320 to have amazing road feel thanks to its supple cotton casing yet is also extremely durable and puncture resistant thanks to the "Hard Case Lite" protection that is applied under the tread.
After inspecting the R4 320 a bit closer, it looks a lot like a Vittoria Corsa with a different tread glue on. I'm pretty sure at least the casing is made by Vittoria in their factory in Thailand. It's interesting to see if the Bontrager engineers have been able to improve the compound and puncture resistance compared to the Vittoria original that appears to be the gold-standard in cotton tires.
Manufacturer Specifications
Manufacturer Specifications
Brand
Bontrager
Model
R4 320
Year
2016
Tire Type
Tubetype (clincher)
Supplied By
Bought in store
New or Used
New
Mileage
0 km
Price Range
Very High
Buy At
Manufacturer part number
TPI
320
Compound
Bead
Folding
ETRTO
25-622
Size Inch
28"
Specified Width (mm)
25
Specified Weight
230 grams
Max Air Pressure (psi)
140
Made In
Members Only
Available Sizes
25-622 (700x25C)
Bontrager R4 320 Test Results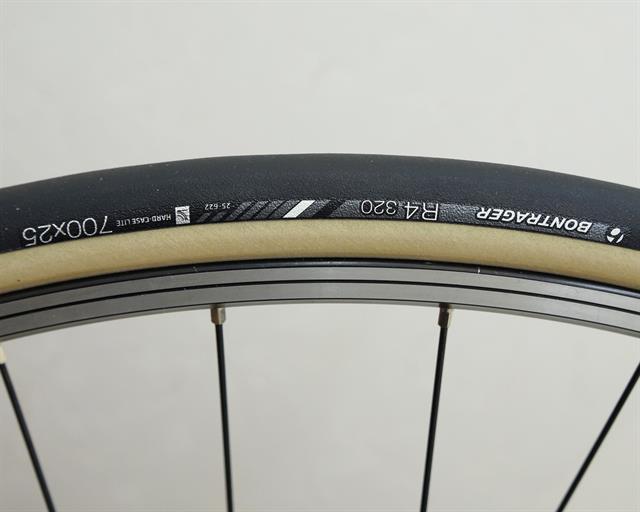 Size, Weight, and Thickness Measurements
advertisement
Size, Weight and Thickness Measurements
Specified Weight
230 grams
Measured Weight
226 grams
System Adjusted Weight
(tire + inner tube (100 gr)
326 grams
Measured Width
25 mm (un-round)
Measured Height
22 mm (un-round)
Total Tire Thickness Center
2.2 mm
Total Tire Thickness Sidewall
Members Only
Unmounted Casing Width
No Data
Unmounted Tread Width
No Data
Tread Cover (Tread / Casing Ratio)
No Data
All size measurements are taken at an air pressure of 100 psi / 6.9 bars on a 17.8 mm inner width rim.
The R4 320 is only available in the bigger 25-622 size. Real measured width on a 17C rim, at an air pressure of 100 psi is 25 mm. Although the measured size is very close to the rated size, keep in mind the Vittoria 25-622 tires actually measure closer to 27 mm on a 17C rim. Weight is a bit lower than the specified weight (230 gr) at 226 grams.
The total measured thickness of the tread is 2.2 mm which is slightly less than the Vittoria Corsa G+ (2.4 mm), but thicker than the Specialized Turbo Cotton (2.1 mm) The sidewalls have an average thickness of 0.8 mm which is also in-line with the cotton competition.
Rolling Resistance Test Results
Rolling Resistance Test Results
Inner Tube
Conti Race28 (100gr butyl)
Rolling Resistance
140 PSI / 9.7 Bar
Not Tested
Rolling Resistance
120 PSI / 8.3 Bar
11.5 Watts
CRR: 0.00345
Rolling Resistance
100 PSI / 6.9 Bar
12.2 Watts
CRR: 0.00366
Rolling Resistance
80 PSI / 5.5 Bar
Members Only
Rolling Resistance
60 PSI / 4.1 Bar
Members Only
All numbers are for a single tire at a speed of 29 km/h / 18 mph and a load of 42.5 kg / 94 lbs.

Use the formula: RR (Watts) = CRR * speed (m/s) * load (N) to calculate rolling resistance at a given speed and load.
In the rolling resistance test, the R4 320 performs very strong and outperforms important competitors like the Vittoria Corsa G+ (read review), Conti GP4000S II (read review) and Schwalbe One V-Guard (read review) by a small margin. Unfortunately, it does get outperformed by the Specialized Turbo Cotton (read review) which is still the fastest (non-tubeless) cotton tire on the market.
Puncture Resistance Test Results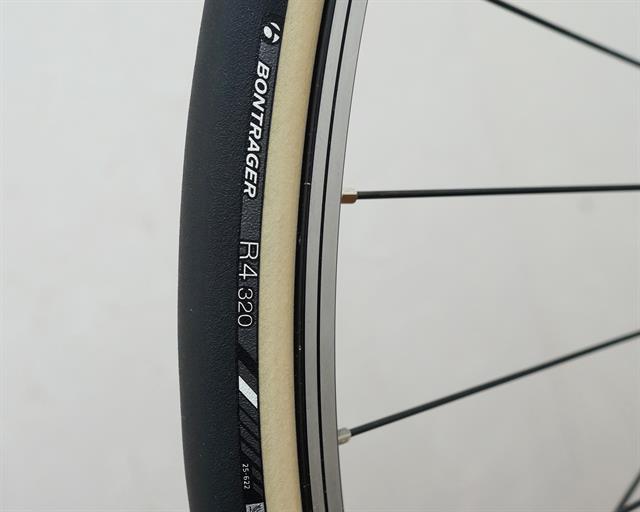 Puncture Resistance Test Results (higher is better)
Total Puncture Score Tread
44 Points
Total Puncture Score Sidewall
Members Only
Tread Puncture Force Sharp Needle
10 Points
Tread Puncture Force Blunt Needle
No Data
Tread Total Tire Thickness
2.2 mm
Sidewall Puncture Force Sharp Needle
Members Only
Sidewall Puncture Force Blunt Needle
No Data
Sidewall Total Tire Thickness
Members Only
In the tread puncture resistance test, the R4 320 scores 10 points which isn't all that exciting. I do find it interesting to see the Vittoria Corsa G+, Specialized Turbo Cotton and R4 320 to all score very close to each other in the puncture tests. To be exact, the Turbo Cotton scores slightly worse on puncture resistance but has a lower rolling resistance. The Corsa G+ scores slightly better in the puncture resistance tests but has a higher rolling resistance.
Static Grip Test Results
NOTE: Grip test data is only available on tires tested after November 2018. You can find more information about our grip test here: Introducing Grip Testing
Static Grip Test Results
Wet Grip Average
No Data
Wet Grip Center
No Data
Wet Grip Edge
No Data
Grip in points = coefficient of friction * 100
Conclusion
Of the cotton tires, the Bontrager R4 320 seems to slot in right between the Specialized Turbo Cotton (read review) and Vittoria Corsa G+ (read review) in both the rolling resistance, puncture resistance, and tread thickness tests. If you want the fastest (non-tubeless) cotton tire out there, the Specialized definitely is the tire to have. The Vittoria Corsa G+ seems to be a bit stronger and comes with a thicker tread, but has a slightly higher rolling resistance than the R4 320.
If you have to use the R4 320 because you're sponsored by Trek/Bontrager and get these for free, you're probably not leaving much on the table. If I needed some cotton tires and had to pay for them myself, I would probably go for the low rolling resistance Turbo Cotton, or grab the Corsa G+ for the better puncture resistance and lower price.
RATING: 4.0 / 5
TEST VERDICT: Recommended
Comments