CX/Gravel Tire Test:

WTB

Riddler TCS Light
---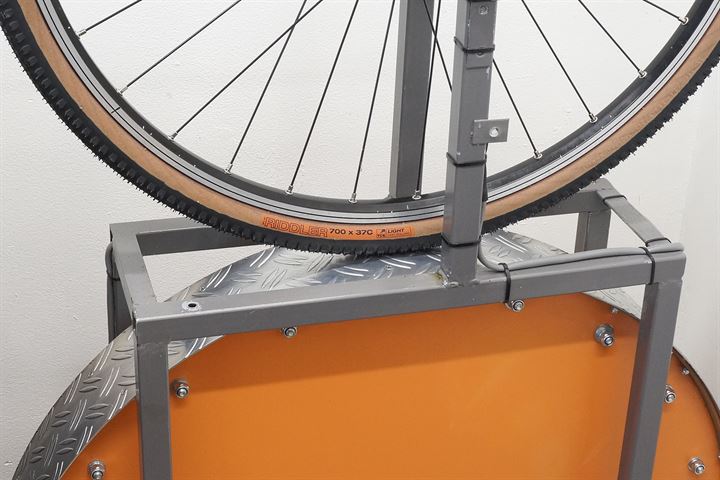 The WTB Riddler is a gravel bike tire with low knobs in the middle and a row of aggressive big knobs on the side. The tread pattern makes this tire ideal for hard surfaces such as asphalt, hardpack, and gravel. The Riddler is available in the 37-622 size as well as the very large 44-622 size for gravel bikes with a lot of clearance.
Ad Buy WTB Riddler TCS Light at Amazon.com
The Riddler consists of a single-ply 60 TPI tubeless-ready casing and a "Dual DNA" rubber compound. For this test, we tested the 37-622 version "TCS Light / Fast Rolling" with brown sidewalls. The Riddler is also available with black sidewalls but this should make no difference in performance.
advertisement
Manufacturer Specifications
Manufacturer Specs
Brand
WTB
Model
Riddler TCS Light
Year
2020
Supplied By
Bought in store
New or Used
New
Mileage
0 km
Price Range
High
Buy At

Ad

Amazon.com
Manufacturer part number
W010-0694
TPI
60
Compound
Dual DNA
Bead
Folding
ETRTO
37-622
Specified Weight
465 grams
Max Pressure
55
Made In
China
Available Sizes
37-622 (700x37c)
44-622 (700x45c)
WTB Riddler TCS Light Test Results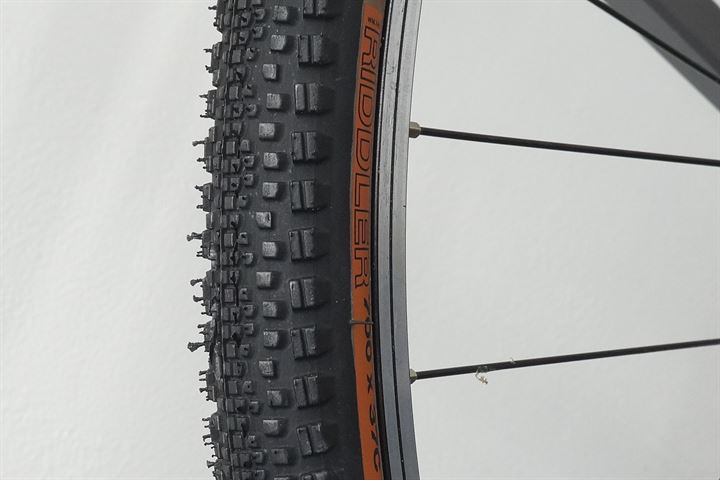 Size, Weight, and Thickness Measurements
Size, Weight, and Thickness Measurements
Specified Weight
465 grams
Measured Weight
446 grams
Measured Width Casing
35 mm
Measured Width Tread
36 mm
Measured Height
33 mm
Measured Knob Height Center
1.2 mm
Measured Knob Height Edge
2.8 mm
Measured Total Thickness Sidewall
0.80 mm
Measured Total Thickness Center (excluding knobs)
2.10 mm
All size measurements are taken at low air pressure on a 17.8 mm inner width rim.
Rolling Resistance Test Results
Rolling Resistance Test Results
Inner Tube
Conti Cross28 (160 gr)
Measured Width
35 mm
Rolling Resistance
Real tire width in mm:
30-32 = 66 psi/4.6 bar
33-35 = 60 psi/4.1 bar
36-40 = 54 psi/3.7 barHigh Air Pressure
22.4Watts
CRR: 0.00671
Rolling Resistance
Real tire width in mm:
30-32 = 55 psi/3.8 bar
33-35 = 50 psi/3.4 bar
36-40 = 45 psi/3.1 barMedium Air Pressure
24.0 Watts
CRR: 0.00719
Rolling Resistance
Real tire width in mm:
30-32 = 44 psi/3.0 bar
33-35 = 40 psi/2.8 bar
36-40 = 36 psi/2.6 barLow Air Pressure
26.6 Watts
CRR: 0.00797
Rolling Resistance
Real tire width in mm:
30-32 = 33 psi/2.3 bar
33-35 = 30 psi/2.1 bar
36-40 = 27 psi/1.9barExtra Low Air Pressure
31.2 Watts
CRR: 0.00935
The CX/Gravel section is a multi tire size section, air pressures have been adjusted to the measured casing width.

All numbers are for a single tire at a speed of 29 km/h / 18 mph and a load of 42.5 kg / 94 lbs.

Use the formula: RR (Watts) = CRR * speed (m/s) * load (N) to calculate rolling resistance at a given speed and load.
Puncture Resistance Test Results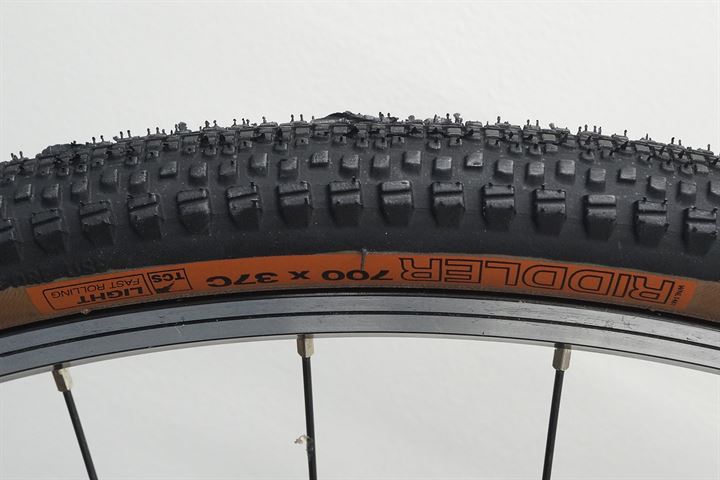 Puncture Resistance Test Result (higher is better)
Puncture Resistance Tread
6 Points
Puncture Resistance Sidewall
4 Points
Conclusion
The biggest advantage of the WTB Riddler is the tread with the large knobs on the side of the tire. The rolling resistance is not particularly low, but also not particularly high. The main problem with the Riddler is the low scores in the puncture resistance tests of both the tread and sidewalls. In both tests, the Riddler puts down the lowest scores of all CX/Gravel bike tires tested so far.
We give the Riddler a rating of 3 out of 5 because the performance is less but the differences are relatively small. The only deal-breaker we see now is the low puncture resistance that can be a problem if you ride a lot on gravel or experience punctures regularly. Better tires are available, please check our CX/Gravel overview page.
Ad Buy WTB Riddler TCS Light at Amazon.com
RATING: 3.0 / 5
TEST VERDICT: Recommended
Comments