Continental

Gatorskin

- Lab Test Review
---
---
---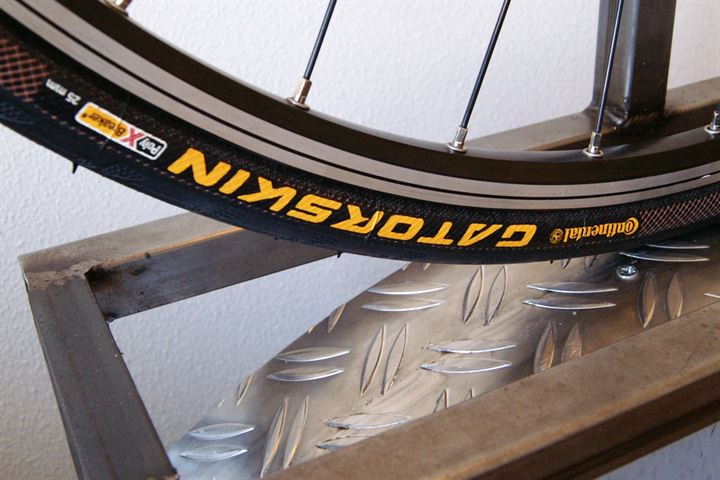 The Continental Gatorskin has been around for a long time and is well-known for its excellent puncture resistance qualities. This tire is available as both a folding and rigid version. The tire I'm reviewing is the folding 700 x 25 C version of the Gatorskin. Continental specifies this tire as a tire that can be used on the way to work or as a training tire. They seem to emphasize the puncture resistance qualities a lot, but nothing is said about rolling resistance.
Ad Buy Continental Gatorskin at Amazon.com
The Gatorskin uses a 3/180 carcass with DuraSkin fabric and a PolyXBreaker for increased puncture resistance. The rubber compound is a "Durable carbon black mixture." This seems to be quite an old compound which has been optimized for low wear and cold weather grip. Claimed weight of the 25C folding Gatorskin is 240 grams which is a low weight for such a strong tire.
When looking at the Continental road bike tires line-up, I noticed the new Grand Prix 4-Season. This seems to be a tire with the same properties as the Gatorskin but is a new design with the latest tire technology. The 4-Season seems to be close to a GP4000S with an extra layer of Vectran breaker and a DuraSkin sidewall. I'm looking forward to comparing this tire to the Gatorskin (edit: Gatorskin Vs GP 4-Season as it will be a good example of how much tire tech has progressed in the last ten years.
Manufacturer Specifications
Manufacturer Specifications
Brand
Continental
Model
Gatorskin
Year
2015
Tire Type
Tubetype (clincher)
Supplied By
Bought in store
New or Used
New
Mileage
0 km
Price Range
High
Buy At

Ad

Amazon.com
Manufacturer part number
0100084
TPI
3/180
Compound
carbon black mixture
Bead
Folding
ETRTO
25-622
Size Inch
28"
Specified Width (mm)
25
Specified Weight
240 grams
Max Air Pressure (psi)
120
Made In
Members Only
Available Sizes
32-630 (27x1 1/4)
23-622 (700x23C)
25-622 (700x25C)
28-622 (700x28C)
32-622 (700x32C)
23-571 (650x23C)
28-559 (26x1 1/8)
Continental Gatorskin Test Results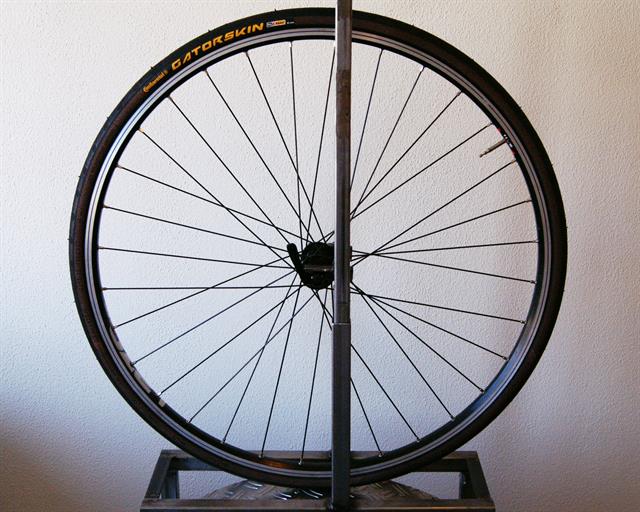 Size, Weight, and Thickness Measurements
advertisement
Size, Weight and Thickness Measurements
Specified Weight
240 grams
Measured Weight
255 grams
System Adjusted Weight
(tire + inner tube (100 gr)
355 grams
Measured Width
26 mm (un-round)
Measured Height
23 mm (un-round)
Total Tire Thickness Center
3.2 mm
Total Tire Thickness Sidewall
Members Only
Unmounted Casing Width
No Data
Unmounted Tread Width
No Data
Tread Cover (Tread / Casing Ratio)
No Data
All size measurements are taken at an air pressure of 100 psi / 6.9 bars on a 17.8 mm inner width rim.
The measured weight is 255 grams, which is higher than the specified weight of 240 grams. With a measured width of 26 mm and measured height of 23 mm on a 17C rim, sizing is very close to its rated size of 25C.
Rolling Resistance Test Results
Rolling Resistance Test Results
Inner Tube
Conti Race28 (100gr butyl)
Rolling Resistance
140 PSI / 9.7 Bar
Not Tested
Rolling Resistance
120 PSI / 8.3 Bar
19.3 Watts
CRR: 0.00579
Rolling Resistance
100 PSI / 6.9 Bar
20.2 Watts
CRR: 0.00606
Rolling Resistance
80 PSI / 5.5 Bar
Members Only
Rolling Resistance
60 PSI / 4.1 Bar
Members Only
All numbers are for a single tire at a speed of 29 km/h / 18 mph and a load of 42.5 kg / 94 lbs.

Use the formula: RR (Watts) = CRR * speed (m/s) * load (N) to calculate rolling resistance at a given speed and load.
As expected, rolling resistance is very high. At 120 psi, rolling resistance is 19.3 watts. At lower air pressures, rolling resistance rises even more. At 80 psi, rolling resistance is 22.0 watts, which means rolling resistance is 8.3 watts higher when compared to a GP4000S II at 80 psi (13.7 watts).
Puncture Resistance Test Results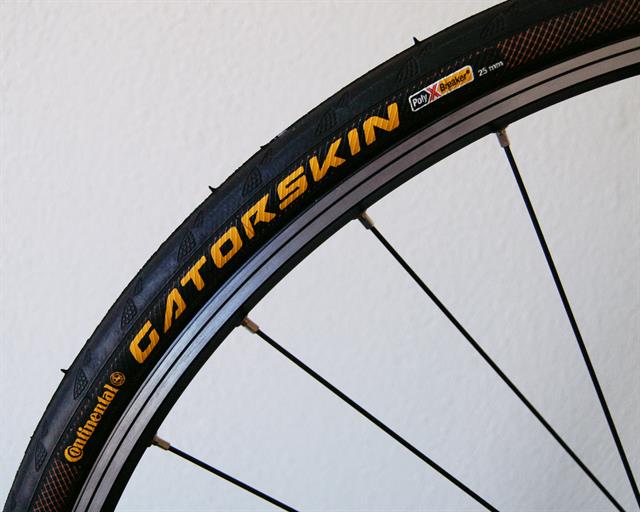 Puncture Resistance Test Results (higher is better)
Total Puncture Score Tread
89 Points
Total Puncture Score Sidewall
Members Only
Tread Puncture Force Sharp Needle
18 Points
Tread Puncture Force Blunt Needle
No Data
Tread Total Tire Thickness
3.2 mm
Sidewall Puncture Force Sharp Needle
Members Only
Sidewall Puncture Force Blunt Needle
No Data
Sidewall Total Tire Thickness
Members Only
In the puncture resistance test, the Gatorskin shows us what it's all about. It's able to score 18 points in the puncture resistance test, which is the highest score of all tires tested to date. A puncture resistance score of 18 means it requires 64% more force to puncture than a GP4000S II (PR score of 11).
Static Grip Test Results
NOTE: Grip test data is only available on tires tested after November 2018. You can find more information about our grip test here: Introducing Grip Testing
Static Grip Test Results
Wet Grip Average
No Data
Wet Grip Center
No Data
Wet Grip Edge
No Data
Grip in points = coefficient of friction * 100
Conclusion
I like the fact Continental doesn't claim the Gatorskin to be a low rolling resistance tire but instead it is designed to achieve a high puncture resistance. With a puncture resistance score of 18 in our puncture resistance test, I can confirm that this is a very strong tire. If all you want from a road bike tire is high puncture resistance and you don't care about speed, the Gatorskin is a good choice.
While the Gatorskin is a good choice, It's quite an old-tech road bike tire. The newer Continental Grand Prix 4-Season (read review) might be a better tire with a double layer of Vectran breaker and a DuraSkin sidewall.
Ad Buy Continental Gatorskin at Amazon.com
RATING: 3.0 / 5
TEST VERDICT: Recommended
Comments