Tire Test -
Continental Grand Prix 4 Season
Published: 2015-06-10 | Jarno Bierman
---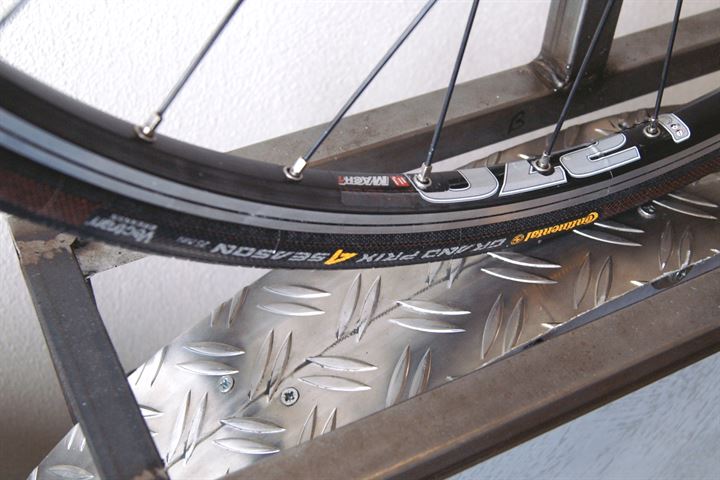 The Continental Grand Prix 4 Season is a top of the line, all-season road bike tire. This tire is a close cousin of the Grand Prix 4000S II (read review). Both tires use a 3/330 TPI carcass and are handmade in Germany. To make the 4 Season an all-season tire, Continental designed this tire with a double layer of Vectran breaker under the tread, an extra layer of DuraSkin from bead to bead, and a silica compound optimized for cold and wet weather.
Buy Continental Grand Prix 4 Season at Amazon.com
When going for a tire like the Grand Prix 4 Season, rolling resistance is probably not the most important point to consider. Puncture resistance and grip on wet and cold surfaces will probably be the main selling point. I do think it's interesting to know the rolling resistance of the 4 Season, especially at lower air pressures. Being able to compare this with the GP4000S II data might make the decision to switch between summer/winter tires a bit easier.
Most Continental high-end tires use the Continental Black Chili compound which always performs excellently in the rolling resistance tests. Surprisingly, the 4 Season doesn't use the Black Chili compound but instead uses a different "Max Grip" silica compound. The "Max Grip" compound is a softer silica compound which provides more grip in all-weather conditions. The compound change will probably make the biggest difference during the rolling resistance test
Manufacturer Specifications
Brand
Continental
Model
Grand Prix 4 Season
Year
2015
Tire Type
Tubetype (clincher)
Supplied By
Bought in store
New or Used
New
Mileage
0 km
Price Range
High
Price

Amazon.com

Part number
0100175
TPI
3/330
Compound
Max Grip Silica
Bead
Folding
ETRTO
25-622
Size Inch
28"
Width
25
Specified Weight
240 grams
Max Pressure
120
Made In
Germany
Available Sizes
23-622 (700x23C)
25-622 (700x25C)
28-622 (700x28C)
32-622 (700x32C)
Test Results
Size and Weight Measurements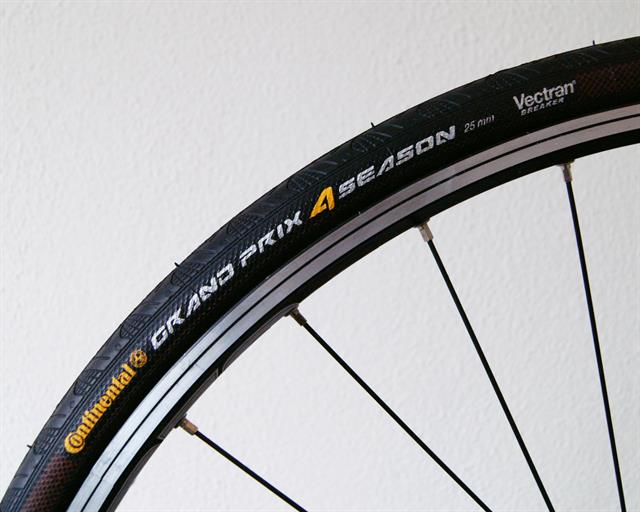 Size and Weight Measurements (Bike Wheel: 622x17C, Pressure: 100 psi / 6.9 bar)
Specified Weight
240 grams
Measured Weight
215 grams
Measured Width
27 mm
Measured Height
24 mm
Total Tire Thickness Center
2.7 mm
Total Tire Thickness Sidewall
0.7 mm
While the specified weight of the 700 x 25C 4 Season is 240 grams, the tire used for this test weighed in at a very low 215 grams. 215 grams is even less than the specified weight of the GP4000S II. Measured width and height on a 17C rim is 27 mm and 24 mm respectively.
With a weight this low, there can't be a lot of rubber on the tire. After measuring the total thickness of the tire at the center of the tread, it turns out the 4 Season is thinner than the GP4000S II (2.7 mm Vs 2.9 mm). The sidewalls are a bit thicker at 0.7 mm Vs 0.55 for the GP4000S II.
Rolling Resistance Test Results
Rolling Resistance Test Results (Speed: 29 kmh / 18 mph / 8 m/s, Load: 42.5 kg / 417 N)
Inner Tube
Conti Race28 (100gr butyl)
Rolling Resistance 140 psi / 9.7 Bar
Not Tested
CRR: Not Tested
Rolling Resistance 120 psi / 8.3 Bar
17.2 Watts
CRR: 0.00516
Rolling Resistance 100 PSI / 6.9 Bar
18.1 Watts
CRR: 0.00543
Rolling Resistance 80 PSI / 5.5 Bar
19.8 Watts
CRR: 0.00594
Rolling Resistance 60 PSI / 4.1 Bar
22.5 Watts
CRR: 0.00674
Use the formula: RR (watts) = CRR * speed (m/s) * load (N) to calculate rolling resistance at a given speed and load
Rolling resistance is decent for an all-weather tire. At an air pressure of 120 psi, rolling resistance is 17.2 watts, which is 5 watts more than the GP4000S II (read review). Dropping air pressure to 100 psi results in a rolling resistance of 18.2 watts (GP4000S = 12.9). At a more usable air pressure of 80 psi, rolling resistance is 19.8 watts; this is 6.1 watts more than the GP4000S II.
It's obvious rolling resistance isn't as low as most other summer tires. The differences also get bigger when dropping air pressure to a more usable air pressure range (80 - 100 psi). Don't forget to look at the puncture resistance test results to make the comparison more complete.
Puncture Resistance Test Results
Puncture Resistance Test Results (higher is better)
Puncture Resistance Tread
17
Puncture Resistance Sidewall
7
One of the main selling points of the 4 Season is its claimed high puncture resistance. With a score of 17 points in the puncture resistance test, the 4 Season performs excellently. 17 points is a much better score than the 11 points the GP4000S scored.
A more comparable tire is the Continental Gatorskin (read review) which scored 18 points in the puncture resistance test. The Gatorskin does have an even higher rolling resistance of 19.3 watts at 120 psi.
Conclusion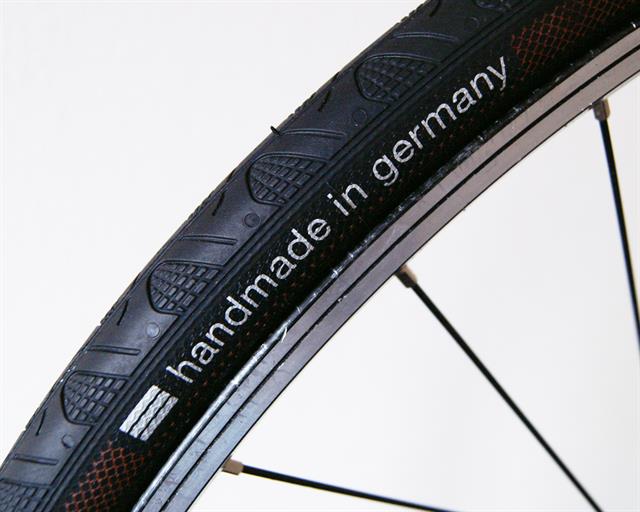 As expected, rolling resistance is a bit higher than pure summer tires like the GP4000S II or Schwalbe One. For a pair of tires, cycling at a speed of 18 mph / 29 km/h, an extra 10 to 12 watts of power input is required to obtain the same speed. In return for this extra effort, you get a much stronger tire and increased grip in cold and wet conditions. When taking both into consideration, the Grand Prix 4 Season is a great tire.
I would have given the Grand Prix 4 Season a 5-star rating if it had just a little lower rolling resistance. I was hoping it to come in closer to the 16 watts range. Still, it is a great tire with a high puncture resistance and low rolling resistance. I'm interested in your opinion about it's wet and cold weather qualities as well. Let me know in the comments.
Buy Continental Grand Prix 4 Season at Amazon.com
RATING: 4 / 5
TEST VERDICT: Recommended
Comments
Did you like this article?
Please consider to share this article with your friends.
Or Like/Follow us on Facebook or Twitter