Road Bike Tire Test:

Schwalbe

Lugano II
---
---
---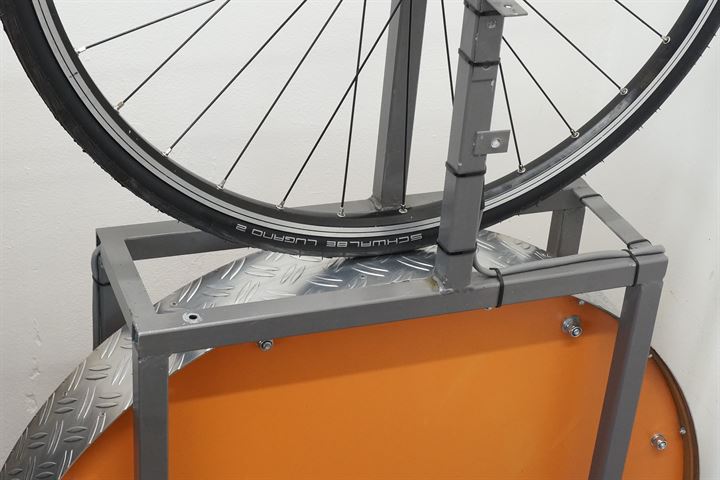 The Schwalbe Lugano II is an update to the original Lugano that has been around for a long time. We tested the original Lugano back in 2015 (read our review) and were not impressed as, at that time, it was by far the slowest road bike tire we've had on our test machine. When purely looking at the specifications of both the old and new Lugano, not much has changed as nearly all specifications are the same. The biggest change seems to be a new tread pattern which gives it a much sleeker look.
Ad Buy Schwalbe Lugano II at Amazon.com
Although the specifications are the same on paper, our tests show there is a big difference between the old and new Lugano. Rolling resistance is now a bit lower but this has come at the cost of decreased puncture resistance of the tread area. If you were using the Lugano because you found it to offer good puncture resistance, be careful when changing to the Lugano II.
We've tested the Lugano II with folding beads in the 25-622 size. The Lugano II with folding beads is available in the 23-622, 25-622, and 28-622 sizes. An even cheaper wire bead version is available as well in the 23-622, 25-622, 28-622, and 32-622 sizes.
Manufacturer Specifications
Manufacturer Specifications
Brand
Schwalbe
Model
Lugano II
Year
2020
Tire Type
Tubetype (clincher)
Supplied By
Bought in store
New or Used
New
Mileage
0 km
Price Range
Low
Buy At

Ad

Amazon.com
Manufacturer part number
11654009
EAN
4026495864817
TPI
50
Compound
Silica
Bead
Folding
ETRTO
25-622
Size Inch
28"
Specified Width (mm)
25
Specified Weight
280 grams
Max Air Pressure (psi)
115
Made In
Members Only
Available Sizes
23-622 (700x23c)
25-622 (700x25c)
28-622 (700x28c)
Schwalbe Lugano II Test Results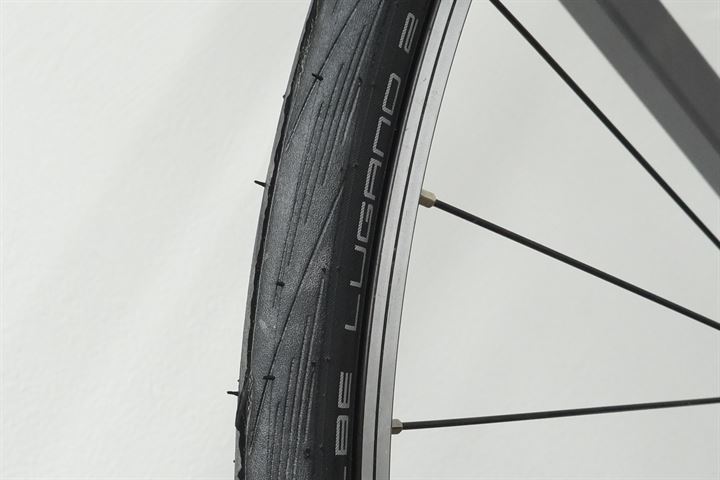 Size, Weight, and Thickness Measurements
advertisement
Size, Weight and Thickness Measurements
Specified Weight
280 grams
Measured Weight
265 grams
System Adjusted Weight
(tire + inner tube (100 gr)
365 grams
Measured Width
26 mm (un-round)
Measured Height
24 mm (un-round)
Total Tire Thickness Center
3.4 mm
Total Tire Thickness Sidewall
Members Only
Unmounted Casing Width
64 mm
Unmounted Tread Width
Members Only
All size measurements are taken at an air pressure of 100 psi / 6.9 bars on a 17.8 mm inner width rim.
Rolling Resistance Test Results
Rolling Resistance Test Results
Inner Tube
Conti Race28 (100gr butyl)
Rolling Resistance
140 PSI / 9.7 Bar
Not Tested
Rolling Resistance
120 PSI / 8.3 Bar
18.0 Watts
CRR: 0.00540
Rolling Resistance
100 PSI / 6.9 Bar
19.2 Watts
CRR: 0.00576
Rolling Resistance
80 PSI / 5.5 Bar
Members Only
Rolling Resistance
60 PSI / 4.1 Bar
Members Only
All numbers are for a single tire at a speed of 29 km/h / 18 mph and a load of 42.5 kg / 94 lbs.

Use the formula: RR (Watts) = CRR * speed (m/s) * load (N) to calculate rolling resistance at a given speed and load.
Puncture Resistance Test Results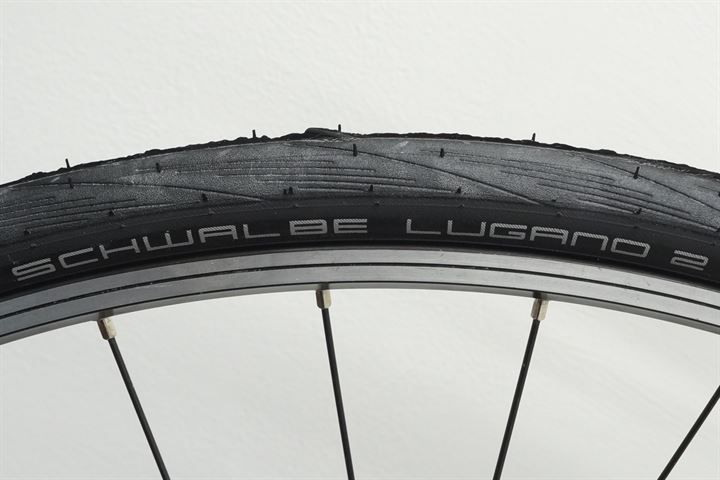 Puncture Resistance Test Results (higher is better)
Total Puncture Score Tread
52 Points
Total Puncture Score Sidewall
Members Only
Tread Puncture Force Sharp Needle
11 Points
Tread Puncture Force Blunt Needle
Members Only
Tread Total Tire Thickness
3.4 mm
Sidewall Puncture Force Sharp Needle
Members Only
Sidewall Puncture Force Blunt Needle
Members Only
Sidewall Total Tire Thickness
Members Only
Static Grip Test Results
NOTE: Grip test data is only available on tires tested after November 2018. You can find more information about our grip test here: Introducing Grip Testing
Static Grip Test Results
Wet Grip Average
69 Points
Wet Grip Center
Members Only
Wet Grip Edge
Members Only
Grip in points = coefficient of friction * 100
Conclusion
When we compare the Lugano II to the original Lugano, rolling resistance has been improved by nearly 20%. On the other hand, puncture resistance of the tread area has decreased by 20%. All in all, the Lugano II is now a typical all-round road bike tire with a puncture resistance score in the 10-12 points range but a much higher rolling resistance than more expensive tires.
If you're looking for low cost tires, our road bike overview with the low price range filter applied shows us there are better tires available. If you're willing to spend a bit more, add the medium price range tires as well and you'll see you can have significant improvements when spending just a slight bit more.
Ad Buy Schwalbe Lugano II at Amazon.com
RATING: 2.0 / 5
TEST VERDICT: Not Recommended
Comments