MTB Tire Test:

Continental

Mountain King II RaceSport
Continental Mountain King II RaceSport
---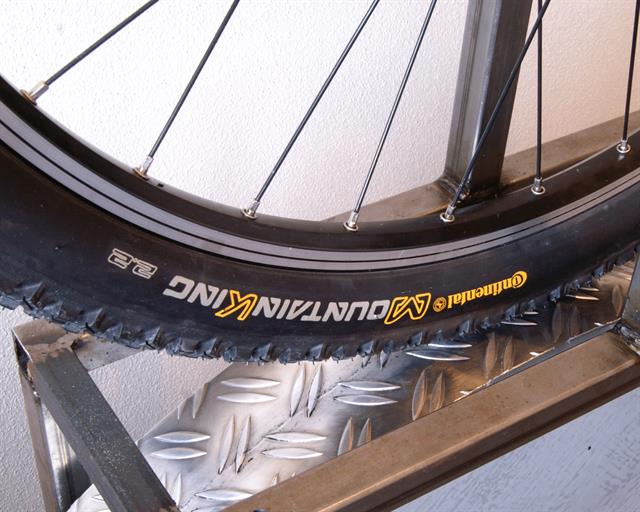 With summer ending and the mud season coming soon for many people, I've tested the Continental Mountain King to see how it compares to the Continental Race King and X-King. The Mountain King has some seriously big knobs with enough space in between to shed mud easily. Just like the Race King and X-King, the Mountain King is available as Sport, Performance, RaceSport, and Protection versions. I'm testing the RaceSport version, which is the fastest version.
Just like the other RaceSport tires, the Mountain King uses a 3/180 TPI carcass and the well-known Continental Black Chili compound. I did notice that while all Continental RaceSport tires use a 3/180 carcass, there are some differences in construction. It looks like the X-King (review) and Mountain King share a stronger version of the carcass while the Speed King (review) and Race King (review) share a lighter/thinner carcass. The stronger version is a bit smaller as well for the same rated size.
After testing the Speed King, Race King, and X-King, the Mountain King is the last of the Continental cross-country tires to get tested. I'm very happy to have those 4 Continental tires on the website and have the opportunity to compare them side by side. When I started doing these tests, this was one of my objectives. The Schwalbe Nobby Nic will be next in line, which means the most important Schwalbe tires will be tested and can be compared side by side as well.
Manufacturer Specifications
Manufacturer Specs
Brand
Continental
Model
Mountain King II RaceSport
Year
2015
Supplied By
Bought in store
New or Used
New
Mileage
0 km
Price Range
High
Buy At
Manufacturer part number
0100518
TPI
3/180
Compound
Black Chili
Bead
Folding
ETRTO
55-622
Size Inch
29"
Width Inch
2.20
Specified Weight
635 grams
Max Pressure
65
Made In
Members Only
Available Sizes
29 x 2.40
29 x 2.20
27.5 x 2.40
27.5 x 2.20
26 x 2.40
26 x 2.20
Continental Mountain King II RaceSport Test Results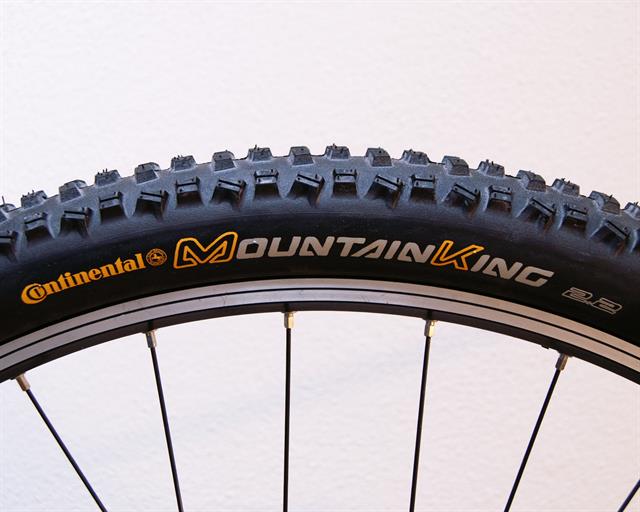 Size, Weight, and Thickness Measurements
advertisement
Size, Weight, and Thickness Measurements
Specified Weight
635 grams
Measured Weight
594 grams
Measured Width Carcass
52 mm (un-round)
Measured Width Tread
53 mm
Measured Height
52 mm (un-round)
Measured Knob Height Center
4.1 mm
Measured Knob Height Edge
4.7 mm
Measured Total Thickness Center (excluding knobs)
1.80 mm
Measured Total Thickness Sidewall
Members Only
All size measurements are taken at an air pressure of 35 psi / 2.4 bars on a 17.8 mm inner width rim.
My sample of the Mountain King comes in at a weight of 594 grams, this is much less than the specified weight of 635 grams. 595 grams is quite an impressive weight for a tire like the Mountain King and a welcome surprise as most tires measure a bit more than specified.
The Mountain King has the biggest knobs of all tires that have been tested up to now. The center knobs measure in at 4.1 mm, which is a big step up from the X-King/Race King which both have a 2.5 mm center knob height. The knobs at the edge of the tire have a height of 4.7 mm. The edge knobs are much bigger than those found on the Race King (2.5 mm), but only a bit higher than the X-King (4.0 mm).
Rolling Resistance Test Results
Rolling Resistance Test Results
Inner Tube
Conti MTB 29 (225 gr butyl)
Rolling Resistance
55 PSI / 3.8 Bar
Members Only
Rolling Resistance
45 PSI / 3.1 Bar
Members Only
Rolling Resistance
35 PSI / 2.4 Bar
29.6 Watts
CRR: 0.00887
Rolling Resistance
25 PSI / 1.7 Bar
31.5 Watts
CRR: 0.00944
All numbers are for a single tire at a speed of 29 km/h / 18 mph and a load of 42.5 kg / 94 lbs.

Use the formula: RR (Watts) = CRR * speed (m/s) * load (N) to calculate rolling resistance at a given speed and load.
At the very high air pressure of 55 psi, rolling resistance is 28.8 watts. Dropping air pressure to 45 psi results in a rolling resistance of 28.9 watts. This difference of 0.1 watts between an air pressure of 55 psi and 45 psi is the smallest I've seen yet. I wouldn't be surprised if rolling resistance would rise when upping air pressure to 65 psi.
When dropping air pressure to a more realistic air pressure of 25 psi, rolling resistance goes up to 31.5 watts. It's worth noting that this means there's only a 2.7 watts difference between a high pressure of 55 psi and a low pressure of 25 psi. I suspect this is a side-effect of the higher and wider spaced knobs, rolling resistance doesn't go down as much at higher air pressures when compared to tires with more and smaller knobs.
Rolling resistance of the Mountain King is quite a bit higher than the X-King. The X-King already has a rolling resistance that's on the high side when compared to its main competitor: the Schwalbe Rocket Ron. It's quite hard to judge this tire when I do not have the data of its main competitor yet. I will test the Nobby Nic next week.
Puncture Resistance Test Results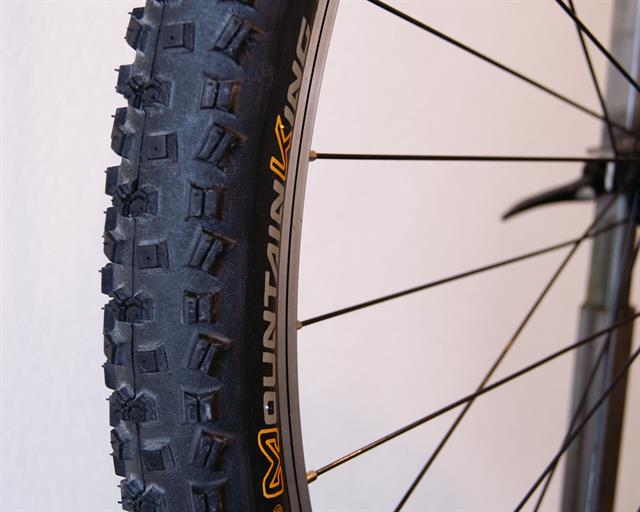 Puncture Resistance Test Result (higher is better)
Puncture Resistance Tread
9 Points
Puncture Resistance Sidewall
Members Only
The Mountain King scores 9 points in the puncture resistance tread test. This is close to the 10 points of the X-King and substantially higher than the Race King and Speed King. In the sidewall test, the Mountain King scores 6 points which is the same score as the X-King, but also much higher than the Race King and Speed King. I've based my suspicions of the stronger X-King/Mountain King carcass mostly on these test results.
Conclusion
Continental Mountain King II RaceSport
Performance compared to all other MTB tires
(100% is fastest - lightest - highest - strongest)
It's hard to judge the Continental Mountain King because I haven't tested any similar tires yet. I will test a new Nobby Nic next week which should make it easier to judge the Mountain King. I do expect the Nobby Nic to outperform the Mountain King, I base this on the Rocket Ron (review) Vs X-King (review) comparison. It seems the Continental X-King and Mountain King have stronger, but slower carcasses when compared to the very fast Speed King (review) and Race King (review).
I'm still undecided on how to rate the Mountain King. It depends on the Nobby Nic test, but I'll give it a 4 / 5 for now. With this test, I've completed the Continental XC tire line-up. It will be much easier to decide when to mount a Speed, Race, X, or Mountain King. For example, a Speed King will save 12.4 watts of rolling resistance per tire over a Mountain King and even more when used on the rear wheel!
RATING: 4 / 5
TEST VERDICT: Recommended
Comments