MTB Tire Test:

Continental

X-King RaceSport
Continental X-King RaceSport
---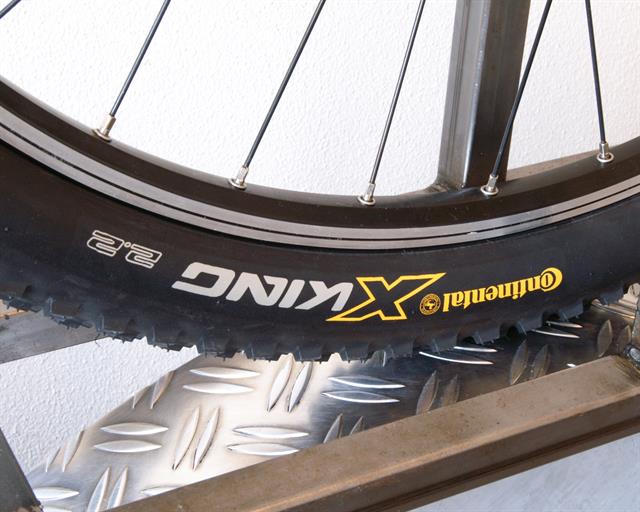 NOTE: We have a test available of a newer version of this tire: Continental Cross King Protection 2020
The X-King is Continentals version of an all-purpose mountain bike tire. The X-King fills the gap between the Continental Race King and Continental Mountain King. I've been using an X-King RaceSport on the front wheel of my MTB for almost two years and have been happy with the grip and feedback it provides. I chose the X-King because I assumed rolling resistance would be very close to the Race King RaceSport.
Ad Buy Best Rated Bike Tires at Amazon.com
The Continental X-King is very similar to the Schwalbe Rocket Ron (review). Both tires have slightly wider spaced knobs when compared to a Continental Race King or Schwalbe Racing Ralph. After testing the Rocket Ron, it's clear wider spaced knobs doesn't always mean rolling resistance will be higher. Also, after testing a lot of tires, casing construction and the rubber compound seem to be the dominant factors that influence rolling resistance.
One of the things that's obvious when you compare the Continental Speed King II (review), Race King(review) and X-King side by side is that the Speed King and Race King use the same casing construction. The Speed King and Race King measure very close to the advertised size. The X-King on the other hand, while having the same 2.2 rating, is much smaller and clearly has a different construction. This is also obvious when unfolding the tires: The Speed King and Race King collapse under their own weight while the X-King is able to support itself and looks like a wire bead tire.
advertisement
Manufacturer Specifications
Manufacturer Specs
Brand
Continental
Model
X-King RaceSport
Year
2015
Supplied By
Bought in store
New or Used
New
Mileage
0 km
Price Range
High
Buy At
Manufacturer part number
0100531
TPI
3/180
Compound
Black Chili
Bead
Folding
ETRTO
55-622
Size Inch
29"
Width Inch
2.20
Specified Weight
555 grams
Max Pressure
65
Made In
Germany
Available Sizes
29 x 2.40
29 x 2.20
29 x 2.00
27.5 x 2.20
27.5 2.00
26 x 2.40
26 x 2.20
26 x 2.00
Continental X-King RaceSport Test Results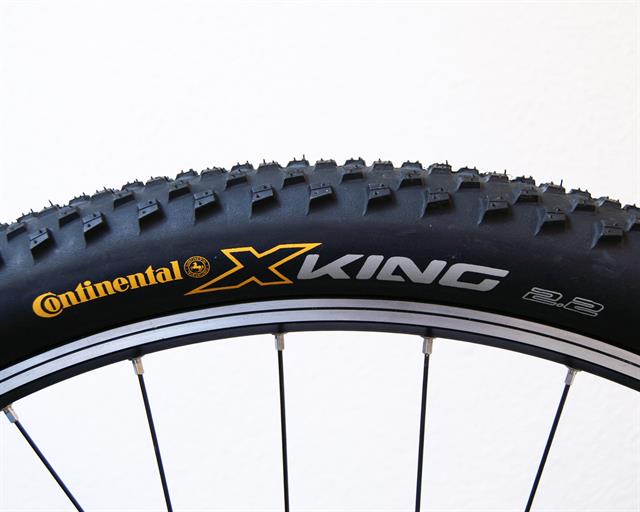 Size, Weight, and Thickness Measurements
advertisement
Size, Weight, and Thickness Measurements
Specified Weight
555 grams
Measured Weight
564 grams
Measured Width Carcass
53 mm
Measured Width Tread
52 mm
Measured Height
51 mm
Measured Knob Height Center
2.5 mm
Measured Knob Height Edge
4.0 mm
Measured Total Thickness Sidewall
0.55 mm
Measured Total Thickness Center (excluding knobs)
1.80 mm
All size measurements are taken at an air pressure of 35 psi / 2.4 bars on a 17.8 mm inner width rim.
The X-King used for this test has a weight of 564 grams, which is slightly more than the advertised weight of 555 grams. I already mentioned the X-King is small for a 2.2 sized tire. The measured width of the casing is 53 mm, the maximum width of the knobs is 52 mm, the height of the tire is 51 mm.
Knob height at the center of the tread is 2.5 mm (same as Race King and Rocket Ron). The knobs at the edge of the tire have a height of 4 mm, which is higher than the Race King (2.5 mm), but slightly lower than the Rocket Ron (4.4 mm)
Rolling Resistance Test Results
Rolling Resistance Test Results
Inner Tube
Conti MTB 29 (225 gr butyl)
Rolling Resistance
55 PSI / 3.8 Bar
20.1Watts
CRR: 0.00603
Rolling Resistance
45 PSI / 3.1 Bar
20.9 Watts
CRR: 0.00626
Rolling Resistance
35 PSI / 2.4 Bar
22.8 Watts
CRR: 0.00683
Rolling Resistance
25 PSI / 1.7 Bar
25.9 Watts
CRR: 0.00776
All numbers are for a single tire at a speed of 29 km/h / 18 mph and a load of 42.5 kg / 94 lbs.

Use the formula: RR (Watts) = CRR * speed (m/s) * load (N) to calculate rolling resistance at a given speed and load.
After a comment on the Vittoria AKA review, I tested the X-King before and after removing the mold hairs. The X-King is one of the hairiest tires I've had in my hands. Cutting the mold hairs resulted in ~1 watt less rolling resistance. All data in this review is with the mold hairs removed.
Rolling resistance is higher than I expected - most Continental bike tires have a very low rolling resistance. I expected the X-King to be close to the Race King and Rocket Ron, but in reality, rolling resistance is higher than both those tires. At an air pressure of 55 psi, the X-King has a 2.1 watts higher rolling resistance when compared to the Race King and 0.4 watts higher when compared to the Rocket Ron. At 25 psi, this disadvantage grows to 3.5 and 3.2 watts respectively.
While both the X-King, Race King, and Speed King are specified as having a 3/180 casing, it seems the smaller X-King carcass doesn't have the same low rolling resistance as the casing used on the Race King and Speed King. After comparing and observing both tires, I suspect the X-King and possibly the Mountain King are built to a more heavy-duty spec.
Puncture Resistance Test Results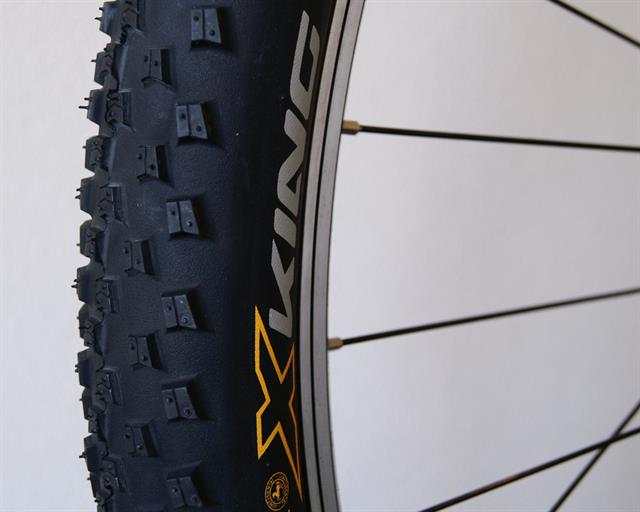 Puncture Resistance Test Result (higher is better)
Puncture Resistance Tread
10 Points
Puncture Resistance Sidewall
6 Points
The results of the puncture tests again indicate that the X-King casing is stronger than the Race King casing. The X-King scores 10 points in the tread puncture resistance test and 6 points in the sidewall puncture test. This is a bit higher than the Race King and Speed King, which both scored 7 points in the tread test and 4 points in the sidewall test.
Conclusion
Continental X-King RaceSport
Performance compared to all other MTB tires
(100% is fastest - lightest - highest - strongest)
I expected the Race King (review) and X-King to be very close in the rolling resistance and puncture resistance tests as both have a 3/180 casing and the same compound. I also based this on the Schwalbe Racing Ralph (review) and Schwalbe Rocket Ron (review) tests -both those tires have a very similar rolling resistance. In reality, there are more differences between the X-King and Race King than just the tread pattern. The X-King has a 2-3 watts higher rolling resistance, but at the same time scores much better in the puncture tests.
Two years ago, I made the hard choice between the Continental X-King and Rocket Ron as a front tire. I opted for the X-King because I already knew the Race King had a very low rolling resistance and assumed the X-King to be very close to the Race King. I've been very happy with the X-King, didn't have any problems using it and wear is very low, but I will try a Rocket Ron when it wears out. I'll give it a rating of 4 / 5 because I do like it and it has served me 2 years without problems.
Ad Buy Best Rated Bike Tires at Amazon.com
RATING: 4 / 5
TEST VERDICT: Recommended
Comments