MTB Tire Test:

Schwalbe

Racing Ralph TL-R PaceStar
Schwalbe Racing Ralph TL-R PaceStar
---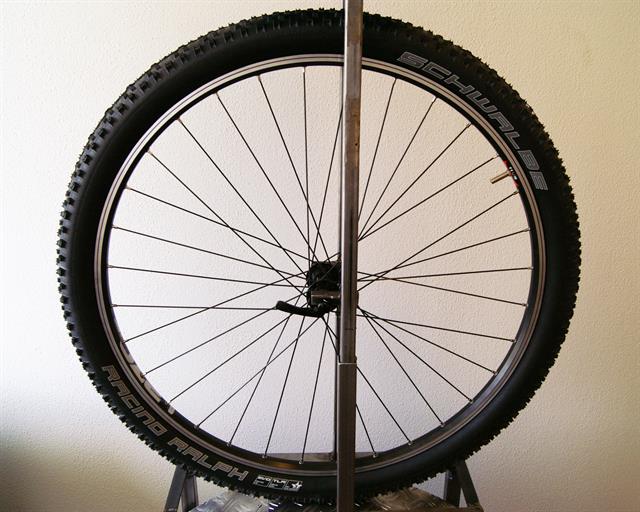 NOTE: We have a test available of a newer version of this tire: Schwalbe Racing Ralph LiteSkin Addix Speed 2017
The Schwalbe Racing Ralph is probably the most famous cross-country mountain bike tire of all time. Well known for its low rolling resistance while still offering enough grip for most riders. The Evolution line is the best possible, with the highest quality materials and the latest technology from Schwalbe. This tire features a 127 TPI casing with a triple compound PaceStar compound, which is Schwalbe's fastest rubber. Can good old Racing Ralph still live up to its name?
Ad Buy Schwalbe Racing Ralph TL-R PaceStar at Amazon.com
This Racing Ralph Evolution is the Tubeless-Ready version, which means it can be used tubeless but needs a tubeless fluid to seal completely. Although the tire is Tubeless-Ready, I'm using a tube during all tests. This tire is made in Indonesia.
Manufacturer Specifications
Manufacturer Specs
Brand
Schwalbe
Model
Racing Ralph TL-R PaceStar
Year
2014
Supplied By
Bought in store
New or Used
New
Mileage
0 km
Price Range
High
Buy At

Ad

Amazon.com
Manufacturer part number
11600256.01
TPI
127
Compound
PaceStar
Bead
Folding
ETRTO
57-622
Size Inch
29"
Width Inch
2.25
Specified Weight
535 grams
Max Pressure
54
Made In
Members Only
Available Sizes
29 x 2.25
29 x 2.10
27.5 x 2.25
27.5 x 2.10
26 x 2.25
26 x 2.10
Schwalbe Racing Ralph TL-R PaceStar Test Results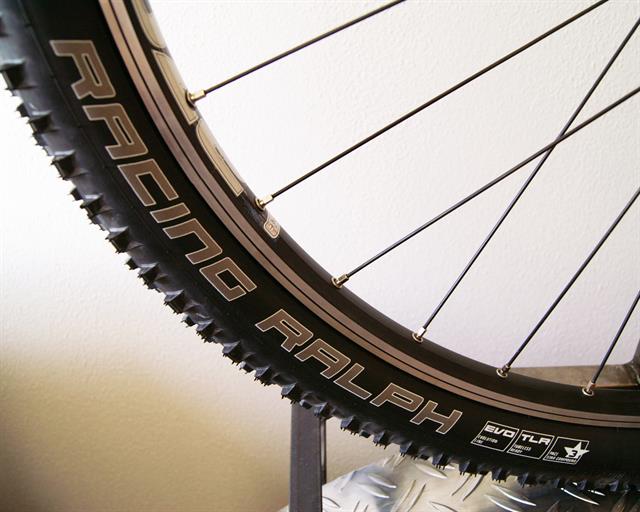 Size, Weight, and Thickness Measurements
advertisement
Size, Weight, and Thickness Measurements
Specified Weight
535 grams
Measured Weight
534 grams
Measured Width Carcass
55 mm (un-round)
Measured Width Tread
55 mm
Measured Height
53 mm (un-round)
Measured Knob Height Center
2.5 mm
Measured Knob Height Edge
4.3 mm
Measured Total Thickness Center (excluding knobs)
Not Tested
Measured Total Thickness Sidewall
Not Tested
All size measurements are taken at an air pressure of 35 psi / 2.4 bars on a 17.8 mm inner width rim.
The measured weight of 534 grams is spot on to it's specified weight of 535 grams. With a measured width and height of 55 and 53 mm respectively, it comes very close to the rated size of 2.25. On a 19 or 21C rim, it should even be a bit wider. Although the Racing Ralph is a fast XC style tire, it still has some decent knobs with knob heights of 2.5 mm in the center and 4.3 mm on the edge. This makes it a more all-round tire than the Continental Race King.
Rolling Resistance Test Results
Rolling Resistance Test Results
Inner Tube
Conti MTB 29 (225 gr butyl)
Rolling Resistance
55 PSI / 3.8 Bar
Members Only
Rolling Resistance
45 PSI / 3.1 Bar
Members Only
Rolling Resistance
35 PSI / 2.4 Bar
21.2 Watts
CRR: 0.00635
Rolling Resistance
25 PSI / 1.7 Bar
23.9 Watts
CRR: 0.00716
All numbers are for a single tire at a speed of 29 km/h / 18 mph and a load of 42.5 kg / 94 lbs.

Use the formula: RR (Watts) = CRR * speed (m/s) * load (N) to calculate rolling resistance at a given speed and load.
Rolling resistance at an air pressure of 25 psi is 23.9 watts. This is slightly higher than the Continental Race King which came in at 22.4 watts. I think this is quite good if you factor in the higher side knobs of the Racing Ralph. When upping the air pressure, rolling resistance eventually drops to 19.1 watts at 55 psi.
Puncture Resistance Test Results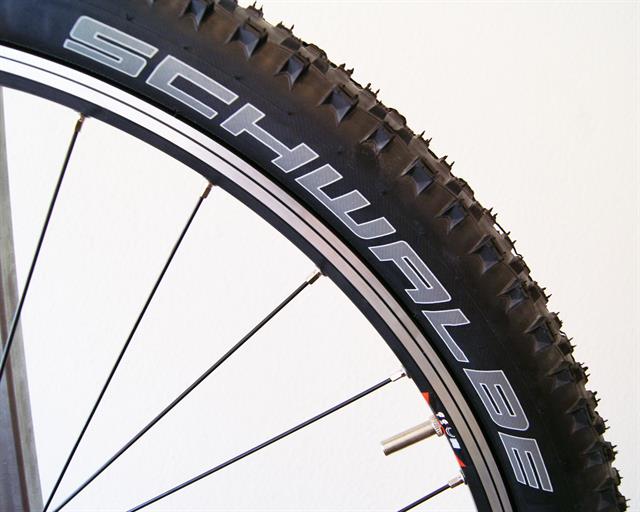 Puncture Resistance Test Result (higher is better)
Puncture Resistance Tread
7 Points
Puncture Resistance Sidewall
Members Only
Puncture resistance is average with a score of 7 points. Also, worth noting is that the tread of this tire has the same width as the carcass, which should help protect the sidewalls against cuts.
Conclusion
Schwalbe Racing Ralph TL-R PaceStar
Performance compared to all other MTB tires
(100% is fastest - lightest - highest - strongest)
So does Racing Ralph still rule? Yes, I think it does. Compared to the Continental Race King, you get increased side knob height, a Tubeless-Ready rated tire and a wider tread; at a cost of 35 grams and an increase in rolling resistance of 1 to 1.5 watts per tire. This is a more all-round mountain bike tire than the Race King for sure. I would consider it as a front tire, unlike the Race King.
The Racing Ralph still is the gold standard in cross country mountain bike tires. It seems to have struck a great balance between rolling resistance, grip, and weight. You can't go wrong with a pair of these.
Ad Buy Schwalbe Racing Ralph TL-R PaceStar at Amazon.com
RATING: 5 / 5
TEST VERDICT: Highly Recommended
Comments