Road Bike Tire Test:

Pirelli

Cinturato Velo TLR
Pirelli Cinturato Velo TLR
---
---
---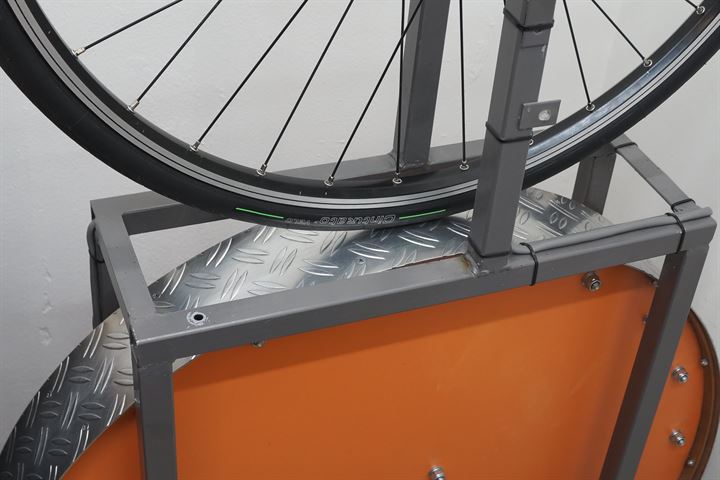 The Pirelli Cinturato Velo TLR is a tubeless-ready road bike tire mainly focused on providing the best possible puncture resistance. Although puncture resistance was the main focus during the development of the Cinturato Velo, Pirelli also tried to keep weight and rolling resistance as low as possible.
Ad Buy Pirelli Cinturato Velo TLR at Amazon.com
Pirelli recently made a comeback into the bicycle tire market with the release of the P Zero Velo line of road bike tires. The P Zero Velo tires were mostly focused on speed and weight, and performed great in our tests. With the P Zero Velo line of tires performing so well in their first try, I have high expectations of the Cinturato Velo being just as good.
Like many other tubeless-ready tires, the Cinturato Velo comes with a bead-to-bead protective layer which not only helps to provide a decent puncture resistance but also helps keep the air in. On top of the bead-to-bead protective layer, it comes with an aramid fiber breaker under the tread. The special part seems to be the compound itself which is a compound reinforced with aramid fibers.
I believe this to be the first tire that uses a (patent pending) aramid fiber reinforced compound. Pirelli calls this the "SmartNET Silica w/aramid fiber" compound and it's based on the same compound used in the P Zero Velo line of tires. The regular SmartNET Silica compound is a low rolling resistance compound and is said to provide good grip even in cold and wet conditions.
Pirelli claims the combined puncture resistance measures result in a new level of protection (it's true, see our test results below). The high level of puncture resistance also makes this an ideal tire for light gravel roads and commuting. Commuting is a real possibility with this tire as the Cinturato is also available in the bigger 32-622 and 35-622 sizes.
Manufacturer Specifications
Manufacturer Specifications
Brand
Pirelli
Model
Cinturato Velo TLR
Year
2018
Tire Type
Tubeless
Supplied By
Bought in store
New or Used
New
Mileage
0 km
Price Range
High
Buy At

Ad

Amazon.com
Manufacturer part number
EAN
8019227337075
TPI
60
Compound
SmartNET Silica w/aramid
Bead
Folding
ETRTO
26-622
Size Inch
28"
Specified Width (mm)
26
Specified Weight
290 grams
Max Air Pressure (psi)
116
Made In
Members Only
Available Sizes
26-622 (700x26c)
28-622 (700x28c)
32-622 (700x32c)
35-622 (700x35c)
Pirelli Cinturato Velo TLR Test Results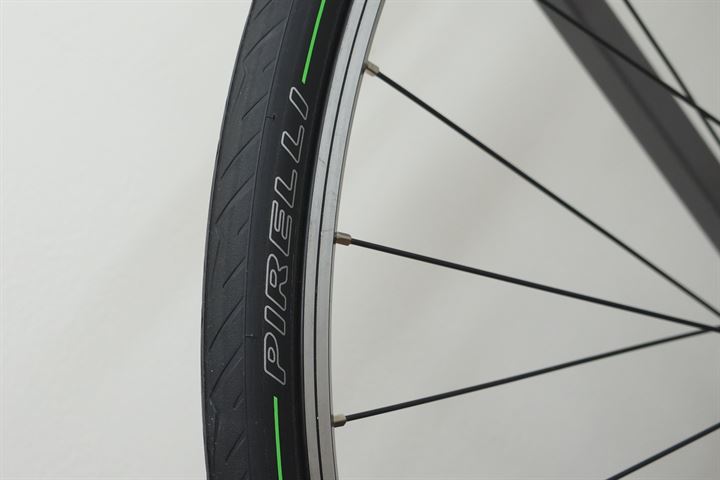 Size, Weight, and Thickness Measurements
advertisement
Size, Weight and Thickness Measurements
Specified Weight
290 grams
Measured Weight
306 grams
System Adjusted Weight
(tire + valve + rim seal)
326 grams
Measured Width
28 mm (un-round)
Measured Height
25 mm (un-round)
Total Tire Thickness Center
3.7 mm
Total Tire Thickness Sidewall
Members Only
Unmounted Casing Width
66 mm
Unmounted Tread Width
Members Only
Tread Cover (Tread / Casing Ratio)
Members Only
All size measurements are taken at an air pressure of 100 psi / 6.9 bars on a 17.8 mm inner width rim.
Weight. My sample of the 26-622 Cinturato Velo TLR comes in at 306 grams which is more than the specified 290 grams. 306 grams is a bit more than most other tubeless-ready tires which often come in somewhere between 250 and 270 grams in the 25-622 size.
Size. At an air pressure of 100 psi, on a 17C rim, the 26-622 Cinturato has a width of 28 mm and a height of 25 mm. This tire seems to measure slightly above spec so keep this in mind when replacing 25-622 tires which are often somewhere between 26/27 mm wide on the same 17C rim.
Tire Thickness. Whoa, total tire thickness at the center of the tread comes in at 3.7 mm which is much thicker than most other road bike tires. The average road bike tire comes in between 1.7 and 2.3 mm for ultra-fast tires and 2.4 and 3.0 mm for all-round tires. A thicker tread should theoretically result in longer life and better puncture resistance.
The sidewalls have a thickness of 0.95 mm which seems to be an average thickness for tubeless-ready tires (0.80 - 1.00 mm).
Rolling Resistance Test Results
Rolling Resistance Test Results
Inner Tube
None (20 ml sealant)
Rolling Resistance
140 PSI / 9.7 Bar
Not Tested
Rolling Resistance
120 PSI / 8.3 Bar
15.6 Watts
CRR: 0.00468
Rolling Resistance
100 PSI / 6.9 Bar
16.6 Watts
CRR: 0.00498
Rolling Resistance
80 PSI / 5.5 Bar
Members Only
Rolling Resistance
60 PSI / 4.1 Bar
Members Only
All numbers are for a single tire at a speed of 29 km/h / 18 mph and a load of 42.5 kg / 94 lbs.

Use the formula: RR (Watts) = CRR * speed (m/s) * load (N) to calculate rolling resistance at a given speed and load.
Although rolling resistance of the Cinturato wasn't the main design criteria, it's still very important. Luckily, our rolling resistance tests show rolling resistance of the Cinturato Velo is actually quite decent. To get the full picture, you'll also have to take the high tread thickness and very good puncture resistance results (can be found below) into account.
At the high air pressure of 120 psi / 8.3 bars, rolling resistance comes in at 15.6 watts which is 3.9 to 4.6 watts more than the current all-round tubeless-ready class leaders (Schwalbe Pro One (read review), Mavic Yksion Pro UST (read review)). At lower air pressures, the difference gets a bit bigger resulting in a disadvantage of 5.4 to 5.9 watts at 80 psi / 5.5 bars.
Given that the Pro One Tubeless and Yksion Pro UST only have a tread thickness of 2.3 and 2.8 mm respecively, and only half the puncture resistance, I don't think rolling resistance is that bad.
Puncture Resistance Test Results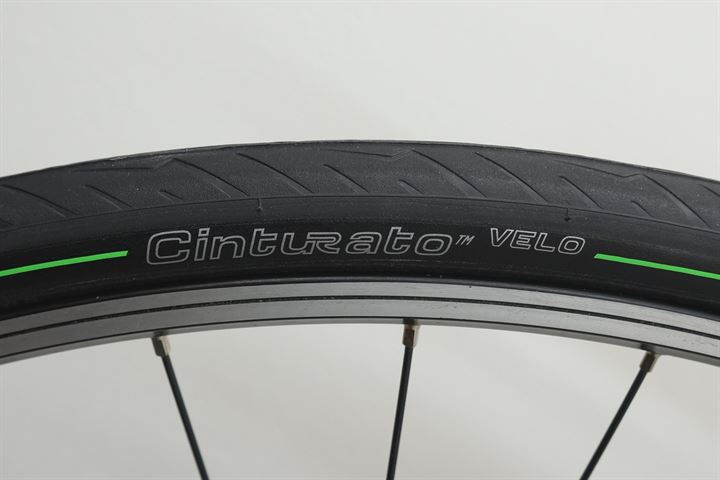 Puncture Resistance Test Results (higher is better)
Total Puncture Score Tread
103 Points
Total Puncture Score Sidewall
Members Only
Tread Puncture Force Sharp Needle
20 Points
Tread Puncture Force Blunt Needle
Members Only
Tread Total Tire Thickness
3.7 mm
Sidewall Puncture Force Sharp Needle
Members Only
Sidewall Puncture Force Blunt Needle
Members Only
Sidewall Total Tire Thickness
Members Only
The tread puncture resistance test is where the Cinturato Velo shines. With a score of 20 points in this test, it's easily the best performing (road bike) tire that we've had on the test bench. The only tire that comes close is the Continental Gatorskin (read review), a tire known for its excellent puncture resistance, at 18 points. Even in the touring bike class, it's hard to find a better scoring tire.
In the sidewall test, the Cinturato Velo scores 7 points and performs more in line with other tubeless-ready tires which on average come in close to 6 points in this test.
Pirelli promised a new level of puncture resistance with the release of the Cinturato Velo. We can confirm that, with a score of 20 points in our tread puncture test, a new benchmark has been set.
Static Grip Test Results
NOTE: Grip test data is only available on tires tested after November 2018. You can find more information about our grip test here: Introducing Grip Testing
Static Grip Test Results
Wet Grip Average
69 Points
Wet Grip Center
Members Only
Wet Grip Edge
Members Only
Grip in points = coefficient of friction * 100
Conclusion
As promised by Pirelli, our tests confirm that the Cinturato TLR sets a new level of puncture resistance. On top of that, the Cinturato also offers a very high tread thickness of 3.7 mm where competing tires generally come in at less than 3 mm. All this comes at a cost of a 40% higher rolling resistance when compared to the fastest rolling tires that score much worse in the puncture tests.
The Cinturato Velo TLR is just the fourth (road bike) tire Pirelli released after reentering the bicycle tire market and it looks like they've hit the sweet spot with their tires. If you're looking for a tire that offers a lot of protection, the Cinturato can't be ignored.
Also promising is the availability of bigger sizes (32-622, 35-622) that make this tire a good option for touring bikes or mountain bike conversions.
Ad Buy Pirelli Cinturato Velo TLR at Amazon.com
RATING: 5.0 / 5
TEST VERDICT: Highly Recommended
Comments