Road Bike Tire Test:

Enve

SES Road Tire Tubeless 25
Enve SES Road Tire Tubeless 25
---
---
---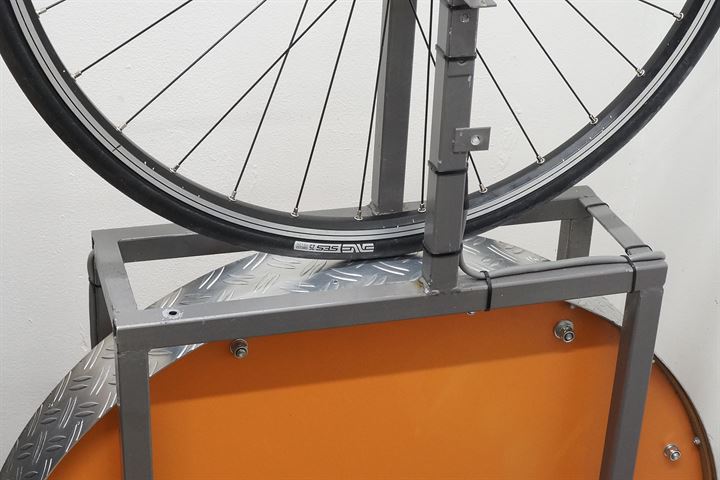 The Enve SES Road Tire is a tubeless-ready road bike tire optimized to deliver low rolling resistance while minimizing the trade-offs that come with low rolling resistance tires. These trade-offs are the usual suspects like durability, longevity, puncture resistance, and wet grip. The most interesting thing about the SES Road Tire is that it comes from a European factory that is also new for us. This might be a tire that can show a surprise-performance.
Ad Buy Cycling Equipment at Amazon.com - Tires, Parts, and Bikes
As Enve is known for the aerodynamic performance of their wheelsets and components, they've put a lot of development into the aerodynamic performance of the SES Road Tire. This tire will give the best aerodynamic performance when used with one of their recommended wheelsets, but they also claim it will improve the aerodynamics of any aero wheelset. We don't test the aerodynamic performance of tires so we can't verify their claims, but we believe they've taken this seriously during the development of this tire.
The SES Road Tire is made up of an unspecified TPI tubeless-ready casing with a Vectran anti-puncture strip under the (slightly thin) tread. We don't see the use of Vectran specified a lot, but we know Continental uses this on many of their high-performance tires that perform well in our tests. The SES Road Tire is available in the 25-622, 27-622, 29-622, and 31-622 sizes with black or tan sidewalls.
We've tested the 25-622 version with black sidewalls. Please be aware that all versions of the SES Road Tire have a relatively low maximum air pressure. While most 25-622 sized tires can go up to 110 - 120 psi, the SES Road Tire has a maximum inflation pressure of 90 psi. We think 80-90 psi is close to the optimal air pressure for 25-622 rated tires, but if you still like high air pressures or you're a bit heavier, you should be aware of this. We did test this tire at 120 psi and 100 psi to keep the data consistent across the site.
Manufacturer Specifications
Manufacturer Specifications
Brand
Enve
Model
SES Road Tire Tubeless
Year
2020
Tire Type
Tubeless
Supplied By
Bought in store
New or Used
New
Mileage
0 km
Price Range
Very High
Buy At
Manufacturer part number
300-1022-001
TPI
-
Compound
Bead
Folding
ETRTO
25-622
Size Inch
28"
Specified Width (mm)
25
Specified Weight
255 grams
Max Air Pressure (psi)
90
Made In
Members Only
Available Sizes
25-622 (700x25c)
27-622 (700x27c)
29-622 (700x29c)
31-622 (700x31c)
Enve SES Road Tire Tubeless 25 Test Results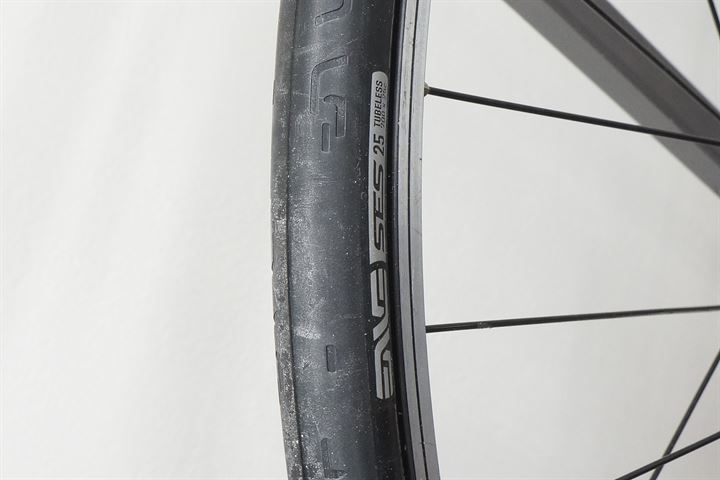 Size, Weight, and Thickness Measurements
Size, Weight and Thickness Measurements
Specified Weight
255 grams
Measured Weight
243 grams
System Adjusted Weight
(tire + valve + rim seal)
263 grams
Measured Width
27 mm (un-round)
Measured Height
24 mm (un-round)
Total Tire Thickness Center
2.2 mm
Total Tire Thickness Sidewall
Members Only
Unmounted Casing Width
66 mm
Unmounted Tread Width
Members Only
Tread Cover (Tread / Casing Ratio)
Members Only
All size measurements are taken at an air pressure of 100 psi / 6.9 bars on a 17.8 mm inner width rim.
Rolling Resistance Test Results
Rolling Resistance Test Results
Inner Tube
None (20 ml sealant)
Measured Width
27 mm (un-round)
Rolling Resistance
Real tire width in mm:
22-24 = 132 psi/9.1 bar
25-27 = 120 psi/8.3 bar
28-29 = 108 psi/7.4 barUltra High Air Pressure
(120 psi / 8.3 bar)
11.4 Watts
CRR: 0.00342
Rolling Resistance
Real tire width in mm:
22-24 = 110 psi/7.6bar
25-27 = 100 psi/6.9 bar
28-29 = 90 psi/6.2 barExtra High Air Pressure
(100 psi / 6.9 bar)
12.4 Watts
CRR: 0.00372
Rolling Resistance
Real tire width in mm:
22-24 = 88 psi/6.1 bar
25-27 = 80 psi/5.5 bar
28-29 = 72 psi/5.0 barHigh Air Pressure
(80 psi / 5.5 bar)
Members Only
Rolling Resistance
Real tire width in mm:
22-24 = 66 psi/4.6 bar
25-27 = 60 psi/4.1 bar
28-29 = 54 psi/3.7 barMedium Air Pressure
(60 psi / 4.1 bar)
Members Only
The Road Bike section is a multi tire size section, air pressures have been adjusted to the measured casing width.

All numbers are for a single tire at a speed of 29 km/h / 18 mph and a load of 42.5 kg / 94 lbs.

Use the formula: RR (Watts) = CRR * speed (m/s) * load (N) to calculate rolling resistance at a given speed and load.
Puncture Resistance Test Results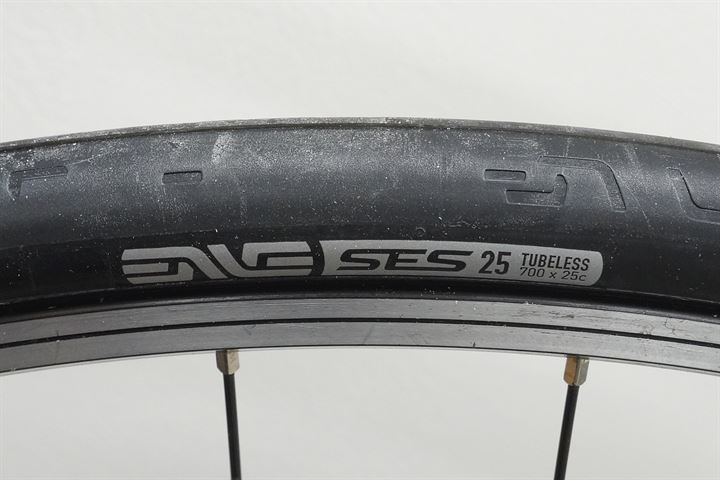 Puncture Resistance Test Results (higher is better)
Total Puncture Score Tread
64 Points
Total Puncture Score Sidewall
Members Only
Tread Puncture Force Sharp Needle
15 Points
Tread Puncture Force Blunt Needle
Members Only
Tread Total Tire Thickness
2.2 mm
Sidewall Puncture Force Sharp Needle
Members Only
Sidewall Puncture Force Blunt Needle
Members Only
Sidewall Total Tire Thickness
Members Only
Static Grip Test Results
NOTE: Grip test data is only available on tires tested after November 2018. You can find more information about our grip test here: Introducing Grip Testing
Static Grip Test Results
Wet Grip Average
69 Points
Wet Grip Center
Members Only
Wet Grip Edge
Members Only
Grip in points = coefficient of friction * 100
Conclusion
The Enve SES Road Tire rolls quite fast at high air pressures (which it isn't rated for), but the drop off at lower air pressures is relatively large. The strongest point of this tire is the performance in our puncture resistance test of the tread area. We suspect Enve uses a thicker layer of Vectran than many other brands as the tread is quite thin and the sidewalls show only average puncture resistance in our tests.
We think this is a good tire as the few watts more rolling resistance will be hard to notice. When you own an Enve wheelset, you might also gain back the few watts lost in rolling resistance as they have been designed to provide the best possible aerodynamic performance on Enve wheelsets.
Ad Buy Cycling Equipment at Amazon.com - Tires, Parts, and Bikes
RATING: 4.0 / 5
TEST VERDICT: Recommended
Comments