Road Bike Tire Test:

Michelin

Pro 4 Service Course
Michelin Pro 4 Service Course
---
---
---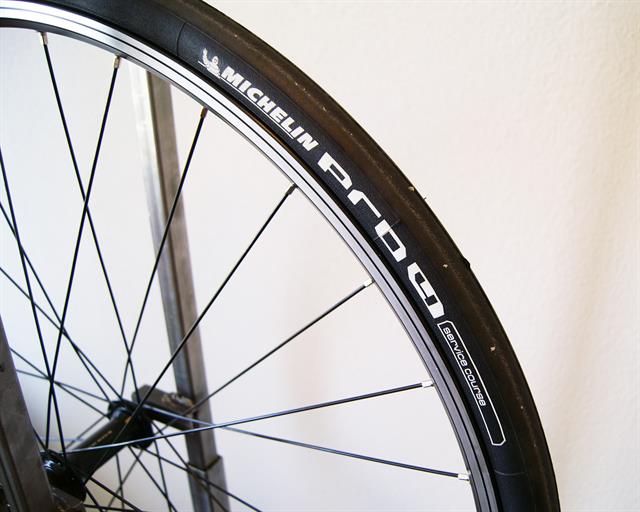 The Pro 4 Service Course 700 x 25C is the all-round tire of the Pro 4 road bike line from Michelin, which is the successor of the Pro 3 line. The Pro part means you will get the best tires Michelin is able to build. The Pro 4 line consists of 5 tires which all excel in their own discipline as grip, puncture resistance, rolling resistance, and durability. The Pro 4 Service Course tries to combine the best of these disciplines in one road bike tire.
Ad Buy Michelin Pro 4 Service Course at Amazon.com
Because Michelin is one of the most popular manufacturers of road bike tires, I had to include at least a single Michelin road bike tire. The Service Course might be a bit too tough for a test focused on rolling resistance. The Comp Service Course might have been a better fit. According to Michelin, the Comp has a 7% lower rolling resistance at the cost of some puncture resistance, I might test this tire in the future.
As always, I'm testing the 25C version of this tire. After mounting the tire on a 17C rim, I was surprised by the size of this tire. This is a very wide tire with a lot of air volume, real measured width is 28 mm and height is 26 mm, which makes this tire close to a 28C tire in reality. Make sure it will fit your frame when buying this tire.
Manufacturer Specifications
Manufacturer Specifications
Brand
Michelin
Model
Pro 4 Service Course
Year
2014
Tire Type
Tubetype (clincher)
Supplied By
Bought in store
New or Used
New
Mileage
0 km
Price Range
Med
Buy At

Ad

Amazon.com
Manufacturer part number
446783
TPI
110
Compound
Dual Compound
Bead
Folding
ETRTO
25-622
Size Inch
28"
Specified Width (mm)
25
Specified Weight
215 grams
Max Air Pressure (psi)
109
Made In
Members Only
Available Sizes
20-622 (700x20C)
23-622 (700x23C)
25-622 (700x25C)
23-671 (650x23C)
Michelin Pro 4 Service Course Test Results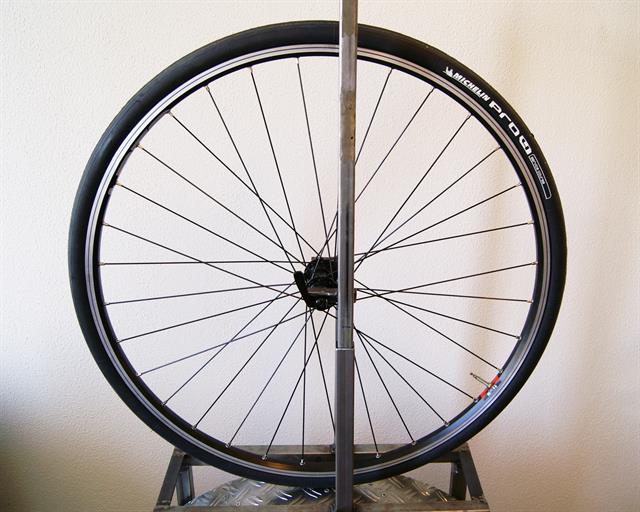 Size, Weight, and Thickness Measurements
advertisement
Size, Weight and Thickness Measurements
Specified Weight
215 grams
Measured Weight
222 grams
System Adjusted Weight
(tire + inner tube (100 gr)
322 grams
Measured Width
28 mm (un-round)
Measured Height
26 mm (un-round)
Total Tire Thickness Center
2.9 mm
Total Tire Thickness Sidewall
Members Only
Unmounted Casing Width
No Data
Unmounted Tread Width
No Data
Tread Cover (Tread / Casing Ratio)
No Data
All size measurements are taken at an air pressure of 100 psi / 6.9 bars on a 17.8 mm inner width rim.
With a measured weight of 222 grams, this is quite a light tire, but still a bit heavier than the 215 grams specified by Michelin. It's interesting to note that weight doesn't directly relate to rolling resistance or puncture resistance (as seen below). The type of materials used definitely makes a bigger difference than the amount of materials used.
As previously noted, the 25C Pro 4 Service course measures 28 mm wide on a 17C rim at 100 psi. Height is 26 mm.
Rolling Resistance Test Results
Rolling Resistance Test Results
Inner Tube
Conti Race28 (100gr butyl)
Rolling Resistance
140 PSI / 9.7 Bar
Not Tested
Rolling Resistance
120 PSI / 8.3 Bar
14.9 Watts
CRR: 0.00447
Rolling Resistance
100 PSI / 6.9 Bar
16.0 Watts
CRR: 0.00480
Rolling Resistance
80 PSI / 5.5 Bar
Members Only
Rolling Resistance
60 PSI / 4.1 Bar
Members Only
All numbers are for a single tire at a speed of 29 km/h / 18 mph and a load of 42.5 kg / 94 lbs.

Use the formula: RR (Watts) = CRR * speed (m/s) * load (N) to calculate rolling resistance at a given speed and load.
Rolling resistance is not as low as other high-end tires like the Continental GP4000S II or Schwalbe One. At an air pressure of 120 psi, rolling resistance is 14.9 watts. Dropping air pressure to 100 psi results in a rolling resistance of 16 watts. At an even lower air pressure of 80 psi, rolling resistance increases to 17.6 watts. This means that, depending on air pressure, rolling resistance is 2.7 to 4.6 watts higher when compared to the Continental Grand Prix 4000S II.
The Michelin Pro 4 Comp should perform a bit better in the rolling resistance test when compared to the Service Course. It should also be more comparable to tires like the GP4000S and Schwalbe One. Unfortunately, it's not available in a 25 mm version. Let's hope the future Pro 5 series will include a 25 mm Comp version.
Puncture Resistance Test Results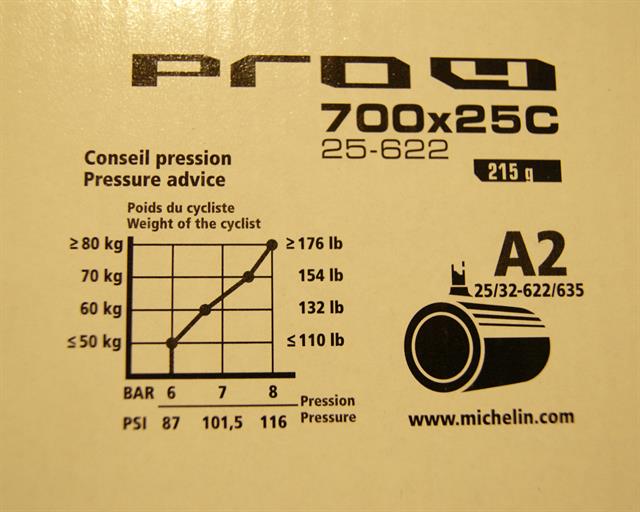 Puncture Resistance Test Results (higher is better)
Total Puncture Score Tread
72 Points
Total Puncture Score Sidewall
Members Only
Tread Puncture Force Sharp Needle
15 Points
Tread Puncture Force Blunt Needle
No Data
Tread Total Tire Thickness
2.9 mm
Sidewall Puncture Force Sharp Needle
Members Only
Sidewall Puncture Force Blunt Needle
No Data
Sidewall Total Tire Thickness
Members Only
While performance isn't that good in the rolling resistance test, it excels in the puncture resistance test, with a score of 15, it's a step up on the puncture resistance scale when compared to the Grand Prix 4000S II(11) and Schwalbe One (12). Combined with the low weight, this makes the Pro 4 Service Course an excellent all-round tire.
Static Grip Test Results
NOTE: Grip test data is only available on tires tested after November 2018. You can find more information about our grip test here: Introducing Grip Testing
Static Grip Test Results
Wet Grip Average
No Data
Wet Grip Center
No Data
Wet Grip Edge
No Data
Grip in points = coefficient of friction * 100
Conclusion
With a real measured width of 28 mm, this should be a 28C tire. If you're coming from 20/23 mm tires and want something with more volume, this is a very big step up. Puncture resistance is very good and it rolls quite well. If you want a little faster rolling road bike tire from Michelin and don't mind a bit less puncture resistance, take a look at the Pro 4 Comp.
If you get a lot of flats, you should consider the Michelin Pro 4 Service Course as it's the most puncture resistant tire that still has a relatively low rolling resistance. With road bike tires, you'll always run into the rolling resistance/puncture resistance trade-off, there's nothing you can do about it. I recommend this tire on its puncture resistance Vs rolling resistance qualities.
Ad Buy Michelin Pro 4 Service Course at Amazon.com
RATING: 4.0 / 5
TEST VERDICT: Recommended
Comments