MTB Tire Test:

Maxxis

Ikon eXCeption Silkworm
---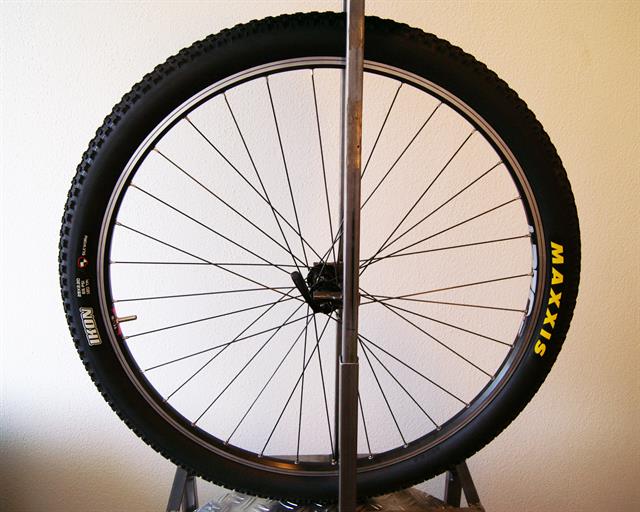 The Maxxis Ikon eXCeption Silkworm 29 x 2.2 is a performance cross-country mountain bike tire with a folding bead, 120 TPI casing, and 62a rubber compound. According to Maxxis, these two combined (120 TPI + 62a Compound) results in an "eXCeption" tire. On top of that it has "Silkworm Technology" which is an "exclusive material incorporated into the casing" to increase puncture and tear resistance. Together it should result in a long lasting, low rolling resistance tire. Let's find out how fast this tire really is.
The tire is made in Taiwan and seems well made. While unpacking the tire I immediately noticed it has a very stiff tread although the side walls are quite flexible, this probably is because of the Silkworm protection under the tread. I did have an issue with the packaging, which made it unclear which tire I received. The packaging showed specifications for a 60TPI tire and nowhere did it say anything about eXception or Silkworm except for a small sticker with a part number and "120 TPI". The tire itself does have the 120 TPI and Silkworm logos so I'm sure it's the right tire.
Manufacturer Specifications
Manufacturer Specs
Brand
Maxxis
Model
Ikon eXCeption Silkworm
Year
2014
Supplied By
Bought in store
New or Used
New
Mileage
0 km
Price Range
High
Buy At
Manufacturer part number
TB96753400
TPI
120
Compound
Exception
Bead
Folding
ETRTO
57-622
Size Inch
29"
Width Inch
2.20
Specified Weight
560 grams
Max Air Pressure (psi)
65
Made In
Members Only
Available Sizes
29x2.20
26x2.20
Maxxis Ikon eXCeption Silkworm Test Results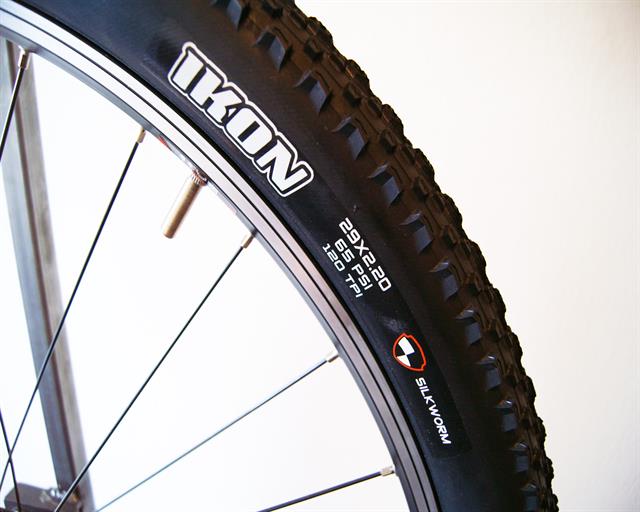 Size, Weight, and Thickness Measurements
Size, Weight, and Thickness Measurements
Specified Weight
560 grams
Measured Weight
583 grams
Measured Width Carcass
52 mm (un-round)
Measured Width Tread
51 mm
Measured Height
53 mm (un-round)
Measured Knob Height Center
2.5 mm
Measured Knob Height Edge
3.8 mm
Measured Total Thickness Center (excluding knobs)
No Data
Measured Total Thickness Sidewall
Not Tested
All size measurements are taken at an air pressure of 35 psi / 2.4 bars on a 17.8 mm inner width rim.
The real measured weight is 583 grams, which is 23 grams more than specified. Volume wise it doesn't impress with a width of 52 mm and a height of 53 mm on a 17C rim which is slightly small for a 2.2 sized mountain bike tire. Knob height of the central knobs is 2.5 mm, knob height at the edge of the tire is 3.8mm. This is a typical knob height for a fast cross-country MTB tire.
Rolling Resistance Test Results
Rolling Resistance Test Results
Inner Tube
Conti MTB 29 (225 gr butyl)
Rolling Resistance
55 PSI / 3.8 Bar
Members Only
Rolling Resistance
45 PSI / 3.1 Bar
Members Only
Rolling Resistance
35 PSI / 2.4 Bar
33.5 Watts
CRR: 0.01004
Rolling Resistance
25 PSI / 1.7 Bar
38.2 Watts
CRR: 0.01145
All numbers are for a single tire at a speed of 29 km/h / 18 mph and a load of 42.5 kg / 94 lbs.

Use the formula: RR (Watts) = CRR * speed (m/s) * load (N) to calculate rolling resistance at a given speed and load.
Rolling resistance is very high, I totally did not expect this from a mountain bike tire with such a fast profile. At an air pressure of 25 psi, rolling resistance is 38.2 watts. When we compare this to, for example, a Racing Ralph or Race King, Rolling resistance per tire is 15 watts higher! That's pretty insane.
Puncture Resistance Test Results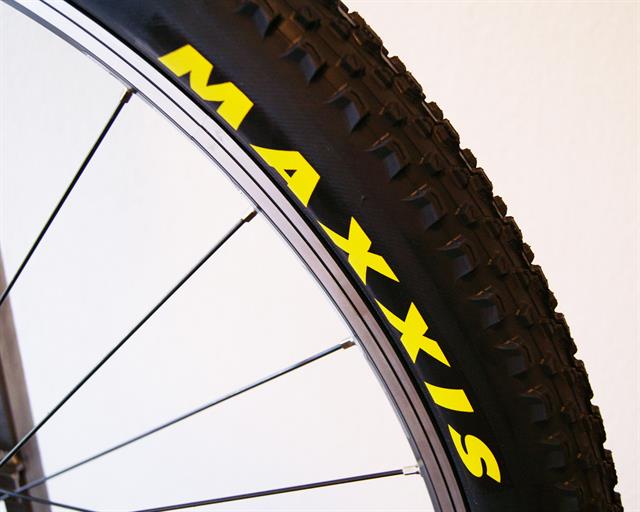 Puncture Resistance Test Results (higher is better)
Total Puncture Score Tread
No Data
Total Puncture Score Sidewall
Members Only
Tread Puncture Force Sharp Needle
7 Points
Tread Puncture Force Blunt Needle
No Data
Tread Total Tire Thickness
No Data
Sidewall Puncture Force Sharp Needle
Members Only
Sidewall Puncture Force Blunt Needle
No Data
Sidewall Total Tire Thickness
Members Only
Also not expected is the average puncture resistance. The silkworm protection doesn't give any better puncture protection than other much faster mountain bike tires. Combined with the very high rolling resistance, I was expecting a puncture resistance score of at least 10 points.
Hard Surface Static Grip Test Results
Static Grip Test Results
Wet Grip Average
No Data
Wet Grip Center
No Data
Wet Grip Edge
No Data
Measured Knob Height Center
2.5 mm
Measured Knob Height Edge
3.8 mm
Grip in points = coefficient of friction * 100
Wet Grip Test and Off-Road Tires (info)
Conclusion
This tire doesn't impress at all. The Silkworm puncture protection doesn't bring much to the table and rolling resistance is very high for a tire with a fast profile and medium knob height. Running a pair of these tires at 25 psi/1.7 bar will cost you about 30 watts when compared to a Race King or Racing Ralph mountain bike tire, that's 15% of the power of an average cyclist vaporized!
This tire costs way too much money, you're paying premium prices while "performance" line tires from other brands are better in all respects. Don't get fooled by low rolling resistance marketing!
RATING: 1.0 / 5
TEST VERDICT: Not Recommended
Comments