CX/Gravel Tire Test:

Challenge

Grifo Pro
---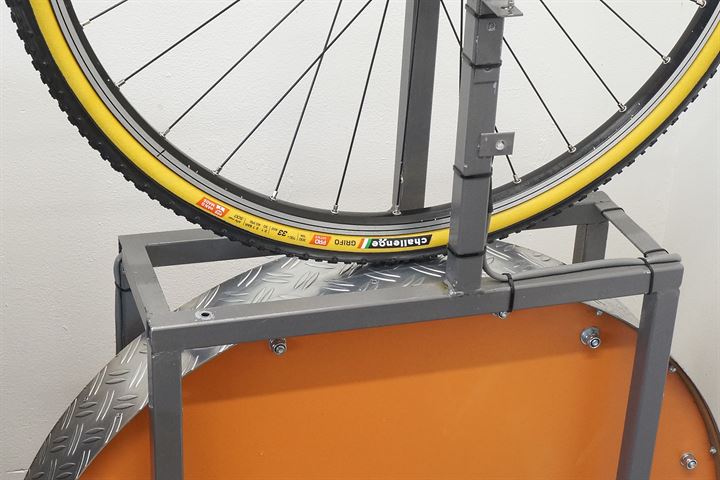 Challenge has a wide variety of cyclocross tires available in both clincher and tubular versions. We have selected the Challenge Grifo Pro in the clincher version for testing because in our opinion, this is a nice middle ground between the various available tires that Challenge has to offer in this category.
Ad Buy Challenge Grifo Pro at Amazon.com
The clincher version of the Challenge Grifo is available in a number of different versions: Pro, Race Vulcanized TLR, and Race Vulcanized. We have tested the Pro version because we always want to test the best tire from a manufacturer. The Grifo Pro is a handmade tire with a 300 TPI "SuperPoly" casing and an extra PPS puncture belt under the tread.
The Grifo Pro is mainly a cyclocross tire as it is only available in the 33-622 size. We do not know whether there will be larger versions in the future that are more focused on the gravel segment.
advertisement
Manufacturer Specifications
Manufacturer Specs
Brand
Challenge
Model
Grifo Pro
Year
2020
Supplied By
Bought in store
New or Used
New
Mileage
0 km
Price Range
High
Buy At

Ad

Amazon.com
Manufacturer part number
EAN
8855627006032
TPI
300
Compound
Bead
Folding
ETRTO
33-622
Specified Weight
0 grams
Max Pressure
40
Made In
Thailand
Available Sizes
33-622 (700x33c)
Challenge Grifo Pro Test Results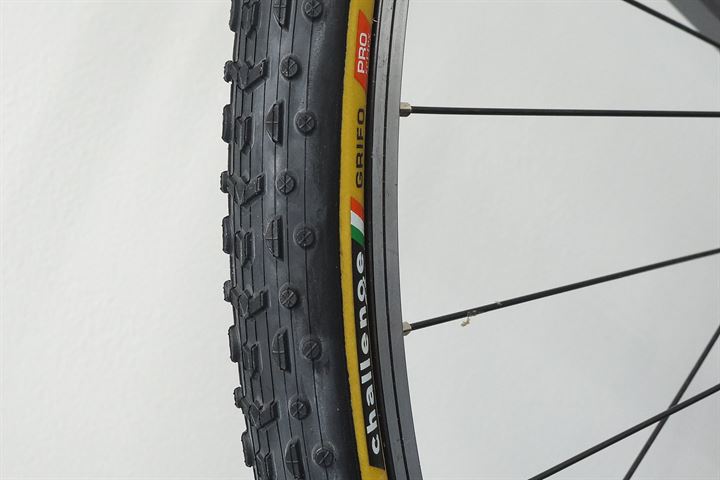 Size, Weight, and Thickness Measurements
Size, Weight, and Thickness Measurements
Specified Weight
0 grams
Measured Weight
365 grams
Measured Width Casing
33 mm
Measured Width Tread
32 mm
Measured Height
31 mm
Measured Knob Height Center
1.7 mm
Measured Knob Height Edge
1.8 mm
Measured Total Thickness Sidewall
1.20 mm
Measured Total Thickness Center (excluding knobs)
2.20 mm
All size measurements are taken at low air pressure on a 17.8 mm inner width rim.
Rolling Resistance Test Results
Rolling Resistance Test Results
Inner Tube
Conti Cross28 (160 gr)
Measured Width
33 mm
Rolling Resistance
Real tire width in mm:
30-32 = 66 psi/4.6 bar
33-35 = 60 psi/4.1 bar
36-40 = 54 psi/3.7 barHigh Air Pressure
22.0Watts
CRR: 0.00659
Rolling Resistance
Real tire width in mm:
30-32 = 55 psi/3.8 bar
33-35 = 50 psi/3.4 bar
36-40 = 45 psi/3.1 barMedium Air Pressure
23.2 Watts
CRR: 0.00695
Rolling Resistance
Real tire width in mm:
30-32 = 44 psi/3.0 bar
33-35 = 40 psi/2.8 bar
36-40 = 36 psi/2.6 barLow Air Pressure
25.7 Watts
CRR: 0.00770
Rolling Resistance
Real tire width in mm:
30-32 = 33 psi/2.3 bar
33-35 = 30 psi/2.1 bar
36-40 = 27 psi/1.9barExtra Low Air Pressure
30.6 Watts
CRR: 0.00917
The CX/Gravel section is a multi tire size section, air pressures have been adjusted to the measured casing width.

All numbers are for a single tire at a speed of 29 km/h / 18 mph and a load of 42.5 kg / 94 lbs.

Use the formula: RR (Watts) = CRR * speed (m/s) * load (N) to calculate rolling resistance at a given speed and load.
Puncture Resistance Test Results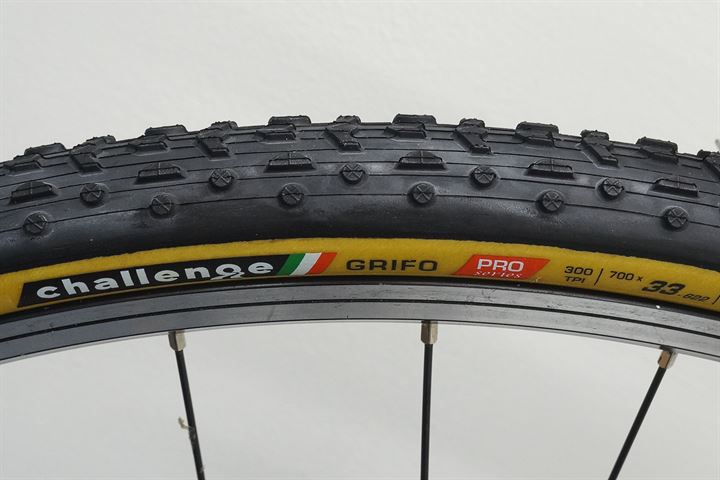 Puncture Resistance Test Result (higher is better)
Puncture Resistance Tread
9 Points
Puncture Resistance Sidewall
5 Points
Conclusion
In our tests, the Grifo Pro is pretty much right in the middle everywhere, it really doesn't excel at anything. The strong points are a low weight, the good knob height in the middle of the tire, and a good performance in the puncture resistance test of the tread.
The Challenge Grifo is a great tire that performs well in our tests. In practice, it will be difficult to notice the small differences and other factors that we do not test can play a bigger role. Look for yourself on the CX/Gravel overview page to compare this tire with others.
Ad Buy Challenge Grifo Pro at Amazon.com
RATING: 4.0 / 5
TEST VERDICT: Recommended
Comments