CX/Gravel Tire Test:

Continental

Terra Trail TR
Continental Terra Trail TR
---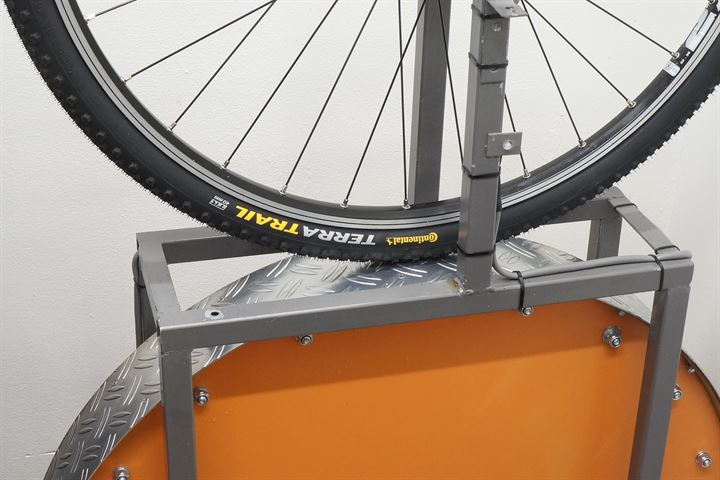 Together with the Terra Speed TR, Continental also launched the Terra Trail TR which is a more aggressive gravel bike tire made for more challenging conditions. On paper, the only difference between these tires seems to be the tread pattern but our tests show these tires are more different than you might think.
Ad Buy Continental Terra Trail TR at Amazon.com
What is also different is that the Terra Trail is only available in the 40mm wide sizes 40-622 and 40-584 while the Terra Speed (read our review) is available in both 35mm and 40mm wide versions. This once again indicates that the Terra Trail is intended for somewhat heavier conditions where grip is more important than absolute speed.
As we mentioned earlier, the specifications of both tires are almost the same and both tires use the well-known Continental off-road recipe: 3x180 TPI tubeless-ready casing, reinforced "Protection" sidewalls, and their "Black Chili" compound.
Manufacturer Specifications
Manufacturer Specs
Brand
Continental
Model
Terra Trail TR
Year
2020
Supplied By
Bought in store
New or Used
New
Mileage
0 km
Price Range
High
Buy At

Ad

Amazon.com
Manufacturer part number
0101697
EAN
4019238027075
TPI
3/180
Compound
Black Chili
Bead
Folding
ETRTO
40-622
Specified Weight
445 grams
Max Pressure
73
Made In
Germany
Available Sizes
40-622 (700x40c)
40-584 (650bx40)
Continental Terra Trail TR Test Results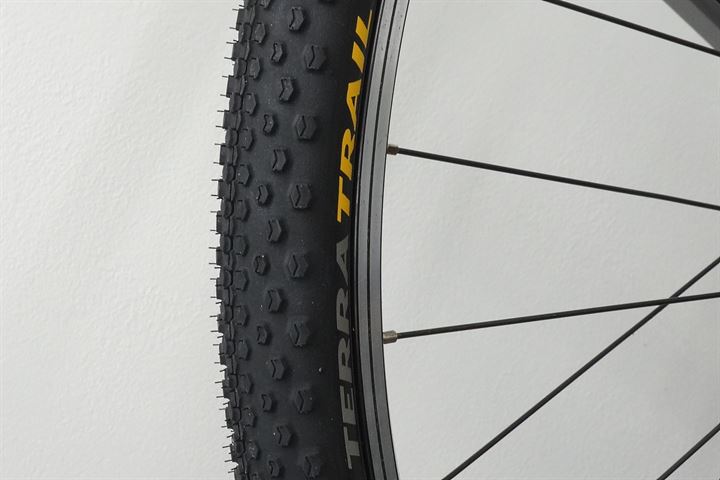 Size, Weight, and Thickness Measurements
advertisement
Size, Weight, and Thickness Measurements
Specified Weight
445 grams
Measured Weight
452 grams
Measured Width Casing
37 mm
Measured Width Tread
40 mm
Measured Height
35 mm
Measured Knob Height Center
1.3 mm
Measured Knob Height Edge
2.3 mm
Measured Total Thickness Sidewall
1.00 mm
Measured Total Thickness Center (excluding knobs)
2.00 mm
All size measurements are taken at low air pressure on a 17.8 mm inner width rim.
Rolling Resistance Test Results
Rolling Resistance Test Results
Inner Tube
Conti Cross28 (160 gr)
Measured Width
37 mm
Rolling Resistance
Real tire width in mm:
30-32 = 66 psi/4.6 bar
33-35 = 60 psi/4.1 bar
36-40 = 54 psi/3.7 barHigh Air Pressure
21.8Watts
CRR: 0.00653
Rolling Resistance
Real tire width in mm:
30-32 = 55 psi/3.8 bar
33-35 = 50 psi/3.4 bar
36-40 = 45 psi/3.1 barMedium Air Pressure
23.6 Watts
CRR: 0.00707
Rolling Resistance
Real tire width in mm:
30-32 = 44 psi/3.0 bar
33-35 = 40 psi/2.8 bar
36-40 = 36 psi/2.6 barLow Air Pressure
26.0 Watts
CRR: 0.00779
Rolling Resistance
Real tire width in mm:
30-32 = 33 psi/2.3 bar
33-35 = 30 psi/2.1 bar
36-40 = 27 psi/1.9barExtra Low Air Pressure
31.0 Watts
CRR: 0.00929
The CX/Gravel section is a multi tire size section, air pressures have been adjusted to the measured casing width.

All numbers are for a single tire at a speed of 29 km/h / 18 mph and a load of 42.5 kg / 94 lbs.

Use the formula: RR (Watts) = CRR * speed (m/s) * load (N) to calculate rolling resistance at a given speed and load.
Puncture Resistance Test Results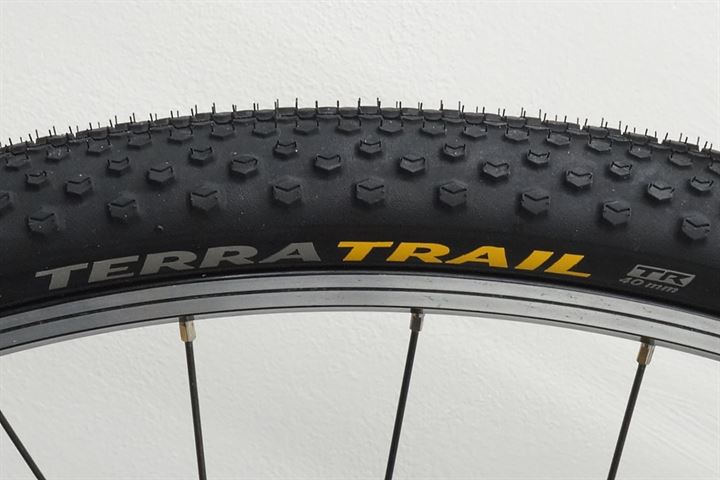 Puncture Resistance Test Result (higher is better)
Puncture Resistance Tread
8 Points
Puncture Resistance Sidewall
8 Points
Conclusion
Continental Terra Trail TR
Performance compared to all other CX/Gravel tires
(100% is fastest - lightest - highest - strongest)
Our results show that the Terra Trail has a considerably higher rolling resistance than the fast Terra Speed (compare side by side here). The difference is so big that this can't be explained by the 0.2 mm higher knobs in the middle of the tire since the rest of the tire construction is the same. We've also seen these same differences in the test results between the Race King and Cross King mountain bike tires.
We are therefore once again convinced that although Continental specifies both the Terra Speed and Terra Trail use the "Black Chili" compound, these are not exactly the same compounds. We assume that the "Black Chili" compound as applied to the Terra Trail gives more grip but rolls slower than the version used by the Terra Speed.
We're disappointed Continental doesn't specify which exact compound is used because this would make it much easier to make an informed decision when choosing a tire. We expect Continental to use 3 or 4 versions of the "Black Chili" compound internally, all of which have different characteristics.
All in all, the Terra Trail is certainly not a bad tire. Look for yourself on the CX/Gravel overview page to see the differences between the other tires that we've tested to date.
Ad Buy Continental Terra Trail TR at Amazon.com
RATING: 4.0 / 5
TEST VERDICT: Recommended
Comments