CX/Gravel Tire Test:

Panaracer

GravelKing TLC
---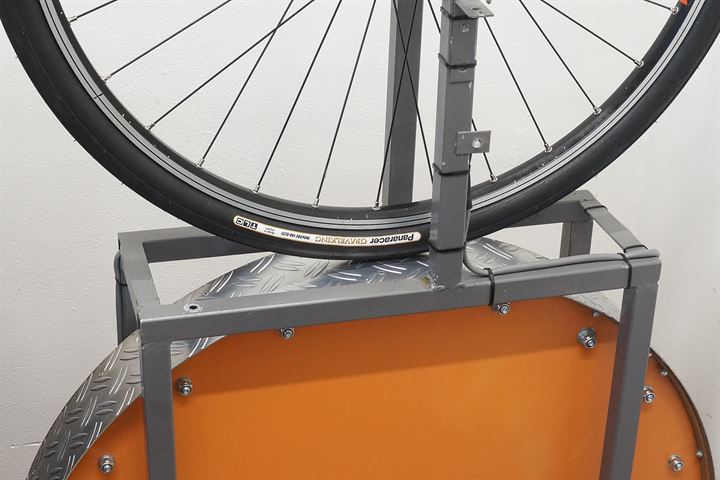 The Panaracer GravelKing is one of the most requested tires in the CX/Gravel section. The bigger sizes of the GravelKing (32 and up) come with a TLC (tubeless-compatible) casing that should make it easy to set these up tubeless. You can choose between brown sidewalls for a classic look or black sidewalls for a more modern look.
Ad Buy Panaracer GravelKing TLC at Amazon.com
Just like pretty much all Panaracer gravel tires, the GravelKing uses the "ZSG Natural Compound" that, according to Panaracer, offers a low rolling resistance and high durability. The casing is an "Anti-Flat Casing" with an extra layer of puncture protective fabric that runs from bead to bead.
In the 622 (28") size, the GravelKing TLC is available in 32, 36, and 40 mm wide versions. Wider versions (38, 42, 48 mm) are available in the 584 (27.5") size.
advertisement
Manufacturer Specifications
Manufacturer Specs
Brand
Panaracer
Model
GravelKing TLC
Year
2020
Supplied By
Bought in store
New or Used
New
Mileage
0 km
Price Range
High
Buy At

Ad

Amazon.com
Manufacturer part number
RF738-GK-B
EAN
4931253016974
TPI
-
Compound
ZSG
Bead
Folding
ETRTO
40-622
Specified Weight
340 grams
Max Pressure
75
Made In
Japan
Available Sizes
32-622 (700x32c)
35-622 (700x35c)
40-622 (700x38c)
38-584 (650bx38)
42-584 (650bx42)
48-584 (650bx48)
Panaracer GravelKing TLC Test Results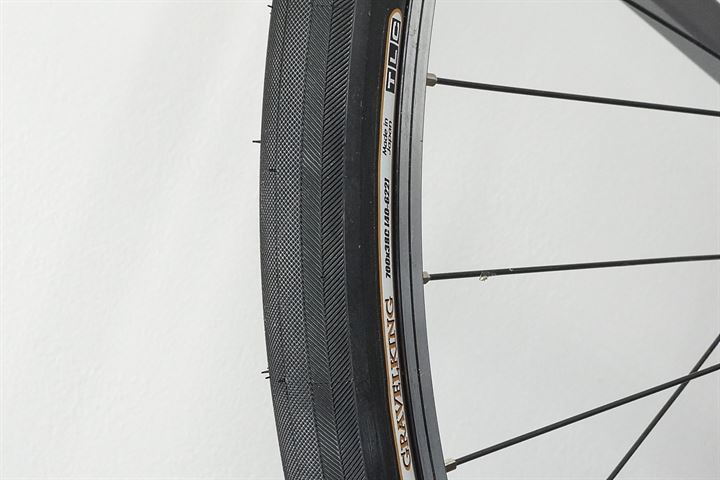 Size, Weight, and Thickness Measurements
Size, Weight, and Thickness Measurements
Specified Weight
340 grams
Measured Weight
337 grams
Measured Width Casing
37 mm
Measured Width Tread
34 mm
Measured Height
33 mm
Measured Knob Height Center
0.2 mm
Measured Knob Height Edge
0.2 mm
Measured Total Thickness Sidewall
0.70 mm
Measured Total Thickness Center (excluding knobs)
1.80 mm
All size measurements are taken at low air pressure on a 17.8 mm inner width rim.
Rolling Resistance Test Results
Rolling Resistance Test Results
Inner Tube
Conti Cross28 (160 gr)
Measured Width
37 mm
Rolling Resistance
Real tire width in mm:
30-32 = 66 psi/4.6 bar
33-35 = 60 psi/4.1 bar
36-40 = 54 psi/3.7 barHigh Air Pressure
17.3Watts
CRR: 0.00519
Rolling Resistance
Real tire width in mm:
30-32 = 55 psi/3.8 bar
33-35 = 50 psi/3.4 bar
36-40 = 45 psi/3.1 barMedium Air Pressure
18.6 Watts
CRR: 0.00558
Rolling Resistance
Real tire width in mm:
30-32 = 44 psi/3.0 bar
33-35 = 40 psi/2.8 bar
36-40 = 36 psi/2.6 barLow Air Pressure
20.8 Watts
CRR: 0.00624
Rolling Resistance
Real tire width in mm:
30-32 = 33 psi/2.3 bar
33-35 = 30 psi/2.1 bar
36-40 = 27 psi/1.9barExtra Low Air Pressure
24.9 Watts
CRR: 0.00746
The CX/Gravel section is a multi tire size section, air pressures have been adjusted to the measured casing width.

All numbers are for a single tire at a speed of 29 km/h / 18 mph and a load of 42.5 kg / 94 lbs.

Use the formula: RR (Watts) = CRR * speed (m/s) * load (N) to calculate rolling resistance at a given speed and load.
Puncture Resistance Test Results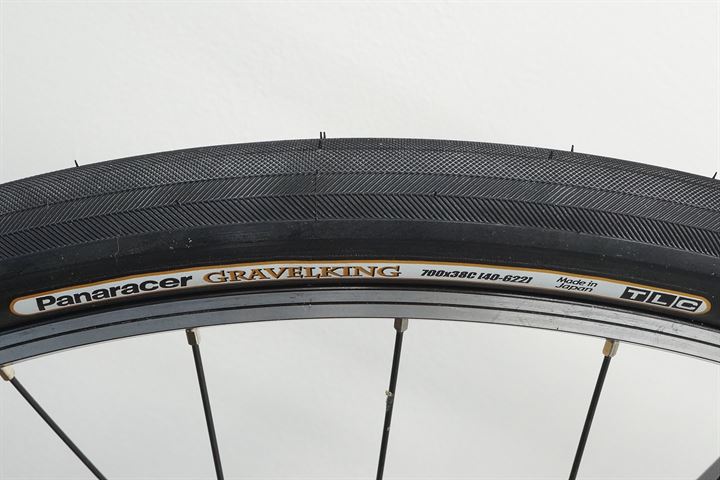 Puncture Resistance Test Result (higher is better)
Puncture Resistance Tread
7 Points
Puncture Resistance Sidewall
7 Points
Conclusion
The Panaracer GravelKing is a very fast gravel bike tire but be aware that it doesn't have any knobs to provide off-road grip. Puncture resistance and thickness of the tread is below average while the sidewalls offer average protection at best when compared to other tires in the CX/Gravel section. To us, the GravelKing looks a lot like a very big road bike tire.
If you don't need the knob height or puncture protection and your riding conditions suit the GravelKing, the GravelKing is one of the fastest and lightest choices out there. You can compare the GravelKing to other tires on the CX/Gravel overview page.
Ad Buy Panaracer GravelKing TLC at Amazon.com
RATING: 4.0 / 5
TEST VERDICT: Recommended
Comments