Road Bike Tire Test:

Clement

Strada LGG
---
---
---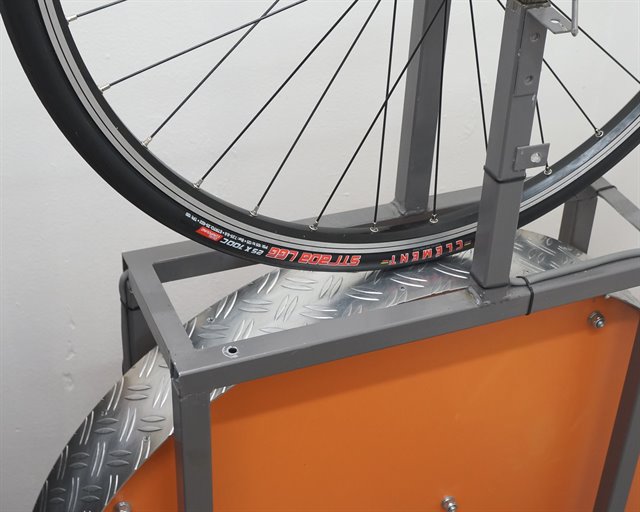 According to Clement, the Strada LGG is a road bike tire with excellent grip in wet and dry conditions. Clement claims the Strada LGG provides a supple ride, a durable, lightweight construction, and good puncture protection thanks to the puncture-protection belt under the tread. If you're not familiar with the Clement tire lineup, it's best to think of the Strada LGG as a direct competitor to popular all-round road bike tires like the Continental Grand Prix 4000S II (read review).
Ad Buy Clement Strada LGG at Amazon.com
Like many other tires, the Strada LGG is available in both a 60 TPI and more expensive 120 TPI version. The 120 TPI version comes with a dual compound tread with a 70a compound in the center and a softer 60a compound on the shoulders. One of the things I like about the Strada LGG (and something more manufacturers should follow) is that it's available as a bigger 32 mm version that should suit fast touring bikes as well. For this test, I've tested the 120 TPI, 25 mm wide version.
Manufacturer Specifications
Manufacturer Specifications
Brand
Clement
Model
Strada LGG
Year
2017
Tire Type
Tubetype (clincher)
Supplied By
Bought in store
New or Used
New
Mileage
0 km
Price Range
High
Buy At

Ad

Amazon.com
Manufacturer part number
TPI
120
Compound
Dual Compound
Bead
Folding
ETRTO
25-622
Size Inch
28"
Specified Width (mm)
25
Specified Weight
0 grams
Max Air Pressure (psi)
125
Made In
Members Only
Available Sizes
23-622 (700x23C)
25-622 (700x25C)
28-622 (700x28C)
32-622 (700x32C)
Clement Strada LGG Test Results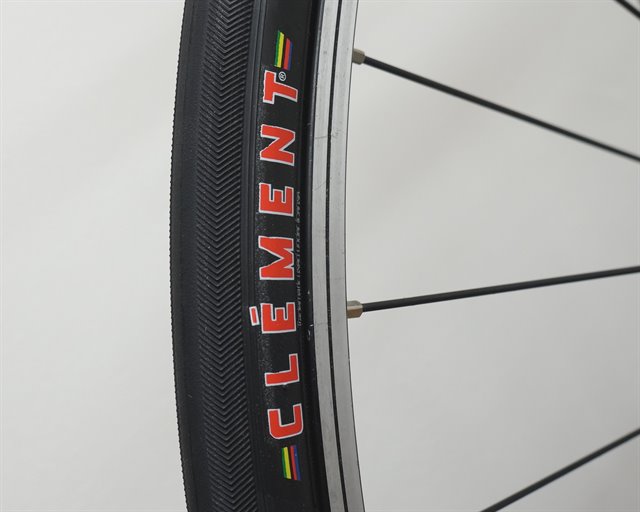 Size, Weight, and Thickness Measurements
advertisement
Size, Weight and Thickness Measurements
Specified Weight
0 grams
Measured Weight
225 grams
System Adjusted Weight
(tire + inner tube (100 gr)
325 grams
Measured Width
26 mm (un-round)
Measured Height
24 mm (un-round)
Total Tire Thickness Center
3.3 mm
Total Tire Thickness Sidewall
Members Only
Unmounted Casing Width
62 mm
Unmounted Tread Width
Members Only
Tread Cover (Tread / Casing Ratio)
Members Only
All size measurements are taken at an air pressure of 100 psi / 6.9 bars on a 17.8 mm inner width rim.
Clement doesn't publish the weight of the 25 mm version but only specifies the weight of the 23 mm version (220 grams) and 32 mm version (290 grams). My sample of the 120 TPI, 25-622 Strada LGG comes in at a measured weight of 225 grams which is well within the specified range.
On my 17C rim, at an air pressure of 100 psi / 6.9 bars, the Strada LGG has a width of 26 mm and a height of 24 mm. A width of 26 mm on a 17C rim seems spot on to the rated size.
Tread thickness of the Strada LGG comes in at 3.3 mm which is very good for an all-round tire as most other tires in this category come in closer to 2.5 - 3.0 mm. Unless the tread itself wears very fast, this tire should last a long time. The sidewalls have a thickness of 0.5 mm which is about as thin as sidewalls come and similar to most other all-round road bike tires.
Rolling Resistance Test Results
Rolling Resistance Test Results
Inner Tube
Conti Race28 (100gr butyl)
Rolling Resistance
140 PSI / 9.7 Bar
Not Tested
Rolling Resistance
120 PSI / 8.3 Bar
16.9 Watts
CRR: 0.00507
Rolling Resistance
100 PSI / 6.9 Bar
17.9 Watts
CRR: 0.00537
Rolling Resistance
80 PSI / 5.5 Bar
Members Only
Rolling Resistance
60 PSI / 4.1 Bar
Members Only
All numbers are for a single tire at a speed of 29 km/h / 18 mph and a load of 42.5 kg / 94 lbs.

Use the formula: RR (Watts) = CRR * speed (m/s) * load (N) to calculate rolling resistance at a given speed and load.
Auch, in the rolling resistance tests, the Strada LGG comes in near the bottom of the chart. At the high air pressure of 120 psi / 8.3 bars, the Strada LGG (16.9 watts) lags the best tires in the all-round category by up to 6 watts (Michelin Power Competition = 10.9 watts). At the lower air pressure of 80 psi / 5.5 bars, the disadvantage of the Strada LGG (20.0 watts) grows to 6.4 watts (Michelin Power Competition = 13.6 watts)
I expected a lower rolling resistance from the Clement Strada LGG as this tire is marketed as a high-performance tire. It's a shame this tire gets outperformed by cheaper tires from other manufacturers although it might excel in other areas as tread thickness is better than the top performing tires. Just be aware when you're looking at these tires that rolling resistance doesn't come close to the best performing tires.
Puncture Resistance Test Results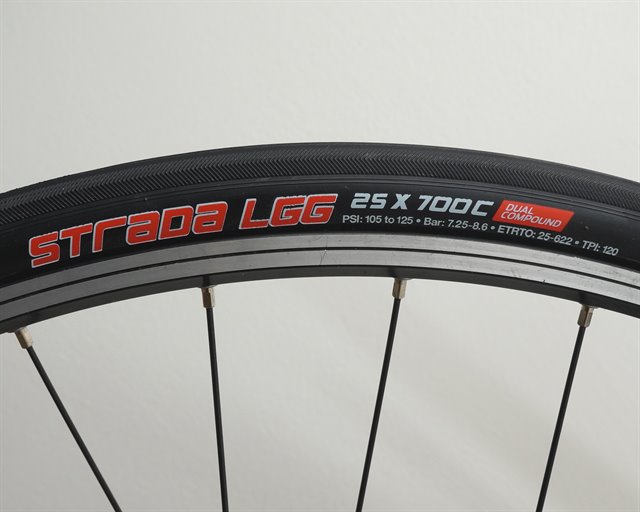 Puncture Resistance Test Results (higher is better)
Total Puncture Score Tread
74 Points
Total Puncture Score Sidewall
Members Only
Tread Puncture Force Sharp Needle
14 Points
Tread Puncture Force Blunt Needle
No Data
Tread Total Tire Thickness
3.3 mm
Sidewall Puncture Force Sharp Needle
Members Only
Sidewall Puncture Force Blunt Needle
No Data
Sidewall Total Tire Thickness
Members Only
While rolling resistance of the Strada LGG is higher than the best performing all-round tires, puncture resistance of the tread is a bit better as well. With a score of 14 points in the tread puncture test, it scores 2-3 points higher than most all-round tires that mostly come in at 11-12 points. Still, this good tread puncture score doesn't save the Strada LGG as other tires that score 13-14-15 points and provide a better rolling resistance are available.
Unlike the tread puncture test, the Strada LGG performs terribly in the sidewall puncture test. With a score of 3 points, it performs awfully as 3 points is basically the lowest possible score in this test. If you're looking for a strong tire, the Strada LGG isn't the tire you seek.
Static Grip Test Results
NOTE: Grip test data is only available on tires tested after November 2018. You can find more information about our grip test here: Introducing Grip Testing
Static Grip Test Results
Wet Grip Average
No Data
Wet Grip Center
No Data
Wet Grip Edge
No Data
Grip in points = coefficient of friction * 100
Conclusion
The Strada LGG is the first tire from Clement that I've had on my test bench. Unfortunately, it doesn't impress as it comes in near the bottom of the rolling resistance chart while the marketing talk would suggest this tire to come in closer to the top. The good part seems to be a relatively thick tread-thickness and good puncture resistance of the tread area. The sidewalls, on the other hand, are thin and easy to puncture which doesn't make this a very durable tire either.
I rate this tire 2/5 Not Recommended because you can find tires with a similar tread puncture resistance, lower rolling resistance, stronger sidewalls and even a lower price. Take a look at the road bike overview page and use the filters to find which tires might suit you better.
Ad Buy Clement Strada LGG at Amazon.com
RATING: 2.0 / 5
TEST VERDICT: Not Recommended
Comments