MTB Tire Test:

Continental

Race King Performance
Continental Race King Performance
---
---
---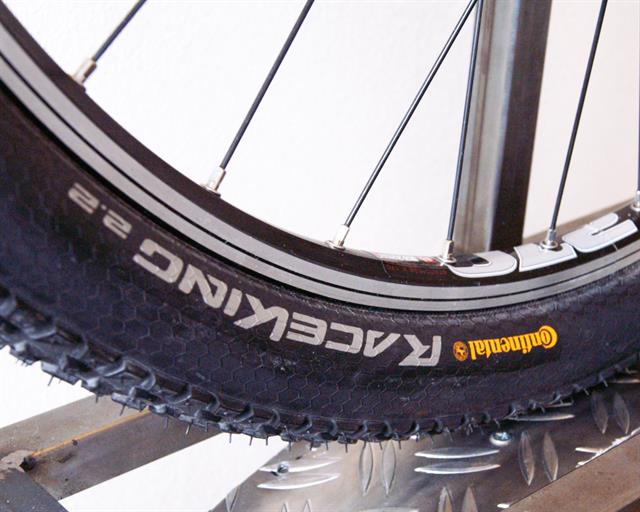 The Continental Race King Performance Folding 29 x 2.2 mountain bike tire is one of the four available versions of the Race King. I will review all four Race Kings to make it possible to compare apples to apples. Price wise, the Conti Performance line tires fall in between the cheap wire bead Sport version and the more expensive RaceSport and Protection versions. This Race King has an 180 TPI folding casing and the Pure Grip compound, which is slightly less advanced than the BlackChili compound.
Ad Buy Continental Race King Performance at Amazon.com
The Performance line Race King feels much sturdier built than the RaceSport version, which is a very thin and light tire. When examining the tire, the tread is quite stiff and the sidewalls also seem to have some protection against cuts. I'm really looking forward to comparing this tire against the more expensive Protection version. I think it's much closer to that tire than the very fast RaceSport version.
Unlike the Protection and RaceSport versions, the Continental Performance line tires use a less advanced Pure Grip compound instead of the well known BlackChili compound. Continental says this compound provides great grip, is long lasting and highly durable. Another difference is that the Sport and Performance line tires are manufactured in China, unlike the RaceSport and Protection tires which are handmade in Germany.
Manufacturer Specifications
Manufacturer Specs
Brand
Continental
Model
Race King Performance
Year
2015
Supplied By
Bought in store
New or Used
New
Mileage
0 km
Price Range
Med
Buy At

Ad

Amazon.com
Manufacturer part number
0150036
TPI
3/180
Compound
PureGrip
Bead
Folding
ETRTO
55-622
Size Inch
29"
Width Inch
2.20
Specified Weight
660 grams
Max Air Pressure (psi)
55
Made In
Members Only
Available Sizes
29x2.20
29x2.00
27.5x2.20
27.5x2.00
26x2.20
26x2.00
Continental Race King Performance Test Results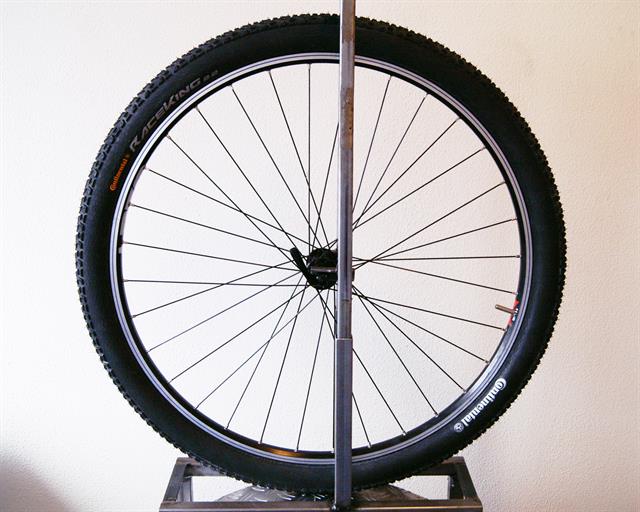 Size, Weight, and Thickness Measurements
Size, Weight, and Thickness Measurements
Specified Weight
660 grams
Measured Weight
669 grams
Measured Width Carcass
54 mm (un-round)
Measured Width Tread
51 mm
Measured Height
54 mm (un-round)
Measured Knob Height Center
2.5 mm
Measured Knob Height Edge
2.5 mm
Measured Total Thickness Center (excluding knobs)
2.45 mm
Measured Total Thickness Sidewall
Members Only
All size measurements are taken at an air pressure of 35 psi / 2.4 bars on a 17.8 mm inner width rim.
The measured weight comes in at 669 grams which is very close to the specified weight of 660 grams. Just like the other Race Kings I've had the opportunity to test, this tire also has a very large volume with a casing width and height of 54 mm. Knob height at the edge of the tire is only 2.5 mm. Most other XC style tires have bigger side knobs.

Rolling Resistance Test Results
Rolling Resistance Test Results
Inner Tube
Conti MTB 29 (225 gr butyl)
Rolling Resistance
55 PSI / 3.8 Bar
Members Only
Rolling Resistance
45 PSI / 3.1 Bar
Members Only
Rolling Resistance
35 PSI / 2.4 Bar
24.2 Watts
CRR: 0.00725
Rolling Resistance
25 PSI / 1.7 Bar
26.3 Watts
CRR: 0.00788
All numbers are for a single tire at a speed of 29 km/h / 18 mph and a load of 42.5 kg / 94 lbs.

Use the formula: RR (Watts) = CRR * speed (m/s) * load (N) to calculate rolling resistance at a given speed and load.
The Race King Performance has a surprisingly flat rolling resistance curve, there is only a 4 watts difference between a low pressure of 25 psi and a high pressure of 55 psi. Rolling resistance at 25 psi is 3.9 watts higher than the more expensive and lighter Race King RaceSport. At 55 psi, this gap widens to 4.3 watts. Surprisingly, the "Performance" version of the Race King is able to outperform other manufacturers high-end tires.
Puncture Resistance Test Results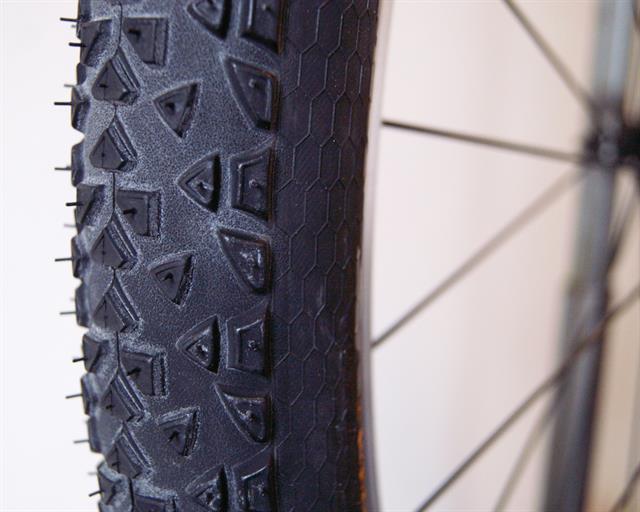 Puncture Resistance Test Results (higher is better)
Total Puncture Score Tread
50 Points
Total Puncture Score Sidewall
Members Only
Tread Puncture Force Sharp Needle
11 Points
Tread Puncture Force Blunt Needle
No Data
Tread Total Tire Thickness
2.45 mm
Sidewall Puncture Force Sharp Needle
Members Only
Sidewall Puncture Force Blunt Needle
No Data
Sidewall Total Tire Thickness
Members Only
Puncture Resistance is very good with a score of 11 which is much higher than the score of 7 for the RaceSport. Puncture resistance even gets close to the 12 points the tough Race King Protection scored in our test.
Hard Surface Static Grip Test Results
Static Grip Test Results
Wet Grip Average
No Data
Wet Grip Center
No Data
Wet Grip Edge
No Data
Measured Knob Height Center
2.5 mm
Measured Knob Height Edge
2.5 mm
Grip in points = coefficient of friction * 100
Wet Grip Test and Off-Road Tires (info)
Conclusion
Continental Race King Performance
Performance compared to all other MTB tires
(100% is fastest - lightest - highest - strongest)
I think the Performance line Race King performs very well. If you take into account the high puncture resistance score of 11 and its medium price, rolling resistance is decent. This isn't a true racing tire like the Race King RaceSport which is a tire with a much thinner casing and lower rolling resistance. I think it's most comparable to the Race King Protection except with a higher rolling resistance and a lower price.
This is a good mountain bike tire. For a little less money than a Race King RaceSport, you get a stronger tire with better puncture protection and a rolling resistance that is a little higher, but still lower than more expensive tires from other brands.
Ad Buy Continental Race King Performance at Amazon.com
RATING: 4.0 / 5
TEST VERDICT: Recommended
Comments