Road Bike Tire Test:

Zipp

Tangente Speed Tubeless
Zipp Tangente Speed Tubeless
---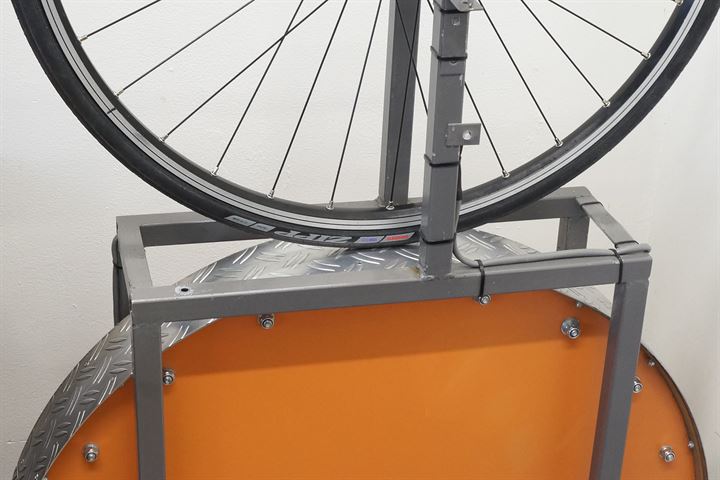 Zipp is best known for its high-end carbon wheelsets that often cost an arm and a leg. What's interesting for us is that Zipp also sells tires that can be combined with their wheels for a full Zipp wheel and tire set up. With tubeless tires, combining the same brand wheels and tires is tempting as you expect them to fit well together for easy mounting and easy inflation.
The Zipp Tangente Speed Tubeless is currently Zipp's only tubeless road bike tire and it's available in both the 25-622 (RT25) and 28-622 (RT28) sizes. Zipp specifies this tire as a "Pro-level race day tire" that offers low rolling resistance, is durable, puncture-resistant, and offers better cornering grip than leading tubeless tires. Just like their wheels, these are some of the most expensive tires out there which sets our expectations sky-high.
The Tangente Speed Tubeless is a full tubeless tire which means it theoretically can be used without sealant and hold air just fine. This is one of the few full-tubeless tires still available as there has been a movement towards tubeless-ready tires that can be made lighter but require sealant to completely seal the tire. As most people run sealant even in full-tubeless tires to increase puncture resistance, we're not sure full-tubeless tires make sense from a performance perspective.
We've run all the usual tests on the Tangente Speed Tubeless and found some surprising things about this tire in combination with Zipp's latest wheels.
Manufacturer Specifications
Manufacturer Specifications
Brand
Zipp
Model
Tangente Speed Tubeless
Year
2021
Tire Type
Tubeless
Supplied By
Bought in store
New or Used
New
Mileage
0 km
Price Range
Very High
Buy At
Manufacturer part number
00.1918.192.100
TPI
127
Compound
57 ShA durometer
Bead
Folding
ETRTO
25-622
Size Inch
28"
Specified Width (mm)
25
Specified Weight
292 grams
Max Air Pressure (psi)
115
Made In
Members Only
Available Sizes
25-622 (700x25c)
28-622 (700x28c)
Zipp Tangente Speed Tubeless Test Results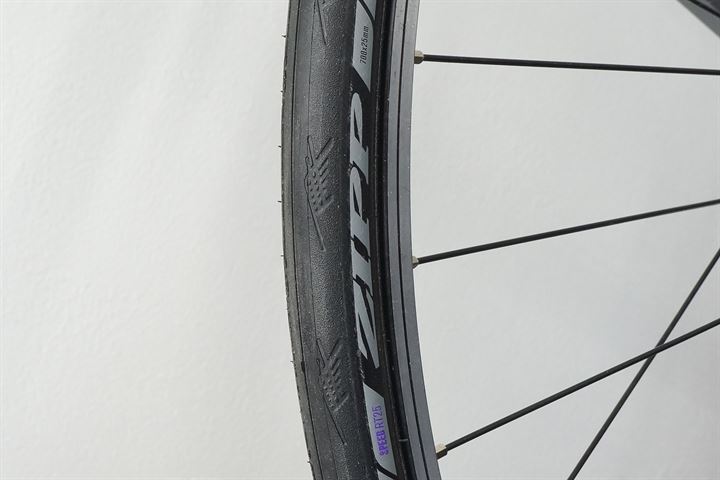 Size, Weight, and Thickness Measurements
advertisement
Size, Weight and Thickness Measurements
Specified Weight
292 grams
Measured Weight
295 grams
System Adjusted Weight
(tire + valve + rim seal)
315 grams
Measured Width
26 mm (un-round)
Measured Height
23 mm (un-round)
Total Tire Thickness Center
2.6 mm
Total Tire Thickness Sidewall
Members Only
Unmounted Casing Width
63 mm
Unmounted Tread Width
Members Only
All size measurements are taken at an air pressure of 100 psi / 6.9 bars on a 17.8 mm inner width rim.
Rolling Resistance Test Results
Rolling Resistance Test Results
Inner Tube
None (20 ml sealant)
Rolling Resistance
140 PSI / 9.7 Bar
Not Tested
Rolling Resistance
120 PSI / 8.3 Bar
9.6 Watts
CRR: 0.00288
Rolling Resistance
100 PSI / 6.9 Bar
10.3 Watts
CRR: 0.00309
Rolling Resistance
80 PSI / 5.5 Bar
Members Only
Rolling Resistance
60 PSI / 4.1 Bar
Members Only
All numbers are for a single tire at a speed of 29 km/h / 18 mph and a load of 42.5 kg / 94 lbs.

Use the formula: RR (Watts) = CRR * speed (m/s) * load (N) to calculate rolling resistance at a given speed and load.
Puncture Resistance Test Results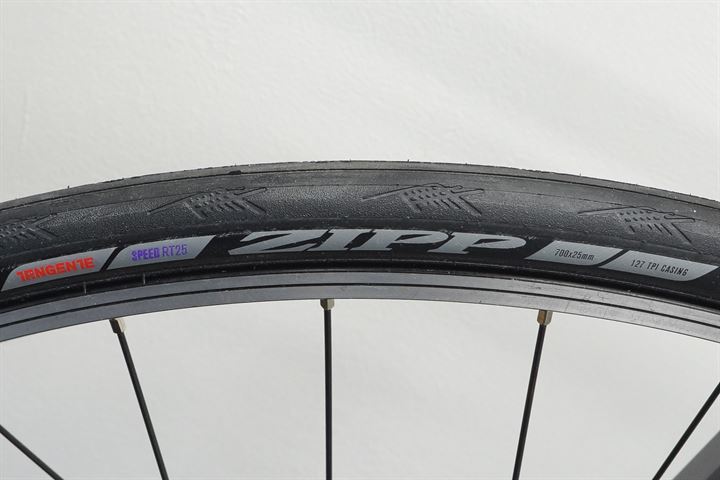 Puncture Resistance Test Results (higher is better)
Total Puncture Score Tread
50 Points
Total Puncture Score Sidewall
Members Only
Tread Puncture Force Sharp Needle
Members Only
Tread Puncture Force Blunt Needle
Members Only
Tread Total Tire Thickness
2.6 mm
Sidewall Puncture Force Sharp Needle
Members Only
Sidewall Puncture Force Blunt Needle
Members Only
Sidewall Total Tire Thickness
Members Only
Static Grip Test Results
NOTE: Grip test data is only available on tires tested after November 2018. You can find more information about our grip test here: Introducing Grip Testing
Static Grip Test Results
Wet Grip Average
62 Points
Wet Grip Center
Members Only
Wet Grip Edge
Members Only
Grip in points = coefficient of friction * 100
Conclusion
The Zipp Tangente Speed Road Tubeless is a very fast all-round road bike tire that offers good tread thickness and above-average puncture resistance. The Tangente Speed Tubeless even comes closest to the Continental Grand Prix 5000 TL that has been leading the all-round road bike class for the last couple of years and simply has been a step above all other all-round tubeless tires.
We do have an issue with this tire and that's the very small tread that can be a potentially dangerous combination with some of the Zipp wheelsets that have a larger internal width than the industry standards (ETRTO). As we expect the only people willing to pay the price for these tires are people that own Zipp wheels and expect trouble-free operation, it's a big let down they didn't develop a tire made for wide rims.
As an example, we mounted the Tangente Speed Tubeless on a 22 mm internal width rim and found that at a static 45-degree lean angle, 2 mm of the sidewall will be in contact with the road. While a 45-degree lean angle is quite a lot, you also have to consider the road camber and surface irregularities when looking at the contact surface. On our standard 18 mm internal width rim, there was exactly enough tread to support a static 45-degree lean angle which confirms our suspicion this tire was developed with ETRTO standards in mind.
The 25-622 Zipp Tangente Speed performs well in our tests but just don't use it on rims wider than the ETRTO standards. The 28-622 version might be a better fit for nearly all Zipp wheels.
RATING: 4.3 / 5
TEST VERDICT: Recommended
Comments