MTB Tire Test:

Michelin

Force XC
---
---
---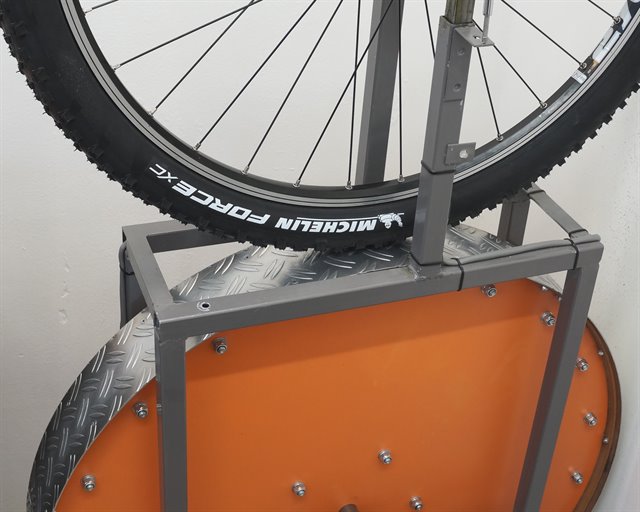 Michelin recently introduced a full range of new MTB tires. From fastest to slowest the new lineup is: Jet XCR, Force XC, Force AM, Wild AM. The Force XC that I've tested for this review is an all-round XC tire that can be seen as an alternative to the popular Schwalbe Rocket Ron/Racing Ralph tires. It's good to see Michelin revamped their MTB lineup as the older lineup was a bit dated and a lot of tires weren't available in the most popular sizes.
Ad Buy Michelin Force XC at Amazon.com
The Force XC comes with a reinforced 3x110 TPI Tubeless-Ready casing which definitely is stronger than the Schwalbe LiteSkin and Continental RaceSport casings; no ultra-thin sidewalls here. Together with the triple compound Gum-X3D compound, this results in a tire that provides improved grip, performance and puncture resistance. As the main thing I'll be testing here is rolling resistance, it's interesting to note that Michelin doesn't mention anything about a low rolling resistance.
I didn't test any Michelin MTB tires yet, but their road bike tires often perform excellently on the rolling resistance tests. Unfortunately, this isn't the case for the new Force XC tires as it ends up near the bottom of the rolling resistance results table. Read on for the full test results.
Manufacturer Specifications
Manufacturer Specs
Brand
Michelin
Model
Force XC
Year
2017
Supplied By
Bought in store
New or Used
New
Mileage
0 km
Price Range
High
Buy At

Ad

Amazon.com
Manufacturer part number
TPI
3x110
Compound
Gum-X3D
Bead
Folding
ETRTO
57-622
Size Inch
29"
Width Inch
2.25
Specified Weight
670 grams
Max Air Pressure (psi)
58
Made In
Members Only
Available Sizes
26x2.10
27.5x2.10
27.5x2.25
29x2.10
29x2.25
Michelin Force XC Test Results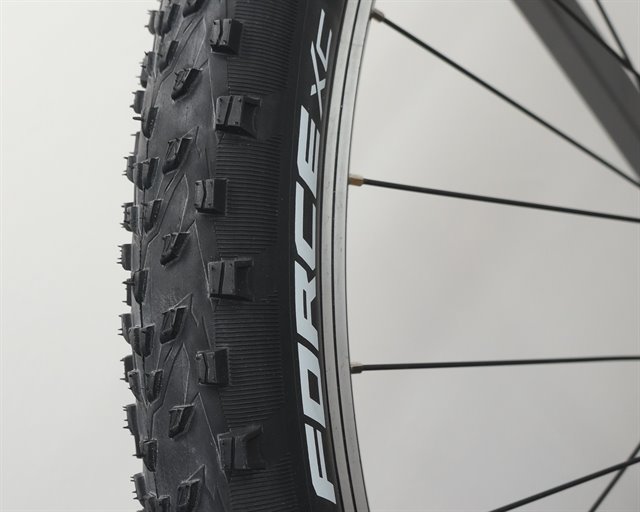 Size, Weight, and Thickness Measurements
Size, Weight, and Thickness Measurements
Specified Weight
670 grams
Measured Weight
660 grams
Measured Width Carcass
55 mm (un-round)
Measured Width Tread
58 mm
Measured Height
54 mm (un-round)
Measured Knob Height Center
2.3 mm
Measured Knob Height Edge
5.0 mm
Measured Total Thickness Center (excluding knobs)
2.2 mm
Measured Total Thickness Sidewall
Members Only
All size measurements are taken at an air pressure of 35 psi / 2.4 bars on a 17.8 mm inner width rim.
Weight. The specified weight of the 29 x 2.25 Force XC is 670 grams; my sample comes in a bit lighter at 660 grams. For a reinforced 29 x 2.25 MTB tire, a weight of 660 grams is excellent.
Size. The Force XC comes in close to the rated size. On a 17C rim, at an air pressure of 35 psi / 2.4 bars, the casing has a width of 55 mm. The edge knobs even stick out a bit further resulting in a maximum tire width of 58 mm. On wider rims, this tire could come close to 60 mm.
Knob Height. The center knobs have a height of 2.3 mm which is comparable to many other all-round MTB tires that mostly come in somewhere between 2.3 - 2.8 mm. The Edge knobs on this tire are quite big and have a height of 5.0 mm which is a bit bigger than most other tires in the all-round category (3.5 - 4.5 mm).
Tire Thickness. At the center of the tread, the measured total thickness of the tire (excluding knobs) is 2.2 mm. The sidewalls have a thickness of 0.90 mm. Both these measurements are better than most of the other (reinforced) tires which means this tire should have good resistance to cuts and punctures.
Rolling Resistance Test Results
Rolling Resistance Test Results
Inner Tube
None (40 ml sealant)

(current protocol)
Conti MTB 29 (225 gr butyl)

(test protocol)
Rolling Resistance
55 PSI / 3.8 Bar
Members Only
Members Only
Rolling Resistance
45 PSI / 3.1 Bar
Members Only
Members Only
Rolling Resistance
35 PSI / 2.4 Bar
28.7 Watts
CRR: 0.00860
32.2 Watts
CRR: 0.00965
Rolling Resistance
25 PSI / 1.7 Bar
30.8 Watts
CRR: 0.00923
35.3 Watts
CRR: 0.01058
All numbers are for a single tire at a speed of 29 km/h / 18 mph and a load of 42.5 kg / 94 lbs.

Use the formula: RR (Watts) = CRR * speed (m/s) * load (N) to calculate rolling resistance at a given speed and load.
The rolling resistance tests is where the competition crushes the Force XC. As the Force XC is positioned as a cross-country/race tire, I expected it to at least perform decently on the rolling resistance tests. Unfortunately, this isn't the case as rolling resistance at an air pressure of 25 psi / 1.7 bars comes in at 35.3 watts while the Schwalbe Racing Ralph SnakeSkin (PaceStar) (read review) comes in at a much lower 24.0 watts at the same air pressure.
I feel the name of this tire is a bit misleading as it appears to have the same compound as the Force AM which I've tested as well (review soon). The Force XC only has a marginally lower rolling resistance than the Force AM mostly because of a different casing (3x110 Vs 3x60) and slightly smaller knobs (2.3 mm Vs 2.9 mm). I expected the Force XC would have a more XC oriented compound as compared to the Force AM to make it a true contender to the low rolling resistance tires.
Puncture Resistance Test Results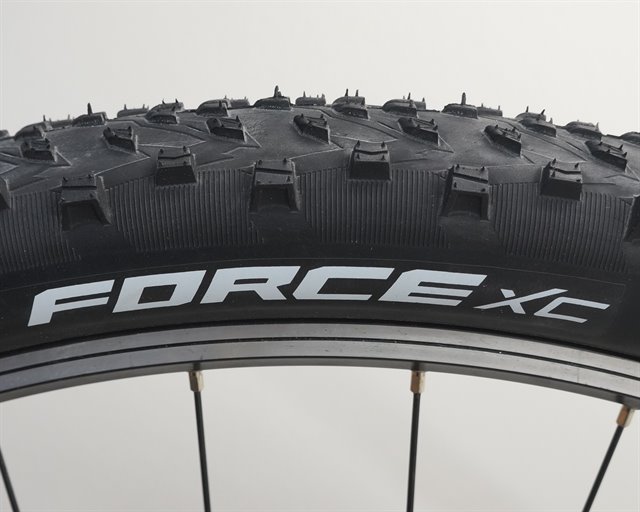 Puncture Resistance Test Results (higher is better)
Total Puncture Score Tread
43 Points
Total Puncture Score Sidewall
Members Only
Tread Puncture Force Sharp Needle
10 Points
Tread Puncture Force Blunt Needle
No Data
Tread Total Tire Thickness
2.2 mm
Sidewall Puncture Force Sharp Needle
Members Only
Sidewall Puncture Force Blunt Needle
No Data
Sidewall Total Tire Thickness
Members Only
In contrary to the rolling resistance tests, the Force XC performs excellently in the puncture resistance tests. With a score of 10 points in the tread puncture tests, it scores much better than the competition. In the sidewall puncture test, performance is comparable to other MTB tires with reinforced sidewalls.
Hard Surface Static Grip Test Results
Static Grip Test Results
Wet Grip Average
No Data
Wet Grip Center
No Data
Wet Grip Edge
No Data
Measured Knob Height Center
2.3 mm
Measured Knob Height Edge
5.0 mm
Grip in points = coefficient of friction * 100
Wet Grip Test and Off-Road Tires (info)
Conclusion
I'm quite disappointed the Force XC isn't the tire I expected it to be. I expected the Force XC to have a lower rolling resistance rubber compound than the Force AM (review soon). In reality, both tires come with the same compound which results in both tires performing nearly the same in all tests. The only difference between the Force XC and AM is the AM version comes with slightly bigger knobs and a slightly stronger casing.
I rate the Force XC a 3/5 (barely) because although it doesn't perform the way I hoped it would, you do get a strong, reinforced tire with a compound that is probably more optimized towards grip than the name suggests.
Ad Buy Michelin Force XC at Amazon.com
RATING: 3.0 / 5
TEST VERDICT: Recommended
Comments