Road Bike Tire Test:

Panaracer

Race D Evo 3
---
---
---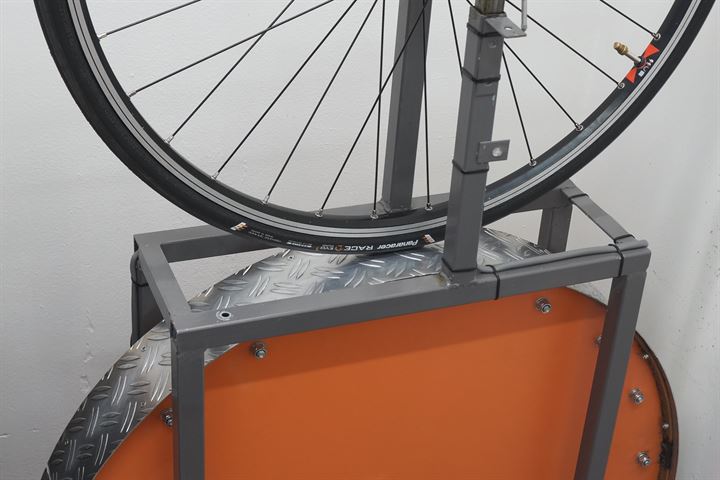 The Panaracer Race D (Durable) Evo 3 is the most durable version of Panaracer's top of the line Race lineup. When looking at the specifications and test results of the Race D Evo 3, the construction of the Race D is very similar to the Race A. Both tires use the same casing material with an anti-puncture belt that runs from bead to bead and the same ZSG (Zero Slip Grip) compound. The only difference seems to be a 15% to 20% thicker tread on the Race D which means it should last a bit longer.
Ad Buy Panaracer Race D Evo 3 at Amazon.com
With this review of the Race D Evo 3, the Panaracer Race Evo 3 tests have now been completed. You can compare the Race A (read review), Race D, and Race L (read review) side by side on the comparison section our website here: Race A Evo 3 Vs Race D Evo 3 Vs Race L Evo 3
Manufacturer Specifications
Manufacturer Specifications
Brand
Panaracer
Model
Race D Evo 3
Year
2018
Tire Type
Tubetype (clincher)
Supplied By
Bought in store
New or Used
New
Mileage
0 km
Price Range
High
Buy At

Ad

Amazon.com
Manufacturer part number
RF725-RCD-B3
EAN
4931253013560
TPI
-
Compound
ZSG Dual Compound
Bead
Folding
ETRTO
25-622
Size Inch
28"
Specified Width (mm)
25
Specified Weight
250 grams
Max Air Pressure (psi)
140
Made In
Members Only
Available Sizes
23-622 (700x23c)
25-622 (700x25c)
28-622 (700x28c)
Panaracer Race D Evo 3 Test Results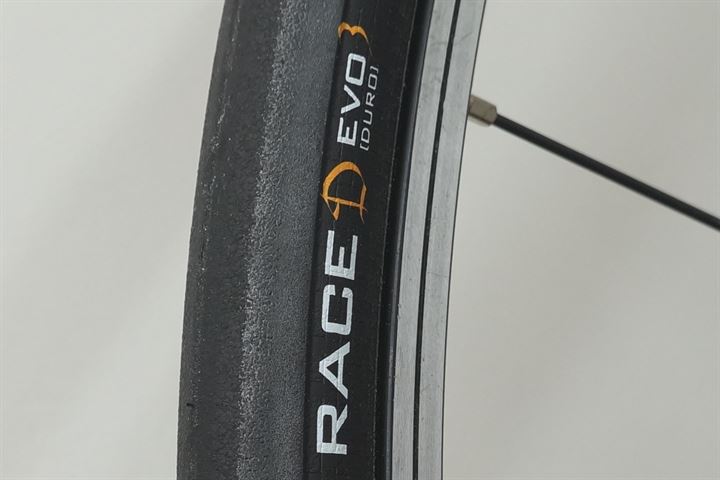 Size, Weight, and Thickness Measurements
advertisement
Size, Weight and Thickness Measurements
Specified Weight
250 grams
Measured Weight
249 grams
System Adjusted Weight
(tire + inner tube (100 gr)
349 grams
Measured Width
27 mm (un-round)
Measured Height
24 mm (un-round)
Total Tire Thickness Center
3.1 mm
Total Tire Thickness Sidewall
Members Only
Unmounted Casing Width
65 mm
Unmounted Tread Width
Members Only
All size measurements are taken at an air pressure of 100 psi / 6.9 bars on a 17.8 mm inner width rim.
Weight. Specified weight of the 25-622 Race D is 250 grams, my sample comes in very close to the specified weight at 249 grams. My sample of the Race A came in at a measured weight of 247 grams which is only slightly less than the more durable Race D.
Size. Just like the Race A and Race L, the Race D measures 27 mm wide and has a height of 24 mm on a 17C rim at an air pressure of 100 psi / 6.9 bars.
Tire Thickness. Like I've mentioned before, total tire thickness at the center of the tread is 3.1 mm which is 0.4 mm more than the Race A. The sidewalls have a thickness of 0.80 mm which is the same as the Race A.
Rolling Resistance Test Results
Rolling Resistance Test Results
Inner Tube
Conti Race28 (100gr butyl)
Rolling Resistance
140 PSI / 9.7 Bar
Not Tested
Rolling Resistance
120 PSI / 8.3 Bar
17.4 Watts
CRR: 0.00522
Rolling Resistance
100 PSI / 6.9 Bar
18.6 Watts
CRR: 0.00558
Rolling Resistance
80 PSI / 5.5 Bar
Members Only
Rolling Resistance
60 PSI / 4.1 Bar
Members Only
All numbers are for a single tire at a speed of 29 km/h / 18 mph and a load of 42.5 kg / 94 lbs.

Use the formula: RR (Watts) = CRR * speed (m/s) * load (N) to calculate rolling resistance at a given speed and load.
In the rolling resistance tests, the Race D is a bit slower than the Race A (read review) which seems to be exactly in line with its thicker tread. At an air pressure of 120 psi / 8.3 bars, the 0.4 mm thicker tread boosts rolling resistance of the Race D to 17.4 Watts as opposed to 16.4 watts for the Race A. At the more comfortable air pressure of 80 psi / 5.5 bars, rolling resistance comes in at 20.7 watts as opposed to 19.0 watts for the Race A.
After testing the Race A, L, and D we can conclude that the Panaracer tires do ok in the rolling resistance tests but can't compete with the top performing tires that use lower rolling resistance compounds.
Puncture Resistance Test Results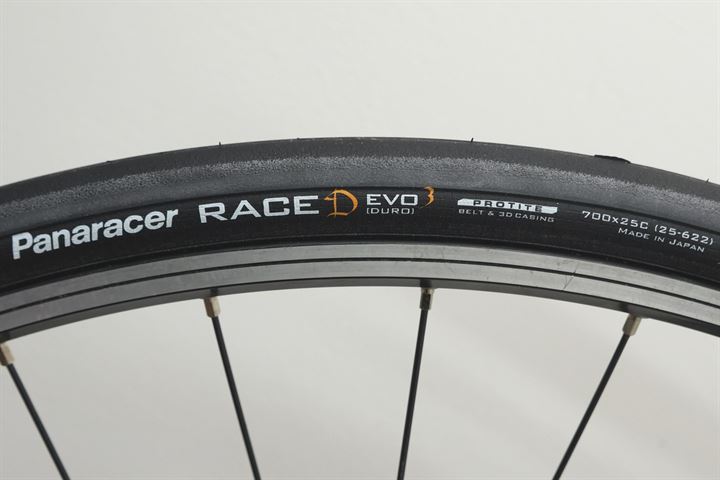 Puncture Resistance Test Results (higher is better)
Total Puncture Score Tread
78 Points
Total Puncture Score Sidewall
Members Only
Tread Puncture Force Sharp Needle
16 Points
Tread Puncture Force Blunt Needle
No Data
Tread Total Tire Thickness
3.1 mm
Sidewall Puncture Force Sharp Needle
Members Only
Sidewall Puncture Force Blunt Needle
No Data
Sidewall Total Tire Thickness
Members Only
In the tread puncture resistance test, the Race D shines with a score of 16 points which is a good bit better than most other (all-round) road bike tires that come in somewhere in the 11 to 14 points range.
The Race D comes with an anti-puncture belt that runs from bead to bead which clearly can be seen from the sidewall puncture resistance tests. With a sidewall puncture resistance score of 8 points, it scores much better than the 4 to 5 points most other road bike tires achieve in this test. You should be able to wear the tread of these tires down without wearing out the sidewalls.
Static Grip Test Results
NOTE: Grip test data is only available on tires tested after November 2018. You can find more information about our grip test here: Introducing Grip Testing
Static Grip Test Results
Wet Grip Average
No Data
Wet Grip Center
No Data
Wet Grip Edge
No Data
Grip in points = coefficient of friction * 100
Conclusion
When taking all specifications and test results of the Panaracer Race D Evo 3 into consideration, I feel the Race D doesn't differentiate enough from the Race A to justify its existence. When mounting these tires to your bike, it will be hard to notice a difference until near the end of their life when the Race D should last a bit longer. I'm pretty sure most people that visit this site and who are generally looking for high-performance tires do not really care about the slightly longer life of the Race D.
Just stick to the Panaracer Race A or Race L if you're a fan of Panaracer tires and like how they behave on the road. My opinion is that Panaracer would have been better off adding a Race G (Grip) or Race S (Speed) instead of the Race D to their high-performance lineup.
Ad Buy Panaracer Race D Evo 3 at Amazon.com
RATING: 3.0 / 5
TEST VERDICT: Recommended
Comments