MTB Tire Test:

Michelin

Force AM
---
---
---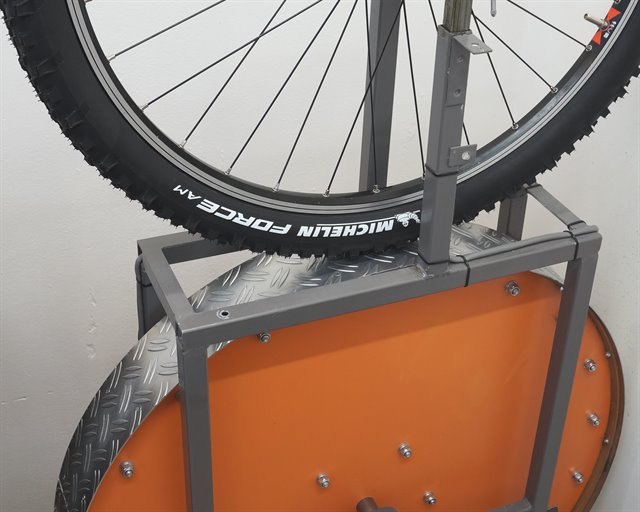 Michelin recently introduced a full range of new MTB tires. From fastest to slowest their new lineup is Jet XCR, Force XC, Force AM, Wild AM. The Force AM that I've tested for this review is their fastest All Mountain/Trail tire. The main differences between the Force XC and Force AM are in the casing construction (Force XC = thinner 3x110 TPI, Force AM = stronger 3x60 TPI) and knob height (Force XC = 2.3 mm, Force AM = 2.9 mm).
Ad Buy Michelin Force AM at Amazon.com
Unlike I expected, both the Force XC and Force AM use the same GUM-X3D compound. As the compound dictates about 80-90 % of the performance in the rolling resistance tests, both the Force XC and AM perform very close to each other in this test. Rolling resistance of the GUM-X3D compound is quite high as can be seen from the Force XC (read review) test results which means this compound is more of an AM compound than a fast XC compound.
The Force XC didn't impress me as I expected that tire to be a tire with a fast XC compound which the GUM-X3D clearly isn't. The Force AM is clearly marketed to a different audience with different expectations so let's go down the test results to see how the Force AM performs on our tests.
Manufacturer Specifications
Manufacturer Specs
Brand
Michelin
Model
Force AM
Year
2017
Supplied By
Bought in store
New or Used
New
Mileage
0 km
Price Range
High
Buy At

Ad

Amazon.com
Manufacturer part number
TPI
3x60
Compound
Gum-X3D
Bead
Folding
ETRTO
57-622
Size Inch
29"
Width Inch
2.25
Specified Weight
760 grams
Max Air Pressure (psi)
58
Made In
Members Only
Available Sizes
26x2.25
27.5x2.25
27.5x2.35
27.5x2.60
29x2.25
29x2.35
Michelin Force AM Test Results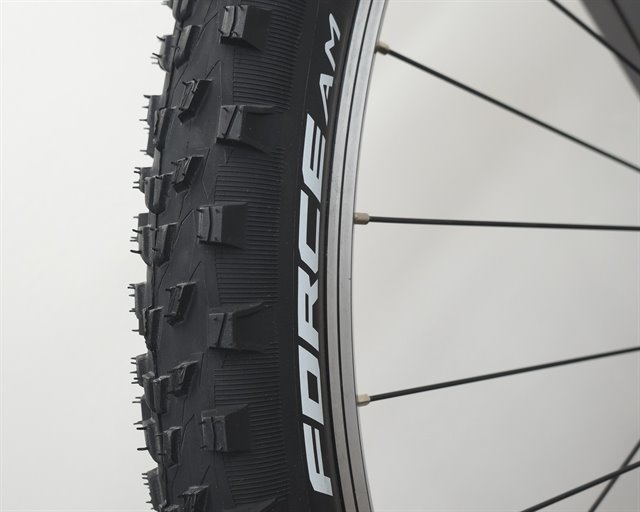 Size, Weight, and Thickness Measurements
Size, Weight, and Thickness Measurements
Specified Weight
760 grams
Measured Weight
781 grams
Measured Width Carcass
54 mm (un-round)
Measured Width Tread
58 mm
Measured Height
53 mm (un-round)
Measured Knob Height Center
2.9 mm
Measured Knob Height Edge
6.0 mm
Measured Total Thickness Center (excluding knobs)
2.1 mm
Measured Total Thickness Sidewall
Members Only
All size measurements are taken at an air pressure of 35 psi / 2.4 bars on a 17.8 mm inner width rim.
Weight. The specified weight of the 29 x 2.25 Force AM is 760 grams; my sample comes in a bit higher at 781 grams.
Size. At an air pressure of 35 psi/2.4 bars and on a 17C rim, the casing of the Force AM has a maximum width of 54 mm. The knobs stick out much further making the total tire width 58 mm.
Knob Height. The knobs in the center of the tire have a height of 2.9 mm. I'm not impressed by the center knob height as even tires like the Schwalbe Nobby Nic, which are more XC oriented, come with a knob height of 3.6 mm. The knobs on the edge of the tires have a height of 6 mm which, unlike the center knobs, is much higher than similar tires.
Tire Thickness. Tread thickness at the center of the tread comes in at 2.1 mm. The sidewalls have a thickness of 0.95 mm. Both these measurements come in higher than similar tires and confirm this is a stronger/protected tire.
Rolling Resistance Test Results
Rolling Resistance Test Results
Inner Tube
None (40 ml sealant)

(current protocol)
Conti MTB 29 (225 gr butyl)

(test protocol)
Rolling Resistance
55 PSI / 3.8 Bar
Members Only
Members Only
Rolling Resistance
45 PSI / 3.1 Bar
Members Only
Members Only
Rolling Resistance
35 PSI / 2.4 Bar
30.1 Watts
CRR: 0.00902
33.6 Watts
CRR: 0.01007
Rolling Resistance
25 PSI / 1.7 Bar
32.9 Watts
CRR: 0.00986
37.4 Watts
CRR: 0.01121
All numbers are for a single tire at a speed of 29 km/h / 18 mph and a load of 42.5 kg / 94 lbs.

Use the formula: RR (Watts) = CRR * speed (m/s) * load (N) to calculate rolling resistance at a given speed and load.
Rolling resistance of the Force AM comes in surprisingly close to the Force XC (read review). At the high air pressure of 55 psi / 3.8 bars, The Force AM has a rolling resistance of 30.8 Watts as compared to the 29.6 Watts of the Force XC. At the low air pressure of 25 psi / 1.7 bars, the difference between these two tires grows a bit bigger with a rolling resistance of 37.4 Watts for the Force AM and 35.3 Watts for the Force XC.
Because the Force AM is clearly marked as an AM (All Mountain) tire, comparing it to XC tires might not be fair as AM tires generally are optimized to provide better grip instead of a lower rolling resistance. To give an example of how big the difference between different compounds can be, take a look at the comparison of the Schwalbe Hans Dampf with different compounds: (Hans Dampf PaceStar Vs Hans Dampf TrailStar). As you can see, just changing the compound can increase rolling resistance by quite a lot.
Puncture Resistance Test Results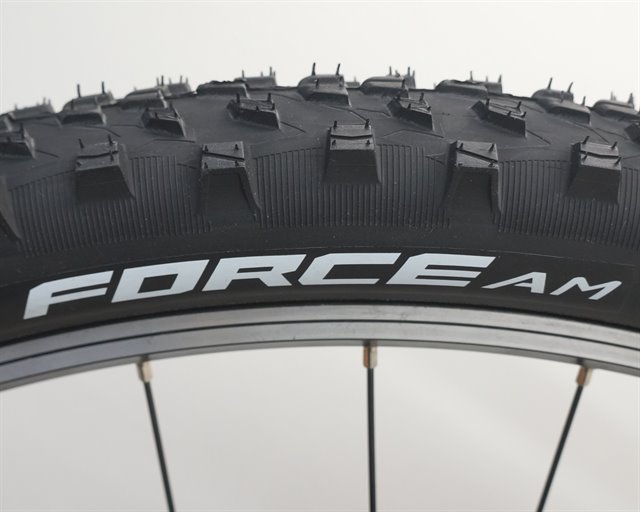 Puncture Resistance Test Results (higher is better)
Total Puncture Score Tread
40 Points
Total Puncture Score Sidewall
Members Only
Tread Puncture Force Sharp Needle
10 Points
Tread Puncture Force Blunt Needle
No Data
Tread Total Tire Thickness
2.1 mm
Sidewall Puncture Force Sharp Needle
Members Only
Sidewall Puncture Force Blunt Needle
No Data
Sidewall Total Tire Thickness
Members Only
In the puncture resistance tests, the Force AM scores excellent (just like the Force XC) in both the tread and sidewall tests. The reinforced casing these tires use is much stronger than the ultralight and thin casings the fastest XC tires use. For an AM tire, this is just as important as grip and rolling resistance as you don't want a blown tire when going downhill.
Hard Surface Static Grip Test Results
Static Grip Test Results
Wet Grip Average
No Data
Wet Grip Center
No Data
Wet Grip Edge
No Data
Measured Knob Height Center
2.9 mm
Measured Knob Height Edge
6.0 mm
Grip in points = coefficient of friction * 100
Wet Grip Test and Off-Road Tires (info)
Conclusion
I was disappointed by the Michelin Force XC as IMO rolling resistance is way too high for an XC oriented tire. When looking at the Michelin Force AM, we have a different expectation as it's clearly a tire intended for AM/Trail use. Although I don't test the amount of grip a tire provides, I can tell you that the Force AM is a tire with a strong and puncture resistant casing and a compound that's faster than the Schwalbe TrailStar compound.
I mainly focus on XC tires as rolling resistance is one of the most important aspects of those tires. For AM tires, rolling resistance isn't as important but it's still nice to know the numbers as it makes it easier to pick the right tire for the right conditions. Feel free to leave a comment about the Force AM so we can get to know about the real-life user experiences of these tires as well.
Ad Buy Michelin Force AM at Amazon.com
RATING: 4.0 / 5
TEST VERDICT: Recommended
Comments