CX/Gravel Tire Test:

Michelin

Power Gravel
---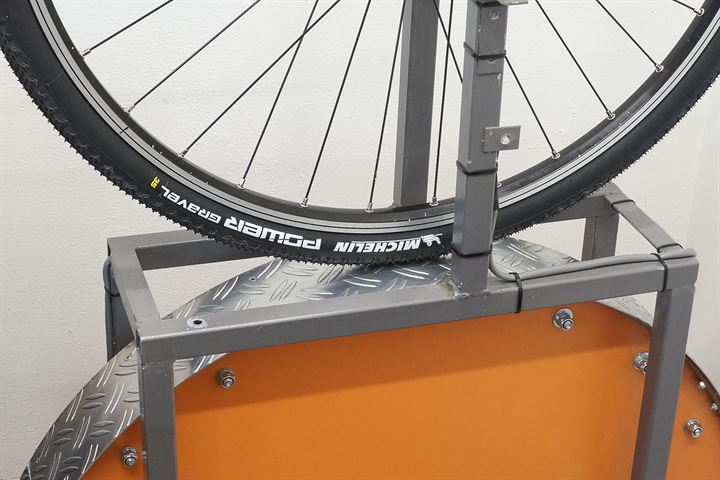 Michelin has been making some of the most popular and best performing road bike tires for a long time so we couldn't leave them out of the CX/Gravel section. The Power Gravel is currently their only tire in the CX/Gravel category but as it comes in the 33-622, 35-622, and 40-622 sizes, they cover a wide range of use cases from CX to gravel bikes.
Ad Buy Michelin Power Gravel at Amazon.com
The Power Gravel is made up of a 3x120 TPI tubeless-ready casing with an extra layer of "Protek" puncture resistance material that runs from bead to bead. We really like CX/Gravel tires with reinforced sidewalls (+1) as this helps protect against cuts especially when used tubeless. The compound is Michelin's X-miles compound that is optimized to last a long time yet still has a decent rolling resistance and grip.
We've tested the 35-622 version as that is the perfect size for our mixed CX/Gravel category.
advertisement
Manufacturer Specifications
Manufacturer Specs
Brand
Michelin
Model
Power Gravel
Year
2020
Supplied By
Bought in store
New or Used
New
Mileage
0 km
Price Range
High
Buy At

Ad

Amazon.com
Manufacturer part number
474057
EAN
3528704740574
TPI
3x120
Compound
X-Miles compound
Bead
Folding
ETRTO
35-622
Specified Weight
380 grams
Max Pressure
73
Made In
Thailand
Available Sizes
35-622 (700x35c)
Michelin Power Gravel Test Results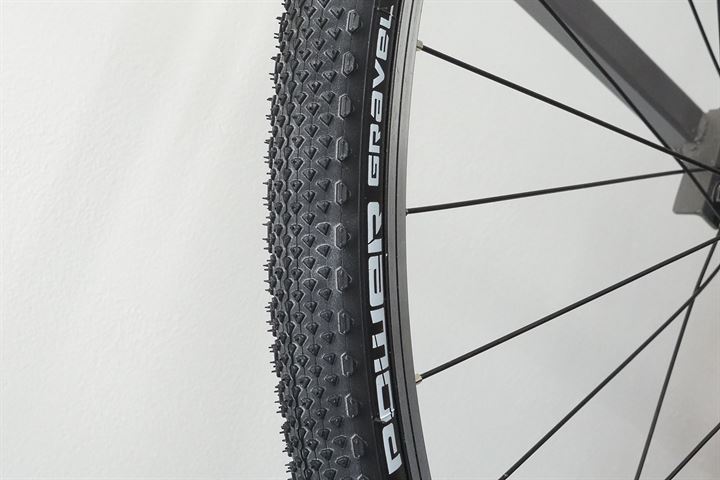 Size, Weight, and Thickness Measurements
Size, Weight, and Thickness Measurements
Specified Weight
380 grams
Measured Weight
412 grams
Measured Width Casing
34 mm
Measured Width Tread
36 mm
Measured Height
32 mm
Measured Knob Height Center
1.2 mm
Measured Knob Height Edge
2.6 mm
Measured Total Thickness Sidewall
0.95 mm
Measured Total Thickness Center (excluding knobs)
2.30 mm
All size measurements are taken at low air pressure on a 17.8 mm inner width rim.
Rolling Resistance Test Results
Rolling Resistance Test Results
Inner Tube
Conti Cross28 (160 gr)
Measured Width
34 mm
Rolling Resistance
Real tire width in mm:
30-32 = 66 psi/4.6 bar
33-35 = 60 psi/4.1 bar
36-40 = 54 psi/3.7 barHigh Air Pressure
20.2Watts
CRR: 0.00606
Rolling Resistance
Real tire width in mm:
30-32 = 55 psi/3.8 bar
33-35 = 50 psi/3.4 bar
36-40 = 45 psi/3.1 barMedium Air Pressure
22.0 Watts
CRR: 0.00659
Rolling Resistance
Real tire width in mm:
30-32 = 44 psi/3.0 bar
33-35 = 40 psi/2.8 bar
36-40 = 36 psi/2.6 barLow Air Pressure
24.1 Watts
CRR: 0.00722
Rolling Resistance
Real tire width in mm:
30-32 = 33 psi/2.3 bar
33-35 = 30 psi/2.1 bar
36-40 = 27 psi/1.9barExtra Low Air Pressure
28.1 Watts
CRR: 0.00842
The CX/Gravel section is a multi tire size section, air pressures have been adjusted to the measured casing width.

All numbers are for a single tire at a speed of 29 km/h / 18 mph and a load of 42.5 kg / 94 lbs.

Use the formula: RR (Watts) = CRR * speed (m/s) * load (N) to calculate rolling resistance at a given speed and load.
Puncture Resistance Test Results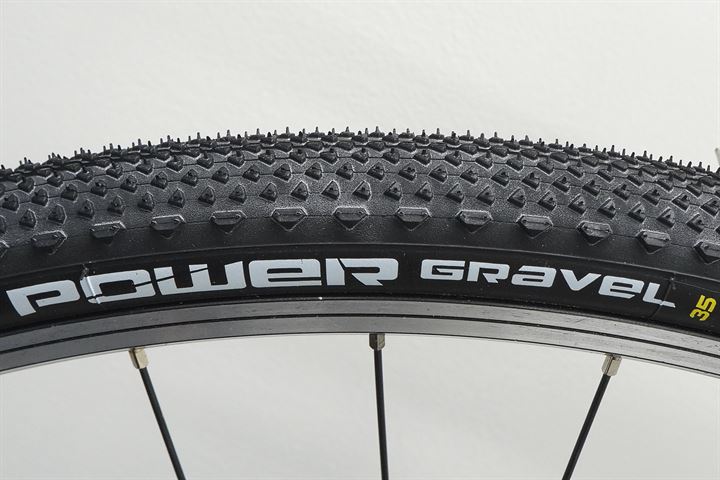 Puncture Resistance Test Result (higher is better)
Puncture Resistance Tread
10 Points
Puncture Resistance Sidewall
8 Points
Conclusion
We feel the Michelin Power Gravel is an excellent compromise between speed, protection, tire thickness, and knob height for a CX/Gravel tire. Rolling resistance is a bit higher when compared to the fastest CX/Gravel tires but you'll get better protection and knob height in return. We would be surprised if you had something to complain about with these tires.
If you've had troubles with cuts and punctures with other tires, the Power Gravel might be worth a try if you don't want to go all out on the most puncture-resistant CX/Gravel bike tires. Go to the CX/Gravel overview to compare against the other tires.
Ad Buy Michelin Power Gravel at Amazon.com
RATING: 4.5 / 5
TEST VERDICT: Highly Recommended
Comments