CX/Gravel Tire Test:

Hutchinson

Overide
---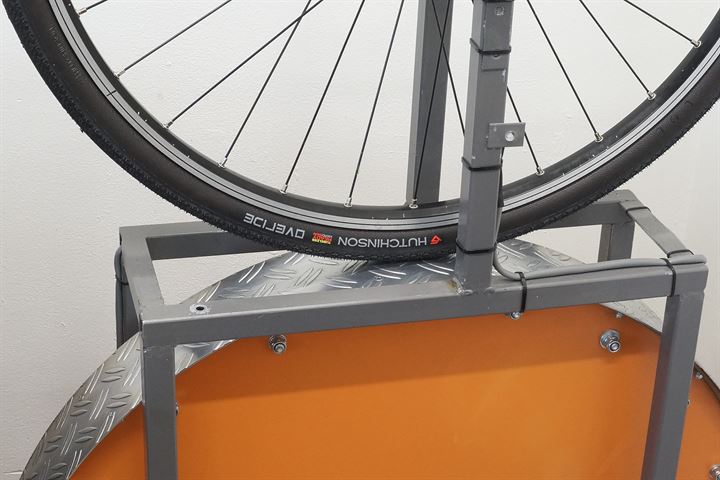 The Hutchinson Overide is a gravel tire available in both a tube-type and a tubeless-ready version. The tread has an almost slick profile in the middle with knobs rising towards the edges. This is a typical profile that we see from more tire manufacturers for their fast cyclocross/gravel tires.
Ad Buy Hutchinson Overide at Amazon.com
The tubeless-ready Hutchinson comes with a 127 TPI casing and is available in the 35-622 and 38-622 sizes. The tube-type version only has a 33 TPI casing, which can be an indication to us that not only the casing is different but also the general quality of the tires is lower.
We have tested the 35-622 version which is marked "Road Tubeless-Ready" and has a slightly lower profile in the middle of the tire. Strangely enough, the 38-622 version (labeled "Tubeless-Ready") has a slightly higher profile in the center of the tire. We studied the photos of both tires and it seems that the differences are at most 0.2 mm and will have little influence on the test results.
Manufacturer Specifications
Manufacturer Specs
Brand
Hutchinson
Model
Overide
Year
2020
Supplied By
Bought in store
New or Used
New
Mileage
0 km
Price Range
High
Buy At

Ad

Amazon.com
Manufacturer part number
PV527361
EAN
3248382070755
TPI
127
Compound
Bi-Compound
Bead
Folding
ETRTO
35-622
Specified Weight
350 grams
Max Pressure
86
Made In
Members Only
Available Sizes
35-622 (700x35c)
38-622 (700x38c)
Hutchinson Overide Test Results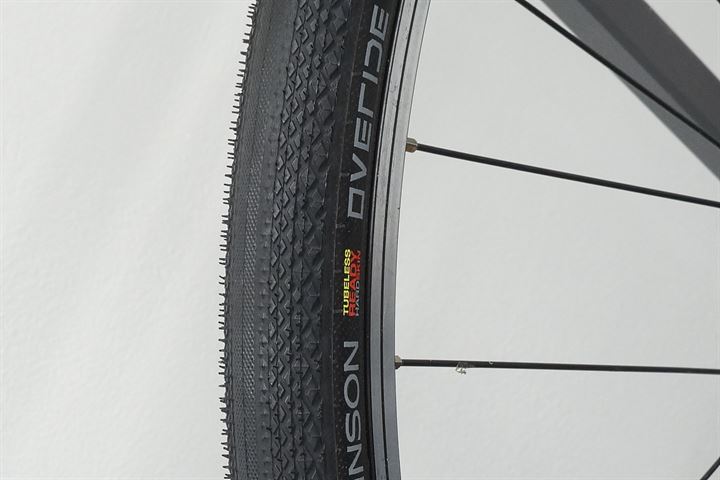 Size, Weight, and Thickness Measurements
advertisement
Size, Weight, and Thickness Measurements
Specified Weight
350 grams
Measured Weight
366 grams
Measured Width Casing
34 mm (un-round)
Measured Width Tread
34 mm
Measured Height
31 mm (un-round)
Measured Knob Height Center
0.2 mm
Measured Knob Height Edge
1.2 mm
Measured Total Thickness Center (excluding knobs)
2.40 mm
Measured Total Thickness Sidewall
Members Only
All size measurements are taken at low air pressure on a 17.8 mm inner width rim.
Rolling Resistance Test Results
Rolling Resistance Test Results
Inner Tube
Conti Cross28 (160 gr)
Measured Width
34 mm (un-round)
Rolling Resistance
Real tire width in mm:
30-32 = 66 psi/4.6 bar
33-35 = 60 psi/4.1 bar
36-40 = 54 psi/3.7 barHigh Air Pressure
Members Only

Rolling Resistance
Real tire width in mm:
30-32 = 55 psi/3.8 bar
33-35 = 50 psi/3.4 bar
36-40 = 45 psi/3.1 barMedium Air Pressure
Members Only

Rolling Resistance
Real tire width in mm:
30-32 = 44 psi/3.0 bar
33-35 = 40 psi/2.8 bar
36-40 = 36 psi/2.6 barLow Air Pressure
26.0 Watts
CRR: 0.00779
Rolling Resistance
Real tire width in mm:
30-32 = 33 psi/2.3 bar
33-35 = 30 psi/2.1 bar
36-40 = 27 psi/1.9barExtra Low Air Pressure
31.6 Watts
CRR: 0.00947
The CX/Gravel section is a multi tire size section, air pressures have been adjusted to the measured casing width.

All numbers are for a single tire at a speed of 29 km/h / 18 mph and a load of 42.5 kg / 94 lbs.

Use the formula: RR (Watts) = CRR * speed (m/s) * load (N) to calculate rolling resistance at a given speed and load.
Puncture Resistance Test Results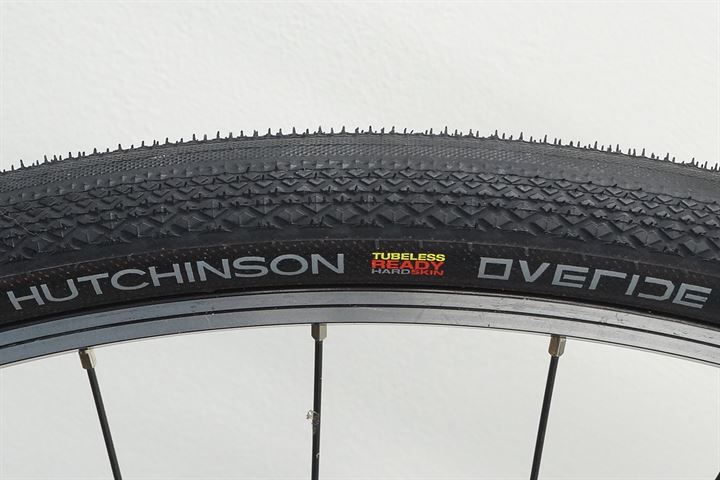 Puncture Resistance Test Result (higher is better)
Puncture Resistance Tread
7 Points
Puncture Resistance Sidewall
Members Only
Conclusion
The Hutchinson Overide cannot convince us. This tire looks like a very fast tire but the results show that the tire is slower than many tires that have a somewhat slower appearance. Also in our other tests, the Overide cannot convince us as it does not really perform strongly anywhere.
Our rating is 3 out of 5 which is still recommended. The Hutchinson is not a bad tire but we think better tires are available. Check our CX/Gravel overview page overview page for yourself to compare.
Ad Buy Hutchinson Overide at Amazon.com
RATING: 3.0 / 5
TEST VERDICT: Recommended
Comments