MTB Tire Test:

Continental

Race King Sport
Continental Race King Sport
---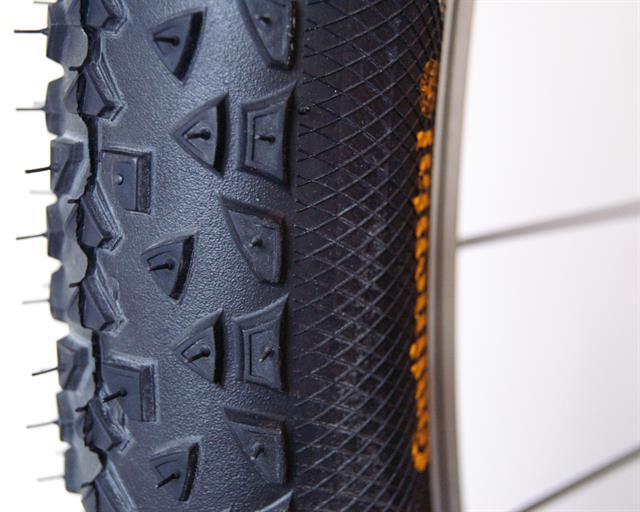 The Continental Race King Sport 29 x 2.2 mountain bike tire is the cheapest version of the Race King. It has a 3/84 TPI wire bead casing and no special Pure Grip or BlackChili compound. The Sport line is the most basic version from Continental, don't confuse this tire with the RaceSport version. This tire was donated by a reader from Belgium who was really curious about the differences between wire bead and folding bead tires. Thanks, Teun!
Personally, I really like the Race King on the rear and an X-King on the front. This probably explains why there are so many tests of Race Kings on Bicycle Rolling Resistance, I've always wondered it it's really necessary to spend a lot of money on expensive tires. Weight, TPI, Size etc are easy to compare, but the rolling resistance part is much harder without an exact rolling resistance test and comparable data.
The Race King Sport is quite heavy for an XC style tire. With a specified weight of 750 grams, it's close to the weight of more heavy duty tires. When examining this tire, the tread pattern seems exactly the same as the other Race Kings. Continental doesn't say anything about what kind of rubber is used on this tire, I guess it's just the cheapest rubber they have.
Manufacturer Specifications
Manufacturer Specs
Brand
Continental
Model
Race King Sport
Year
2015
Supplied By
Bought in store
New or Used
New
Mileage
0 km
Price Range
Low
Buy At
Manufacturer part number
0100203
TPI
3/84
Compound
Bead
Wire
ETRTO
55-622
Size Inch
29"
Width Inch
2.20
Specified Weight
750 grams
Max Pressure
55
Made In
China
Available Sizes
29 x 2.20
29 x 2.00
27.5 x 2.20
26 x 2.20
26 x 2.00
Continental Race King Sport Test Results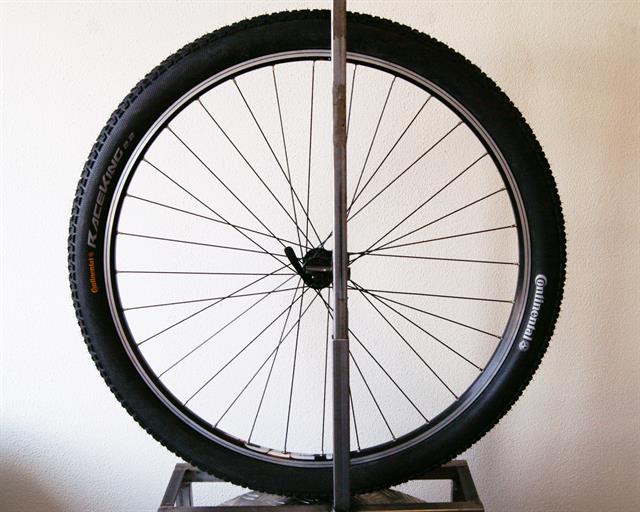 Size, Weight, and Thickness Measurements
advertisement
Size, Weight, and Thickness Measurements
Specified Weight
750 grams
Measured Weight
712 grams
Measured Width Carcass
54 mm
Measured Width Tread
51 mm
Measured Height
54 mm
Measured Knob Height Center
2.5 mm
Measured Knob Height Edge
2.5 mm
Measured Total Thickness Sidewall
0.70 mm
Measured Total Thickness Center (excluding knobs)
2.15 mm
All size measurements are taken at an air pressure of 35 psi / 2.4 bars on a 17.8 mm inner width rim.
Measured weight is 712 grams, which is lighter than the specified weight of 750 grams. Size wise, the 29 x 2.2 Sport version of the Race King has the exact same dimensions as the other Race Kings. With a carcass width and height of 54 mm, this means this tire has a lot of air volume.
Rolling Resistance Test Results
Rolling Resistance Test Results
Inner Tube
Conti MTB 29 (225 gr butyl)
Rolling Resistance
55 PSI / 3.8 Bar
22.4Watts
CRR: 0.00671
Rolling Resistance
45 PSI / 3.1 Bar
23.0 Watts
CRR: 0.00689
Rolling Resistance
35 PSI / 2.4 Bar
24.5 Watts
CRR: 0.00734
Rolling Resistance
25 PSI / 1.7 Bar
27.0 Watts
CRR: 0.00809
All numbers are for a single tire at a speed of 29 km/h / 18 mph and a load of 42.5 kg / 94 lbs.

Use the formula: RR (Watts) = CRR * speed (m/s) * load (N) to calculate rolling resistance at a given speed and load.
Considering it's low price, rolling resistance is quite good. Rolling resistance is only 0.1 to 0.7 watts higher than the slightly more expensive Race King Performance. It does outperform many much more expensive tires of other well-known brands like Maxxis, Kenda, and Vittoria.
Puncture Resistance Test Results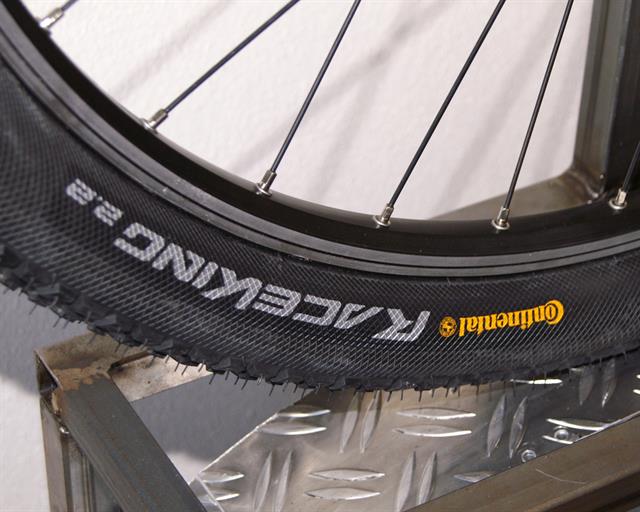 Puncture Resistance Test Result (higher is better)
Puncture Resistance Tread
6 Points
Puncture Resistance Sidewall
4 Points
While rolling resistance is good, it scores very low on the puncture resistance test. It doesn't seem like this tire has any added puncture resistance protection. This is something I've also noticed after testing the cheap Vittoria Zaffiro road bike tire.
Conclusion
Continental Race King Sport
Performance compared to all other MTB tires
(100% is fastest - lightest - highest - strongest)
With the Race King Sport, Continental delivers a decent tire for its price. Rolling resistance is higher than the much more expensive Race King RaceSport and almost equal to the slightly more expensive Race King Performance. The puncture test is where it suffers from a score of only 6, which is lower than the very fast RaceSport (7) and much lower than the Performance line (11). This seems to be a trade-off that has to be made to fit the price-point.
While rolling resistance isn't that low, the cheapest Race King is still able to outperform much more expensive tires from Maxxis and Kenda in our test. When you don't want to spend a lot of money on tires, the Continental Race King Sport is an excellent choice.
RATING: 4 / 5
TEST VERDICT: Recommended
Comments